Georgia's GEMS
Some of the state's best downtowns have found success by building on what makes them unique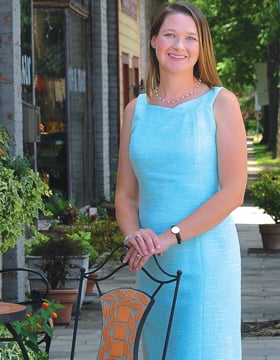 If you don't have a story to tell, then you have nothing to tell," says Kendrick Ward, Main Street manager for the city of Greensboro. "Your history tells who you are, where you've been and where you can go."
History is the cornerstone of Main Street America, a program founded by the National Trust for Historic Preservation in response to the decline of the nation's downtowns in the 1980s. Georgia's program, now in its 38th year, includes 114 communities across the state.
Of those communities, 14 percent have been designated Georgia's Exceptional Main Street (GEMS) communities – the program's highest honor. These 16 communities come from all corners of the state, each with their own history and character. What they have in common, though, is their dedication to economic development in the context of historic preservation.
"These cities for us are examples of some of the best of the best downtown districts in the state," says Jessica Reynolds, director of the Office of Downtown Development and Georgia Main Streets. "They have a very strong preservation initiative. They have strong, local government support and leadership. They have manager stability, someone who's been there a while, who is helping be that real quarterback and champion.
"These communities have been able to really demonstrate their programs' commitment to success, but also their whole communities' commitment to that, because it takes everybody participating and being involved for them to be successful."
---
Balancing Act
Georgia Main Street isn't exactly a program for revitalizing a community's downtown, says Reynolds. It's more of an approach. "We don't look at community development as a separate entity and downtown development as a separate entity and economic development as a separate entity," she says. "We realize that these things are really all intertwined and interconnected and that when we're supporting one, we're actually supporting all of it."
Georgia's GEMS cities have all struck a healthy balance between Main Street's four main pillars: economic vitality, the creation of incentives and financial tools to help new and existing businesses; design, the enhancement of a community's unique buildings and design characteristics; promotion, the positioning of the downtown as the center of the community; and organization, the cultivation of partnerships and resources that leads to a strong Main Street foundation.
"We believe, in what we do, that when these four elements come together in a balanced approach, that's when we get good downtown development practices," Reynolds says.
In coastal Tybee Island, where the population fluctuates with the seasons, this approach is especially useful.
"We can't be so heavy on events, or so heavy on preservation, or so heavy on commercialization. It's how do you find that balance, so you know that it's a town where people live, and it's also a town where people work and visit?" asks Chantel Morton, executive director of Tybee Island's Development Authority and Main Street program. "There is that fine line, especially being a beach community; you see that with so many other towns that are along the coast. Be careful of the latest trends, because you're also looking at what the future holds and planning accordingly."
---
Creating a Sense of Place
In Tybee, preserving the town's unique look and feel is paramount. The state's northernmost barrier island prides itself on its coastal cottages and trademark architecture – so much so that it's started developing its own set of design standards.
Here, again, it's about balance: trying to distill the community's architectural personality while still allowing each building to stand on its own.
"Tybee is so unique when you drive past one building to another. They have their own vibe, but still there are certain features, like the windows or the porches, or even the way the roof is pitched," says Morton. "There's a number of different aspects, but those are just a few."
In other communities, projects like wayfinding signage and customized banners create a cohesive look for the community. Dahlonega's Main Street program, led by Dahlonega Downtown Development Authority Director Jan Harris, is working with local students from the University of North Georgia to create a series of banners highlighting downtown's attractions and heritage.
The city is also planning an all-abilities playground decked out with signature Dahlonega features, like a possible gold-studded climbing wall in a nod to the city's mining heritage. Harris is working to install antique water pumps downtown, just like ones that would have been found along the same streets centuries ago.
All of these personalized touches remind patrons – residents and visitors alike – that "you can be anywhere, but you're not," says Harris. "You're in a unique downtown."
---
Celebrating History
By preserving their historic buildings, GEMS cities give themselves opportunities to reinvent their futures while honoring their pasts.
In Greensboro, a dilapidated mill and cotton depot became 71 high-end loft apartments and a thriving microbrewery. The $13-million Mary Leila Loft and $2.2-million Oconee Brewing Co. projects transformed an eyesore into a point of pride for the community – and gave the crumbling buildings a fitting reincarnation in the process.
"We have found tidbits that that building was not only a cotton warehouse, but before that, it was a bottling company that bottled Chero-Cola and other soft drinks," says Ward. "It's cool that you can say this building once was a bottling facility, then a cotton warehouse and now it's back to another bottling facility."
It's these types of projects that often set GEMS cities apart, says Randolph: big investments with big impact. But to Greensboro, this rehabilitation project was about something more, too.
"If you don't have that history," says Ward, "if you tear it down and build brand new, then you don't have the character and you don't have the sense of place and feeling."
---
Housing Demands
As Main Street downtowns continue to improve, demand for one particular type of development continues to rise: housing.
"Out of the past 14 years that we've been recording our data digitally, 2017 was the second-highest impact that we have to date as far as new housing developments being created," says Randolph. (Housing includes single-family homes, lofts, condominiums and apartments.)
That's a trend GEMS cities are seeing as well, especially in Tifton.
"If you come through downtown Tifton, you're not going to see many empty buildings," says Lequrica Gaskins, the city's director of economic development. "Most of that real estate is being used. It's being used to the point now that residential living is a huge attraction for our downtown, and most developers are taking those second-story floors to create residential units."
In 2017, developers in Tifton added 37 residential units in the city's central business district. And 2018 is shaping up to be even bigger, with a $2-million apartment redevelopment and another Second Street residential project in the works.
"We had one developer who did a grand opening last year, and it was a $3-million development. I think he had 33 high-end apartments," Gaskins says. "On the week of the grand opening, he had to say, 'You know, we're going to hold up renting these because if not, we're not going to have enough to show for the day of the opening.'"
In Macon, a Georgia Main Street classic city and seven-time recipient of national Main Street America accreditation, housing is also in demand.
"We have so many lofts that have been added. I think we have over 600 loft units at this point in downtown Macon," says Emily Hopkins, Macon's Main Street manager and downtown development specialist. "Having those residents is key to creating that healthy economic engine and having those residents support all of our different businesses downtown."
"That's what you want," adds Gaskins. "You want a diverse downtown. You want a downtown where people are living and people are walking. … You really want a diverse mix of what's happening in the downtown."
---
Building Support
Of course, getting developers and businesses into buildings is only part of the process. They have to stay – and thrive – to really impact the community.
To help their local businesses, Georgia's Main Street cities offer redevelopment grants, low-interest loans, design assistance and ongoing marketing training.
Macon's marketing grant program offers up to $1,500 to local businesses to help with their marketing efforts. "It's great to give that grant so that people have that money for advertising," Hopkins says, "but we've also seen that people need more education on how to spend that effectively."
Solution: Macon's "What Now?" marketing training series, developed in part- nership with NewTown Macon, a nonprofit dedicated to downtown's growth and sustainability. "What Now?" teaches small business owners about marketing aspects like branding, public relations and tracking rate of return on advertising investments.
And, again, it's about balance, says Gaskins: "We want to make sure that when businesses come that they're able to be sustainable. We also try to pay attention to the businesses that are here. We have businesses that have been here for centuries, for generations after generations."
In Tybee, Morton maintains a strong web presence with an online listing of downtown shops, restaurants and services for visitor searches. She's also developed a local loyalty card to honor the island's year-round residents, balancing the needs of new and established businesses, as well as new and established patrons.
But Morton – and her fellow GEMS cities managers – can't do it alone. They need partners, including downtown businesses, the local government and community organizations, to fully implement the Main Street approach.
"With Main Streets, we're really seeing how the partnerships can be stronger and can build on each other, so we're not duplicating efforts," Hopkins says. "Everybody feels that, yes, they are part of the town that they live in or work in and everybody's making a difference together, so we're using our resources as efficiently as possible."
In Greensboro, Ward credits these partnerships with one of the city's biggest success stories, the Oconee Brewing Co., named the 2017 Economic Development Project of the Year by the Georgia Downtown Association.
"We didn't have laws and regulations to be able to make the brewery happen because of the selling and production of alcohol," she says. "The city saw how much of a great asset that would be, turning that dilapidated building into something that was going to be a tourist attraction and a great thing for downtown. They did what they could to make sure that we could make that project happen."
The result? "[The brewery has] been open for a year, and they continue to rise and hit every single marker that they imagined they would hit," she says.
GEMS cities depend on partnerships with their local communities to get big things done, because "Main Street is not something that can be done in a vacuum or by one person," says Reynolds.
And, like the GEMS cities support their local businesses, Main Street Georgia supports its local leaders, who are key to their programs' success.
"One of the things that we've noticed in our local programs is that the success of a local program is really determined by the manager," Reynolds says. "The success of a local program rises and falls on leadership."
To better support leaders throughout the state, Main Street Georgia has invested heavily in its digital presence, developing a "Main Street 101" online training course and creating an online resource library for things like work plans, budgets and bylaws. The office also held its first leadership summit, based off John Maxwell's 5 Levels of Leadership, in June.
These types of investments are necessary to provide holistic support to Main Street Georgia's communities, says Randolph – and investment is what Georgia Main Streets is all about.
"It does take maintenance, and it does require investment," says Reynolds. "We have to actively work, as programs, to make sure that that's happening, to make sure that we're maintaining and protecting the historical integrity of what we have. Because if we're not protecting it, nobody else is going to fight for our community for us."
---
Exceptional Communities
Sixteen Georgia communities have surpassed the expectations of the Main Street program, which calls for the revitalization of historic commercial districts, and are known as GEMS – Georgia's Exceptional Main Street communities. These Main Street programs continue to make a strong and positive impact on their communities, and as GEMS, they are entitled to one-on-one technical services and discounted training opportunities from the Office of Downtown Development.
The GEMS are:
Bainbridge
Brunswick
Columbus
Dahlonega
Greensboro
Madison
Milledgeville
Moultrie
Newnan
Rome
Statesboro
Thomasville
Tifton
Toccoa
Tybee Island
Valdosta