Georgia Fare: City Pharmacy
Covington's City Pharmacy is just the prescription you need.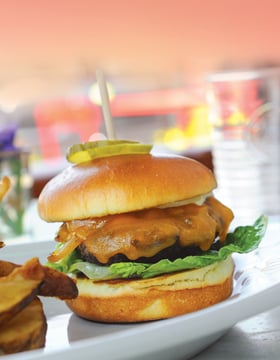 Isn't it great to see so many new restaurants using old buildings in ways you never expected? Ponce City Market in Atlanta kicked off the trend, transforming an enormous, long-vacant Sears (and later, City Hall East) from a white elephant into a vibrant, restaurant-driven model for an entire neighborhood's renewal. Smaller, more recent examples also shine: Reynoldstown's Golden Eagle, a former train depot, is now a dark and alluring mid-century gem. An old warehouse near the tracks off Marietta's square now holds one of the country's most-praised new restaurants, Spring.
But remaking an old pharmacy into a dining establishment seems especially appealing. Vintage drugstore nostalgia primes you for a restaurant: the tiled floors and gleaming chrome, the white-jacketed staff, that feeling of hygiene. A soda fountain with twirl stools invited everyone to perch for a few minutes for some kind of treat.
And, let's face it, you always felt what was being dispensed at a drugstore fountain would be good for what ails you. Somehow, in that environment, those phosphates, chili dogs and banana splits seemed just as curative as the prescriptions you were having filled at the back window.
On Covington's town square, City Pharmacy takes those pleasant associations a step further – the soda jerk is now a savvy bartender and the burger flipper is now an oyster shucker, busily employing his knife and glove as hungry diners watch and wait. The old (c. 1923) drugstore's pressed tin ceiling remains, now painted white, as is the exposed brick. Instead of twirl stools, you'll find comfortable chairs – the dining room, complete with original diamond-patterned black-and-white floor tiles, looks more like a French bistro than a place to buy Goody's headache powder and Dr. Scholl's shoe inserts.
More importantly, it still feels like a place to stop for a treat. The food is more sophisticated, but the flavors are straight-up delicious – nothing here would give your Aunt Tess the vapors. Covington is a cosmopolitan place these days, owing in part to its use as a movie and TV setting, but locals also seem to have truly embraced the place.
Executive Chef Christian Perez delivers a Southern-tinged menu of ambitiously translated comfort foods like fried chicken and waffles, short ribs, salmon and mac-and-cheese. The bar is packed with walk-ins; weekend reservations go fast. The entire front of the house feels like a hangout, with a banquette under big curved windows near the oyster-shucking station opposite the sweeping bar. Lots of folks simply have their dinners here.
Behind the bar, bartenders slice, dice, shake, stir and pour drinks from a program designed by Jerry and Krista Slater, former proprietors of H. Harper Station (the building that now coincidentally houses Golden Eagle in Atlanta's Reynoldstown neighborhood). These often play off the drugstore theme, with elixirs like a bourbon-based cherry phosphate. Others give a nostalgic wink to the building's glory days, when Manhattans, grasshoppers and brandy Alexanders were de rigueur.
On our first visit, we opted for a hit-and-run strategy – briny raw oysters, soup of the day, the ham plate, a cheeseburger, fries, a side of baked beans, dessert. So much of it far exceeded our expectations.
The vichyssoise, a chilled potato soup, arrived topped with caramelized onions and dotted with parsley-chive oil, a perfect hot-weather foil for the ham plate, a gorgeous presentation of sliced Newsom's aged Kentucky ham (Benton's from Tennessee is another spectacular choice), with whole-grain mustard, pretzel bread, pickled vegetables and pea salad, with a fresh pea tendril curling over the plate.
We could have made a meal from these alone. But we didn't have to, thanks to the truly outstanding Angus beef burger. With big, golden fried potato wedges on the side, the burger looked like an icon for a retro diner – tall but not gigantic, dripping with cheddar and caramelized onions between crisp, fresh lettuce leaves and grilled egg bun, speared with sweet pickles. It's not goopy with condiments but has a beefy focus with that perfect balance of hot/cool, carb/protein, crunch/softness that you look for in any good sandwich. Partly because it was so unexpectedly delicious, it is one of my favorite burgers in recent memory. (See below for more.)
While the side of unremarkable, underseasoned baked beans, as well as the strongly encouraged dessert of "deconstructed" (read: messy) banana cream pie, didn't quite excite us as much as the rest of the meal, the cocktails, including a perfectly made dry Tanqueray martini and excellent brandy Alexander, added to our enthusiasm to return and try the dinner entrees.
The best of that visit was the summery salmon with okra and blistered shishito peppers, with corn, yellow and red grape tomatoes and basil microgreens. The weekend-slammed kitchen struggled a bit with some of the rest – the fried chicken and cornmeal waffles were overly browned in spots; a salad with delectable blood orange reduction and candied peanuts suffered against not-quite-ripe watermelon. The tall, double-chocolate cake just seemed big and impressive-looking without delivering a solid chocolate kick. Staff shortage behind the bar meant we canceled an order for a minty grasshopper for a dessert cocktail, after waiting for it long after dessert was gone. These things happen when you're so quickly and fully embraced by your target audience.
If we lived nearer, we'd make City Pharmacy our place. The waitstaff is unfailingly knowledgeable and patient, even under stress. Now that City Pharmacy also serves lunch, I'd want to try the Cuban sandwich, the chicken salad or a crab cake with three-bean salad. Even on an off night, we left feeling better than when we arrived. It's just what the pharmacist ordered.
---
City Pharmacy
Address: 1105 Church St., Covington
Contact: 470.441.5092
Website: citypharmacycov.com
Hours: Lunch and dinner, Tuesdays-Sundays
Parking: On street
Dress Code: Comfortable, casual, cool
---
Speaking of Unexpectedly Great Burgers
Ann's Snack Bar
Atlanta
This tiny spot on a rundown stretch of Memorial Drive serves what The Wall Street Journal once named the best hamburger in America: the Ghetto Burger.
facebook.com/Anns-Snack-Bar-156215627758930
---
The Rookery
Macon
Named for local legends such as the Allman Brothers, Otis Redding and Phil Walden, these burgers offer surprise ingredients like fried green tomatoes and even peanut butter.
rookerymacon.com
---
The General Muir
Atlanta
You don't necessarily expect Atlanta's best Jewish delicatessen to offer an outstanding hamburger, but this double-patty stack with American cheese, shaved onion and bread-and-butter pickles (served with a full sour pickle at dinner) goes the extra mile.
thegeneralmuir.com
---
Manhattan Bar
Athens
Yes, it is a White Castle. Yes, it is microwaved. But I dare you to find a better $1 snack at 2 a.m. than in this irresistible downtown dive.
facebook.com/Manhattan-Bar-653638638060098