Augusta/Richmond County: A Bright Future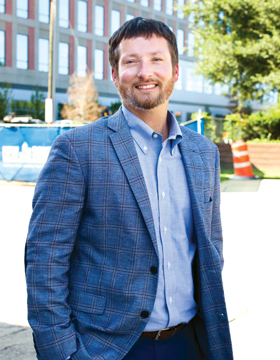 Masters Tournament patrons wove through roped lines to enter the Augusta National Golf Club's new Golf Shop, not far from the No. 1 fairway. The queues were a Disney World-esque experience into a building that course officials say is twice as big as the previous store and took 20 weeks to complete for the 2018 Masters.
Some patrons elbowed over to choose from 125 styles of hats, while others spread out to T-shirts and merchandise featuring the iconic logo, and then checked out at its 64 registers.
"The patrons each year have been treated to something new. That's certainly brought the excitement to a high level, not only locally, but worldwide," says Phil Wahl, chair of the Augusta Convention and Visitors Bureau.
It's not only the annual Masters that brings attention to Augusta-Richmond County, which has nearly 202,000 residents, but military, commercial, education and tourism projects are also commanding attention and bringing jobs.
The Augusta Economic Development Authority (EDA) facilitated more than $300 million in capital investment and announced more than 2,500 net new jobs during 2015 and 2016. In 2017, the authority approved more than $965 million in industrial revenue bond financing.
"We've got the second fastest-growing economy in the state of Georgia," says Mayor Hardie Davis Jr., who won a second term in May. "This is an extremely exciting time for our city in terms of economic growth. It's just been phenomenal."
The Augusta metropolitan statistical area (MSA), which includes counties adjacent to Richmond, has seen record employment, with 242,700 jobs in March and a job growth rate of 3.2 percent in the first quarter of this year. That is double the national average according to research by Simon Medcalfe, an economist with Augusta University's (AU) Hull College of Business. More than 7,000 new jobs have been added since July of last year.
City leaders, economic development officials, executives and residents are looking forward to more milestones as Augusta-Richmond County approaches 2020. That's when U.S. Army Cyber Command Headquarters will consolidate eight separate facilities in the Virginia, Maryland and Washington, D.C., area and move them to Fort Gordon, the region's largest employer with a $2.4-billion annual economic impact.
---
Welcoming Innovation
The recent announcement of a nearly $94-million mixed-use project at downtown's riverfront depot property will bookend the Georgia Cyber Center, which opened in July.
"The Riverwalk now plays a major role," says Margaret Woodard, executive director of the Downtown Development Authority, who adds that the depot project will be the largest private investment ever in downtown.
The cyber center is a $100-million investment by the state, Augusta-Richmond County and Augusta University. Phase one will hold AU's Cyber Institute, the Georgia Bureau of Investigation's cybercrime unit and a 340-seat auditorium. The second phase, expected to open by year-end, will house private sector employers, including startups.
"The concept here is for a student to walk out of the classroom and walk directly across the hall to do an internship with one of those entities. And the students will be in the same building and rubbing elbows with individuals who would some day be their employer," says Brooks Keel, AU president. "It's a fantastic way of putting business and industry and government and education all in one building, and sort of mixing them all up so they can have a chance to learn from each other and interact with each other."
Cal Wray, president of the Augusta EDA, says top questions from prospective companies have shifted from sites to staffing.
"'What is the workforce like?' is now the first, second and third question out of their mouth," he says.
This fall, AU will offer a certificate in cybercrime. Keel says the intent is to eventually offer the full academic spectrum in cyber, from certifications to a Ph.D.
"That's what the industry is looking for. That's what we want to be able to provide," he says.
U.S. Army Cyber Command Headquarters' relocation and additional growth across Fort Gordon is bringing about 15,000 workers and their families to the area. Some of those workers have already arrived, but 4,880 more military and civilian personnel and 6,700 family members are expected between now and 2023.
"We like to tell people that the growth is more haircuts, it's more beautician appointments, it's more dry cleaning, it's more rentals. This growth benefits the entire community," says Tom Clark, executive director of the Central Savannah River Area (CSRA) Alliance for Fort Gordon.
Fort Gordon is implementing more than 80 major construction and renovation projects worth nearly $2 billion projected over the next decade. For example, the $900-million Cyber Center Schoolhouse expansion includes a new building, renovation and modernization of existing facilities, and road, water and sewer improvements. Underway is a $50-million entry at Gate 6 that will widen a portion of Gordon Highway. The city in November 2017 also broke ground on an $18-million, 32,000-square-foot transit bus operations and maintenance facility on Gordon Highway.
---
Nights and Flights
Fueled by Fort Gordon and defense contractors, the medical sector as well as sporting events ranging from an annual Ironman competition to the Masters, the city has seen a surge of hotel rooms. Travelers stay an average of 2.8 nights in Augusta, which has about 7,000 hotel rooms, according to the CVB. Total visitor spending in 2017 reached $532.3 million, and the industry employed 4,782 people.
"People are clearly choosing Augusta as a destination," Davis says, "for not only the live, work, learn opportunities … but they're looking for opportunities to come as a tourist."
On Washington Road, a 120-room Fairfield Inn and Suites is under construction by PeachState Hospitality, also owner of a new 88-room Springhill Suites by Marriott and a 124-room Residence Inn near Bobby Jones Expressway. Downtown, a 117-room Hyatt House on Broad and 13th streets is expected to open by September, Woodard says, adding that a to-be-announced hotel is also planned on Broad.
A record 580,755 passengers used Augusta Regional Airport in 2017, up from 552,156 in 2016, says Herbert Judon Jr., who was named the airport's executive director in 2016. Delta, which provides service to Atlanta, and American, which provides service to Charlotte, N.C., are adding additional capacity with larger flights, Judon says. The airport hopes to bring a third airline with service to Washington D.C., which is the No. 1 destination out of Augusta.
"Our community has made it very clear that restoration of Washington, D.C., service is a priority here in Augusta, especially with all the cyber activity, so we've got a special focus on it," he says.
This summer, the airport expects to complete an extension and rehab of its main taxiway, a $17-million project funded by the federal Airport Improvement Program. Restroom renovations, terrazzo flooring in the terminal, renovating an older hangar and passenger boarding bridges are other projects. The airport also seeks to recruit aerospace operations to its industrial park, which has about 150 acres on the south end.
Since 2010, more than $1.3 billion has been invested in Augusta's manufacturing sector, according to the EDA. A $120-million expansion at Starbucks' Augusta Soluble Plant will double its facility in the Augusta Corporate Park and add about 100 jobs. The 1,800-acre park could benefit from a new state law that extends tier 1 job credits (up to $4,000 per job) to government-owned industrial parks in counties with a federal military installation. The EDA seeks to add rail to the corporate park, Wray says.
Manufacturing is the "quiet backbone" of Augusta's economy, says Kevin Holleran, president and CEO of Textron Specialized Vehicles, which has 1.4 million square feet and more than 1,450 workers in south Augusta.
"It's a critical element to the tax base here in the region, and it's been reliable and growing," he says.
---
Expanding Education
Augusta University had an enrollment of 8,824 in fall 2017, up about 300 students from the year before, and approximately 14,000 employees, Keel says. He expects enrollment to grow by another 300 to 400 students this fall.
Also this fall, construction will begin on a $70-million College of Science and Mathematics, which received $49.4 million in the governor's fiscal year 2019 budget. The program is being relocated from AU's Summerville Campus to the downtown Health Sciences Campus.
Next to the Health Sciences Campus, the $38-million mixed-use Foundry Place plans to add 221 residential units in the Laney Walker/Bethlehem neighborhood, where city leaders hope to see revitalization.
Augusta has about 23,000 workers in the healthcare sector, according to the EDA, which includes the University Health Care System and Augusta University Health System. University Health Care System in 2017 acquired Trinity Hospital, now called University Hospital Summerville. The Children's Hospital of Georgia and the Georgia Cancer Center are affiliated with the university. A $62.5-million expansion to the cancer center, which includes the M. Bert Storey Research Building, is expected to be complete in October, Keel says.
---
Destination Downtown
Next month, TaxSlayer, a software-development company providing tax services, plans to open an innovation and technology campus, which also will serve as a corporate headquarters, in the 40,000-square-foot former YMCA building on Broad Street with 80 to 120 employees. Shared Space is opening a co-working space in a 15,000-square-foot building on Greene Street, after a $3.2-million renovation that should be complete in November.
"Downtown is increasing its daytime workforce because of the critical mass that's being developed. It offers a work-live lifestyle," says Sue Parr, president and CEO of the Augusta Metro Chamber of Commerce.
TaxSlayer selected EDTS Cyber to provide protection against cyber threats and fraud. In 2017, EDTS moved into the Augusta Cyberworks development, becoming the former Sibley Mill's first tenant. Sibley and the adjacent Kings Mill in the Harrisburg neighborhood are set to become a mixed-use complex.
Turn Back the Block, a faith-based nonprofit, turns vacant lots and homes and blighted structures into new affordable homes in Harrisburg, which has 22 percent vacant or abandoned homes and less than 20 percent owner-occupied homes. The organization recently sold its first home, for a little under $90,000, and opened an office on Battle Row, says Lauren Dallas, its executive director.
Harrisburg is a "prime spot for everything that is going on in Augusta," she says, noting that it's in the middle of the AU Summerville Campus, the medical district, the Cyber Center and Augusta Cyberworks.
"And if you think about housing in that area, we are in need of affordable housing for the growth that is happening in Augusta," she says.
Projects like the depot will help with the housing crisis downtown, says Woodard, who notes the JB Whites Building's 51 condos are now 100 percent occupied. Market rents downtown have risen to about $1.65 per square foot, she says.
Foot traffic has grown since the opening of the renovated Miller Theater, home to the Symphony Augusta Orchestra, and the $40-million SRP Park for the Augusta Greenjackets minor league team, across the river in North Augusta, S.C. A 180-room Crowne Plaza, expected to open in early 2019, is part of the $183-million mixed-use Riverside Village.
"What goes on in downtown Augusta is going to help North Augusta, and vice versa," says Robert Osborne, president of Augusta Tomorrow, a downtown development organization.
The $280 million in Transportation Investment Act projects expected to begin in the next couple of years, Davis says, include turning the 5th Street Bridge into a pedestrian path between the cities.
"Downtown will get even better going forward," Holleran says. "The multiple efforts around town … [have] turned Augusta into a much easier selling point for 22 year olds or 25 year olds graduating with master's degrees to consider Augusta."
A cultural district is developing with the Miller and Imperial theaters and plans for the Morris Museum of Art to relocate to Broad and Seventh streets, Woodard says. Six new restaurants are in the works, including Groucho's Deli and Brad and Havird Usry's The Southern Salad next to a visitors center expected to open this fall on Broad Street.
A $6-million CVB campaign, Wahl says, will promote its Destination Blueprint plan that includes the visitors center, a river destination center with a water shuttle, public art and golf cart transportation. The Augusta-Richmond County Commission also authorized $15,000 for a concept design for a whitewater park, and it is considering a plan to allow golf carts downtown for transportation and tours.
"We manufacture the vast majority of golf carts in our community and for the world," Parr says, noting Textron — maker of E-Z-GO golf carts — and Club Car operations. "It just makes sense."
Unisys, which has more than half of the 700 workers it plans to have downtown by 2020, could benefit by transporting employees and guests via golf cart, Parr says.
"I think it's great for our local community to be one of the leaders," Holleran says, "and hopefully with our tourism growing, that idea can grow beyond just Augusta and other markets can follow suit."
---
Artistic Augusta
From murals with messages like "Keep Downtown Augusta Funky" to painted traffic signal boxes, Augusta's public art is on display in commercial and residential areas.
"Public art is our big push," says Brenda Durant, executive director of the Greater Augusta Arts Council.
Artist Jason Craig is collaborating with other artists to create murals on boarded-up buildings and properties under construction in downtown Augusta.
"We love them. They're a great addition to Broad Street," Durant says.
The council, which gathered artists to paint 23 traffic signal control boxes a couple of years ago through its Art the Box program, also responded when residents in the historic Summerville neighborhood asked for an artistic touch to a metal signal control cabinet on Walton Way. Earlier this year, artist Cyndy Epps painted Summerville buildings and flowers on the box.
"People were honking and stopping. That just attracted so much attention, really unexpected attention," Durant says.
The council is in the final stages of the requirements that will allow it to move forward and spend $1 million in SPLOST funds to use public art to beautify three major highway and roadway "gateways," Durant says.
Durant notes that it has been working on creative placemaking projects through numerous meetings with residents in the Harrisburg and Laney Walker/Bethlehem neighborhoods.
In addition, earlier this year, the Porter Fleming Foundation awarded a number of grants around the community, which included funding four public art projects in the Harrisburg community, Durant says. The council held sessions to help artists learn about grant writing.
"There's a lot of excitement in Augusta about public art," she says.
Proposed projects include a mural on the underpass of the Calhoun Expressway that goes through the neighborhood, while the Augusta Canal Authority also was a grant recipient for public art. Durant is hopeful that work on some of the projects could start in the fall.
"The residents of Harrisburg have such pride in their neighborhood," Lauren Dallas, executive director of the nonprofit organization Turn Back the Block, says. "They want to pick up trash, they want to get rid of the tires. They want to see the historic neighborhood really come back around. With some focus on art, it just creates a better quality of life." – Lori Johnston