Moving Pictures in Jesup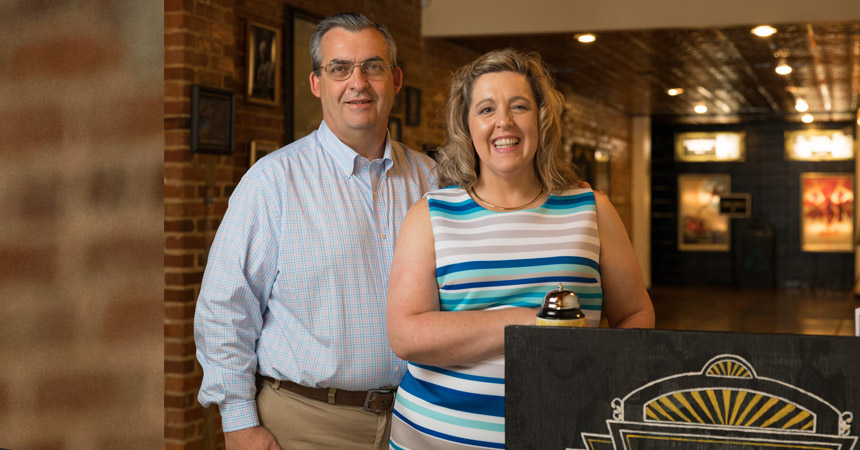 Outside of dance recitals and high school drama performances, entertainment in a small town can be tough to come by. Residents of Wayne County – and the scores of people who drive from miles around – can thank Ralph and Jamie Hickox for making Jesup an anomaly when it comes to offering two great entertainment options.
Said to be Georgia's oldest drive-in theater, the Jesup Drive-In was established in 1948 and bought in 2012 by the Hickoxes. Moviegoers enjoy the quintessential 1950s family-oriented drive-in experience, with two current movies offered on two screens, complete with movie snacks delivered car-hop style by servers in poodle skirts.
Downtown, the Hickoxes renovated the nearly100-year-old Historic Strand Cinema, this one with a 1920s theme. Offering three screens showing current movies, the Strand features electric leather recliners, personal tables and seven-foot wide aisles. Food, from burgers and pizza to wraps and wings, is made to order and delivered, quite a treat in a small-town theater.
"People come to a movie to get away from reality for a few hours," says Ralph, who was named 2017 Business Leader of the Year by the Wayne County Chamber of Commerce because of his contributions to the downtown economy. He's also a Wayne County commissioner and an admitted workaholic, says Jamie, his wife and business partner in the two theaters, an air conditioning repair business and a real estate office.
"Ralph is happiest in the theater; he is in his element," says Jamie, noting that their four children have also helped out in the business. In fact, the family lives above The Strand in an 1,100-square-foot apartment they created while renovating the theater. With a huge social media following, Jesup's theaters rack up numbers not seen in theaters in many larger towns. The success has Ralph and Jamie discussing taking their concept to a larger market demographic, one town at a time.
Photo of Ralph and Jamie Hickox by Eliot VanOtteren.