Sara Blakely, best and brightest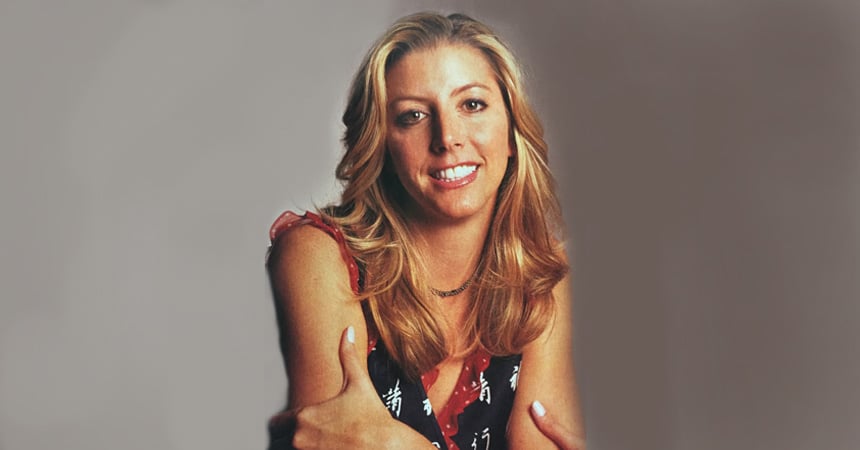 This month isn't the first time SPANX Founder and CEO Sara Blakely has appeared on Georgia Trend's cover. In 2002, Georgia Trend named her to our annual 40 Under 40 – the state's best and brightest under age 40.
Below is the profile of Blakely, written by Kenna Simmons, that appeared in the October 2002 issue. To see how far this inventor and business icon has come, check out this month's cover feature, "Trailblazer and Culture Changer."
Pantyhose mogul Sara Blakely tried out her tag line – "Don't worry, we've got your butt covered" – on her mother before she put it into use. "That's my focus group," says the former sales trainer and motivational speaker, who also moonlighted as a stand-up comic. "If she laughs and isn't offended, I put it on the package." Her Atlanta company, Spanx, started making footless pantyhose in 2000, after Blakely searched in vain for something to wear with a pair of cream-colored slacks and sandals – something that would shape hips and thighs, yet leave feet bare. Her invention was dismissed by a number of manufacturers until one had a change of heart – after his daughter demanded to know where she could get a pair.
Since then, Oprah's professed her love for the product; Neiman Marcus, Saks and Nordstrom stock them; and People and Forbes have come calling on Blakely, who received the 2001 Ernst & Young Emerging Entrepreneur of the Year award in the Southeast. Blakely, who's 31, says she always knew she had a winner. "I am a woman who loves clothes and shoes, and if I was that frustrated that the right undergarment didn't complement my wardrobe, there had to be many other women who felt the same way."
Now Blakely is turning her attention to high fashion and comfort, two phrases one doesn't often hear in the same sentence. Expect Spanx to move into bodywear and other fashion areas, although Blakely won't reveal details yet. She does have more hosiery products up her sleeve – or more appropriately, up her leg – that will be out in three to six months.
Despite the success, Blakely says she still loves being a human demonstration model. "I love seeing women react when I show them this product," she says. Ever the comedian, she also cracks, "I'm always lifting my pants up, not down!" Her mother will be glad to hear it.
Photo: Sara Blakely, 2002, from the Georgia Trend archives
Do you follow us? Find us on Facebook, Twitter and Instagram.