In the Zone
Tax credits fuel investment in rural towns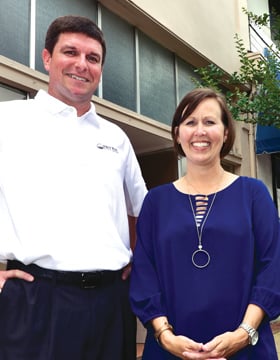 "Cornelia is on fire!" writes Jessie Owensby, community development manager for the northeast Georgia city, in an email. For good measure, she uses the fire emoji.
That's due in part to Georgia designating the city as a Rural Zone, where portions of the community are zoned to allow for tax credits. It's a new program offering tax incentives to small businesses that invest in rural downtowns – in communities with populations of fewer than 15,000 – to renovate buildings and create jobs. The program came about when former Georgia Department of Community Affairs (DCA) Commissioner Camila Knowles and current DCA Commissioner Christopher Nunn started talking about how to help small towns across the state that haven't been able to take advantage of economic growth like the bigger cities have.
"If we could provide them with another tool to stimulate homegrown economic development, that would be helpful to those communities – not only to spur some economic growth, but to shore up their rich historical downtowns," says Nunn, calling them "truly gems." In fact, he notes that many bigger urban areas and suburbs are trying hard to recreate the sense of place and community (and convenience) by building their own downtowns.
The DCA worked with the state legislature to craft the Rural Zones bill (HB 73), signed by Gov. Nathan Deal in 2017. Three tax credits are part of the program:
• A job tax credit of $2,000 for each new job per year for up to five years
• An investment credit of 25 percent of the purchase price of a building (up to $125,000, claimed over five years)
• A rehabilitation credit of 30 percent of the rehabilitation costs (up to $150,000, claimed over three years).
The credits can be layered on top of one another, but to qualify for any of the tax credits a business has to create at least two jobs, either full-time or full-time equivalent – say, two part-time jobs that add up to 40 hours a week. Different businesses can benefit, too. For example, a restaurant owner could claim the job tax credits, while the investor who owns the space where the eatery is located could claim the investment credit and a contractor could claim the rehab credit.
To apply, cities must have a master or strategic plan for their downtown and submit a study or analysis that shows what kinds of businesses could be supported. Cornelia was one of the first nine communities to get the designation, along with Bainbridge, Commerce, Fitzgerald, Jonesboro, Nashville, Perry, Springfield and Toccoa.
---
Coming Together
For Cornelia, it was a no-brainer. The city of just over 4,000 already had a strategic plan and was working to revitalize its downtown. The Rural Zone designation is helping to seal the deal, says Owensby. The first business to take advantage of the designation – a local insurance company – purchased an old department store and is renovating part of the space to move its offices there and expand. The other part of the building will be transformed into a corporate event venue for training, conferences and community events, something that's badly needed in the city.
"It's a family business – all of them were born and raised in Cornelia," says Owensby. "They really wanted to invest in downtown, so when that building became available they looked at it, and looked at it, and looked at it. When we got the Rural Zone designation in January, I really started to tell them, 'Hey, if you're going to do this, now would be the time.' They were able to purchase the property in March."
Not only will the company's expansion add a handful of new jobs – the primary goal of the Rural Zones program – its relocation and renovation of the building will essentially create two businesses in the space that benefit all of downtown. "Think about what that drives in terms of the foot traffic and just the vitality in downtown areas," says Nunn. "That's exactly what we're trying to do."
Several other buildings are seeing action as well, either due to new owners, new leases or renovations by existing property owners. A purchase is even in the works that would mean a new downtown restaurant.
"It's encouraging both new purchases and renovations alike," says Owensby, who points out the Rural Zone incentive is so valuable because it's "a triple-sided tax credit – you get a tax credit for creating jobs, and on top of that you get a tax credit for investing and on top of that, you get a tax credit for redevelopment." That even encourages existing owners whose properties may be blighted to undertake renovations.
It also prompts people to put a little more skin in the game, says Nunn. "By providing the three-pronged approach, we hope to get people more invested in their community" for the long-term, he says.
While not all the fire in Cornelia comes from its Rural Zone designation, the activity spurred by the tax credits is keeping redevelopment hot. It's a similar story in Bainbridge, where Downtown Development Authority Director Amanda Glover says the Southwest Georgia town of just over 12,000 hit the ground running, spreading the word about tax credits through brochures and in-person meetings.
"We've started talking to the local banks," she says. "I've gone to the real estate companies so when they're showing properties … within that district, they can have information to provide to their client. It's been very beneficial."
For example, Glover says one couple moved from Colorado, bought a building and opened a sports bar, Clay Street Sports Bar & Billiards. "They purchased the property and created [four] jobs, so they'll be eligible for those two incentives," she says.
And as Nunn points out, unlike job announcements in big metro areas, where you might hear about 300 positions created, three or four jobs are a big deal in rural parts of the state.
---
Big Moves
In April alone, seven properties sold in Bainbridge. A restaurant plans to open on the square, and a craft brewery is in the works, too. The city was already in talks with the couple who's planning to open the brewery, says Glover. It's a nice story where one new small-town business can start a cycle of economic development: A new restaurant, The American, opened in 2017, and, although it was outside the window of eligibility for the tax credits, the owners immediately started recruiting friends to move to Bainbridge and open an adjacent brewery. A local bank has agreed to finance the venture, which will be eligible for tax credits, says Glover.
"We've seen a lot of interest in the craft brew space" across the state, says Nunn. It's a business that qualifies as a manufacturing operation, but also has a community component. "I think about the old British pub concept – the gathering place," he says. "I can envision that would be another [way to help] revitalizing downtowns."
The restaurant is already drawing in people from the region, says Glover, and she expects the brewery to do the same. "The energy right now is crazy!" she says. "It's just going to take off. … Just today I talked to another person who's looking at purchasing a building where they would be the investor and developer and would find someone to rent the space."
As for job creation, Glover says she's predicting about 18 total from the tax credit-qualifying ventures that are either open or in the works. That doesn't count the jobs added at The American restaurant. Of course, Bainbridge is getting a much bigger influx of jobs – about 300 – with the announcement that gun manufacturer Taurus USA will build a plant there.
Knowles, former DCA commissioner and now senior vice president and counsel at Cornerstone Government Affairs, told Georgia Trend last year that the Rural Zones program was designed to be different in one big way from the similar Opportunity Zones program, which also grants tax credits for job creation: the jobs have to be "full-time equivalent" to qualify. That recognizes the fact that small towns – especially retail establishments in historic downtowns – may not always be able to support full-time jobs.
"Think about a courthouse square and the shops around it," Knowles said. "Those jobs aren't necessarily going to be full-time jobs. … As long as you have two part-time people that work the same amount of hours as a full-time person, we want to recognize that you're creating economic activity and encourage you. This is intended to get the coffee shop open [or] a shoe store, whatever it is. But it would also include an accounting firm, for example, or a small-town law office that might want to open. … More of that sort of organic small business growth that we want to see."
---
Leveling the Field
Springfield, just north of Savannah, is working on a project involving a vacant furniture warehouse in the middle of downtown. The town of about 4,000 took a hit in the '90s when the construction of a bypass encouraged businesses to locate away from downtown.
"We've got a lot of vacant buildings, and the hope is that this Rural Zone will level the playing field again where it's just as cost-effective, if not more so, to do a new business in downtown as opposed to some of the commercial areas that have developed along the highway," says Community Development Director Erin Phillips.
The city actually purchased the vacant furniture warehouse to keep it from being turned into a big storage space that didn't add any vitality to downtown. However, the building wasn't really suited to renovation for city use. That realization sparked the creation of a downtown development authority, which is working to turn the building into a multi-tenant space. Eventually, the city plans to sell the building to an investor who may be eligible for the tax credits.
"It's going to be something the downtown development authority renovates and owns for a little while, and people are going to rent the spaces from us," Phillips says. "But with these acquisition credits, when we have a buyout, it's going to be that much more appealing to the main tenants to buy out their spaces, which is good for us because it goes back on the tax budget."
Meanwhile, Phillips says the development authority is offering additional incentives, circulating information and planning informational events with the chamber of commerce aimed at bankers and accountants as well as property owners and potential investors. She praises the state for designing the program to promote investment. "To be able to get some of your purchase price back is really going to help us out," she says. And she hopes the lure of tax credits will prompt existing owners to start rehabbing some of the vacant buildings. "I know of three other people who have buildings that they're currently renovating, so I hope they take advantage of them on their 2018 tax returns," she says.
In Perry, Main Street Coordinator Catherine Edgemon knew the city had only one shot at the Rural Zone designation. That's because its population was 14,991 – nine residents under the limit. (Updated estimates are now over 15,000.) But the city was ready, having already completed a strategic plan and a retail market analysis that showed the desired businesses for downtown included restaurants and clothing, shoe, home décor and gift shops.
Edgemon has been making the rounds to promote the program. "I have several people who are in the process of hiring right now, so we anticipate … in the next few weeks getting those requests submitted [to DCA]."
The city isn't just relying on the Rural Zone designation – like many of the communities selected, it's actively working to improve downtown with a variety of initiatives, including the construction of a park on the edge of downtown and a wayfinding plan that will help visitors navigate better. That's important because Perry sees a lot of out-of-town traffic from the Georgia National Fairgrounds and Agricenter.
"Having the park there is just another amenity that could help attract visitors who are at the fairgrounds for events and want to come downtown and hang out at the park, get something to eat or wander around the shops," says Edgemon.
As DCA gears up for another round of applicants this fall, Edgemon says she appreciates that the agency saw the need for this program. "I'm excited that Perry is one of the first nine communities selected, and I hope DCA is inundated with worthy applications," she says, "so the state legislature does see there is a demand for a program like this and that it does make a difference."
---
More Help for Rural Communities
Georgia's smaller communities have been walloped by rural hospital closures, with six facilities shuttering since 2010. When a hospital closes, it deals a devastating blow to the local economy as well as to patient care, forcing people to drive many miles to be treated.
It's not a fix, but a new state law (HB 769) will allow the creation of "micro-hospitals" when a rural hospital goes under. A facility in a neighboring county can buy the building and offer care in the "micro" setting – meaning with two to seven beds – and offering emergency services 24/7.
The same law has a number of other elements designed to help rural healthcare. It creates a Rural Health System Innovation Center charged with conducting research into the challenges of providing care in small communities and coming up with policy recommendations. It raises a state income tax credit for contributions to rural hospitals to 100 percent, providing a dollar-for-dollar credit. And it creates a grant program that helps doctors who practice in rural areas pay their malpractice insurance premiums.
Recommendations by the House Rural Development Council sparked the legislation, which was sponsored in the House by Rep. Rick Jasperse (R-Jasper). Gov. Nathan Deal signed it into law in May.
Also receiving the governor's signature was SB 402, the Achieving Connectivity Everywhere (ACE) Act. The bill is designed to help bring high-speed internet service to rural areas throughout the state.
While the Georgia General Assembly didn't appropriate state money this year to fund the project, it may be eligible for federal money that the U.S. Congress approved for rural broadband in March.
As part of the process of providing rural internet access, the bill allows for internet lines to be installed in public rights of way, including along interstates and other roads. These lines can be leased to internet companies that would provide service to rural communities. – Kenna Simmons
---
The next round of applications for Rural Zone tax credits must be hand-delivered to the Department of Community Affairs or postmarked by 5 p.m., Aug. 17, 2018. Late applications will not be considered. For more information and to download an application form, go to dca.ga.gov/community-economic-development/incentive-programs/rural-zones