Hooray for Y'allywood
The state's robust Camera Ready program has every county ready for its close up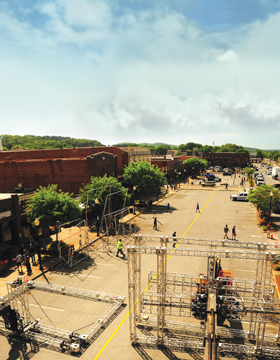 Long gone are the days when Georgians interested in a film career had to pack up and move west – uprooting families, taking huge financial risks and often not making it in Hollywood. Now, Hollywood is heading east, and every county in the Peach State is prepped to meet the needs of location scouts, producers and filmmakers.
A good portion of that preparation comes from the Georgia Department of Economic Development's Film, Music and Digital Entertainment Office and its Camera Ready program, which allows all 159 counties to market unique venues and locations that could make movies, music videos, television shows and even commercials look just right.
The program's centerpiece is the Camera Ready liaison, people in each county who act as the go-to for location scouts and others seeking the perfect spot to shoot. The state film office also maintains a couple of databases – Reel-Scout, which holds, tags and sorts thousands of photos of shoot-ready locations; and Reel-Crew, where people with production experience can post resumes and references in order to get their next gig.
"The first counties were designated [Camera Ready] in 2010," says Craig Dominey, the film office's senior location specialist and program manager. "We had 16 counties designated at that time. By 2014, we had all 159 counties certified as Camera Ready."
The idea for the program grew as the state's film industry grew, he says.
"We were seeing production starting to happen not only in Metro Atlanta and Savannah but [in] other parts of the state. We just wanted to have a point person in each county that could assist filmmakers when they were shooting in their area and also to be able to promote the county's assets to Hollywood decision makers. Thanks to this program and the tools that we offer, counties are able to promote their shooting locations and other assets directly to producers and directors."
It's a program that works quite well. Last year, 320 Georgia-shot film and TV productions had an economic impact of $9.5 billion and represented $2.7 billion in direct spending. But, for some, it took time to become a believer in Camera Ready.
---
Strange Bedfellows
It may seem as if the film industry got started in Georgia when the tax incentives went into effect in 2008. But, in fact, there are quite a number of people who have made a living in the film and entertainment business for decades. You might think those folks would have been the most excited about Camera Ready – and the possibilities for more business. Not necessarily.
Michael Colford, who does location work for Tyler Perry Studios, among others, got his start back in the 1980s doing location scouting and managing for advertising. When he first heard about the Camera Ready program, he saw it as the state taking money out of his pocket.
"At first I was kind of resistant to the idea," Colford says. "I thought, why should people call me when they can call this county to get stuff. But I will say, over time … I feel like [the Camera Ready liaisons have] ended up becoming so much more like partners with me than competitors. I'm not really proud of … how I looked at it in the beginning, before I really understood how it was going to work, but it's come around to be a really positive thing."
The way Camera Ready can help starts with the decisions by directors and producers about the types of locations and the look they want for a film. The location may be New York City or the moon, but the reality of production costs says if the moon can be recreated in Georgia, then producers will want to take advantage of the tax incentives and shoot the moon in Georgia.
That's where location scouts come in. They contact the film office – Dominey and his team – who scour the Reel-Scout database for locations that could be made to look like whatever the film needs – from the Big Apple to a 1940s diner to a huge tree to the moon.
"One of the main assets that every county has are unique shooting locations," Dominey says. "We have such a huge industry here … and these films and TV projects that are set in many different parts of the country and the world and different time periods and things like that. So we need a wide variety of locations."
Liaisons and even individuals can upload photos into Reel-Scout of different places in their areas that might make good shooting locations. The database has thousands of photos tagged with keywords.
"We can actually go into this database and pull numerous images of potential locations," Dominey says, "and send them to the studio as a way of kind of giving them an introduction to Georgia and some regions that might work for their production."
That's the way it works ideally. "But," he says, "there's always that kind of oddball request that we have to think about. We have all of our liaisons available that I can shoot out an email and say, 'Hey, I'm looking for whatever the location might be.' They can go out and find it and send me suggestions."
The Camera Ready liaison picks it up from there, with, say, an email about someone looking for a red house on a hill with a pasture out front, says Ellen Archer, executive director of the Cartersville-Bartow County Convention and Visitors Bureau and the community's liaison. "If I don't already have a picture of a red house on a hill with a pasture in front, I will ask somebody where one is, go take the shot with my phone and send it to the scout or … Craig."
The Camera Ready role doesn't end when the location is found. In fact, in many ways, that's just the beginning. The liaison can also be the contact person for any questions a location manager has about working in the county – from how to get a permit to where to park the equipment to the best restaurants in the area.
"If you know you're going to a specific county like Bartow where you don't really know anybody, you look up on the Camera Ready website who you contact and you have the initial person to kind of start the ball rolling," Kyle Hinshaw, a location manager in Atlanta, says. "It's a big time saver and very helpful."
It's a premise that seems to work in Cherokee County, which has 161 listings in the Reel-Scout database. "Since becoming a Camera Ready community in 2011, we've seen a 464 percent increase in film contacts," says Molly Mercer, film project manager in the Cherokee Office of Economic Development. "That is not how many things we have had filmed here, that is inquiries, people scouting here, looking here, calling us about certain locations that they had seen or heard about."
It's a win-win, according to location scout Erin Fuller. "I've used it a ton. Basically any time I'm scouting outside of Atlanta. … I call the Camera Ready liaisons in each county – or I email them – and send them a description of what the production designer or director has told me they want. Various counties will get back to me saying they have this, they have that, or they just don't have it. That way I can feel a little bit more confident about what I've turned up, too. It's like a second check on what I've found, because they know the area very well. And if they've told me absolutely not, we don't have another hospital that you can scout, then I know that I've done my job."
---
50 First Dates
For Camera Ready to work, the people in the liaison jobs need to know their communities well, need to be quick off the mark when a question comes in and they need to build relationships – with people in their communities and with the location scouts and managers.
"The liaison is kind of our point person in each county," Dominey says. "So in addition to trying to market what they have to offer, if a production company does end up shooting in a particular county, like, say Bartow, a lot of times they need that liaison's assistance with contacting the right people so they can have a successful shoot."
That assistance might involve shutting down a road or finding local businesses that can help with everything from laundry to catering.
"The reason we created the program the way we did is we wanted a liaison who would know everyone in the county, so that if we need assistance they know who to talk to on the local level," Dominey says. "They're our eyes and ears in each county when we can't be there."
Having someone in every county results in quicker answers about possible locations – an essential part of the biz for the higher-ups in the film world who are trying to make decisions quickly, often gathering location information from different states before determining where to shoot.
"I don't have any concrete evidence, but I would say definitely [the liaison program works] because … they're such a strong resource, they pull so much knowledge from all these surrounding counties that we wouldn't know otherwise," Fuller says. "And they also help us with speed, which is really of the essence when you're being asked to find something here."
"Craig is really good," says Leah Poole, CEO of the Liberty County Chamber and CVB. "He'll send an email that says, 'This is what they're looking for. Can you find me this?' We scour our county until we can find whatever it is. We've climbed fences in heels and skirts and all kinds of fun stuff, because you never know what day the request is going to come in and they don't usually wait very long. We go out almost immediately."
That's the way it happened with American Grit, a reality show on Fox that was filmed on Hampton Island in Liberty County. Poole got a call for photos and video. She sent them in and never heard a word – until four months later.
"[The location manager] called on a Thursday, I remember very vividly. He said, 'I was looking in Savannah. I haven't really found what I was looking for. Can you send me some stuff?' I said, 'Yeah, I sent it to you like four months ago.' So he got his phone out and was looking. He was like, 'Oh, my gosh, this is perfect. When can I come see it?'"
Poole and her crew met him an hour later and gave him a tour of Hampton Island, a private island that's been the location for a number of films and TV shows. He fell in love with the location.
And the folks in the county couldn't be happier. "It was a $4.5-million economic impact on Liberty County," Poole says. They "shopped in our Walmart, stayed in our hotels. It was $1.2 million in hotel stays. It was phenomenal for us. It was a big boom. Then right after that one filmed, VH1 did Scared Famous. That was $2.1 million."
In addition to speed, building relationships can have a huge impact. Dominey uses a hog farm, of all things, as a case study for this when he does liaison training around the state.
"HBO had a series they shot here that hasn't been released yet, called Sharp Objects, with Amy Adams," Dominey says. "Pretty much their entire Georgia shoot was in and around the city of Barnesville. When they were scouting here, they were looking for a hog farm. Sometimes they're [hog famers] not terribly receptive to filming for various reasons, and we were having a hard time finding a hog farm. There was one that the scouts found that was near Barnesville. They were pretty much the only hog farm that would play ball with HBO."
That was just the beginning, he says. Barnesville is about an hour (on a good day) drive south of Atlanta, where most of the people associated with filming were. It's an expensive proposition to pay people for drive time – which is the norm.
"So the next question was, 'Well, we found this place. What else can we shoot while we're down here?'" Dominey says. "And that's when they had a look at the city of Barnesville itself … and they decided, 'Hey, everything we need is right here.' So they based in Barnesville, and if you can imagine, if you've been there, opening a full suite of production offices in downtown Barnesville, not only shooting there, but hiring local vendors there and eating in their restaurants. It was a huge shot in the arm economically for them."
---
Mad Money
The impact to a community of a production that comes in to film doesn't end when the camera shuts down for the day. Production companies need support services such as catering, accounting, transportation and construction, not to mention restaurants, hotels and entertainment venues – and the Camera Ready program's got those ancillary industries covered, too. In fact, many of them are listed in the program's database for scouts to search.
"Our hotels have definitely benefited from having all of the productions here," Poole says. "One of our hotels was full with American Grit for two and a half months. They were slam-packed. And then other businesses have definitely reaped the benefits. American Grit wanted a smoothie bar onsite for their cast and crew. So they hired our local natural foods store to set up a smoothie bar. We have a wash-and-fold laundry service, and they offered that for cast and crew. They would come pick up the laundry and take it back folded."
Much like the databases, the counties that are successful are full-service, too.
"I have to say, Camera Ready is pretty much the only program of its kind in the world," Dominey says. "I don't know how we would live without it because of all the requests we get here. It's great to have all of these people connected with us. The scouts … really need someone assisting them on the ground, especially when they're shooting, to be their advocate in the community and be supportive. So they really appreciate them being there and working hard to assist them."
And it's a two-way street, Mercer says. "We're just grateful and honored that they would want to come out and do business with us."