Take It Easy
Georgia's rivers, lakes and a swamp offer paddlers, fishing enthusiasts and swimmers beautiful spots for hours of leisure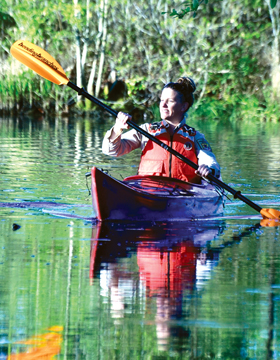 If an afternoon – or a week – spent on the water sounds like a little slice of heaven, Georgia's got you covered. Rivers crisscross the state, from the Oostanaula in the northwest to the St. Marys that flows into the Atlantic Ocean and marks the line between Georgia and Florida.
Fifteen major lakes from Lake Burton in the far northeast to Lake Seminole in the southwest corner offer up hours of relaxation within driving distance to most all of Georgia's residents. And the Peach State is also home to North America's largest intact freshwater wetland, the Okefenokee Swamp.
While water recreation is great fun, it also has a great impact on the state's economy, with 238,000 jobs related to outdoor enjoyment and a $27.3-billion economic impact, according to a report from the Outdoor Industry Association.
So grab your sunscreen, your bathing suit and your kayak, and let's take a look at three different ways you can have fun while getting wet. And check out the Our State features on Columbus and Brunswick/Glynn County for more on water recreation in those areas.
---
Land of the Trembling Earth
When you're looking to get away from it all, South Georgia's Okefenokee Swamp offers 700 square miles of isolation, serene beauty, and, if that sounds too laid back, there are always alligators and black bears.
Most of the Okefenokee sits in Georgia, with a bit in Florida, and most of it is owned by the federal government and managed as Okefenokee National Wildlife Refuge (NWR). Smaller portions, also part of the NWR, are managed by the state at Stephen C. Foster State Park and by the private nonprofit Okefenokee Swamp Park (OSP). The swamp draws 500,000 to 600,000 people each year, with visitors from nearly 20 countries and every state in the union.
"We've been a National Wildlife Refuge for 81 years," says Susie Heisey, supervisory refuge ranger at Okefenokee NWR. "People living around the swamp and utilizing the swamp and being in the swamp is nothing new."
A once-large Native American population is thought to have named the Okefenokee, which has a very loose interpretation to "land of the trembling Earth," Heisey says. The name is a reference to what look like solid spots of land, but are actually "floating islands of peat and vegetation," she says. "You don't break through them, and they don't float around, they are anchored to the bottom, but they're spongy. That's where that name, land of the trembling Earth, came from."
In addition to being the largest intact freshwater wetland in North America, the Okefenokee Swamp is also on the tentative list for being a World Heritage Site, Heisey says. It's a potential designation that comes with a lot of responsibility – and draws those international visitors. But what does it mean for your average paddler or outdoor enthusiast?
Well, paddlers can spend hours or days exploring the more than 120 miles of water trails from three separate entrances. At the NWR and state park, visitors can bring or rent canoes, kayaks or small motorized boats – 10 hp or less, at the state park only – and explore on their own. And for the not-quite-so-adventurous, guided boat tours are available.
The truly brave can even camp in the swamp. "On the water trail system, we have seven overnight shelters and three islands that are accessible to visitors for camping," Heisey says. The state park also offers camping.
The nonprofit Okefenokee Swamp Park doesn't have access to the canoe trails or offer camping, but it does have guided boat tours – and a train that can take visitors around if water levels fall. The park also does a booming business in school field trips, with two teachers on staff.
"We have a daily Eye on Nature show, where the presenter will actually bring out baby alligators and non-poisonous snakes … kind of show and tell," says OSP General Manager Martin Bell. "We're the only entrance that has a railroad. We put that in in 1999 because the water levels fluctuate so that we can't run boats on some occasions."
And while the Okefenokee bills itself as a trip back in time – and away from the trials of modern life – it's not a trip to the dark ages. In fact, an app – Discover Nature Wilderness – can help visitors make the most of their time off the grid.
"We have a super-cool mobile app for the water trail system specifically," Heisey says. "It has the entire water trail system, it has the overnight stops and points of interest. It also has background information like the common plant and animal species that you may see. The most significant thing … is that you can pinpoint your exact location. So it's used as a navigational tool for people either that are day-use paddling or boating or people that are on one of the overnight trips.
"I really encourage people who are planning to come out and use our water trails to download it before they come, because they're going to have a ton of great information," she says. "They'll already have seen the maps, and then when they get here they've got this really fantastic interactive map that will help them navigate through our water trails."
---
5 O'clock Somewhere
Since the early 1970s, Lake Lanier Islands has been the go-to spot for hitting the beach in North Georgia. The state-owned, privately managed Lake Lanier Islands still serves up boating, swimming and activities for the whole family, with changes this year that will make even regulars to the resort on the south end of the lake feel like they've stumbled onto something new.
This spring, the Virgil Williams Family's LLI Management Co., which holds the master lease for Lanier Islands, partnered with Safe Harbor to manage the waterfront portions of the resort, including the marina, waterfront restaurants, water park and camping facilities. It's a partnership that means laid-back parrot heads won't have to travel to the coast – Safe Harbor's bringing Margaritaville to the lake.
"All of us here at Lanier Islands are excited about our new recreation partner," says Mike Williams, CEO at Lanier Islands. "The next phase in growth for our family-friendly property on beautiful Lake Lanier starts with Margaritaville at Lanier Islands."
"They're taking over our restaurants on the water, what used to be called Sunset Cove," says Missy Burgess, director of public relations and sponsorships. "They're going to make it all themed around the Margaritaville brand. There'll be a LandShark Landing there. They'll have water rides. They're taking over the marinas. They're taking over all the restaurants. It's going to be very exciting."
Some of the new and newly revamped venues of Margaritaville at Lanier Islands opened last month, including restaurants with familiar names like LandShark Bar & Grill, Paradise Cantina and Feeding Frenzy Fried Shack. In addition to margaritas, the waterfront will include Paradise Beach, cabanas, a five-story video screen and a zipline that soars high above it all.
Campgrounds and a new RV Resort, opening in the fall, will also get the Margaritaville treatment, with a tram to carry visitors to the beach.
Boating to the beach and restaurants is a huge part of what goes on at Lanier Islands, and the opportunities will only increase with this partnership. Boaters can now gain access to Paradise Beach – and restaurants, activities and the water park – for free, though the activities may still have a charge.
"So many boaters come here," Burgess says. "We do a lot of rental boats. People definitely come out here for their staycations. We have the water park that is very popular, from May through Labor Day. We have events here every weekend. We have live entertainment. We have restaurants on the water. We're the only real beach that's [on the lake]."
And that won't change in Margaritaville. "A lot of it – summer – is for families," Burgess says. "The pool, the golf course, the horseback riding, definitely the beach, definitely the water park and all the restaurants and boating is a huge aspect of our beach during season. When you come into that cove, it is hundreds and hundreds of boats. It is a big stop. There's lots of things – little bars and places to go to on the [lake], but I think our cove is one of the biggest and most protected coves on the lake."
To keep those boats coming back, Safe Harbor will open a dry-stack facility and an additional 250 wet slips for boat storage in 2019.
"This partnership is incredibly special, as we see huge potential to add to what the Williams family has built and make this the top destination in the southeast," says Darby Campbell, owner and president of Safe Harbor Development LLC.
---
Up a Lazy River
Georgia is home to miles of river, with more and more access opening up all the time. This is great for paddlers who are looking for a day trip – and is in large part thanks to the network of Georgia Water Trails.
"A water trail basically means that you have access along the trail for recreation. That can be swimming or paddling or fishing, anything else like that," says Gwyneth Moody, director of programs and outreach at the Georgia River Network (GRN), the organization that facilitates creation of water trails.
GRN has certain criteria that a community must meet in order to have their part of the river designated a water trail. "There's six criteria," Moody says. "There has to be a put in and a take out. You don't want to be putting in a river and having nowhere to take out." The organization also requires proper signage, with maps, safety information and distance to the next take-out point; a website; parking; and a group dedicated to the trail.
"The most important piece," she says, "is that there is a group that is sponsoring and maintaining the trail … that they are working together on a regular basis and making sure that trail doesn't become dilapidated and unsafe."
Then she laughs and mentions one more thing. "[The trail] is on the water. It's not beside the river," she says. "Sometimes people get confused thinking [a water trail] is a trail beside the river. But it's not. It's the water itself that is the actual trail."
Georgia currently has 15 designated water trails and 18 more under development. And if you're thinking they all are on rivers, well, think again. The Gainesville Upper Lanier Water Trail is on Lake Lanier, for example, and the Augusta Canal alongside the Savannah River is a water trail.
The GRN doesn't just offer training and then they're done with a river. The organization sponsors day paddles along different water trails, and its signature event is Paddle Georgia – a weeklong paddling/camping/education trip for families.
"It's kind of like a seven-day family summer camp," says Tonya Bechtler, a founder of the Yellow River Water Trail and a Paddle Georgia participant since 2012. "My daughter and I did that for a number of years. During the trip they offer water quality training from Georgia Adopt-a-Stream. And the whole goal of Paddle Georgia was to introduce you to a different river every year and to immerse yourself in that ecosystem and also to learn about water quality. Basically they teach you to enjoy [the river] so you'll protect it and take [your knowledge] back to your local rivers."
And take it back she did. She was regularly paddling the Yellow River in Porterdale with other kayakers, and the group began to talk about ways to make the experience better. "Georgia River Network came out and trained us over a period of eight months," she says. "You've got to really give Georgia River Network sole credit for anything that happens on the Yellow River Water Trail. We just followed directions. It set us up for success."
The Yellow River trail runs 53 miles through Gwinnett, DeKalb, Rockdale and Newton counties, with put-in and take-out points about every five to 10 miles. Access points aren't the only changes to the river since the trail went in. It's also noticeably cleaner.
"What people don't realize is that everything they throw out their windows, if it's not picked up, it's going to get in stormwater flow," Bechtler says. "And that stormwater flow is taking it straight down to the rivers. That trash doesn't come off that river unless it comes off by hand, piece by piece. Getting those hands down to the river to pull that trash off and bringing more and more people to enjoy [the river] has successfully brought outfitters in the business. And that's put more boats, more people, more hands, more eyes, more sharing, more caring, more protection, so it's a wonderful cycle that just keeps cycling and growing. And that's what's happened on the Yellow River Water Trail. It started with a few people, and it's evolved to a lot of people."
This month, the river will see a whole lot of people, when the 2018 Paddle Georgia trip comes to the Yellow River, along with the Ocumulgee River. Growing the numbers of people on the rivers is just one of the advantages to becoming a designated water trail.
"The other piece I think is key is that as we are bringing attention to the water trail, it also brings attention to any issues the river might have, like if there's any pollution going on," Moody says. "If there are certain access points that are potentially dangerous, all of that gets highlighted. People get very galvanized, and they want to make sure the river is a safe place to recreate. Nobody wants to be jumping in a dirty river or having kids play in a dirty river."
There's "this multiplier effect," she adds, "where the river becomes more and more important and celebrated. So that's kind of it in a nutshell."
---
Before Diving In
Check out the following websites as you plan your water adventure.
Okefenokee Swamp
• Okefenokee National Wildlife Refuge: fws.gov/refuge/Okefenokee
• Okefenokee Swamp Park: okeswamp.com
• Okefenokee Adventures: okefenokeeadventures.com
• National Wildlife Refuge camping permit: recreation.gov
• Stephen C. Foster State Park: gastateparks.org/StephenCFoster
Lake Lanier Islands
• Lanier Islands: lanierislands.com
• Margaritaville: lanierislands.com/margaritaville
Georgia Water Trails
• Georgia River Network: garivers.org
• Georgia Water Trails: garivers.org/gwtc
• Paddle Georgia: garivers.org/paddle_georgia/