Q&A with Raphael W. Bostic: New Direction at the Atlanta Fed
A distinguished economist brings experience in government and academia and a determination to make the economy work for all citizens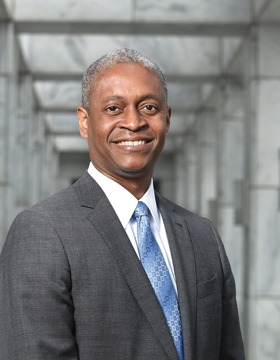 Raphael Bostic became the 15th president and CEO of the Federal Reserve Bank of Atlanta just a year ago, succeeding Dennis Lockhart.
In that role, he is responsible for matters relating to monetary policy, bank regulation, payment services and lesser-known economic development and community development activities for the Federal Reserve's Sixth District, which takes in Georgia, Florida and Alabama and parts of Tennessee, Mississippi and Louisiana.
He is a voting member of the Federal Open Market Committee (FOMC), which sets policy and determines interest rates.
Bostic's background includes three years as assistant secretary of the U.S. Department of Housing and Urban Development in the Obama Administration and a long academic career, spent mostly at the University of Southern California (USC) in the School of Public Policy.
His research encompasses home ownership, housing finance and neighborhood change. He brings to his job a commitment to use the bank's strong research component to help parts of the district that are not sharing in its economic growth.
Last fall he announced the launch of the Center for Workforce and Economic Opportunity, which he calls "a bridge between research and practice."
Georgia Trend's Susan Percy talked to Bostic at the Atlanta bank earlier in the spring, just days after the Fed raised the interest rate from 1.5 percent to 1.75 percent. Here are edited highlights from the interview.
---
GT: What went into the decision to raise the rate?
Bostic: At the Fed we have a dual mandate – maximizing employment and keeping stable prices. In looking at the economy today, we see prices are pretty stable, inflation is a little less than 2 percent. Employment and the labor market seem pretty strong. In that context, we're pretty close to our optimum policy position.
---
GT: What is that position?
Bostic: Our policy should be as neutral as possible. Right now we are positioned in a way that's a bit stimulating – we're accommodative. Given that everything seems to be chugging along quite smoothly, it's best for us to be prepared to respond when the economy either moves into a more overheating context or shows signs of weakening. So this move is really another step in trying to get us back to neutral. We as a system have voiced this pretty clearly: We want to go gradual, want to go steady and want to make sure our policy doesn't disrupt the economy or put the brakes on a strongly performing economic environment.
---
GT: What would be some signs the economy is weakening?
Bostic: If we saw that consumer confidence or consumer spending was starting to fall, that would be one sign. If there were signs that business was showing higher inventories than they expected, that might be another sign. My research staff spends their time poring over numbers, seeing what the latest data is telling us about where industrial production is, where labor markets are, where retail and consumer confidence and all those sorts of things are.
---
GT: Do you do anything to supplement that research?
Bostic: We have a series of professionals throughout the district we call regional executives. Their job is to drive around and talk to people. They talk to business leaders, talk to community leaders, talk to elected officials and hear from them in real time about how they're living, what part of the economy is working for them, some of the challenges they are seeing.
---
GT: Is this unique to the Atlanta Fed?
Bostic: Yes. My current research director put this in place with my predecessor a little less than 10 years ago. It's been hugely beneficial.
---
GT: In what way?
Bostic: It's always good to ground theoretical models in some reality. Over the course of a FOMC interest-rate cycle, we may talk to 120 or 140 business leaders. They may show us trends before they show up in aggregate data. When we get that advance notice, then we can be on time or even ahead of the game and be able to act proactively rather than being in a more responsive environment.
That's important because federal monetary policy operates with a lag, so that it can take several months for our policy to have its effect felt throughout the entire economy. If we are late, there's a real potential cost there. An appropriate response will have to be stronger and more dramatic, which means there is going to be a larger volatility in the marketplace.
---
GT: Give us your appraisal of the U.S. economy, if you would.
Bostic: The U.S. economy has been on a steady growth trajectory for the better part of eight or nine years. That's historic in many regards – such sustained growth. We're not seeing signs that's going to slow down. The U.S. economy is performing well. We have a lot of stimulus in the economy right now, which I think will work to continue that performance.
---
GT: How about Georgia's economy?
Bostic: Georgia is pretty much the same. We've seen job growth, new business coming here, a lot of innovation in the state for quite a while. There are not really signs of that changing in the next several months.
---
GT: So the picture is pretty rosy?
Bostic: One thing I do want to say is the aggregate kind of masks two different trends. On one level, we have the powerful parts of the economy. In Georgia, for example, much of the job growth is happening in a small number of metro areas. Atlanta is taking a big bunch of that; they get some in Augusta, some in Athens. [But] there are large parts of the state that are not showing such robust economic activity.
The U.S. economy is complex – it's large, and there are many different realities. We need to always be keeping our eye on all parts of the economy to be thoughtful of those places where it may not be happening as robustly as it could.
---
GT: What about wage growth? That seems to be lagging.
Bostic: The wage situation has been something of a conundrum. When we see unemployment at 4.1 percent and job growth happening at about 200,000 jobs a month for the last year or so, that would suggest that you'd see significant tightening in labor that would then translate to [boosting] the wage, because you'd need to pay more to retain workers. We're not really seeing that very much.
---
GT: Why is that?
Bostic: This is a question we are all asking. One possible explanation is that there is some extra slack in the market and there are still workers on the sidelines looking to get back into the economy, and all this growth is helping that happen. The second argument is that technological changes that have allowed workers to be productive are also limiting demand for upward pressure on the market. Third, there's a more competitive marketplace.
People talk about globalization and all those sorts of things. I would say we've not seen strong evidence in support of that one – in the sense that if competition is going up, we would expect to see margins narrow for business. Margins are actually going in the other direction.
---
GT: You're looking for answers, then?
Bostic: We have a survey of small businesses we do. In our most recent, we asked, "Are you having problems keeping and attracting labor?" Almost all of them say yes. But when we dig further, we find their response changes with the reason why they are having shortfalls.
In some instances, businesses are saying they can't hire because they can't find people who have the right skills. In that context, sometimes the response is, "We're going to change job characterizations, going to do some extra training, going to do a bunch of other things." Those aren't wage things. Those are things that will affect labor costs but won't show up in wages. We're actually doing a little more research in our team to see if we can unpack that more, to see if that can explain why we've seen more weakness in wages than we might have expected given the continued large increase in jobs.
---
GT: The Sixth District has a big footprint with a lot of economic diversity. Does that make your job harder?
Bostic: Think about the economic drivers in Miami and compare that to New Orleans, compared to Tampa and Nashville and Atlanta and Savannah. These are very different places. When you look at the economy of the Sixth District, it's almost identical to the U.S. economy. It's about one-sixth of the U.S. economy, but it's a microcosm of the whole economy. So by getting the feel of what's happening in this district, it gives us a window into how the broader economy is performing.
---
GT: You've been spending some time out in the district, haven't you?
Bostic: One of the things I've been trying to do in my first year is go to places and see the economy. It's interesting to go to the very corners of the district – it's great talking to business leaders, talking to community folks trying to help build a vibrant economy. You get an in-person feel about how economies operate.
You can send me a bunch of numbers. I can deal with a spreadsheet, run statistics and all that. That's great, but it's just a different understanding when I get a chance to talk to people, hear from them directly and get some concrete descriptions of what's really going on.
---
GT: Your background includes work in the federal government and in academia. How does that inform your approach to your job?
Bostic: Having worked at the Fed in Washington, having worked in a federal agency in a leadership role, then being an academic has afforded me a lot of opportunity to understand a more theoretical, evidence-based approach to policy, but given me access to a lot of private sector organizations. It's really helped inform my approach, but also made me comfortable talking to people from many different perspectives.
---
GT: So it's a real advantage?
Bostic: A lot of my work has focused on parts of the population for whom the economy doesn't work as well. I know the economy works for the folks it's always worked for, but if we want a different trajectory, we really need to find ways to be more inclusive and more effective in getting people who haven't always been at the forefront to participate more.
The U.S. is extremely large, extremely diverse. The best policymakers are the ones that approach an enterprise with appreciation for diversity and [understand] that nuance will sometimes be necessary and flexibility will be necessary. So we allow locals to take the programs available and shape them into a context that will work on the ground. It's going to be different in every place.
---
GT: Tell us about the Center for Workforce and Economic Opportunity the Atlanta Fed has established.
Bostic: The initiative is designed to help people know what the skills of tomorrow are going to look like and create opportunities for them to identify pathways to get those skills. I think that's incredibly important – not just for workers who are going to be displaced, which has been a lot of the conversation, but for people in communities who have been somewhat detached from the workforce and broader economy. It's a reason why we have a community and economic development function that is designed to help communities who have aspirations to realize them. We work with them, understand what challenges and hurdles they have, then have my staff bring their expertise in housing or small business development or leadership.
---
GT: What's an example of how your staff could help a community?
Bostic: In Miami, we had a dinner with 12 community-based housing organizations, all working on affordable housing in different ways. We tried to help them think of things they might do to build more public awareness of the problem and talked about [successful] things we have seen in terms of creating an agenda around affordable housing.
In Atlanta, we're engaged with some members of the new mayor's [Keisha Lance Bottoms] team, helping present our best evidence, work we've done on affordable housing. A lot of local folks don't think of the Fed as a potential partner. One of my goals is to let them know we're out here.
---
GT: Earlier this year Jerome Powell replaced Janet Yellen as chair of the Federal Reserve Board. Does a change at the top affect what you do and the way you do it?
Bostic: Chairman Powell is not new to the Fed, which I think is important. He's been on the board. He knows how things have gone. I'm not anticipating there will be large changes from a system perspective in terms of how things run. He'll have the opportunity to put his fingerprints on things, and we'll evolve.
All that said, my job is to represent the district and bring the information of the district to the national conversation. Regardless of who the chair is, I still have an obligation to do that. I want to make sure the intelligence we get that we think is material for making decisions about the economy comes to the fore.
My predecessor, Dennis Lockhart, was extremely well-regarded by the folks in Washington, and my goal is to continue that, to make sure the great things we're doing in this district shape policy and keep policy going in a positive and constructive direction.
---
GT: A final question. Projections called for three interest-rate increases this year. We've had the first one. Are you expecting two more to follow?
Bostic: A lot happens over the course of the year. I don't want anyone to have the impression we are locked into any number. If the economy evolves as our models project, we'll get to three. But if it comes in stronger than we project, maybe it goes to four; if it comes in weaker, maybe it goes to two. I'm really approaching the year as I approach every [FOMC] meeting: What does the most recent data tell us about the current state of the economy and what its trajectory is likely to be?