Fighting Cancer Before It Starts
Of all the maladies known to mankind, cancer remains the most dreaded diagnosis. Here's what Georgia programs are doing to help reduce that risk.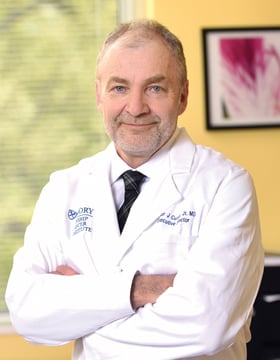 It was 1963 when Lorraine Harris began a pack-a-day smoking habit that lasted until she was diagnosed with lung cancer more than five decades later. After six grueling rounds of chemotherapy and 30 rounds of radiation, the Decatur resident considered refusing further treatment when the cancer returned.
But the discovery that her son and his wife were expecting a baby girl convinced her to try again. Today, a year after completing immunotherapy at Emory University's Winship Cancer Institute, Harris is cancer-free, enjoying her granddaughter and still regretting the day she lit her first cigarette. "I definitely would not have started if knew what I know now," says Harris, now 69.
---
Focusing on Prevention
At 14, Harris knew nothing about the dangers of smoking. In fact, not too many people did in 1963. The first smoking warning labels didn't appear on cigarette packages for another two years, and cigarette ads were still a fixture of prime time TV.
"You used to smoke on the train, on the plane, on the bus, anywhere you wanted to," says Harris. "It was a way of life."
Today you would be hard pressed to find someone who hasn't gotten the message that smoking causes lung cancer, yet almost 20 percent of America's adult population still smokes. And what many people don't know is that smoking increases the risk of other cancers as well.
"Smoking is also linked to throat cancer, mouth cancer and bladder cancer," says Walter Curran, M.D., executive director of Winship, Georgia's only National Cancer Institute-designated comprehensive cancer center. "Sometimes, while it doesn't cause cancer, if you get cancer it makes treatment more difficult."
While smoking is perhaps the most recognized and preventable cause of cancer, it is not the only one. Like many diseases, cancer results largely from a combination of environmental and genetic factors. By better understanding the factors, scientists hope to help reduce risk or target screening and preventive treatment to those at greatest risk.
"Every year, 50,000 Georgians are diagnosed with cancer," says Dr. Curran. "One of the ways we think we can help the state is to identify ways to reduce the risk of cancer." Despite advances in research, which have brought new treatments, including the immunotherapy that has controlled Harris' cancer, the greatest goal in cancer research is to prevent its occurrence.
Here's what the Winship Cancer Institute and other medical centers and programs throughout Georgia are doing to achieve that goal and what you can do to protect yourself.
---
Getting More Georgians to Quit
Smoking education and understanding has come a long way since Harris began smoking as a teen. "A few decades ago, about 40 percent of adults smoked cigarettes. Today it's less than 20 percent," say Dr. Curran.
Some services like Augusta University's Tobacco Cessation Program – which offers counseling and medications – are targeted at helping that remaining 20 percent quit. Others are taking a different approach to protect those who live with smokers.
"Smoking is the only behavior a person can do that affects the person around them," says Martha Tingen, director of Augusta University's Tobacco Control Initiative. "If I were to get a big whopping hamburger with mayonnaise and cheese and everything possibly fattening on it and you sat across from me and had a wonderful salad with low-calorie dressing and we had our cholesterol levels checked immediately pre- and post-meal, mine would be up and yours would not," she says.
"But if we sat in the same booth, and I smoked a cigarette and you did not, and had our blood checked it would show that you also had been exposed to smoke. It would show that your HDL, your good cholesterol, decreased in your bloodstream and your LDL and total cholesterol, which are not good cholesterol, had actually gone up."
To protect the other family members in smokers' homes, Winship has assembled a group of researchers "who have ways to go into homes where there is a smoker to encourage the smoker not to smoke indoors where there may be children or frail adults," says Dr. Curran. Studies have shown such efforts reduce indoor smoking by 50 percent. More importantly, many smokers quit smoking altogether.
The group has now received grant money to do the same in families where Spanish is the primary language. "That is one way of reducing the risk of cancer," says Dr. Curran. "And when you are talking about reducing secondhand smoke among children, you are talking about reducing the risk decades from now."
---
Vaccinating Kids
"If there were a vaccine against cancer, wouldn't you get it for your kids?"
This message, which appeared on Atlanta MARTA buses in late 2014, was part of a CDC-funded campaign to raise awareness of the vaccine against the human papillomavirus (HPV). The most common sexually transmitted infection in the United States, the virus is associated with almost all cases of cervical cancer and a large percentage of others, including anal, vaginal, vulvar, throat and penile cancers.
"The HPV vaccine has been shown to reduce the risk of cervical cancer if you vaccinate at an early age," says Anita Johnson, M.D., a breast surgical oncologist at Cancer Treatment Centers of America (CTCA) in Newnan.
The CDC and American Cancer Society recommend routine vaccination for both girls and boys between 11 and 12 – presumably before they become sexually active. The vaccine is given in two doses, six months apart.
Historically, immunization rates in Georgia have been low but are increasing thanks to the MARTA campaign and other efforts around the state to raise awareness, including partnerships with local health departments, Vaccine for Children (VFC) providers and the Georgia Immunization Coalition, as well as the establishment of the state Department of Public Health's Georgia Preteen Vaccination Awareness Week.
With the catch phrase "a shot lasts a second; diseases last much longer," Georgia Preteen Vaccination Awareness Week, observed in March, is designed to remind parents to talk with their teens and preteens about getting immunized against HPV and other vaccine-preventable diseases.
---
Understanding Genes
Although many people with cancer don't have a family history of the disease, the occurrence of certain forms among close relatives could suggest a genetic cause.
Genetic mutations have been associated with several cancers, including melanoma, and pancreatic, prostate and colon cancers; however, the strongest connections have been between breast and ovarian cancer and the BRCA1 and BRCA2 genes. Approximately 3 percent of breast cancers and 10 percent of ovarian cancers result from inherited mutations in these two genes.
The presence of these mutations, if detected, can not only help guide treatment for the person with cancer, but can help family members who may be at increased risk, says Angela Brickle, a genetic counselor with the Georgia Cancer Center at Augusta University. "If they find out they have the same positive result, there are medical management choices that can help them to be more proactive – maybe increased breast screening or colonoscopies more frequently or starting at an earlier age," she says. "There are options for family members to be proactive at taking care of their health."
Occasionally preventive measures can be drastic, particularly for women like Amanda Cromer and Maegan Myers, who have both been diagnosed with breast cancer. Cromer, 42, of Lake View, Ala., traveled to CTCA in Newnan when she felt something lacking in the treatment she was receiving closer to home. Genetic tests revealed she not only had the BRCA1 mutation, but also a separate mutation that increased her risk of colon cancer.
Myers, 38, of Grovetown, received genetic testing at Georgia Cancer Center due to her young age at diagnosis and "strong family history of cancer," she says. Genetic tests revealed that while she did not have BRCA1 or BRCA2, she did carry a mutation in a different gene, called Chek2, which increases her risk of developing cancer in the opposite breast.
Both women opted to have double mastectomies; Cromer also had a hysterectomy.
"The test enabled me to work with my doctors and map out my treatment plan," says Myers. "I am very grateful that we went through it."
Both women are mothers and say that while their children have not been tested, at some point they suspect genetic test results may be helpful in guiding treatment or preventive measures for them as well. Cromer, whose daughter is 15, says "I would encourage her to have children and to go ahead and have them as soon as possible, and from my perspective I would encourage her to have a double mastectomy and hysterectomy."
Already Cromer's test results have prompted her and her brother to begin early colonoscopies for signs of colon cancer.
"This kind of testing and information is not insignificant or minimal," says Brickle. "It can have huge impacts for patients and their choices and other family members. This information is powerful, helping patients plan ahead of time – to help with those decisions."
Genetic testing, in certain circumstances, is covered by all ACA-compliant health insurance plans, says Dr. Johnson. But genetic testing is not necessary or practical for everyone, she says. "The folks we look at most strongly are those with multiple relatives with cancer, those who have a personal or family history of ovarian cancer, and some people of Ashkenazi Jewish descent," she says. "Most women who are diagnosed with breast cancer [have] less than a 7 percent chance of having a genetic mutation that causes breast cancer, so the numbers are very small."
---
Screening to Catch Cancer Early
The next best thing to prevention is early detection. Recommended screenings can help detect some cancers often before they cause symptoms and while they are most treatable. Georgia programs are investigating or offering new approaches to screen for certain cancers.
At Emory's Winship Cancer Institute, for example, scientists are leading a national study to improve detection and diagnosis of prostate cancer. "We have a team of prostate cancer experts – both laboratory scientists and urologists – to look at the urine of patients who might be at risk of prostate cancer to see if they can diagnose prostate cancer not even with a biopsy but with just a urine specimen," says Dr. Curran.
The researchers are also looking at genetic markers in the urine that could help determine if the cancer is aggressive and requires treatment or whether monitoring the disease would be more appropriate. The result would be targeting treatment to those who need it, while eliminating unnecessary biopsies and treatments for those who don't. "That really changes prostate cancer screening and treatment," he says.
At Augusta University, doctors are using a low-dose computed tomography (LDCT) to check the lungs of smokers for small nodules, which are often treatable cancers. Statistics show that the overall five-year survival rate for people with stage 1 lung cancer is more than 90 percent, says Carsten Schroeder, M.D., director of the Cancer Center Thoracic Oncology Surgery Service at Augusta University. But for stage 4 cancer – a stage at which a person may just be noticing symptoms – the rate decreases to less than 1 percent.
LDCT was shown to be effective at detecting early nodules in a 2011 Nature study, "which really changed the landscape in screening," says Dr. Schroeder. Augusta's LDCT program offers yearly screenings to people up to age 75 who have smoked 20 pack years (the equivalent of a pack a day for 20 years) and/or who meet other criteria such as a diagnosis of COPD, and family or personal history of cancer. For those who meet the criteria but are without insurance to cover the screening, it is offered free of charge.
"The amazing thing is we see at least … double the lung cancers as there were in the study," says Dr. Schroeder. The nationwide study found nodules in approximately 1 percent of people scanned. At Augusta University, doctors have found cancer in at least 2 percent.
---
What You Can Do
If you have a personal or family history of cancer or are simply concerned about protecting yourself and your family, there are many things you can do, starting with healthy lifestyle habits.
"I think it is close to 60 percent of all cancers could be prevented if people did three things," says Tingen. "Stop smoking, eat a healthy diet that includes the appropriate number of fruit servings and foods that have anti-cancer properties in them, and be physically active, preferably every day, but a minimum of five days a week for at least 30 minutes and preferably one hour a day. I'm not talking about pumping iron – I'm talking about a good vigorous walk."
"High levels of alcohol consumption can increase your risk as well," says Dr. Johnson. If you drink alcohol, do so in moderation.
The American Cancer Society offers diet and exercise suggestions as well as guidelines for age- and gender-appropriate cancer screenings for breast, cervical, prostate, lung and colorectal cancer and recommends routine HPV vaccinations for boys and girls starting at age 11 or 12.
Anyone who has concerns or questions about needed screenings or concerns about risk should talk to his or her primary care physician, says Dr. Johnson. "And if you have a strong family history, ask 'should I be referred to someone who does genetic testing or high-risk screening?'"