Welcoming Small Business
When it comes to startups and entrepreneurial ventures, credit unions are discovering a demand for business funding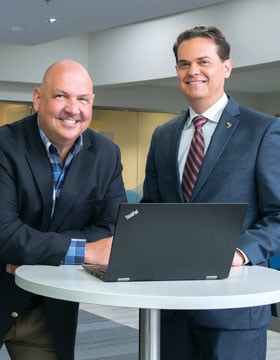 Four years ago, Rick Stallings needed a sensible financial solution to keep his business afloat. Even though the Columbus native and resident had relied on both a major local and a regional bank for nearly two decades, both banks turned a deaf ear. That's when he turned to Kinetic Credit Union.
A personal banker at Kinetic mapped out a plan to help Stallings restructure the business. The plan not only made sense on paper, it was also created to improve cash flow. Today, Safeguard, a custom printing and promotional apparel franchise operation, has 28 employees and is bigger, better and stronger than it ever was.
"Ironically," says Stallings, "we are probably a decent candidate for one of these big banks now, but I'm not interested. If someone can't be with you when times are tough, why give them the gravy?"
Stallings is one of the 2.1 million Georgians served by the state's credit unions, and his experience is one reason why Georgia credit unions have been propelled toward a fourth-straight year of double-digit loan growth.
He, like many who are eligible to join because they live, work, worship or attend school in the community or are employed by a member organization, appreciates the trusting relationship he has developed with Kinetic, which serves seven counties in west central Georgia and east central Alabama.
"If something arises," Stallings says, "I can go see my banker, and it's usually a simple quick fix. I have her cell phone number, and I can talk directly with support people who can help me."
Stallings remembers when bank branch managers had authority to make things happen, and he is blunt in his commentary on how that has changed. "Now they can barely make a decision to buy you lunch. They have been neutered by their corporate offices."
---
Members Serving Members
While banks are looking to maximize shareholder profits, credit unions aim to put more money into members' pockets in the form of lower fees and competitive interest rates. Since members essentially own credit unions and have a stake in how they are managed, decisions are made locally and often instantaneously. Members enjoy personal relationships with credit union staff – who are themselves members – and rely on them for one-on-one financial and money management advice.
"There is nothing inherently immoral about the for-profit model, but as nonprofit cooperatives, credit unions are wired to help people," says Mike Mercer, president and CEO of Georgia Credit Union Affiliates, the state's trade association for credit unions.
Although membership is usually restricted by geography or employment, members' immediate relatives are generally free to join.
According to Mercer, credit unions are shifting from exclusivity to inclusivity. "In the 1940s and 1950s, you couldn't have joined a credit union very easily. Today you'd be hard-pressed to find a person who wouldn't be eligible to join somewhere. Even in rural areas, it's not so much a matter of being eligible to join, but it may not be convenient."
Mercer points to Delta Community Credit Union and Georgia's Own Credit Union as examples of institutions that have widened their membership welcome mats.
---
Engaging Entrepreneurs
Historically, credit unions have not courted startups or entrepreneurial ventures. But some credit unions are waking up to the demand for business funding. At Kinetic – although Stallings did not access this particular product – a new product called NOWaccount allows businesses to reduce wait times on receivables. Mark Littleton, president and CEO of Kinetic Credit Union, says the funding model has been a huge hit with businesses in the area.
"We want consumers to know that we are a progressive financial institution that has the tools and expertise to help them energize their dreams," Littleton says.
The NOWaccount is a payment system that guarantees approved business owners can get paid immediately for invoices they choose. For a percentage, NOWaccount pays business owners on submitted invoices. If the client then doesn't pay the invoice, NOWaccount turns it over to collections. Businesses can qualify for an account within 24 hours based on a simple credit score. Unlike factoring, which charges increasingly higher percentage rates as each day of non-payment passes, a NOWaccount sets fixed rates, so the business owner is always in the know.
Peach State Federal Credit Union, based in Lawrenceville, is offering NOWaccount benefits to business owners without requiring them to be credit union members.
"Cash flow and cash management are important for small- and medium-sized businesses," says CEO Marshall Boutwell. "It's just one more arrow in our quiver that we share with small business."
Ryan Hawk, vice president of business development at Peach State, is enthused about the product and actively promoting it. "Let's say a client has net-30 to pay you, but most of the time you are paid on day 54 or later," Hawk says. "You simply submit the invoice to your client, enter the invoice into the NOWaccount system, and in two to five business days you get 97 percent of that invoice deposited into your account and you've zeroed out your receivables. This can really help you sleep at night."
Like other credit unions, Peach State provides members with sound, practical advice, delivers financial education seminars and helps them network with government agencies such as the Small Business Administration, trade associations and local businesses that may help them acquire funds.
Hawk predicts that the NOWaccount has the potential to become popular statewide. "Businesses would rather put money into staff and on the ground getting deals, rather than put people in the office chasing payments all day," he says. "This can really save a business and help it grow."
A NOWaccount certainly saved Columbus-based Business Transformation Co., a management consulting firm. President and founder Dr. Dan Alcide, a Kinetic member, still has a regular bank account but prefers the credit union. "The credit union is much easier to work with administratively, technologically, and to get things done. They are really in the forefront of customer service. But as a member, you are really much more to them than just a customer."
The NOWaccount assures that Alcide's vendors and contractors are paid quickly, which is particularly important since his company recently landed contracts in several states. "Now I can concentrate on these contracts from a national perspective. I can pay my 1099s better and quicker."
---
Community Connections
Macon-based MidSouth Community Federal Credit Union is in the process of building a department to better serve the commercial sector. "We are currently formulating our approach," says President Roy Bibb. "We see it as a way to diversify our lending portfolio and grow our base of loans, rather than being dependent on auto loans, which has been the traditional focus of credit unions."
While acknowledging that MidSouth cannot offer all of the commercial products found in banks, he wants members to realize the key difference. "Because we're not looking to hit quotas for return on investments for stockholders, we are able to offer a fair return on capital and return it back to our members so we can do things for them at better pricing."
Coosa Valley Credit Union, in Rome, has done so well serving small businesses in the last few years that it has reached its business-lending cap. "Since credit unions are tax-exempt, per regulations we cannot exceed a certain cap," says President and CEO Andy F. Harris. "But if somebody comes and needs $100,000 or $200,000, due to a natural pay-down we should be able to fund them. That cap can change as our assets grow, and we are in a growth mode, but it doesn't happen overnight."
Community banks have traditionally been the first stop for small companies seeking capital, but many community banks have flown the coop. Coosa Valley is one of many Georgia credit unions that have stepped in to fill the void.
"Although we are tiny compared to SunTrust, we are the largest credit union in northwest Georgia," says Harris. "Of course, we still have to abide by some of the same regulations as a bigger bank, so it has been a challenge to keep our operating expenses where [they] need to be."
With its steadfast focus on consumers who live near one of its seven locations, Coosa Valley maintains a strong connectivity to community.
By definition, connectivity refers to the capacity of computer systems and applications, but in credit union terms, it translates to supportive relationships.
"The reality is that most people want to interact with a human being," says Boutwell. "The problem is they haven't been treated like one. You may be able to open an account online, but I want to see you at least one time. This actually helps protect account holders against fraud and hijacking. Once you have a relationship with the credit union, you can open accounts and borrow money online. In fact, 40 percent of our lending is done over the phone, and members never have to come to the branch."
But there are those who like to come in. He half-jokes about the elementary school teacher who loves to stop by the credit union at about 4 p.m. every day just so she can interact with another adult.
Particularly in Georgia's small towns, where banks once thrived, credit unions are holding the line to give financial power to the people. "Banks are analyzing their transactions, sending people to the internet and mobile phones to conduct business, and abandoning rural America to a large degree," says Boutwell. "But if you are not in a county with a brick-and-mortar presence, you really aren't present. Rural Georgia needs financial products just as much as any other place, but the profitability isn't always good enough for banks as it doesn't fit their business model."
---
Stiff Competition
Credit unions are not a panacea for money management, and even Boutwell admits that they cannot be all things to all people. Like most financial institutions, they continue to compete with banks and other entities for pieces of the financial pie. Consumers may find deposit products with higher yields elsewhere, for instance. Adapting to the latest disruptive technologies is a constant challenge, and regulation continues to hamper growth.
Regulation and compliance activities and advanced technology-based services come with costs, which in some cases have forced smaller Georgia credit unions to merge with larger ones.
"Competition is tougher now," says Bibb. "We need deregulation to slow down the need for continued investment in compliance software. We spend about $30,000 a year to meet compliance for one particular regulation, and we're constantly making changes to keep up to date on security issues."
Bibb is confident that consolidations will not interfere with the member experience in the long run. "Small, community-based credit unions serve a great niche. The larger you get, the less you understand your members. As we grow we must never forget where we came from, and we must continue to help people afford life."
A bill before the U.S. Congress, S. 2155, which has passed the Senate and at presstime was headed to the House, would offer some regulatory relief. Among other provisions affecting the financial industry, it calls for reclassifying certain real estate loans that would free up to as much as $4 billion in loans to extend to business members.
"The regulatory community itself is starting to realize that this has become a real threat to the wellbeing of the institutions they are regulating," says Mercer. "The new administration is very supportive of reducing overregulation on smaller institutions especially. I think there is a good likelihood of the bill's passage."