Habersham County: Drawing Them In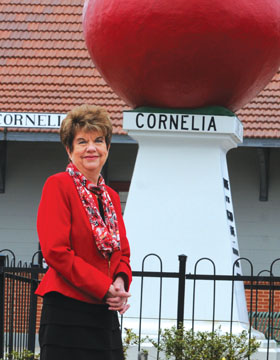 When Kanler Cumbass first visited Habersham County to attend Piedmont College in Demorest, he was drawn by the offer of a tennis scholarship. The South Georgia native soon found what so many others have discovered – a region of Georgia that is steeped in natural beauty and where people are drawn to the great outdoors.
"Originally it was tennis, but it was the beauty that really persuaded me to come," the freshman says.
Since then he's become an avid hiker on the northeast-Georgia county's many trails. He's even started to get used to snowfalls – something he seldom saw in Douglas.
Habersham's outdoor recreation has been a big draw in turning tourists – and there are lots of them – into residents. While its diverse local economy, which ranges from industrial manufacturing to agriculture, is also on the upswing.
"The economy is improving fairly well here," says County Manager Phillip Sutton.
In fact, economic prospects got a substantial boost a couple of years ago when the county launched a public-private initiative called Habersham Partnership for Growth. The organization grew out of the ideas that the local business community should drive economic development and that local companies and industries should take a hands-on role in stoking the economy.
Former Cobb County Commission Chair Tim Lee was hired to lead the effort. In addition to representing the county as a whole in economic development, he's been meeting with local business and industry leaders to discover their needs – whether it be trained workers or relief from red tape as they try to expand their companies.
"We're helping connect the dots between our existing industry and the workforce and the colleges and the high school," says Lee. "We want to connect the jobs offered by the employers with potential employees."
For example, local companies such as SteelCell, Habersham Metal and others need skilled welders. Lee's agency was able to bring companies that need these workers together with North Georgia Technical College to ensure that qualified students in the welding program were able to find jobs close to home.
Another countywide focus has been on new infrastructure to support industrial and business growth. At the top of the list is a multi-million-dollar upgrade of the Habersham County Airport near Cornelia.
A new terminal building along with updated facilities for servicing aircraft is under construction. Arriving and departing aircraft will also have access to a parallel taxiway to speed takeoffs and landings and increase safety.
The airport provides convenient access for corporate jets and is right next door to the newly expanded 120-acre Airport Industrial Park.
"Our goal is to become more of a corporate and recreational airport," says Mike Beecham, the county's director of planning and development. "Our runway is 5,500 feet long, and that length is adequate for most corporate jets."
The county has equipped the industrial park with water and sewer, three building sites have been sold, buildings are going up and more are expected to start soon, according to Sutton.
---
Major Players
"Among our existing industries, a number of them seem to be expanding," says Beecham. "I'm sure we're not really unique, but with the unemployment rate so low, many of our industries are having issues with workforce."
This is a place where people still make things. As a result, many of the jobs here are for welding and metal fabricating. In fact, if you add all the companies in this sector together, they likely represent the biggest source of employment in the county, according to Beecham.
Habersham has been good at growing and keeping significant industries. Among the best known is SteelCell of North America, a maker of prefabricated jail and prison cells that are sold both nationally and around the world. The company is an offshoot of Habersham Metal Products, which produces custom-steel doors, windows and wall panels often found in high-security buildings such as embassies and prisons, says Sutton.
The county's largest single employer represents its oldest industry – agriculture. Fieldale Farms is a family-owned business with chicken-processing plants throughout this northeast Georgia area where it was founded. Over the years, it has grown to become one of the world's largest independent poultry producers. It employs almost 2,000 people in its Habersham operations alone. The company recently completed a $50-million expansion of its processing plant and added 200 jobs, says City Manager Donald Anderson.
In fact, agriculture is an often unacknowledged, but nevertheless important business here. The county has long been in the top 15 counties in Georgia for farm gate value (the net value of a product when it leaves the farm), in large part because of the poultry industry. The county is also home to a number of agricultural suppliers and manufacturers such as Salford BBI, which designs and builds spreaders for the agricultural, poultry and construction industries.
High tech has a presence in the county, with companies like medical device manufacturer Ethicon. It has a large operation employing more than 600 people here.
The county expects to attract suppliers to some of the region's other big manufacturers, including Hall County's Kubota Manufacturing of America Corp., which opened its new facility last year.
"We're starting to get some interest from some of their suppliers for locating in the county," says Beecham.
To meet the needs of these companies, "we're doing everything we can think of to push workforce development," says Beecham. "We have approximately 9,500 people leaving the county every day for work. We're trying to focus efforts on getting those people to stay and not only live in the county, but work here as well.
North Georgia Technical College has long been a major player in helping train workers for local business and industry. It has helped companies such as Ethicon and SteelCell with customized programs to meet specific needs.
---
Up from the Ashes
The county is busy this year celebrating its bicentennial. (It was chartered on Dec. 15, 1818, along with three other counties in the region.) Local organizations and cities that usually sponsor festivals and events such as the Big Red Apple Festival in Cornelia have incorporated this historic moment in their planning.
"We're having historic events all year long that are being incorporated into everything we do, and this county stays busy," says Judy Taylor, president of the Habersham County Chamber of Commerce. "You can hardly find a Saturday that we're not having something pretty big going on."
Habersham has a wealth of quaint small towns – seven in all – that appeal to long-time residents and newcomers alike. Throughout the county, these cities are in the midst of something of a renaissance as an improved economy has brought new life – and businesses – to them.
The county seat of Clarkesville is enjoying a resurgence after a fire that started in a downtown restaurant spread to about a half-dozen buildings in 2014. Those damaged structures have been replaced, and life has returned to normal here in this scenic small town.
Since the fire, job growth in the downtown has increased more than 50 percent, says Downtown Development Director Mary Beth Horton.
"That's because of the new restaurants that have opened up," she adds. "The new businesses have opened up and are creating more jobs. And that's been a huge help to us."
The housing market here is also heating up as well.
"We had developers coming in that are building houses, and a couple are interested in building apartment homes for the folks working downtown in food service or retail," says City Manager Barbara Kesler. "Then we have other housing that is going up as well in some of our subdivisions."
Another key to economic development is the old courthouse downtown. The county is building a new 28,500-square-foot administrative facility to centralize the non-judicial county services under one roof, which will free up the old courthouse property for potential redevelopment, says Kesler.
"That central piece of land in our downtown business district is out for sale," Kesler says. "We're looking for a developer to come up with an idea on what to do with that piece of land, which will just have a huge impact on our downtown."
The site includes parking lots and the c. 1965 courthouse building, which is likely to be torn down and replaced by one or more new structures.
While there are no firm plans yet, city officials hope the site will be transformed into some form of mixed use with retail on the bottom and residential above to meet the increasing demand for downtown living. There's also space for a small hotel, according to Horton.
---
City Living
Cornelia has been welcoming more jobs lately, such as those from the recent expansion at Fieldale Farms. Now the city is expanding its infrastructure with a new water treatment plant reservoir to keep up with the demands of growing industry, says Anderson.
"Our engineers are designing a new upgrade to go from a 3-million-gallon capacity wastewater plant to 4.5 [million] gallons," Anderson says. "A lot of it is aimed toward Fieldale Farms' expansion and being primed for future economic growth."
Housing has become a major concern for cities throughout the county as jobs and growth have increased. In Cornelia, an 80-unit apartment complex is going up in a city where occupancy rates are at 100 percent.
Work is underway on a paved pedestrian path that will connect the new apartment complex to downtown and the business area on Highway 441.
"It's installing sidewalks where we've never had any before," says Jessie Owensby, community development manager and executive director of the Cornelia Downtown Development Authority. "We're putting them in a really big, high-pedestrian traffic area. There is a lot of workforce housing in that area, and it's very unsafe for all these people walking to and from the grocery store to home."
New life is also coming back to an empty building in the heart of downtown. The city is spending $1.2 million to renovate a 118-year-old, two-story, brick building that once housed the Community Bank and Trust. The building has sat empty for much of the past decade after the bank closed during the recession. Work is now underway to preserve and repurpose it.
In Demorest, the quest is on to bring new businesses to town. Local leaders and citizens are developing a plan to revitalize downtown by attracting shops and restaurants.
The city is home to one of the county's biggest employers and economic engines – Piedmont College. The school and its faculty, staff and students offer a ready market for more retail and restaurants.
"We have a quaint, charming downtown, but there are very few businesses," says City Manager Kristi Shead. "Honestly we've had some constraints. Piedmont College is a big asset, but they also take up a lot of space. We've gotten together with the community for vision sessions, and we're going to develop a new strategic plan." The students, residents and business owners were all a key part of creating the plan.
"We will take that and look for ways to strengthen our local economy here," she says. "Obviously improve quality of life, but continue to incorporate the small-town charm we currently have. It's a smart-growth strategy approach."
A small private college, Piedmont has long been an active member of the community. Along with educating students, it is a source of cultural activities and an asset in attracting people to the area.
The college's economic impact of more than $100 million makes it a significant economic engine for the region, says President James Mellichamp.
"We find increasingly that our audiences at our theaters and visual arts and musical events are made up of people who are either here for the weekend or decided to retire here," says Mellichamp.
Residents here are seeing a new and resurgent county that is driven by a diverse and vibrant local economy. After 200 years, they are confident that the best days of Habersham are still ahead of them.
---
LOCAL FLAVOR
A Bicentennial Celebration
It's a year of festivities as Habersham County marks its 200th anniversary. Habersham shares a birthday with three other Georgia counties – Gwinnett, Hall and Walton. All were created on Dec. 15, 1818.
Along with festivals and special events, a coffee-table book on the history and present reality of the county, called Habersham 200: New Thoughts of Old Things, is being produced and is scheduled for publication in August.
Local author and newspaper columnist Bobby Watson is leading the celebration committee.
"About a year ago, an ad hoc committee of people began meeting on how to help to promote our bicentennial year," says Watson. "A couple of people had an idea for a book on the county. There had been several little publications through the years on the history, but no one book that would tell the reader the complete history of the county."
Watson is writing the history of the first 100 years, which will chronicle the county's beginning with the treaties that ceded Cherokee and Creek lands to white settlers. It will progress through the transformation that took place with the coming of the railroad and continue to the present day.
Other committee members are assembling a section on communities that will include a look at the county's seven towns and cities, as well as the history of its African-American and Latino populations, along with material on the natural resources and attractions, such as museums and historic sites.
Written for the general reader and schoolchildren, the authors hope the book will spark renewed interest in the county's long history and heritage. It also has a very practical consideration. All proceeds from the book – production is funded by local donors – will go to the Habersham County Historical Society.
The funds will be used to help the society expand its own work, including making more historical artifacts available for public viewing. The ultimate goal is to create a Habersham County history museum.
Happy birthday, Habersham! – Randy Southerland