Action-oriented MBAs
Georgia programs evolve to better serve the next generation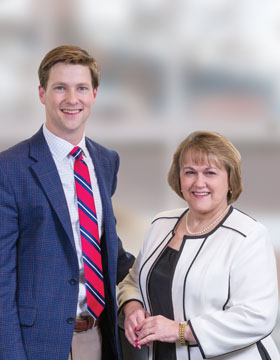 Bump.
That nudge some of us felt was the big bump in the population graph, as millennials are poised to outnumber baby boomers in 2019, according to the Pew Research Center. The center recently defined millennials as those born between 1981 and 1996. And just like they have with every other institution or practice, they're redefining what it's like to get an MBA – and what they plan to do with a graduate degree.
Across the state, universities have responded by tweaking both the curriculum and how it's delivered to make the MBA relevant and meaningful to a generation of digital natives accustomed to collaborative educational experiences and shaped by the Great Recession.
Classes in MBA programs look very different than they did 10 years ago. Schools are taking advantage of the fact that millennials are digital natives to shift the old lecture model to shorter online modules (including a pivot to video) and devote face-to-face time to experiential learning.
When students come into the classroom at the Robinson College of Business at Georgia State University (GSU), they walk into an "action-oriented, immersive experience," says Dean Richard Phillips. "Immersive meaning immersed with our business partners, immersed in the city of Atlanta, immersed with our alumni. We want it to be an experience that is with real business people, working on a real business problem, with a real business, that ends up in a real business solution with a real business impact. If we can hit all five of those things, we've sort of hit the holy grail."
At Kennesaw State University's (KSU) Coles College of Business, where MBA students tend to be a little older (average age: 34) and already into their careers, executive director of the MBA program Amy Henley ticks off a list of what they're looking for.
"Students are wanting much more of an experience," says Henley, who is also associate professor of management and entrepreneurship. "They don't want to show up at the classroom in the evening and then disappear and go back to their jobs. They want networking opportunities, career development opportunities. So we have opportunities for them to interact with executives or field trips to corporate headquarters."
More hands-on learning is the way that Santanu Chatterjee, director of the full-time MBA program at the University of Georgia's (UGA) Terry College of Business, describes the curriculum. Students are evaluated on project work instead of midterms and exams. "We are doing more outreach with the corporate sector, lining up corporate partners and getting companies to provide professors with projects in their classes," says Chatterjee, who is also associate professor of economics. "They can be small, where students are working on one piece of a puzzle, or it could be a semester-long project class."
For example, students who choose a consulting emphasis in the MBA program work on a real-world project and present their results at the company's office or headquarters at the end of the semester. Their grade is partially based on an assessment by the company, as well as the professor.
The program also offers students the opportunity to earn a Lean Six Sigma certification (methodologies that concentrate on creating the most efficient systems possible by eliminating waste). "That is, again, a real-world project," says Chatterjee. "It's actually led by an industrial leader and not a faculty member."
The benefit goes beyond resume building – Chatterjee says students get to move away from the textbook model, where everything has an answer, to the real world where problems are a lot more complicated. "Our students are doing better at job [and internship] interviews because … they are more prepared," he says. "They are more willing to take risks with difficult questions, even when they are not sure of the answer."
Project-based work is a natural for millennials because they grew up doing team projects, says Amelia Schaffner, director of entrepreneurship at the Goizueta School of Business at Emory University, and are comfortable with a collaborative style of learning. And business schools are learning to collaborate, as well. In addition to its partnerships with companies in the consulting field, UGA offers a FinTech emphasis where teams of students, led by faculty, work on semester-long projects with corporate financial technology partners.
At GSU, the business school has forged partnerships with companies like SunTrust and New York Life through its Institute for Insight, a new academic unit that combines analytics, statistics, computer science and big data to tackle projects and problems.
"We've always thought of ourselves as producing MBA talent and offering that talent to business to be the next generation of leadership," says Phillips who is also GSU's C.V. Starr Professor of Risk Management and Insurance. "We'll still do that for sure, but we've never thought of ourselves as being also a primary source of their intellectual R&D, partnering with them and co-creating that R&D as a business school. That is a direction we are rapidly putting in place."
---
What's Your Specialty?
Getting an MBA used to burnish your leadership credentials for the management track. Now two things are happening: automation is reducing the number of management jobs available, and companies that do need managers need very specific skills. That's led schools to offer specialized MBAs, with concentrations or tracks in subjects like healthcare, FinTech and analytics.
In the past year, Berry College has revamped its MBA program to provide a core curriculum with tracks in healthcare, professional management and accounting. The program combines in-person, distance learning and independent study. A healthcare track made sense, says Joyce Heames, dean of the Campbell School of Business at Berry, because it's the largest industry in Floyd County. "We have to stay in touch and be engaged with our employers to see what they need," she says.
Although he works in healthcare, MBA student Caleb Babington chose to go for the professional management track at Berry. With an undergrad degree in biology, he says he "really wanted to develop the business side of things. I want to remain nimble and flexible for any future endeavors." Berry's MBA program, with smaller classes, appealed to him for several reasons. He likes the flexibility its evening classes give someone who works full time, and the fact that project-based work is combined with more traditional test-based evaluation. Above all, he says, he wanted face time with his professors.
"There are so many opportunities for an MBA out there," Babington says. "But there's something really nice about having a small group, not only of individuals but programs, and … I know exactly who I need to talk to if I have an issue."
On the other side, many millennials want to do interdisciplinary work. In Athens, UGA has responded by being as flexible as possible about its curriculum. "They [millennials] come in with unique desires and career pathways expectations," says Chatterjee. "They want more ability to experiment, to mix up different things."
The curriculum isn't a free-for-all – it's still structured and has pathways and concentrations. But students can mix and match courses. Where they used to have to take the core curriculum in their first year and specialize in their second, now they can start a specialization sooner. "You can start working on projects in the first year, sometimes as early as the first semester," says Chatterjee.
Students can find the right combination of courses for a concentration in more than one area. The school has also created a one-year specialized master's degree in business analytics, basically an interdisciplinary approach to big data.
Phillips notes that as more mid-tier managerial positions disappear, the positions left require creativity and the ability to work in a team to find innovative solutions – a more entrepreneurial mindset. And as technology increases the pace of change, a skill that might have depreciated over 10 years could now be out-of-date in five, meaning there's a constant need for professional development.
"It used to be, you got your MBA and that was your last degree," Phillips says. "That's not true anymore. … The opportunity it creates for business schools is [to] create speed-specialized programs that are right at the forefront of what those technical skills are. You're just seeing a huge explosion in specialized master's degrees by business schools across the country."
It's been a growth opportunity for the Robinson College, he adds, which offers 15 specialized master's degrees as well as certificates and non-degree options for people who "just need the one or two courses that are right at the leading edge."
Students are much more likely to change careers now than they were 10 years ago, notes KSU's Henley. They're looking for breadth as well as depth, making them more interested in electives that are tied to market trends.
"Now they're interested in things like social media marketing or international economic perspective, or instead of human resource management it's understanding personality and motivation in the workplace," she says. "Because the marketplace is pretty competitive, they want to distinguish themselves [by] having a specialty attached to their MBA."
At Columbus State University's (CSU) Turner College of Business, Dean Linda Hadley says that the MBA may have lost some of its luster since the recession. In fact, some schools are scaling back their full-time face-to-face MBA programs in favor of part-time online programs. (CSU offers a part-time, evening in-person program and an online MBA as part of a consortium called Georgia WebMBA.)
And, Hadley says, she believes students who might have sought an MBA are indeed choosing to specialize instead with degrees like CSU's new master of science with a major in cybersecurity management, which is interdisciplinary with the MBA and is housed in the school's new TSYS Center for Cybersecurity. "We do believe that has the potential to attract some students away from the MBA," Hadley says.
---
Beyond the Bottom Line
Business schools and MBA programs have also moved to integrate social responsibility into their offerings, not just as an elective but something woven into the fabric of the program. It's as native to millennials as their mobile devices.
"They are very eager to see what impact they can make in the world," says Emory's Schaffner. Goizueta has a Social Enterprise Center that's focused on helping markets increase prosperity in society. One specific program – called Grounds for Empowerment – works to help women who grow specialty coffee in Latin America develop the business acumen and networks needed for success. "The students go there and talk to the growers and get to understand what we're trying to do locally," says Schaffner.
Columbus State even has a track in servant leadership (a leadership style that concentrates on meeting the needs of others, offered as part of the master of science in organizational leadership). Millennials are "very interested in servant leadership, and it's the whole notion of … there is more to leading organizations than knowing your way around a balance sheet," says Hadley, who is also the Bill Heard Professor of Finance. "They think it has to be values-based." Some of the most eager students? Young Army captains from Fort Benning. "They said servant leadership is what the Army is," says Hadley.
It's important to millennial MBA students at UGA that they're connected to the community, even if they're only there for two years. It's led faculty and administration to ask, "How can we help students be better learners and better human beings by having them work with the community?" says Chatterjee. One answer: a nonprofit board fellows program that gives students the chance to serve as non-voting board members of organizations. They offer help with anything from marketing campaigns to finances to process improvements.
"The engagement has been terrific," says Chatterjee, who says 45 percent of incoming students applied to the program last year. "One of the great things about millennials is that once they're committed to something they follow through, despite their heavy work and academic schedules."
Many millennials are also eager to know more about entrepreneurship – whether it's to start their own business, work at a startup or be an "intrapreneur" (someone who pursues innovation in product development) in a large corporation. Schools are responding by offering everything from opportunities to connect and learn from serial entrepreneurs to tracks devoted to starting a business.
Emory's Goizueta School offers about 16 classes on entrepreneurship, according to Schaffner, ranging from an overview of the topic to something like entrepreneurial accounting. "Your accounting will look very different if you are at a large public company [versus] a bootstrapping, 10-people company," she says.
The Terry College of Business at UGA just launched a startup internship program, placing MBA students with area startups. Chatterjee says it's like a co-op program where students work with a startup for a year, offering advice on technology and helping them with product launches, marketing and funding.
Millennials do want to make a difference, says KSU's Henley, whether at a startup or an established company. "So many of our students are concerned about the responsibility of doing business not just for business' sake," she says, "but for what it contributes as a greater good to society."
---
MBA Programs in Georgia
Albany State University, Albany
Augusta University – Hull College of Business, Augusta
Berry College – Campbell School of Business, Mount Berry
Brenau University, Gainesville
Clark Atlanta University, Atlanta
Clayton State University, Morrow
Columbus State University – D. Abbott Turner College of Business, Columbus
Emory University – Goizueta Business School, Atlanta
Georgia College – J. Whitney Bunting School of Business, Milledgeville
Georgia Institute of Technology – Scheller College of Business, Atlanta
Georgia Southern University – College of Business, Statesboro
Georgia Southwestern State University, Americus
Georgia State University – J. Mack Robinson College of Business, Atlanta
Kennesaw State University – Coles College of Business, Kennesaw
Mercer University – Stetson School of Business and Economics, Atlanta
Piedmont College – Harry W. Walker School of Business, Demorest
Savannah State University – College of Business Administration, Savannah
Shorter University, Rome
Thomas University, Thomasville
University of Georgia – Terry College of Business, Athens
University of North Georgia – Mike Cottrell College of Business, Dahlonega
University of West Georgia – Richards College of Business, Carrollton
Valdosta State University – Langdale College of Business Administration, Valdosta