2018 Most Respected Business Leader: Doug Hertz
Combining Family, Business and Philanthropy: Good things happen when corporate success fuels civic involvement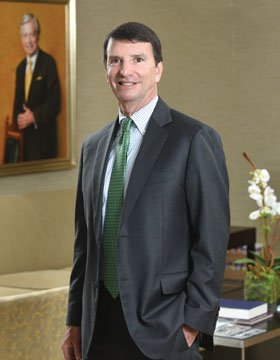 Early in his career at United Distributors, on a trip to California's Napa Valley, Doug Hertz was persuaded to buy two pallets – 108 cases – of Zinfandel, which he brought back to Atlanta. The purchase got a less-than-enthusiastic reception from his grandfather, who had started the wholesale beverage company in 1940 and was still very active in the business.
"Think about this being 1980," Hertz says, a time when Atlanta was hardly the epicenter of discerning wine consumption. "People didn't know about varietal wines here, much less have an interest in Zinfandel. I came back and told my grandfather, and I thought he was going to kill me. He said, 'Nobody knows what Zinfandel is.' And he was right about that."
But the Trinchero family winery, from which Hertz had made his buy, was experimenting with a white Zinfandel. "That became the No.1 selling wine within three years," Hertz recalls. "Today we sell over a million cases of the Trinchero products" every year.
The same trip that sent Hertz home with the Zinfandel resulted in contacts with other California wineries – many of which United still represents. Getting into the wine business proved to be the right move at the right time – and allowed Hertz to put his stamp on the company. Today United is the largest wholesale distributor in Georgia and Alabama, selling spirits, wines and beer.
As the company has grown, Hertz has become one of Atlanta's top civic leaders and philanthropists. He is the founder of Camp Twin Lakes for children with special needs, and he helped engineer the merger of Scottish Rite and Egleston pediatric hospitals to establish Children's Healthcare of Atlanta (CHOA). Donna Hyland, CHOA president and CEO, says her hospital system "wouldn't be the Children's it is today without Doug Hertz's leadership and continued involvement. His leadership is part of the backbone of our organization."
Hertz has lent his support to the Woodruff Arts Center and the Georgia Research Alliance. He is a minority owner of the Atlanta Falcons and a member of the board of directors for Georgia Power. Last year he and his wife, Lila, were named Philanthropists of the Year by the Atlanta Chapter of the Association of Fundraising Professionals.
For his business success and his civic leadership, Hertz is Georgia Trend's 2018 Most Respected Business Leader.
---
Family Matters
Hertz, who grew up in Atlanta, came somewhat reluctantly to his role at United. In the late 1970s, he was newly married and happily settled in New Orleans, where he had earned an undergraduate degree and an MBA at Tulane. He was working at a major accounting firm – Peat Marwick, now KPMG – teaching business classes and coaching basketball.
His grandfather and father, Jennings Hertz Sr. and Jr., respectively, had offered differing career advice. His grandfather wanted him to join the family business, but his father urged him to pursue a profession.
Then came the call: "My grandfather said they were going to sell the business if I didn't agree to come home and run it." And so he did.
"We've been around 77 years," Hertz says. "We're into our fourth generation," in the very small percentage of family businesses that make it to the fourth generation. "I understand that the third generation, which is me, generally screws it up. So we survived me and are looking for my son and daughter to carry it on."
His son, Michael, is executive vice president; daughter Amy is on the board and works with the family foundation.
For a relatively young industry, the distribution and sale of alcoholic beverages has seen a lot of changes – in the public's tastes and preferences, of course, but also in the legalities affecting it: widespread repeal of blue laws, the addition of Sunday sales and the expansion of places alcohol can be sold and consumed.
"When the business started, after the repeal of Prohibition, it was basically an entirely new legal industry," Hertz says. "My grandfather was entrepreneurial and got involved in the industry," initially partnering with members of the Kugelman family to establish the Fulton Distribution Company, which later became United.
"My father never particularly loved the business," despite graduating from Wharton at age 20. "He obviously had a good business mind and was very creative." (The Hertz stage at the Alliance Theatre is named for his father, an arts patron.)
"He was very concerned that the beverage alcohol business, as he would tell me, could be wiped out with stroke of a pen," Hertz says. "Every state had the opportunity to regulate the sale of alcohol. If a governor came in or the legislature came in and decided beverage alcohol shouldn't be sold, our business would be gone. So he encouraged me to do something else, be a professional."
His grandfather had a different view. "The family business had given him a good living, supported my father – he didn't see why that wouldn't be good enough for me.
"Then my dad got sick and other issues happened with my cousins. My grandfather said, 'The rest of the family thinks you're the only one in the third generation who can run the business. Either we're going to sell the business, or you're going to come back and run it.'"
He left Peat Marwick with assurances that there would be a place for him in the firm's Atlanta office if things didn't work out.
They did work out, but it was hardly a walk in the park. "We were very small," Hertz recalls. "At that time there were eight spirits distributors in just Atlanta. We were the smallest. We had 58 associates, most of whom were two-and-a-half to three times my age; so I'm coming in to see all the salespeople in their early 60s, some older. Most of them were my grandfather's hires. Everything that happened was around my grandfather's, and to a lesser extent, my father's relationships, whether that was banking, lawyers, accountants – as well as all the people that worked here."
---
The Wine Factor
It was the wine business, Hertz believes, that helped him establish himself and position the company for growth.
"I had noticed the wine industry growing in the Northeast and West Coast – European wines mostly on the East Coast, and California wines just getting started on the West Coast. They hadn't made their way to Atlanta yet. Atlanta was sort of late coming to the party, as was the entire Southeast. I thought gosh, we ought to get in the wine business."
After much wooing, United won the right to represent Robert Mondavi's California winery.
"We kept calling him to see if we could represent his wines in Georgia. He kept saying, 'I don't need my wines in Georgia. I don't have enough to sell.' We happened to call one day and he said, 'This is your lucky day. I had a grandson, and they named him after me. Since you've been so persistent, we're going to assign our wines to you in Atlanta.'"
Around that same time, United acquired the Beringer line of wines, when the winery was sold to Nestlé and the previous distributor wanted to get rid of some bad wine (which United bought and had to destroy) in exchange for turning over the line.
It was Michael Mondavi, son of Robert, and Michael Moon, a Beringer rep, who took Hertz on the Napa Valley trip that resulted in the Zinfandel purchase and the still-strong relationship with the Trinchero family, whose portfolio now includes Sutter Home, Joel Gott and Newman's Own, as well as its own wines.
"We ended up attracting other wineries," Hertz says. "I would say the one thing I can take some credit for is getting us the big wine distributors – and more spirits brands. Then later in the '90s, we got into the beer business as well."
But there were rough patches, and Hertz credits his father for helping smooth the way. "My father was my greatest cheerleader, even though I didn't take his advice and stay out of the industry." It was around 1984 that he wanted to make an acquisition, which his grandfather opposed. "I told my dad, and he said, 'If you believe in it, you ought to do it.'
"My grandfather was against it, so I quit. My father went in to see his father and said, 'Look, you're over 80 years old. You've dreamed of your grandson coming into the business, and now you are standing in his way.'
"My grandfather called me in that Sunday evening – we always had family dinners on Sunday – and said, 'I think you ought to come back to work. I just wanted to see how serious you were.' I didn't know my dad had gone to bat for me until after the fact, until he told me much later."
United made the deal, which was a good one – and the first of many subsequent acquisitions.
---
Buyouts and Beer
Family issues complicated the business as it grew, Hertz says. "We'd have other family members who were shareholders and saw things differently. I spent a lot of time in the early '80s handling that and again in the early '90s, and basically buying out all our other family members.
"But we were buying out shareholders at the expense of expanding geographically," he says, "using leverage to acquire the business to a point where we owned 100 percent. It kept us from making acquisitions outside the state for a long time. In the '90s, I thought one of the ways to be more important to suppliers was if we became more important to customers. We were able to get into the beer business in a big way."
The combination of spirits, wine and beer distribution was not so common in the beverage industry then. "That sort of set us apart. It created incredible operating synergies for warehousing, delivery, operating, administration – we basically took three businesses and put it into one.
"It created the success of the company," he says. But it did a great deal more. "It created a platform for us as a family to reinvest in the community, to actually make philanthropic investments and give some of what we were fortunate to have earned, to give something back."
---
Philanthropy and Community
Hertz's philanthropic efforts benefited from his business acumen, as he made his own and his company's contributions to the community. His immersion in civic life is a prime example of what has been termed The Atlanta Way, a reference to the long-standing synergy between the business and civic communities, which goes back to the leadership of Coca-Cola's Robert Woodruff and others that served Atlanta so well during the Civil Rights Era.
"When you talk to publicly held company CEOs, they will all tell you, 'I've never been in a place like Atlanta,'" Hertz says. "There is an expectation here that if you are the leader of a successful company that you will be involved in the community and give of your time to try and make Atlanta successful."
For Hertz, there is a strong business element to making choices about where to focus his time and energy – and not just the bottom-line benefit. It's a matter of using his skills productively.
"What attracted me was not necessarily the charitable purpose of the organization or institution, what attracted me was the complexity of the issues they were facing – more of the business aspects, how to get them from Point A to Point B, or to create them, get them from Point A to Point Z. What could they be, if managed and governed appropriately?
"Most of the time and effort I have put forth have been in response to an opportunity or to try to help some institution reach a greater purpose."
He references Camp Twin Lakes, which presented an entrepreneurial opportunity to help seven different camping organizations that were competing when they needed to work together, since they were all aiming to provide children who have illnesses or special needs with a camping experience.
"They all had the same issues. They didn't have a place to have a camp," and were relying on borrowed facilities. "They didn't have a medical facility, appropriate design, didn't have a [set] time to have camp.
"I just asked why not try to get them all together and create a facility they all could use?" That's how Camp Twin Lakes, now 25 years old, came about.
This led to his leadership in an even more daunting endeavor, as he caught the attention of Atlanta's two pediatric hospitals; both Scottish Rite and Egleston invited him to serve on their boards. He chose Egleston simply because he knew more of their trustees.
"What I found out was these guys competed for market share – they were like Coke and Pepsi – even though they had the same mission. They were staunch competitors, to the point where the boards didn't talk to each other; CEOs didn't talk to each other. The philanthropic community actually recognized this and said we're not going to give either of you more money."
Then each board faced the question of whether the institutions should try to align themselves with an adult system or work together to preserve pediatric care. They decided to join together.
"I ended up being one of four trustees, two from each board, to try and negotiate a governing agreement, which we did," Hertz says. "It took two breakfast meetings." The actual consolidation took a bit longer; but in 1998 the institutions merged to become Children's Healthcare of Atlanta, now one of the leading pediatric hospital systems in the country. He has since chaired the Children's Foundation Board and served a five-year term as CHOA chair.
"Doug is passionate about our mission," says CHOA's Hyland, "and the commitment that every child has access to Children's. Doug has helped us lay the groundwork to become the Children's we are today and the Children's we strive to be in the future."
Other efforts have brought their own challenges, he says, all responsive to good business solutions. He took on the role of board chair of the Woodruff Arts Center when it was in trouble several years ago and helped get it on sounder financial footing. "That was a nod to my mother and father," he says of his work there.
Hertz's minority stake in the Atlanta Falcons, offered to him by team owner Arthur Blank, is both personally satisfying and, he believes, an opportunity to support and be part of a strong community asset.
"I'm grateful to Arthur for the opportunity to invest – if I thought it was a bad investment I wouldn't have invested; but for a die-hard sports fan like I am, it created an opportunity for me to get close to a game that I love. I think it will end up being a very good long-term financial investment.
"I also see how important it is for local ownership of professional sports [teams], Atlantans owning Atlanta's teams. Ted Turner proved that. Arthur is proving that.
"We talk about The Atlanta Way, and I think I'm fortunate to be in a privately held business that allows me the opportunity to be involved in civic and philanthropic communities," he says.
But it remains the hands-on involvement that he is drawn to: "If I didn't believe in the mission and the cause, I wouldn't be involved. It's easy enough to write a check to be philanthropic, but to help make an organization or institution and their missions more successful, that's where I've spent my time, that's where I've invested my time."