Good eatin'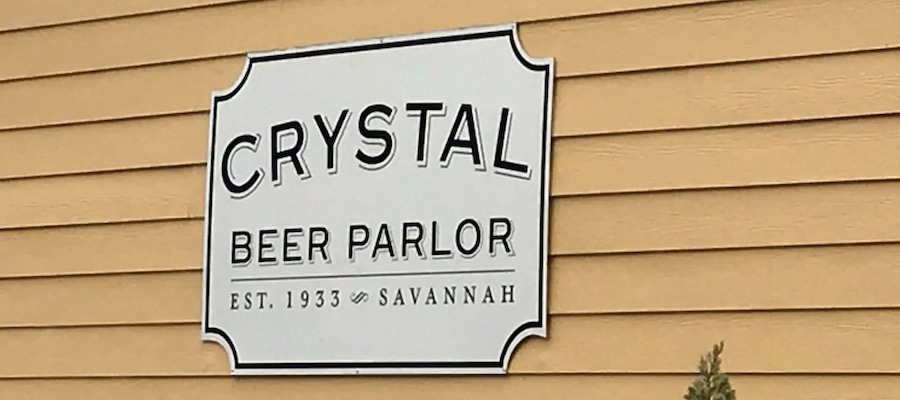 You can't be a tourist in Savannah without planning on some serious eating – including the area's signature crab stew. And April's a great month to visit, in fact, Town & Country magazine named it one of the 10 Best Places to Go in April. So, if you're headed to this historic spot, pack your big-lunch pants and enjoy the delicious flavors on offer. Don't worry too much about the calories, though. If you're in the historic disctrict, you'll probably walk most of them off.
My husband and I were there in late January. Some of our favorite dining adventures happened at these spots:
It's been around for a while, but still has plenty of luster. Start in the basement, where the dark, cozy bar with a grand piano – and really good piano player – feels like your neighborhood pub. The building, a former mansion, is worth a tour and if you get there before your reservations – or even between courses – you're encouraged to wander around. We made it to the top floor in our self-guided meanderings, when the hostess met us and took us to our table in a dark, low-ceilinged former attic room. The servers (at least ours) are knowledgeable about the history of both the area and the house. And the scallops tasted like a bit of heaven.
Walking past Bella Napoli on State Street in the historic district, you'd think it's just any pizza/pasta joint. But, if you head in and ask Frank (the manager) about the cheese-wheel pasta dinner, you learn that this place is not just a run-of-the-mill pizza and pasta place – and you get a show with your dinner. The small, L-shaped space has a table with a huge hollowed-out bowl of Parmesan cheese sitting in the corner. If you order the cheese bowl, your pasta is cooked, then poured into the bowl and tossed around so that it's coated with the Parmesan cheese. The night we were there, you had a choice of sauces for the special – seafood or veal medallions and sausage. My husband and I got one of each, and both were fabulous. Equally fantastic was watching Frank stir the pasta into the huge bowl, then plate it before adding the sauce. He's the consummate showman. "I love you," he says to all of his customers when they choose wisely, adding flourishes to everything from serving the water to opening the wine. I felt like I was back in Italy.
This breakfast and lunch place is in the up-and-coming Starland District, though Back in the Day has been a staple in the neighborhood for years. Biscuits are their specialty – and boy are they special. The owners/chefs, husband and wife team Griff and Cheryl Day, were James Beard nominees in the bakery category in 2015. And while you wouldn't think a Yankee boy and California girl could whip up biscuits that would make you cry for mama, these two can. Flaky, buttery and tasty, with homemade jam to go inside, they are the kind of breakfast this Southerner dreams of. Even after my sausage and biscuit breakfast, I couldn't resist the bakery case – a piece of lemon chocolate pie made a delicious snack later that morning.
After nearly 100 years, Leopold's, a Savannah institution, knows ice cream. The chocolate nut sundae didn't disappoint. Or try their signature flavors, Tutti Fruitti and Butter Pecan.
Next door to Leopold's, this low-key eatery has fresh soups, sandwiches and salads. The BAT (bacon, avocado and tomato) sandwich – yummy!
Chef Mashama Bailey has been lauded for her cooking, and given my lack of culinary skills and foodieness, I have nothing to add to the praise, except that the reviewers are all absolutely right. The black bass and collards were out of this world. And the sleek, streamlined art deco former bus station is now driving folks to dining delights.
Check out Georgia Trend's review of The Grey from someone who knows much better than I do how to write about – and appreciate – food.
Take the family and a huge appetite to the Crystal Beer Parlor, the oldest restaurant in Savannah. This loud, sprawling spot features a delicious crab stew, but specializes in family-friendly fare like burgers – oh, and beer. It was one of the first places to serve alcohol following Prohibition and now features dozens of beers on tap, in cans and bottles, and includes your favorite craft brews.
It was a meal made in my kind of heaven. The Big Plate featured meat with a side of meat and carbs with a side of carbs. My husband and I split the platter filled with ground beef, sausage, home fries, mac and cheese and carmelized onions. Then we washed it all down with the best chocolate milkshake ever.
This spot overlooking the water on Tybee Island has been serving up seafood since 2003. The hearty gumbo warmed my heart as well as my taste buds on a chilly January day.
Learn more about the other areas of Savannah's booming economy in this month's Georgia Trend feature "Where History Meets the Sea."
Bon appetit, y'all!