South Metro Atlanta: It's Time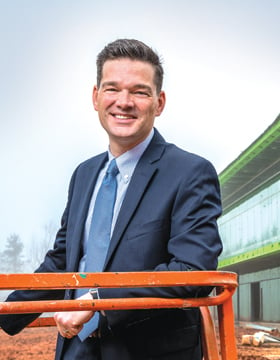 For years leaders in the Atlanta area south of I-20 have wondered why the bulk of attention – and economic development activity – went north instead of south. After all, the south metro area has a list of advantages: it's nearest to Hartsfield-Jackson Atlanta International Airport, the engine that makes the region run. Housing is less expensive, and land is available for commercial development. And the traffic isn't as bad. But the south still lagged in both business and residential growth – and the Great Recession made things worse.
Now that's rapidly changing as leaders in the south metro region work together to develop plans that cross city and county lines to boost the area's profile. Attention-grabbing projects like Porsche's North American headquarters, the new luxury Solis hotel and Pinewood Atlanta Studios, the second-largest film studio in the U.S., are making their homes south of I-20. Existing businesses are expanding. New urban centers are even going up in what used to be the forgotten suburbs.
Trae Westmoreland, who's been president of the Coweta County Development Authority for all of four months, remembers when "everything south of I-20, you just kind of [didn't understand] why we were not growing. … It made no sense. But I think this is the Southside's chance," he says. "There should be no reason why we should not grow immensely in the next five to 10 years."
Westmoreland, who grew up in Fayette County, says one reason he took the job is that everyone in the community is aligned and collaborating when it comes to economic development and quality of life. "When we do have prospects or companies coming to look at this community, it's very easy to do business," he says.
"The leadership of the different cities throughout the southern region [of Fulton County] are starting to come together," says Al Nash, CEO of the Development Authority of Fulton County. He notes a growing energy on the Southside with a number of new or expanding businesses, including an e-commerce fulfillment center for British fashion retailer ASOS. Located in Union City, it will bring in 1,600 jobs in the next five years.
"Each city has their own brand, but they have to figure out how to work together [on] common issues such as transportation, infrastructure, education and workforce," he says. "One road doesn't stop at the city limits."
---
All Eyes on the Airport
As the Atlanta airport undergoes a $6-billion upgrade, the cities and counties around it are poised to take advantage with plans of their own. In South Fulton and Clayton counties, planners for an Aerotropolis foresee fair skies for development that could transform the area. College Park is planning to redevelop 320 acres across from the Georgia International Convention Center (GICC), and there's a pedestrian bridge across Camp Creek Parkway in the works that will connect the GICC to the new development, called Airport City.
Meanwhile, a new $16.6-million BMW training facility is going up right next to the GICC. In Hapeville, Porsche's North American Headquarters, opened in 2015, sparked further development of the luxury hotel Solis, which opened in November 2017.
Nor are plans confined to the immediate airport area. In Union City, a huge town-center project with 8 million square feet of office space was announced in November, located about 10 miles from the airport at South Fulton Parkway and State Road 92. Thousands of housing units are also included.
Coweta County is close to the airport, Westmoreland says, and "a lot of the looks we're getting right now are from international companies, so I think the airport is really driving it." German company Blickle, which makes wheels and casters, just moved its U.S. headquarters to a new 55,000-square-foot building in Newnan.
"In my opinion, Clayton County has one of the best locations on the planet," says Jeremy Stratton, CEO of the Clayton County Chamber of Commerce. "Who else has 80 percent of the airport and four interstate highways? It's a natural place to locate a business."
That's helped encourage the construction of an enormous (800,000 square feet) distribution center/warehouse along I-675 in Clayton County on spec, without a confirmed tenant. Stratton expects to see an uptick in international companies considering Clayton. "Of course Porsche opened the door," he says, "but [as the airport grows in global traffic] you're going to see more foreign-related companies looking at us."
Henry County also benefits from its location. "Proximity to the airport, proximity to the port [in Savannah], the metro area and the Southeastern United States," says Leonard Sledge, executive director of the Henry Coun-ty Development Authority, ticking off the county's logistical advantages. In 2017, the county recruited four new companies and saw two existing businesses expand for a total of $282 million in new capital investment and more than 1,800 jobs created.
Sledge is expecting more growth. The huge Lambert Farms Logistics Park located in McDonough is getting bigger, with 1.55 million square feet opening in 2018. Sledge says it already has a tenant for 1 million of those square feet, though the name of the company hasn't been announced yet.
The Aerotropolis Atlanta CIDs – two community improvement districts that encompass the airport area – completed a master plan for the 15-and-a-half square miles they encompass and have several more ambitious studies and projects underway or about to start, including a master trail plan called the AeroATL Greenway; making Virginia Avenue, Camp Creek Parkway and Phoenix Boulevard more ped- estrian-friendly to encourage walkability; a freight analysis and improvement plan; and a transit feasibility study.
The freight study comes as the airport plans to triple its cargo capacity and will seek to build on the area's strength by "taking a look at how the airport is connected to [the port in] Savannah, how that impacts the airport area and how freight and cargo move throughout the airport area," according to CIDs Executive Director Gerald McDowell.
About 30 projects were identified in the master plan, adds McDowell, and 2018 will involve meeting with partners in its five cities (Atlanta, East Point, College Park, Hapeville and South Fulton) to come up with plans for funding them.
---
Center Stage
The film industry has had a major impact on the south metro area, with studios dotting the landscape below I-20, including Tyler Perry Studios on part of the old Fort McPherson property, Atlanta Metro Studios rising where the old Shannon Mall stood in Union City, Blackhall Studios in South Fulton County and Pinewood Atlanta Studios in Fayetteville.
That impact has been visible in terms of actual development, especially with Pinewood and Atlanta Metro studios. But it's also been a catalyst in shining the spotlight on an area that's long been relegated to backstage.
In Fayette County, the area around Pinewood is blossoming with the development of Pinewood Forest, a New-Urbanism mixed-use development with housing, restaurants, retail and office space all included in the plans. The first houses came on the market earlier this year – a good thing, says Pinewood Forest President Rob Parker, since Fayette's housing stock is pretty tight.
The neighborhood is designed so residents can find what they need within a short walk, but it plays well with the city's new plans for its downtown. Fayette County Chamber of Commerce President and CEO Carlotta Ungaro says Fayetteville's downtown development plan, released for public comment in January, focuses on 10 acres where the city wants to build a new city hall and a park.
"We've been trying to make sure that the studio is a lift for the whole county," says Parker. "We think it is going to be the tide that [raises] all the boats here." To that end, the county has a new tagline, "Create Your Story."
"We have a history of storytelling here with Ferrol Sams and Margaret Mitchell, who did research here for Gone with the Wind," says Ungaro. "Now with the film industry, storytelling is very much a part of our future." The chamber will use the tagline in upcoming efforts to market the county outside Georgia.
Meanwhile, new sound stages are planned for Clayton, Fayette and Chattahoochee Hills, all thanks to the state's 30 percent tax credit for the film industry, plenty of land to build and a growing pool of production talent – and a newfound appreciation for the area's offerings.
---
Balanced Business
Looking back on 2017, economic development leaders in every county noted how balanced the action has been between successfully recruiting new businesses and helping existing companies expand. It's a good signal of a healthy market, and it's one reason why local leaders are all, to a person, optimistic for 2018.
In 2017, Fayette County saw $133.5 million in investment with 252 new jobs. Czech manufacturer SILON announced a new $20-million facility in Peachtree City, while tankless water heater maker Rinnai broke ground on a $15-million expansion of its North American headquarters (also in Peachtree City) and added 150 jobs when it opened its first American manufacturing facility in Griffin.
Also in Griffin, Marukan (a Japanese company that makes rice vinegar) opened a new brewery. And Spalding County worked with its neighbor to the east to open a Dollar General distribution center with 535 jobs on the Spalding-Butts county line.
That project came together as a result of the two counties' joint efforts, says David Luckie, executive director of the Griffin-Spalding County Development Authority. And he echoes Fulton County's Nash's statement that roads don't stop at city limits – with a twist. "Sometimes you hear that old expression, 'You need to erase county lines,'" he says. "But until you have a project, you don't really see how both counties work together. Both of our counties worked well together to get that project to happen."
---
Local Flavor
Pickle Perfect
It's kind of like tennis. And badminton. And ping-pong. All rolled into one.
It's pickleball, and it's one of the fastest-growing sports in the country. That's why Spalding County Development Director David Luckie says that having built a state-of-the-art pickleball facility, Griffin could become the center of the pickleball universe. He's kidding – but only a little.
First, a few basics: Players (singles or doubles) on a smaller-than-tennis court hit a whiffle-like ball across a tennis-like net with solid, ping-pong-like paddles. It's a great sport for seniors or anyone who's recovering from an overuse injury. But kids like it, too. In fact, that's how it got started in 1965, when three dads invented the game using a hodgepodge of equipment to give their bored kids something to do. "Not long after, the parents started having more fun than the kids," says Peter Phelps, president of the Spalding County Pickleball Association.
Phelps had been playing recreationally with friends when he got the competitive bug and started going to tournaments. A conversation in 2015 with county commissioner Donald Hawbaker got the pickleball facility on the list of SPLOST (Special Purpose Local Option Sales Tax) projects.
Now that the 18-court complex is open, Phelps says it's one of the best in the country – and don't just take his word for it. "We've had people come in for tournaments, and everyone is of the same opinion," he says.
Phelps likes the competition, and he also enjoys the social aspect to the sport. "It's like one big family across the nation," he says. He spreads the word to area schools, seeing pickleball as a way to engage kids, get them moving and having fun. "I believe we are improving the quality of life in this community," he says.
The facility hosted four tournaments in its first half-year, including the Super Senior International Pickleball Association world pickleball championship (Phelps won gold in one of the mixed doubles groups) and the USA Pickleball Association's Atlantic South Regional tournament. This year it will host six.
It's not just fun and games. Phelps says the facility has already generated an economic impact of $400,000 and predicts it will pay for itself within three years.
"The tournaments have drawn hundreds of participants, not including families and friends that come with them," Luckie says. "We actually include it now in our presentations to industrial prospects." – Kenna Simmons