Savannah | Chatham County: History Meets the Sea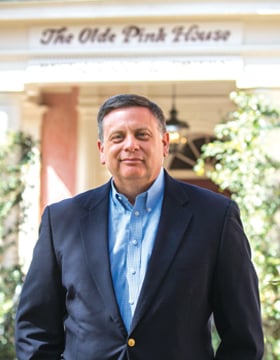 For centuries, two things have defined the Savannah area – history and water. Tourists flock to historic houses, moss-draped squares and restaurants that exist in 19th century mansions or mid-20th century bus stations. The diverse economy depends heavily on the booming port. The beaches of Tybee Island draw sun worshipers and vacationers year around.
"Part of our strength is that tourism is a big deal," says William Hubbard, president and CEO of the Savannah Area Chamber of Commerce. "But so is manufacturing, so is port-related, so are education institutions, so is medical. We're really fortunate to have a very diverse economy."
---
Popular Getaway
Let's start with tourism – the largest sector of the economy. Savannah is one of the top tourist cities in the country. Already this year, TripAdvisor has named it one of the top 30 cities to visit in the U.S., and USA Today named it the No. 2 most romantic North American destination. And the economy reflects its popularity. In 2017, the leisure and hospitality sector employed more than 27,000 people and grew roughly 5 percent over 2016.
To bring people back year after year, Visit Savannah, the city's tourism organization, has launched a new marketing initiative.
"Starting this year, we're really boosting what we call neighborhoods and communities," says Joe Marinelli, president of Visit Savannah. "We have something now called the Starland District and the Victorian District. And next year we'll have a couple of other districts [we promote]."
One of the mainstays of the Starland District is Back in the Day Bakery, a breakfast, lunch and pastry hotspot that's been part of the neighborhood for 16 years – since the times, says owner Griff Day, when they had to call the police on a daily basis to cruise through the area and encourage the drug dealers to disperse.
"People thought we were crazy," Day says about his and his wife Cheryl's decision to open in that location. "Everything at that time was centralized downtown."
Now, the condos, shops and other restaurants (also getting rave reviews) within walking distance have introduced Back in the Day to a whole new audience. Not that the place was hiding under a rock. It's been named Most Popular Restaurant in Georgia by People magazine and Zagat, and the Days were 2015 James Beard nominees in the outstanding baker category.
"Cheryl and I are both artists at heart," Griff says about the popularity of their food. "What makes us special is that we're here actually doing the work and overseeing and developing talent with our employees. We're just trying to keep our customers happy."
Having something new for visitors and residents alike is vital to tourism as an economic driver, Marinelli says. In fact, his organization works very closely with the Savannah Economic Development Authority (SEDA).
"[Trip Tollison, president and CEO of SEDA, will] be the first one to tell you that for them, economic development always starts with a visit," Marinelli says. "So to have this destination to showcase to those prospects is critical for them."
---
A Day at the Beach
Chatham County's other big tourist spot is Tybee Island, a vacation destination with growing pains. The town, with a full-time population of just 3,000, often hosts 10 times that many on weekends.
"I think there's more visibility of the island nationally," says Mayor Jason Buelterman. "And that's manifested in more people coming for vacation to Tybee, which has been good, but has its negatives, too."
The biggest problem, he says, is that there is only one way on or off the island – the two-lane Hwy. 80.
"We'll have 35,000 people on a weekend, stuck on Tybee," Buelterman says. "That happens all the time because there's a wreck or there's traffic. So we have to helicopter people to hospitals. My No. 1 priority is getting that fixed."
Once folks make it safely to the island, Buelterman wants to be sure they have a great time. There are a number of new restaurants and a new theater, but the biggest draw continues to be the beach. To ensure the island's beaches stay visitor and resident friendly, the local government created a Sea Level Rise Adaptation Plan, which was adopted unanimously by the city council. The plan "included a recognition that there is a problem, No. 1; and No. 2, that there are some long-term solutions and short-term solutions," Buelterman says.
Immediate solutions include getting Hwy. 80 repaved this winter and at the same time raising it by eight or nine inches in places to keep water from flooding the road so often. Long term, they're developing a plan to renourish the beach and rebuild the dunes at regular intervals.
---
Economic Diversity
More than tourism keeps Savannah humming, however.
"We did just over 1,000 new jobs that we helped facilitate in our area," says Tollison about 2017. "We helped facilitate almost a half-billion dollars in private investment."
That investment came from new companies and expansions, including home goods company Safavieh, which announced 200 new jobs and $60 million in investment, and Shaw Industries, which announced plans for 200 new jobs and $94 million in investment.
And 2018 started off right with the opening of Floor and Decor's 1.4-million-square-foot distribution center in February. The facility will employ 85 people, including 30 new positions.
This growth is in large part due to the ports, which had a record-breaking 2017 with more than 4 million twenty-foot-equivalent containers (TEUs) and 35 million tons of cargo handled.
"The port is definitely a massive driver of what's going on," Tollison says. "To see 10,000 to 11,000 truck movements a day at our ports is pretty phenomenal."
To ease some of that truck traffic and increase efficiency, the Georgia Ports Authority (GPA) has approved $42 million (of an anticipated $128 million) to begin construction of the on-site Mason Mega Rail Terminal that will double the port's rail capacity to 1 million container lifts and remove 100,000 trucks from the roads each year.
The Savannah Harbor Expansion Project is also moving along. Dredging of the outer harbor was expected to be complete last month, and last summer saw the arrival of several of the largest ships ever to call on Savannah.
A project like this costs millions, and while the state is ponying up its share, the feds are lagging behind. Gov. Nathan Deal's 2018 budget calls for $35 million for the project, which brings the state's total to $301 million. The federal budget, meanwhile, includes $49 million, but that's only about half of what's needed – and has been promised – to keep the project on track.
"We're all appreciative here of Gov. Deal willing to prefund … the state's share of the harbor deepening," says Chatham County Commission Chair Al Scott. "We think that's critical, not just critical to this community, but I think it's critical throughout the state."
Manufacturing contributes to the economy, as well, with manufacturers adding more than 500 jobs in 2017, with an additional 500 expected for 2018.
Gulfstream is one of the companies that has kept the manufacturing sector humming for half a century. In 2017, the company retired its mainstay G450 aircraft. Final approval of the next-generation G500 is expected any time, and the new luxury aircraft will begin soaring out of Savannah later this year.
To encourage growth of this sector, SEDA will begin development this year of its new 685-acre Savannah Manufacturing Center, an industrial park dedicated solely to manufacturing.
Good news also came from the movie industry. In 2016, SEDA introduced a local tax incentive, on top of the state's, that includes cash rebates for qualified film and TV productions, as well as reimbursements for moving expenses for qualified applicants. And the incentives are paying off, says Tollison. The industry saw 6 percent growth in 2017 over 2016, with 99 professional productions in the area, $65 million in direct spending and a $138-million economic impact.
Pooler's economy is also going gangbusters with retail, hotels and a revamping of downtown, including the recently opened courthouse and city hall.
"I can honestly tell you that the growth in Pooler is just exploding," says Pam Southard, executive director of the Pooler Chamber of Commerce.
She ticks off a list of four hotels, two major grocery stores, boutique shops, restaurants and more. "It's going to make it … shopping at your doorstep. Everything is right here at our fingertips."
And supporting all of this is a plethora of road and highway projects, from the redesign and rebuilding of the I-16/I-95 interchange that will make it both more efficient and safer, to the widening of I-16 and the build-out of Jimmy DeLoach Parkway to provide direct access from I-16 to the ports. (For more about the infrastructure projects in the Savannah-Chatham County area, see "Growth Catalysts" – Economic Yearbook: Southeast region.)
---
Developing Potential
Savannah has three enormous developments in the works that represent about $1 billion.
The Plant Riverside District is going up on the west end of River Street. The $250-million project from developer Richard Kessler will include a J.W. Marriott Hotel, food and beverage outlets and shops. Combined with utilities costs and a parking structure that was essential to the development, the total project comes to $400 million.
"The good news is we're very popular," Hubbard says. "The bad news is we're a small area, so you've got to find ways to park people."
"This project will add about 750 new jobs," Marinelli says. "We need parking for visitors, but we also need parking and improved transportation infrastructure for the employees."
The city partnered with the developers to get 600 parking spaces, says Mayor Eddie DeLoach. "We had an agreement that … we would build the [parking] structure, pay for the structure with bonds. A good deal for all – the city gets parking; the developers have 30 years to pay back the $30-million cost."
The second project is on the east end of River Street, where a Georgia Power headquarters building has been retrofitted into a hotel by Northpoint Hospitality.
The site has a Homewood Suites with another hotel planned. It's got retail – and more parking. "There's a good $350 million, give or take, associated with that," Hubbard says.
With the recently approved $14-million expansion of the RiverWalk – the promenade along the river – to reach these new developments, visitors will soon be able to park in one of the new structures at either end and walk or take a shuttle to destinations up and down more of the river.
The third project is a civic center, still in the planning stages, across I-16 from the historic district alongside Springfield Canal. The project includes a new arena, to be paid for with Special Purpose Local Option Sales Tax (SPLOST) funds. Long-term, the project will include redevelopment of the canal area into a park and connectivity to downtown.
"To have $1 billion worth of development actually happening in Savannah, it's significant," Marinelli says. "It's really a gamechanger for this community at every level."
The city also has a new strategic plan, says DeLoach, who outlined goals of the plan including revitalization of areas surrounding the historic district and combating poverty.
The revitalization plan involves a focus on and an infusion of funds into one neighborhood each year to bring back working-class areas and affordable housing for people who work in Savannah but are being priced out of their homes.
"We want to make it back to where it's a place for working-class people to be able to get to the jobs downtown and not have to travel so far," DeLoach says.
To help alleviate poverty, DeLoach sees education as key. The plan is to bring three-year-olds into public schools – pre-pre-K, if you will. It's a huge goal, because the payoff – and even the ability to measure success – is years down the road. But, DeLoach says, research backs up the idea.
"We've looked at the Rotary study and Kiwanis study that says if a kid can read and do math at the same level his peers can in the third grade, that kid's got a 95 percent chance of making it, of getting a job, of being a contributing factor to the community," he says. "If they don't, it's just the opposite. So our goal is to get these kids in."
---
Educational Opportunities
Early childhood education isn't the only priority. A new partnership between SEDA and the Savannah College of Art and Design (SCAD) is a yearlong program, SCAD+, for alumni to develop creative content and technology.
"Basically the goal is to create opportunities for graduating SCAD students that have the ability and new technology ideas to stay here and implement them and get those projects into the marketplace," says Tollison.
Nine people have been selected for the first year. They're provided with living and studio space and a stipend. After a year, they'll present their concepts in areas such as gaming, mobile, and virtual and augmented reality to potential investors.
SCAD isn't the only higher education institution getting in on the workforce development act. The recently completed consolidation of Georgia Southern University (GSU) and Armstrong State University, in Savannah, means greater opportunity as well.
"In a nutshell," says GSU President Jaimie Hebert, "the goal [of the consolidation] on our Armstrong campus is to increase educational opportunity … in a way that is responsive to the workforce needs of the region."
One of the areas the university will focus on is the health professions.
"Armstrong State University, prior to the consolidation, was the No. 1 producer of healthcare professionals outside of physicians in the entire state of Georgia," Hebert says. "We're going to ride that reputation, and we're going to grow that reputation."
Commission Chair Scott, an Armstrong alum, supports the consolidation. "We could have a real concentration on one of the largest growth sectors in terms of jobs, and that's healthcare, with that primarily dedicated campus out there," he says. "So I think it's a good deal."
That's just one more way people in Savannah and Chatham County are working together to tackle the region's problems, keep the economy growing and continue to welcome tourists, new businesses and new residents alike.
---
Local Flavor
A Step Back in Time
As you stroll the live-oak- and mansion-lined streets of Savannah, it's easy to forget that there's another side to the area's history – that of the enslaved people who worked to keep those mansions – and area plantations – running smoothly and profitably.
Stories of the descendants of some of the enslaved people can be found at Pin Point Heritage Museum, along Moon River just south of Savannah. Located in the former A.S. Varn & Son Oyster and Crab Factory, the museum is as much the story of the community as it is the oyster and crab industry.
"Pin Point is a community that dates back to the 1890s," says museum interpreter Hanif Haynes. "It was settled in 1897 by a group of families that originated on Ossabaw Island. They were enslaved people that worked the plantations on Ossabaw."
After the Civil War, Ossabaw was devastated by hurricanes, and the people who lived there – including Haynes' ancestors – left the island and founded Pin Point.
The community was made available to displaced African Americans because white people didn't want it, Haynes says. "This little spot that we call home wasn't considered desirable. Nobody really wanted to purchase it because it was on tidal creeks. The only way you could have gotten to these properties back then was by boat."
Now, "Pin Point is one of the only surviving Gullah-Geechee communities," he says.
"Gullah is the language. Geechee are the people," says Gail Smith, another interpreter and resident of the community. "Gullah is a mixture of the African dialect, as well as English, Creole and Patois. The language was formed to keep the plantation owners from knowing what the slaves were talking about."
Not only has the community survived, it produced a Supreme Court justice. Clarence Thomas was born and raised in Pin Point, as the interpreters are quick to point out. And his mother and grandmother worked in the oyster and crab factory that now houses the museum. The museum, which is managed by the Coastal Heritage Society, opened in 2011.
Work at the factory was hard – and done by hand for more than half a century, from 1926 to 1985. Still, it was the primary employer for Pin Point residents. Oystering happened in the winter months – September to April. The men would go out in bateaux – wooden boats – with the tide and could bring in up to 1,000 pounds of oysters in each boat. After they returned, the women went to work, standing for hours in an unheated room, cracking open oysters and dropping them in gallon buckets – they got paid for oysters by the gallon.
Come April, it was crab season. And, again, the men went out crabbing and the women worked inside, where they'd clean the crabs, then pick and put them into cans.
It's work that's now done by machines, making this museum a step back in time.
"This museum is owned by a private benefactor," Smith says. "He wanted the American people to know about Gulluh-Geechee people because we are a part of the fabric of the American way, because we helped build this country. Hanif and I still live in the community. Because we lived the story, we can tell the story." – Karen Kirkpatrick