LaGrange | Troup County : An Open Invitation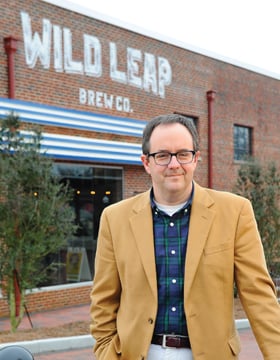 LaGrange isn't one of those hidden paradises that locals try to keep quiet lest they be overrun with visitors. In fact, there's a concerted effort to bring as many tourists to town as possible.
From the soon-to-open Great Wolf Lodge to the planned waterfront venue being designed to attract large aquatic events, Troup County has thrown its doors wide open to the world. Bolstered by the millions being pumped into the community by new and expanding industry, and continued generous support from the Callaway Foundation, the sky's the limit here when it comes to tourism potential.
---
Come One, Come All
LaGrange and Troup County are beginning to see a renewed emphasis on tourism as economic development. In fact, tourism drove a $160-million economic impact in Troup County in 2016, says Dave Marler, vice president for marketing and tourism for the LaGrange-Troup County Chamber of Commerce. The chamber has extended its marketing to sell the community in different venues. Those marketing efforts garnered the attention of Expedia, which recently named LaGrange as one of 18 must-see cities for 2018.
A number of established attractions continue to draw the masses, including the town's visual and performing arts centers; Sweetland Amphitheatre; Hills & Dales Estate, the historic home of the Fuller E. Callaway family; and the Biblical History Center, says Page Estes, chamber president.
A new draw to downtown is Wild Leap Brew Co. which opened last September in a renovated historic building, says Rob Goldstein, co-founder and chief marketing officer. The city invested $2.9 million in the building renovation and leases it to the brewery, says Bill Hunnicutt, executive director of the Downtown LaGrange Development Authority.
The product is brewed onsite, and behind-the-scenes tours are offered. "It's a really immersive experience in that you not only learn about the history of Wild Leap, but we walk you through the brewing process in a way that doesn't get so down in the weeds that it starts going over people's heads," says Goldstein.
In addition to the brewery and tasting room, Wild Leap also makes use of a brick plaza the city built in front of the building. The space has capacity for about 1,600 and is a prime location for outdoor events, says LaGrange Mayor Jim Thornton. Behind the brewery is 10 acres of greenspace the city is developing as a park, including a skate park and a designated dog park. "It's really transforming the south end of LaGrange," he says.
---
Continued Growth
On May 31, Great Wolf Lodge, an indoor waterpark resort, will open its 16th location in the country in LaGrange. It will bring with it some 350 full-time jobs, a number that will double during peak season, says Keith Furnas, general manager, who estimates 500,000 to 600,000 visitors to Great Wolf annually.
The resort will offer 457 rooms in eight different suite styles, 93,000 square feet of indoor waterpark space, a family entertainment center with mini-golf, bowling, rock wall climbing and an indoor ropes course, and multiple dining and retail options. "We do have a few unique things coming," says Furnas.
The resort's presence has already prompted a Selig Enterprises development known as The Village, featuring high-end retail, chef-driven restaurants, family entertainment, medical facilities and multi-family housing. The master plan is complete, and pre-leasing is underway, says Scott Malone, president of the Development Authority of LaGrange.
Troup County residents passed another Special Purpose Local Option Sales Tax (SPLOST) in November, with a record 71 percent voting in favor of continuing the 1 percent sales tax. This latest referendum focused heavily on parks and recreation projects designed to ultimately boost sports tourism in the county, says Marler. The niche already makes a $7.9-million economic impact each year, adds Estes.
Great Wolf will include 18,000 square feet of meeting space, ample room for hosting indoor sporting events such as cheerleading competitions booked months before the facility opens. In addition, LaGrange's first downtown hotel, Courtyard by Marriott, opened last year, offering 90 guest rooms and prompting the construction of the town's largest parking deck.
With the extra capacity for out-of-town visitors, city leaders are on a drive to boost the area's potential for attracting additional events. While they already have facilities to host visiting baseball, softball, basketball, soccer, golf and tennis teams, says JJ Kuerzi, vice chair of marketing and tourism at the chamber and Troup County Parks and Recreation facilities manager, the events they so successfully host each year are smaller in scale and she's anxious to recruit the larger ones. Kuerzi attends four sports tourism shows per year to recruit sporting events and tournaments to Troup County.
"Where we've been behind the eight ball is not having enough hotel rooms to accommodate some of the larger tournaments for us to get them to come into the community," says Estes.
West Point Lake continues to be one of the area's largest tourist attractions, bringing more than 1.5 million visitors annually. And while the lake plays host to numerous events such as fishing tournaments, speed boat races, triathlons and dragon boat races, a planned multi-purpose building beside the lake at Pyne Road Park will allow the city to compete for larger aquatic events. Also being funded by SPLOST, the building will be available for family reunions, business meetings and other events.
Now under construction is The Thread, a 29-mile non-motorized, multi-purpose path named to reflect the area's rich textile history. Currently, two miles have been completed with the goal of completing another 13 miles by 2022. The overall plan is designed to link a number of public areas, including downtown, parks, schools and the lake, says Kuerzi, adding that existing facilities are being enhanced as trail construction progresses through the area.
"The first two phases were funded by the city out of 2011 SPLOST funds allocated for parks and trails, exhausting that source of revenue," says Thornton. "We put $10 million in the 2017 SPLOST renewal … the largest single project in a $70-million budget."
That budget also includes funds to help West Point and Hogansville support their parks, trails and recreation facilities as well, adds Estes. In fact, West Point's Downtown Development Authority is planning to increase recreational amenities with the recent purchase of 12 acres on the Chattahoochee River, says Meghan Duke, economic development director for the city of West Point. Plans are also being developed for a high-density residential, retail and commercial project on the property.
Also in West Point is the private four-year Point University, currently in the process of expanding to accommodate growing enrollment, including the construction of a dormitory and other university facilities in downtown West Point.
---
International Attention
Troup County isn't just a draw for tourists, of course. It's widely recognized as a forerunner in industry and manufacturing, already home to Kia, Interface, Jindal Films, Caterpillar and more than a dozen more. In fact, LaGrange is sixth in the state for the number of people employed by international companies, says the Economic Development Authority's Malone.
The Georgia Ports Authority's (GPA) Strategic Plan now includes LaGrange as the state's third inland port, a process that will take 24 to 30 months to complete, says Malone. KIA is one of the GPA's largest customers, so locating an inland port near the KIA plant is a solid decision, he says, adding that it will also drive other industrial and economic development in the region.
In January, Troup County reported more than $1 billion in new capital investment under construction, including a $530-million facility being constructed by a Chinese tire manufacturer. At press time, the project remained under a media moratorium as the owners were preparing to take the company public in China, says Malone.
Also in the process is a $54-million expansion for Interface, manufacturer of modular commercial carpet tile in LaGrange since the 1970s. The project includes growing the facility and the addition of new technology that will help retain its 1,200 employees, says Malone.
Since 1981, Duracell's LaGrange location has made every nine-volt battery sold in North America, says Malone. The facility is undergoing a $100-million expansion that will trade the nine-volt production for AA and AAA battery production. "Now they'll have global engineering, purchasing and customer service all located in LaGrange on a 58-acre campus," says Malone of the expansion, which will add about 100 jobs in the business center.
Jindal Films, manufacturer of poly-propylene film used for packaging food items such as potato chips and granola bars, continues with a $205-million project that includes an existing plant expansion and moving their North American headquarters and research and development facilities from Rochester, N.Y., to LaGrange. The project will bring 243 "very high-end, high-paying jobs at the headquarter facilities," he says.
Caterpillar's global headquarters for the forestry division recently celebrated 20 years in LaGrange, where they manufacture every piece of forestry equipment the company sells. They also recently invested $15 million, completing a 200,000-square-foot inbound logistics facility, adding about 50 jobs, Malone says.
"When you think about Duracell and Caterpillar and Jindal … they've all three been in the community over 20 years and they invested $325 million just this past year in expansions," says Malone. "That's a huge commitment to your community, when well-known companies that have been here that long are continuing to contribute that kind of capital. It's an amazing story."
---
Shining Stars
Access to quality healthcare for employees and their families is typically a requisite when a company is choosing a location. Named to the 2016 and 2017 national list of 100 Great Community Hospitals by Becker's Hospital Review, one of the nation's top healthcare publications, WellStar West Georgia Medical Center (WGMC) checks that box for many employers.
Jerry Fulks, president of WellStar WGMC, says less-than-stellar patient satisfaction scores around 2003 prompted an overhaul in culture at the hospital, leading to the high rankings the facility enjoys today.
"We didn't want that; our people are better than that," says Fulks, of the response they previously received from patients regarding their experience at WellStar WGMC. "So we changed our culture. … It's a matter of treating people the way you'd want to be treated."
Changes included requiring caregivers to knock on a patient's door before entering, to introduce themselves, to address the patient by name and to explain what they are there to do. "The size of our community is such that we could be caring for our own family members and friends," says Fulks. "That's not always the case, of course, but it puts it on a personal level."
Recognized for its healthcare in addition to its untiring efforts to attract tourists and industry, LaGrange is truly a well-rounded community that is open to growth that benefits residents and businesses alike.
---
Local Flavor
History Comes to Life
It's no secret that LaGrange and surrounding Troup County continue to benefit greatly from the generosity of the Callaway family through the Callaway Foundation. But the family's legacy of stewardship extends beyond economic development and improved quality of life and is manifested in Hills & Dales Estate, the opulent J. Neel Reid- and Hal Hentz-designed historic home of the Fuller E. Callaway family.
Completed in 1916, the home – and surrounding grounds – is maintained by the fourth generation of the Fuller E. Callaway family. The 35-acre estate, including the 30-room Georgian Italian villa and the opulent pre-Civil War gardens, is open to the public.
The 13,000-square-foot home was, in fact, designed to flow into the gardens, where a series of dwarf boxwood parterres planted by Sarah Ferrell have adorned the terraces for more than 175 years. As a child, Callaway spent time with "Miss Sarah" learning about the gardens. In 1911, he purchased the property to build his family home. Lovingly cared for for years by Ferrell and three Callaway family women, the garden is considered one of the best preserved 19th-century gardens in the country.
Carleton Wood, executive director of the estate, has spent the last 15 years at Hills & Dales. He says the home was continuously occupied by the Callaway family until the death of Alice Hand Callaway in 1998. The property officially opened to the public in 2004, though only the gardens and the first floor were accessible. In 2010, all systems were replaced in the home, including the original wiring from 1916. At that point, the second and third floors were added to the tour.
"When you open the second and third floors, people are allowed to see bedrooms," he says. "So that's a little more intimate look at the family. It took a while to make sure the family was ready to do that." Hills & Dales now welcomes about 10,000 guests annually.
Visitors to the property have a number of options for exploring, such as a guided house tour and a self-guided tour of the expansive gardens. Numerous annual events include a picnic in the garden, a photography contest and Hills & Dales Holidays, when the home is decked out in holiday splendor throughout the month of December. In between, it hosts various hands-on workshops, horticulture-related lectures and numerous activities for children. – K.K. Snyder