Four for the Future
Success in communities across Georgia starts with leadership – and a plan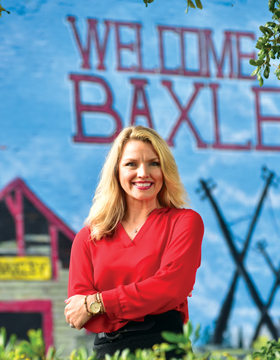 For communities throughout the state, the realization that something needs to be done to address an issue is often followed by the recognition that the resources to get it done aren't available locally.
That's where the University of Georgia's (UGA's) Public Service and Outreach (PSO) division can help. It offers collaborative assistance in strengthening communities, organizations and individuals, thereby fulfilling, in part, UGA's mission as a land grant university.
For the sixth consecutive year, the PSO and Georgia Trend magazine teamed up to recognize four communities that have worked to improve prospects for residents through public-private and nonprofit initiatives. From leadership identification and training programs to strategic planning, these initiatives demonstrate the power of collaboration.
Lauren Healey, a public service associate who works in the PSO's J.W. Fanning Institute for Leadership Development, says the work of that organization across Georgia reflects one of its founding – and namesake's – principles: "That's what Dr. Fanning believed: If you want to train leaders, you need to meet them where they are," she says. "It's important to take the time to work at the local level and tailor those things to each community." – Karen Kirkpatrick
---
Baxley-Appling County
Building Skills
When UGA's Fanning Institute partnered with the Georgia Chamber of Commerce to establish the Georgia LEADS program, Keri Crosby Orvin, executive director of the Baxley-Appling County Chamber of Commerce, "was jumping up and down about it," she recalls. It had been 30 years since there was a leadership development program in the community, and she knew they needed it. Through Georgia LEADS, the Fanning Institute came in to help them craft a vision and get new programs off the ground that engage a new generation of leaders and provide the skills to steer the community into the feature.
In May of 2017, Appling LEADS graduated its first class of 13, aged 22 to 65. There are 18 currently in the second class. Fanning personnel taught the first year, then that inaugural class raised money to fund training for local instructors to teach going forward.
Orvin says without Fanning, they would not have been able to get the program off the ground. "It would have been virtually impossible to do locally," she says. "We would be trying, but it would not be happening."
Brenda Harris was a member of the first Appling LEADS class and is the community health and outreach coordinator at a local church, Temple of the Higher Calling. She says the program not only boosted her confidence in her own leadership style, but helped her connect with her community.
"It helped me to become more aware of the needs of Appling County, not just in my neighborhood but the county as a whole," she says. "Sometimes I think we stick with the familiar, the people that we know. But Appling LEADS helped me to think outside of the community I'm comfortable with."
Harris says the program also helped her understand the opportunity everyone has to make a difference. "If there is something in Appling County that will benefit the needs of our people and you have the passion, our county will support you and help you accomplish whatever you set out to do," she says, adding that is not something she would have said before the leadership program. "I'm really trying to get as many people as I can involved with Appling LEADS."
Orvin says the program was especially needed in the community because the average age of its leadership had been climbing without any clear succession plans. Lauren Healey, a faculty member at the Fanning Institute, says this is a common thread among all nine communities they worked with, despite their widely differing sizes.
Everyone was thinking about "engaging emerging leaders and young professionals, the need for succession planning in each community and engaging youth in a positive, authentic way," she says.
Orvin recalls a poignant moment at the graduation of the inaugural class when Lewis Parker, chair of the board of county commissioners, pointed at the graduates and said, "We've been waiting for you. We've been waiting for you to get ready." – Emma N. Hurt
---
Hawkinsville-Pulaski County
Addressing Priorities
Pulaski County is a 249-square-mile community with a population of roughly 11,000 located about two hours south of Atlanta. While its county seat, Hawkinsville, is known in harness horse racing circles for having one of the world's largest training and racing facilities, the community faces challenges common to many rural Georgia counterparts – namely the need for leadership, workforce and economic development as well as healthcare and education improvements.
In the nine years since Hawkinsville-Pulaski County became an active Archway Partnership community, it has made great strides in addressing its priorities through the collaboration of government, industry and small businesses.
"Hawkinsville and Pulaski County have collaborated for so long … [it's] the natural approach whenever anything needs to get done," says Shelly Berryhill, Hawkinsville city commissioner and chair of the Hawkinsville-Pulaski Archway Partnership Executive Committee. "Together we can accomplish so much more."
Initially, the focus was on nurturing a new generation of adult leaders through the establishment of Pulaski Tomorrow in 2010. Today, more than 100 residents have participated in Pulaski Tomorrow's adult leadership program, and a youth leadership class has also graduated more than 100. Pulaski Tomorrow is now an independent nonprofit with a three-year (2016-2018) strategic plan for continued growth in its leadership ranks.
Among the accomplishments of Pulaski Tomorrow's graduates is establishment of L.I.F.E. League, a nonprofit that combines sports with personal growth and education workshops for at-risk youth. According to Berryhill, the high school graduation rate for L.I.F.E. League participants is more than 90 percent, more than 15 percent higher than the local average.
In the realm of healthcare improvements, the Archway Partnership assisted with a community health needs assessment that led to the 2016 opening of Taylor Express Care, an urgent care center that has helped divert patients who are not critically ill from Taylor Regional Hospital's emergency room.
"The result has been tremendous," says Berryhill. The facility "is a perfect example of us working together, listening to the desires of our citizens and fulfilling those needs."
In addition, a 2016 study of hospital readmissions by a UGA pharmacist working with Taylor Regional is helping reduce the number of patients returning to the hospital too soon after being treated for COPD (Chronic Obstructive Pulmonary Disease), pneumonia and congestive heart failure. Berryhill says the study "has the potential to not only improve patient health outcomes, but also improve the hospital's financial position by decreasing readmissions and increasing reimbursements."
The city of Hawkinsville is currently working with the Archway Partnership on a strategic economic development plan aimed at targeting new industries, preserving historic sites, promoting tourism and recreation activities associated with the Ocmulgee River and producing an easy-to-understand literacy guide for parents to foster reading and literacy skills in children from infancy through eighth grade.
These and other efforts have Berryhill excited about his community's prospects. "We know we are doing great things," he says. "We are growing and producing results, and we know our goals are being met."
Rob Gordon, director of the Archway Partnership, agrees. "The leadership of Hawkinsville and Pulaski County have embraced collaboration and partnership in ways that will have a lasting and positive impact on the community for generations to come," he says. – Mary Ann DeMuth
---
Carroll County
From Vision to Reality
In Carroll County, the University of Georgia's outreach programs have made a difference, both on the street and to its people. The county, which has had a vibrant leadership development program for two decades, still had changes and improvements to make.
"It was a chance for us to hit the reset button with a little more intentionality," says Daniel Jackson, president and CEO of the Carroll County Chamber of Commerce. When Fanning asked what the county needed, Jackson says the immediate answer was to reestablish a youth leadership academy and to build out a program to reach adult leadership alumni. Carroll's adult academy had not had an organized way of keeping alumni engaged in the community, he says.
The Fanning Institute jumped in and helped them "put on paper what we envision," he says. "We've just got to figure out how to make it happen." The junior chamber is now in its third year across three high schools. The alumni program known as Bridge Builders has about 60 participants but is still evolving as the vision on paper becomes a reality. The idea, he says, is a few annual programs related to personal development, community service or just a social event.
Kristy Allison is a vice president at Bank of the Ozarks and a 2015 graduate of the adult leadership academy. She says the experience helped her identify her own strengths and weaknesses in leadership, which now positively affects her everyday interactions. She had independently been organizing social gatherings for her leadership class and is chair of the Bridge Builders committee. She says while it's "a constant work in progress," she has hopes for the program's potential community service impact.
Meanwhile in Villa Rica, about 15 miles northeast of Carrollton, the city has gotten a jumpstart in developing its downtown as a result of assistance from UGA's Carl Vinson Institute of Government. The institute, which in 2011 formed the Georgia Downtown Renaissance Partnership with the Georgia Municipal Association and the Georgia Cities Foundation, sent a team to Villa Rica to collaborate with a local steering committee and conduct focus groups and interviews to help shape a plan of action, says Christopher Pike, Villa Rica's director of economic development.
"We went from basically not having a clear direction and goal for downtown to having a blueprint with community buy-in," he says. "As we begin to initiate parts of the plan it has been easier, because we've had that buy-in from the whole community." The plan came out in mid-2016.
He says without the jumpstart from the institute, today he would be trying to hire an outside firm to compile that master plan. Instead, they are looking for developers to build a hotel and conference center, working with an engineer to rework their downtown sidewalks, putting a tax allocation district referendum on November's ballot and admiring their latest accomplishments, like a parklet sidewalk extension – a public greenspace built out over an on-street parking space – and an abandoned gas station turned welcome center. "If we didn't have the master plan, we wouldn't be doing anything really at this point, or we wouldn't be doing anything of any significance," he says.
"We'd probably still be talking about parklets rather than having parklets," he adds, "if we hadn't had the master plan." – Emma N. Hurt
---
Fulton County
Planning for Success
When your county encompasses 15 cities and provides services from elections to animal control, you need to define priorities, set goals and inspire close to 5,000 employees. So when Fulton County began a three-year strategic plan in 2016, they defined six priority areas the board of commissioners could use to organize their progress, characterized in what Fulton County Manager Dick Anderson calls "citizen-centric terms."
Covering economic opportunities, health, safety and more, the structure assigned a county commissioner as an executive sponsor for each of the six areas, making funding requests and accountability clearer and increasing transparency.
At the same time, the county adopted a commitment to being "First in Three: impact, service and efficiency," a principle Anderson calls "our basic north star." This focus on customer service led to a collective effort with UGA's Carl Vinson Institute of Government (CVIOG) to build executive talent, a move that proved to be "the perfect fit," he says.
Through CVIOG's Georgia Certified Public Manager program, a 300-hour curriculum designed for public service employees, the county graduated 44 managers in September 2017 and has another 48 currently enrolled.
"We learned to be more self-aware about what needs to be improved and how to develop programs," says Brigitte Bailey, a graduate of the program who now serves as Fulton County director of customer experience and solutions, an office created as part of the strategic plan. The program "creates a more engaged workforce," Bailey says. "We're really listening more."
A major restructuring for 2016 under the "economic opportunity" banner was the creation of Select Fulton, the economic development effort put together with help from CVIOG. "Prior to [Select Fulton], we had three different economic movements that weren't coordinated at any level whatsoever," says Anna Roach, chief strategy officer for the county. The Development Authority (a separate legal entity), a Fulton County economic development department and the then-municipal area of South Fulton all had different teams working to grow business – a situation that needed simplification.
"What [CVIOG] helped us do was identify how we could optimize our economic development efforts by consolidating all of those functions into one," says Roach.
With the highest part of its budget going to the criminal justice system ($323 million, 33 percent of the total in 2017), the county is also looking at changes that may reduce the number of arrests and costs. Launched in 2016 with help from CVIOG, which analyzed and documented how individuals with mental issues interacted with the system, the Justice Reinvestment Initiative (JRI) is "an attempt to get stakeholders around the table to ask if there was anything we could do to improve the way we administer justice," says Roach.
Important parts of the initiative strive to reduce recidivism through improved pre-arrest mental health screening and follow-up care. A proactive measure, the Law Enforcement Assisted Diversion (LEAD), which calls mental health professionals to intervene in a crisis situation in hopes of diverting people from prison, was also added and is underway as a pilot program in one Atlanta Police Department zone.
"We will continue to work closely with our jails," Anderson says, "to ensure when folks are coming out, we have them connected to our providers in a continuum of care and they are not coming back." – Amy Bonesteel