Deep Impact
For Georgia Tech's ATDC, it's not just about growth – it's about meaningful growth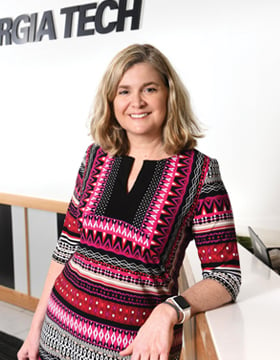 I look at Tech Square as being the heart of innovation and technology in the state of Georgia," says Jennifer Bonnett, "and ATDC is that heartbeat."
Bonnett, the Advanced Technology Development Center's general manager, leads the technology incubator's programs across the state. Part of Georgia Tech's Enterprise Innovation Institute, ATDC is the state's oldest technology incubator, welcoming its first startup in 1981.
Nearly 40 years later, it's become an internationally recognized incubator – and the lifeblood of the state's technology industry. As ATDC gears up to graduate its latest class of startups next month, Bonnett wonders: Can we go deeper?
---
Georgia's Technology Incubator
Though Midtown's Tech Square serves as ATDC's home base, the incubator's influence – and impact – spreads across the state. In addition to the Midtown headquarters, ATDC has programs in nearly a dozen cities throughout the state, and it's eyeing another two cities for possible expansions.
Since its founding in 1980, ATDC has generated $12 billion in revenue for the state, and more than 170 technology companies have graduated from its programs.
"We're looking to have an economic impact on the state of Georgia by taking companies from essentially a couple of founders and an idea to a growing, scaling business," says Bonnett. "We have close to 170 companies in our incubator program and around 680 entrepreneurs taking our educational program across 10 locations in the state."
ATDC's three program levels – ATDC Educate, ATDC Accelerate and ATDC Signature – take entrepreneurs from viable idea to a scalable, profitable company. The center's entrepreneurs-in-residence provide essential guidance and mentoring, and the incubator draws on the significant resources of Georgia Tech and its corporate partners to help entrepreneurs "learn, launch, scale and succeed," says Bonnett.
In 2017 alone, ATDC served 2,700 entrepreneurs across its programs. Its startups raised nearly $130 million in capital funding – a 140-percent increase from 2016, which was a 159-percent increase from the year before. ATDC's portfolio touts startups across a wide range of industries, including financial tech, cybersecurity, advanced manufacturing, retail and healthcare.
---
Growing Midtown
"ATDC has really helped cement Tech Square's status as the preeminent technology neighborhood in town," says Kevin Green, president and CEO of the Midtown Alliance, a nonprofit organization working to promote Midtown's vibrancy.
"As I think about Midtown today, Georgia Tech is the mothership and Tech Square is where the technology community plugs into the mothership and all the talent, ideas and activity that surround it," he says.
And that technology community is growing. Rapidly. In the last 36 months, says Green, more than 16,000 jobs have been announced within 1 square mile of the Midtown core. Twenty major projects are currently being constructed in the district, with more than 2 million square feet of office space and 3,000 residential units.
"That's unprecedented for Midtown, and I think that's yet another indicator of the level of interest on the part of the private sector, investors and companies that want to plant their flag here," says Green. "This packs a pretty serious punch, and I think the numbers support that."
---
Building Connections
What's the hardest part of starting a company? Developing your idea into a viable product? Finding the right team to help you grow? Or finding customers – and learning how to win them over?
It could be all – or none – of the above, says Margaret Martin, CEO of augmented reality firm CN2, an ATDC 2015 graduate. It's all relative to your experience.
"It's kind of like going to a therapist," she explains. "If you and I go to the same therapist, that therapist is going to have a whole bag of resources. I'm going to come with my life experiences, and I'm going to need help in a different set of areas than you are."
And the great thing about ATDC, she says, is that it's equipped to handle it all: "We're coming to the same place with two really different sets of needs, but those needs can very adequately be met within one organization. I think that's something that's very special about it."
One of ATDC's biggest roles is that of a connector – connecting its startups with mentors, connecting entrepreneurs with other entrepreneurs to create a sense of community, connecting teams with resources, and connecting startups with major industry players for critical funding and customers.
"If [our startups] need access to talent, access to intellectual property or access maybe to professors, board members or chief science officers," Bonnett says, "we are actively doing matchmaking there – going into the university, finding the right people, making introductions and trying to make things happen."
And those connections are critical, says Martin. "Without ATDC, I can tell you that there is no way that we would be where we are today. Literally half of my customers I can trace back to introductions that were made through ATDC."
---
Going Deeper
The numbers look great for ATDC. Its companies are attracting record-breaking capital funding. Its programs are near capacity. But it's not all about the numbers to Bonnett. It's about their impact.
"What I want to make sure is that we're having a meaningful impact," she says. "Can we go deeper? Can we make more introductions? Can we make sure that those introductions are meaningful?"
In her two and a half years serving as general manager, Bonnett and her team have taken a critical eye to the center's programs and how to best implement them. They have focused on building community at ATDC by hosting programs and events to create a culture for its CEOs.
They've also invested in their entrepreneurs in residence, making sure they have the best team mentoring their startups.
"We've been really focused to make sure that we're upping the caliber of those people, because that's what really attracts the entrepreneurs into the program," she says. "They know that they're going to get coaching from top-notch talent."
In all, 2016 was a year of implementation, she says, and 2017 was about momentum.
What about 2018?
"It's more about expanding the current programs and going deeper than growing the programs," she says.
"It won't be more companies. It will be bigger companies."