Macon|Bibb County: Coming of Age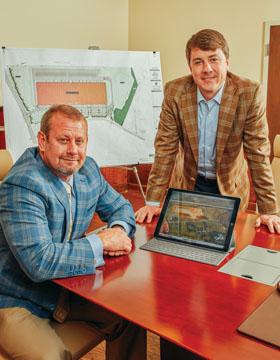 At the heart of Georgia, Macon and Bibb County set the bar high for 2018 following a record year that added more than 1,000 new jobs and nearly $700 million in investments for new and expanding industry. As their inventory for additional growth begins to thin, regionalism is at the top of the list as local leaders discuss reaching out to surrounding counties on future projects.
---
Special Delivery
It was necessarily top secret for months, of course, but once Project Unicorn was finalized and publicly announced in late October, Bibb County fully celebrated the $90-million investment in a 1-million-square-foot fulfillment center and more than 500 new full-time jobs to be delivered by Amazon this August.
Robbie Fountain, chair of the Macon-Bibb County Industrial Authority, dubbed Project Unicorn and is quick to give credit to those who had the vision years ago to put in the infrastructure making today's growth possible. "That's why it's important that we plan well for the future," he says, "so we can continue to have this success 10 years down the road."
Project Unicorn's not the only game in Macon-Bibb. The first quarter of 2017 brought Star Snacks with 115 new jobs. The New Jersey-based company leased a 200,000-square-foot facility and works with South Georgia peanut farmers, roasting and packing peanuts to send around the world.
Next up was Tyson Foods' $59-million investment to nearly double its local operation to 300,000 square feet, adding 102 new jobs to the 147 positions already there, says Stephen Adams, acting executive director of the industrial authority.
In August, Canadian-based household paper products company Irving Consumer Products announced plans to invest $400 million in a state-of-the-art tissue manufacturing facility in the Sofkee Industrial Park, coming online with 200 new jobs in 2019. "This circles back around to what Robbie was saying about the visionary leadership and partnerships that we have, this one with the state, along with Norfolk Southern and the Macon Water Authority and Macon Bibb County Board of Education," says Adams.
Graphic Packaging International rounded out the year by announcing a $136-million investment to upgrade its current corrugated-packaging manufacturing facility that employs more than 460 people.
"This really cements their company here for decades to come," says Adams.
It's business as usual for Macon's successful not-for-profit Navicent Health, which recently signed a non-binding letter of intent to form a strategic combination with Atrium Health, previously Carolinas HealthCare System. The partnership aims to improve access, equity and affordability of care in central and south Georgia.
Employing about 12,000, Navicent has a major impact on the local economy to the tune of about $1.5 billion annually. In addition, Navicent provides, on average, more than $70 million annually in uncompensated and charity care, according to a report released last September. The system recently purchased Oconee Regional Medical Center in Milledgeville, and early 2019 will see the opening of a brand-new Children's Hospital in Macon to replace the current aging facility.
The new hospital will house a dedicated operating room, emergency room and diagnostic center, including radiology and MRI, "all the things needed by children without having to leave the building," says Navicent Health President and CEO Dr. Ninfa M. Saunders, adding that the project manager agreed to hire a diverse group of workers from local companies for 70 percent to 80 percent of the positions necessary for the construction.
---
Location, Location, Location
Offering a broad brush overview, Macon-Bibb County Mayor Robert Reichert says the county is fortunate to be the hub of the "international commerce corridor," being located not only in the center of the state, with close proximity to Atlanta and Hartsfield-Jackson Atlanta International Airport on I-75, but also near Savannah and the port via I-16.
In addition, the county is gaining momentum in its efforts to extend the runway at Middle Georgia Regional Airport and provide twice-a-day passenger service between Macon and Washington, D.C., says Reichert of the estimated $40-million project. If approved, the project will be 90 percent funded by the FAA and 10 percent by local and state coffers. "That would take it [from 6,500 feet] to 8,000 feet, which can accommodate about 95 percent of the commercial planes that would come in," he says, noting completion would be several years from now.
"We think our overall location and the transportation infrastructure are strong points for us," he says. "We've also leveraged our connection with Norfolk Southern with dual rail lines not only between Macon and Atlanta but also Macon and Savannah. We can be a transportation and logistics hub."
Dan Reuter, CEO of Reuter Strategy, agrees. In fact, Reuter Strategy, a community planning and consulting firm, is leading the charge to expand the I-75 corridor north of Macon.
"That corridor between Atlanta and Macon, while it has less market demand for residential housing and fewer resources or entities to lead planning efforts, has a lot of potential due to DOT projects," says Reuter, referencing the Georgia Department of Transportation's plan to expand I-75 between Macon and Atlanta, including construction of designated truck lanes and the newly constructed reversible toll lanes.
The Georgia Municipal Association contracted Reuter last year to support their work with smaller metro areas in Georgia as well as the local governments along I-75, he says. He's working to help those local governments think about their assets along the corridor and what economic development projects they have underway that would elevate the potential for growth.
"Then they can be positioned to better benefit from the growth that will be coming this way anyway," following the DOT's projects over the next decade. "Growth doesn't just go in any direction; it's not a mystery," says Reuter, who's been working on the corridor expansion proposal for about a year. "You have to have dedicated groups advocating strategies in middle Georgia and advocating for funding."
At the beginning of the year, Reuter was planning for local governments along the corridor to take the lead in the expansion efforts, creating public-private partnerships to collaborate on planning and branding the I-75 corridor. "It's a great way to tie the metro area of Macon and Warner Robins to Metro Atlanta."
---
Gimme Shelter
On the opposite end of that major transportation infrastructure spectrum is the growing attraction that is Macon's downtown, with assets that include historic buildings, wide boulevards and generous greenspace. The fact that it's becoming an urban neighborhood, where walking and biking allow residents and visitors to be less auto dependent, is certainly appealing to many.
Ongoing efforts to reclaim and revitalize some of Macon's historic neighborhoods are being led by Historic Hills and Heights, says Reichert of the partnership between Macon-Bibb County, Mercer University and Historic Macon. The group oversees redevelopment in such areas as Huguenin Heights, Tindall Heights, Beall's Hill and College Hill – intown neighborhoods with a variety of picturesque architecture and parks that lie between Mercer and downtown Macon.
"These are some of Macon's first neighborhoods that were built that still feature quaint little houses on small lots, which are capable of being restored and revitalized," says Reichert. "They're just what a lot of people are looking for, especially young people who are just starting out and empty nesters who are looking to get away from large tracts of land and lots of grass to mow and get back into a conventional neighborhood."
Mercer University is no newcomer to the affordable housing challenge. "We've been at this for a long time, over 20 years, trying to recoup historic neighborhoods that border the campus," says Larry D. Brumley, senior VP for marketing communications and chief of staff at Mercer. "Macon is going through an amazing renaissance."
The university offers faculty and staff a down payment assistance plan, a forgivable loan of up to $20,000 to purchase and renovate homes in designated neighborhoods. The John S. and James L. Knight Foundation matches Mercer's funding for the program, which the Historic Macon Foundation manages through the Historic Hills and Heights organization. If recipients remain in their home for five years, the loan is forgiven.
Mercer is also growing on its Macon campus and will soon open a $45-million, 145,000-square-foot science building, the largest academic building ever built at Mercer. In addition, the school recently opened 300 new beds in student housing.
Education is an initiative of the Greater Macon Chamber of Commerce as well, having embarked on a multiyear partnership with the Bibb County Board of Education to align the needs of the business community with classroom initiatives in the local schools.
"It's allowed us to really see what the challenges are that the business community and the education community face in trying to create a 21st century workforce," says George Greer, past chairman of the chamber board. Out of that initiative, the board adopted a goal and raised $2.1 million in the private sector to fund The Leader in Me, the classroom version of Stephen R. Covey's popular program, The 7 Habits of Highly Effective People.
The Leader in Me program will be embedded in the curriculum of Bibb County's schools over the next few years to help students learn valuable soft skills that local businesses say are lacking in the workforce.
---
A Vision Reborn
Mercer University is also a key player in the Mercer Music at Capricorn project to restore the historic Capricorn Recording Studio. And while the finished project will return the studio to full-service recording, it will also include 13 rehearsal rooms and serve as a music incubator, says Mercer's Brumley.
"We want to support the creative process that will help musicians launch careers," says Brumley, adding that meeting space for local arts-related groups that oversee events including Bragg Jam, the Macon Film Fest and Macon Pops will be housed in the building.
About half of the $4 million needed has been raised, and organizers hope to have renovations done in time to reopen in 2019, the 50th anniversary of Capricorn Records. The studio and rehearsal rooms are just part of the larger $25-million project proposed for the property that will also include apartments, retail space and offices.
The industrial authority's Adams says the biggest challenge for Macon's future growth is available property for business and industry to develop.
"This is a constant challenge for a lot of communities, especially when you've had the successes that we've had. Every success takes a little bit more out of the inventory, so it's a constant challenge to identify new properties," says Adams. "The stars are aligning in just the right way, and many people – both inside the county and outside – are recognizing that it really is a great place to live, work and play."
---
Local Flavor
Musical Treasure Chest
Macon boasts a treasure chest of stories about its rich music history, which are being perpetuated by local organizations and the fans that flock here for music-related projects, tours and opportunities to connect.
Otis Redding remains a huge name in Macon's music history, with much of the credit owed to the continuing efforts of his family to keep his dreams alive through the Otis Redding Foundation. In fact, more than 50 years after his tragic death, the legendary singer's passion for using music to educate and empower youth still flourishes.
The Otis Music Camp initially began in 2008 following a request from Lisa Love, then executive director of the now-defunct Georgia Music Hall of Fame in Macon. "Lisa wanted to do a huge exhibit on Otis Redding and wanted to align it with some music education that would attract kids," recalls Karla Redding-Andrews, daughter of the late singer and executive director of the foundation.
Seven students attended the program that year. "We were ecstatic that we got those seven," says Redding-Andrews, who in 2011 called on her alma mater, Mount de Sales Academy, a Catholic school in Macon for grades six through 12, to provide space for the camp. "We really didn't know what was going to come of it. We just wanted them to be able to express themselves through music."
By the third year, about 25 students attended the camp. Today, the two-week camp is housed in the Townsend School of Music at Mercer University and last summer received 65 children from Georgia and surrounding states, says Redding-Andrews, noting that many return for multiple years. "We use the entire building, and we're busting at the seams. It's grown to be something amazing."
Local musicians and former camp participants come back each June to teach aspects of the industry, including songwriting and instrument instruction, entertainment law, and music engineering and production. The majority of camp participants go on to study the music business in colleges such as Kennesaw State, University of Georgia and Berklee College of Music in Boston, she says.
The foundation board is considering transitioning to an overnight camp to optimize the time the students have with the mentors and teachers. About 40 percent of attendees pay $300 to attend Otis Music Camp, while the other 60 percent are scholarship recipients supported by the local community and corporations associated with the music industry. For more information about the camp, visit otisreddingfoundation.org. – K.K. Snyder