Going Global
Exporting is big business in Georgia – especially for small businesses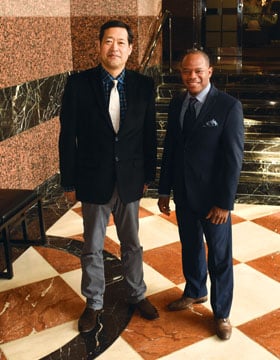 When it comes to sending goods made in Georgia out to the world, cargo planes at Hartsfield-Jackson Atlanta International Airport or the ports in Savannah and Brunswick probably come to mind. But the state's exporting business is so much more than that.
"There's this misconception that trade and export opportunities only cluster around an airport or a seaport," says Mary Waters, deputy commissioner of international trade for the Georgia Department of Economic Development. "For Georgia, trade is very much a statewide issue, and it benefits across the state's economy."
Case in point: More than 14,500 Georgia companies export, and companies in more than 95 percent of the state's counties are involved in international trade. Exports in fiscal year 2016, the latest data available at press time, totaled more than $35.5 billion, making Georgia the 11th largest exporting state in the country.
And Georgia's small businesses are some of its biggest players: Of the companies her team worked with over the last year, Waters says about 88 percent had fewer than 100 employees. Almost 60 percent had fewer than 20 employees.
For these small businesses – and the state's largest companies as well – Georgia's logistics assets are key to global success. Ports from Chatsworth to Savannah, a powerful backbone of rail lines and a steady pipeline of leading-edge technological advancements let Georgia's businesses do – and make – more with less.
---
Port Expansions
"We're the third-fastest growing major port in the world, and the first two are in China," says James Allgood, chair of the Georgia Ports Authority (GPA) board of directors.
And it's still growing. In November, the board approved the first phase of its Mason Mega Rail Terminal project, which will double on-dock rail capacity, increase service to an arc of inland markets and take an estimated 100,000 trucks off the road per year.
The GPA has also invested in inland ports, including a partnership with Cordele Intermodal Services to create the Cordele Inland Port, a 200-mile direct rail route that opened in 2011 to Savannah's Garden City Terminal. Located in a predominantly agricultural region, the Cordele Inland Port increases efficiencies for growers of Georgia's natural commodities, like cotton, peanuts and wood products. (Cotton and lumber exports in particular are on the rise. Last year, cotton exports rose 41 percent and lumber grew by 38 percent, says Allgood.)
A second inland port, the Appalachian Regional Port, is set to open this year. The Murray County facility will provide a 388-mile direct route also to the Garden City Terminal, opening up more efficient transit options for industrial businesses shipping flooring, automobiles and more in northwest Georgia.
"I'm really bullish on the opportunities for Georgia's new inland ports to really pull together a strong export ecosystem for companies that are located near those inland ports," says Waters. "I think that that's a trend that we're going to see making the international market that much more accessible for businesses all across state, even in southern Georgia and in the very north corner of Georgia – sort of bringing the port closer to them through that rail connectivity."
GPA has also pushed for more refrigerated warehousing to expand perishable shipments. PortFresh Logistics' 100,000-square-foot cold treatment facility, for instance, has let Savannah's port take in more off-season produce from South America, like onions, grapes and blueberries. "That is something new for our port," says Allgood. "We've made a huge effort to do a greater amount, and it's working."
Across the state, companies along major shipping routes are taking advantage of the cargo influx to grow business. "You've got to have a place," explains Allgood. "You don't want to have them [truckers] drive back with an empty container because there's no revenue there."
In Dublin, for example, which is between Macon and Savannah, warehouses are popping up to handle e-commerce demands for big-box stores like Best Buy. Trucks returning to the port load up on local exports, including brake pistons from Erdrich USA and fiberglass from Valmiera Glass Group.
But the biggest expansion – one nearly two decades in the making – is deepening the Savannah River. The state has provided $266 million for the Savannah Harbor Expansion Project, and $127.8 million has come from federal construction dollars. For 2018, the Trump Administration included $50 million for the project, short of what state leaders hoped for, though it's possible funding could be slightly increased.
While the port moved a record-breaking 410,000 twenty-foot equivalent units (TEUs) in October – a 32 percent increase over the previous year – it could be moving more containers if the river were deeper. The limited depth means that giant Neo-Panamax vessels can only enter the harbor at high tides, and they can't be fully loaded. A deeper river would allow for more flexible shipping options for these megaships, as well as heavier exports of lumber, heavy machinery, vehicles and aircraft – some of the state's top export industries.
Fully capitalizing on the opportunity to bring in and ship out larger loads means a significant financial investment – about $100 million a year for the next five years, estimates Allgood. GPA should begin working on deepening the inner harbor by this summer, with the latest estimate for final project completion by January 2022.
---
Technically Speaking
What if shipping containers were standardized – from the smallest boxes to the largest cargo loads – and could be stacked and configured like Lego blocks? What if we put smart devices on containers to better track and monitor shipments, down to the temperature of fresh produce? What if we applied the open-sourcing model of transportation to shipping – using software available to all to foster collaboration? How many different ways could we produce and ship things around the world quicker, cheaper and easier?
"It's an interesting time in supply chain. You've got all these different technologies that are pieces to the puzzle, but when you look at putting them all together, that's where the real excitement comes," says Timothy Brown, managing director of Georgia Tech's Supply Chain and Logistics Institute.
Experts and students at the multidisciplinary institute ponder the interactions between and applications of technologies spanning logistics and supply chain. Among the areas they research are last-mile logistics, which is moving goods from a transportation hub to a final destination; physical internet concepts, an open global logistics system that allows digital, physical and operational interconnectivity; additive manufacturing, the technologies – like 3-D printing – that build 3-D objects; and blockchain logistics, which is a type of digital ledger providing proof of ownership and the transfer of ownership without a third-party intermediary. They work with businesses, large and small, to help them design warehouses, simulate production and shipping scenarios, and boost efficiencies.
They also team with entrepreneurs and startups through Georgia Tech's Advanced Technology Development Center (ATDC) to help develop technology for logistics-minded applications – augmented reality for warehouses, simplified barcode scanning devices and apps to help minority-owned trucking companies compete with larger players, for instance.
It's all part of Georgia's technological logistics backbone, says Brown.
"Beyond the physical movement of goods – the trucking, the rail, the water and all of that – Georgia is about the world's leader in logistics technology, particularly software," he says. "The ones focused on warehousing, they're here, as are a number of transportation companies, software companies, and pricing and revenue optimization startup software companies."
And we should expect to retain that title, says Rick Martin, director of the International Trade Center at the University of Georgia's Small Business Development Center. "We're already a logistics center," he says. "With Georgia, it's going to be with technology and the focus that Georgia and Metro Atlanta have also had with bringing in technology. You're going to see the efficiencies of operating out of Georgia really play a role in attracting a lot more small- and medium-sized entrepreneurs and new creative businesses coming to Atlanta. We're already seeing a lot of that."
---
International Representation
Georgia companies export to more than 200 countries and territories. To boost business with the most lucrative international markets, the state has embedded international representatives in 11 countries to facilitate trade, evaluate business and cultural fit between exporters and importers, and forge important trade connections.
"We say that our international representatives are the front porch of Georgia when it comes to trade promotion," Waters says. "[They] are our boots on the ground for our Georgia businesses."
And they work: In the last fiscal year, more than two-thirds of Georgia's exports (roughly $23.7 billion) went to the 11 countries with international representation – Brazil, Canada, Chile, China, Colombia, Europe, Israel, Japan, Mexico, South Korea, and the United Kingdom and Ireland.
Georgia's fifth-largest export market, Japan, represents $1 billion in exports annually, mostly in medical instruments, machinery, wood pulp and kaolin – though new trends are emerging as Japan's markets evolve.
Areas of growth in Japanese exports include the energy sector, thanks to the country's deregulated energy industry, and other technology sectors, especially financial tech. Healthcare, due to Japan's aging population, is another big opportunity.
The 2020 Summer Olympics are another export motivator, says Trevin Dye, assistant director of the business development team at the Japan External Trade Organization (JETRO). "A lot of companies want to be in Japan before the Olympics in 2020. They're taking an interest in exporting their products and maybe even opening some kind of boutique or physical location before that happens," he says. "Food, high-end consumer products in general – we're seeing an uptick in those as well."
Getting a foot in the Japanese market is about much more than doing business in the country, says JETRO's chief executive director, Norikazu Mori. It's a strategy to breaking into Southeast Asia as a whole.
"The market in Japan is idolized. Of course, China is the biggest, but we are still the third-ranked economy in the world," Mori says. "Many companies are trying to get into the market in Japan as a hub. They're attacking the markets in Asia."
Japan, with its growing middle class and favorable currency exchange rate, is an especially attractive entrance point to Asia. And, often, it's a safer move: "There are a lot of companies that want to be in China, but because of the lack of intellectual property protections, it's easier to start in Japan and win over the consumer," says Dye.
---
Finding the Experts
Ninety-five percent of the world's consumers live outside the United States, according to the U.S. Department of Commerce. So why would a company, big or small, stay out of the global market?
"The big hurdle is the unknown," says UGA's Martin. "It's just that unknown that gives the perception of risk."
Martin's team, as well as trade teams at the regional and state level, aims to help businesses reframe how they see the risk of global business, proactively searching for companies that could be successful beyond the country's borders.
"What we've been trying to do with the other trade partners that we work very closely with is trying to get out and find those businesses and letting them know that they don't need to be the experts," he says. "They just need to find the experts out there that are available at no cost to them to help them export."
The UGA Small Business Development Center's ExportGA workshop series guides businesses through developing an export plan, identifying promising markets and customers, and negotiating with international buyers. The center also hosts seminars and educational events throughout the year and offers one-on-one counseling to businesses interested in expanding globally.
Georgia's trade development organizations work very closely together, says Martin, in a highly collaborative model that's perhaps unique to the state. "I don't know if there is any other state in the union that has that kind of close ties with each other in trade resources," he says.
The Georgia Economic Development Department shares that perception.
"It doesn't matter where that company was referred from. It doesn't matter how many resources we give the company. We want that business to be successful in their global endeavors," says Waters. "They might not be able to delineate who was working with them from each team. They just know that the export team in Georgia helped them get ahead."
For all of Georgia's export team, the end goal is really the only goal. "There's something really satisfying about working especially with small businesses. We'll go into a company with maybe 10 or 12 employees; if you help that company increase their revenue by signing up a new customer on the far side of the world, you know that that's got real economic benefits," Waters says.
"That's why we do this," she says. "We do this to serve the companies in our state."