Community Leader
Columbus State University values its place at the heart of the city's business, education and cultural life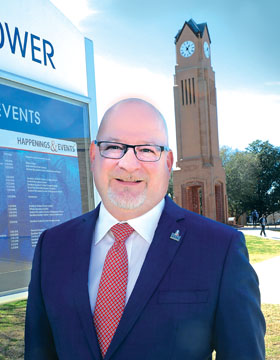 If you called Columbus State University the personification of a community campus, everyone from the administration and faculty to the students would take that as a point of pride. As long as you also noted that its school of music draws students from around the globe, a brand new cybersecurity center aims to contribute to Gov. Nathan Deal's promise to make Georgia a hub for cybersecurity expertise and a $106-million campaign is currently in its final stages.
"It's just amazing to me to see how ingrained the two entities – the city and the institution – are, and how dependent they are on each other," says CSU President Christopher Markwood, who describes the university as being "willed into existence by city leaders and the local school board."
That's the CliffsNotes version, perfectly concise. The history book adds that the Columbus Chamber of Commerce had the idea for a junior college way back in 1949. Local residents kept after it, raising money to buy the land for the campus and developing plans for how it would be run.
In 1958, CSU opened its doors in the renovated Shannon Hosiery Mill with 15 faculty and about 300 students, and in 1965 it made the leap to become a four-year institution. Now it offers more than 80 programs at the undergraduate, master's and specialist degree level (46 undergraduate and 42 graduate degree programs). Its baseball team has been to the College World Series. Its golf team has won multiple national championships. Throughout all the growth and achievements, that community connection has persisted.
Markwood, who came to CSU in 2015, has made the town-gown partnership one of his priorities. Whether that's boosting downtown with CSU's RiverPark campus (location of the college of arts, where several top-notch performing venues regularly bring in guest artists), strengthening the relationship with nearby Fort Benning or partnering with industry-leading businesses like TSYS to open that cybersecurity center, the campus takes its economic development responsibilities as seriously as its academic ones. (It's the only four-year institution in a 17-county region.)
As Markwood notes, CSU has had a long relationship with global payments processor TSYS. Its computer science school is named after the corporation, and when the company needed programmers and was having a hard time attracting talent, CSU redeveloped its curriculum to better match the corporate needs. So it's a natural evolution for the two entities to partner on a new program that will focus on cybersecurity. TSYS donated $2.5 million for the new center, officially named the TSYS Cybersecurity Center for Financial Services, which launched in October 2017.
The university is already designated a Center for Academic Excellence in Cyber Defense Education by the National Security Agency. It's one of a seven-school consortium created by Hank Huckaby, the former chancellor of the University System of Georgia, to further the state's efforts in IT and cybersecurity. Markwood says the program is unique in focusing on financial cybersecurity, an area currently as hot as a supernova following the massive breach at Equifax that exposed the Social Security numbers of 145 million Americans.
"Cybersecurity five years ago was barely a blip on people's radar," he says. "Now there are more jobs than we can currently train [for] across the United States. This is going to meet a very specific need locally. … It's a major initiative of the governor and the state of Georgia to become a leader in cybersecurity protection, and CSU wants to play a major role in that initiative."
---
Art for the Economy's Sake
At CSU, even the arts have a strong connection to economic development. Richard Baxter, dean of the College of the Arts, quickly notes that the college contributes $26.5 million as the foundation of a "creative economy" in the region. "We like to [tell donors] that your contribution to us is an investment in the creative economy," he says. "We're a creative incubator."
That creative economy revolves around the downtown (locals call it Uptown) RiverPark campus, home to the art, communication and theater departments and the Schwob School of Music, housed in the city's RiverCenter for the Performing Arts. (The university's College of Education and Health Professions, as well as its history program, are also at RiverPark.) It encompasses art galleries, two theaters, a space science center and housing for 400 students. It's also adjacent to the longest urban whitewater rafting course in the world, created by the city in 2013 along the Chattahoochee River.
That creative ecosystem mutually benefits the school and the city, with students giving downtown a vibe and energy that help make it a cool place to be. And that vibe helps recruit not just students, but talent that the business community needs to thrive.
Markwood describes a scene where residents of downtown condos and lofts laugh about "students carrying their schoolwork as they're walking in their pajama bottoms and slippers in the downtown area, as people are eating at cafes and drinking coffee. At the same time, you get to hear the wonderful music on the sidewalks and students who are practicing, or those who are doing their sketching and artwork on the streets or in the parks." Having that kind of creative culture and quality of life helps draw talent from across the country ("or even the world," says Markwood) to work at TSYS or Aflac or W.C. Bradley, three companies with an international reach that all have headquarters here.
Baxter himself owned a condo downtown for 13 years – "an 1,800-square-foot loft like you would find in New York" – that he bought at the height of the market in 2005. He sold it recently in 48 hours, netting more than he paid for it. "We've had all of this development down here that has generated housing," he says of downtown's resurgence and RiverPark's contribution to that. "Thousands of people come here every weekend," he says, for concerts, 5K runs and other events. And the school's College of the Arts has something happening more than 250 nights each year, from recitals to art exhibits to theater productions.
In 2016, the College of the Arts created the Georgia Repertory Theatre, a collaboration with the Springer Opera House that offers opportunities for undergraduates to participate in professional theater company productions.
"Our students walk out of here not only with a degree in theater, but with both acting and stage support credits from a professional theater troupe," says Baxter. And there's a community component, too: The partnership takes productions out to the 29 Title I schools in Muscogee County School District, giving students in economically disadvantaged areas a chance to see live theater.
The Bo Bartlett Center is another jewel in the university's arts collection. Opened in January, the center features both exhibitions by visiting artists and the work of its namesake, Georgia realist Bo Bartlett. Bartlett will teach workshops at the center and will premiere new works there before they are shown in other galleries or museums; visiting artists will also teach master classes.
Baxter and others at CSU believe the Bartlett Center will be a big destination for tourists, but other benefits are closer to home. "We're excited about the Bartlett Center because it's not just another museum," says Baxter. "It's actually a teaching center in the arts." Two programs reach out to the community: Art Makes You Smart, through which Bo Bartlett gives art lessons in the Title I schools, and Home Is Where the Art Is, where art produced by homeless people with Bartlett's help is sold to provide money for the artists' needs.
Going forward, the College of the Arts is turning some attention to a new film program, a partnership with the Georgia Film Academy that offers a certificate in film production. Now in its second year, the program has about 50 graduates and 100 current enrollees. Baxter thinks that will entice the producers who are flocking to Georgia to look a little further south down I-85. "We really anticipate that Columbus could become another center of film production for the state," he says.
"This community is an incredible supporter of the arts," says Baxter. "They want us to collaborate as a university with other art entities in the community and to provide cultural enhancement that allows companies to recruit the best talent."
---
Soldiers and Students
Columbus State's community encompasses a substantial population of soldiers from nearby Fort Benning, and the university puts a lot of effort into making sure its soldier-students succeed. The campus wears its designation as a "military-friendly school" with pride. (Military Friendly, a veteran-owned organization dedicated to providing resources for post-military education and employment opportunities, has recognized CSU for seven years, meaning the university scores well in categories such as student retention, graduation, job placement, loan repayment, loan default rates and services offered.) This year, CSU also garnered a bronze level recognition for its work, reflecting its scores within 40 percent of the top Military Friendly programs.
Take, for example, its military service center, where students – Director of Military Enrollment Susan Lovell calls them "military-affiliated students," which include active duty personnel, veterans and dependents – can gather to "land and relax," she says. There's a lounge, TV, couches, fridge, microwave and computer lab. And free coffee. Lots of free coffee.
"It's funny how something that small can be a big deal," Lovell says with a laugh, noting that she always hears about it when the coffee runs out. But mostly it's a place where students who share a military service background can go and find community.
The university maintains an enrollment office on Fort Benning as well as on the main campus, where students can get help with financial aid and the GI Bill, as well as have questions answered about transcripts and testing. The school partners with internal and external resources and tries to bring those resources to the students, rather than asking its military students (many of whom work full-time jobs) to go to five or six different places to get the answers they need.
And the school focuses on making a successful transition for these students who are entering civilian life. "We'll bring in guest speakers to talk about interviewing skills, for example, and we specifically ask for speakers who have military backgrounds," Lovell says. "They know what it's like [to make that transition], so we bring in people who can [help them] translate that military experience into experience civilians will understand."
Maintaining that military-friendly focus isn't just for the soldiers' benefit, says Lovell. The whole campus gains from it. "Just as institutions place a lot of value on international students because they offer a whole different perspective … the soldiers offer that, too," she says. "For example, a lot of our students say, 'Wow, I didn't know you were trying to coordinate communication among 600 people and everyone had to know the plan to execute.' It really adds a lot of value to have that … in the classroom."