Young Hearts At Risk
Children across the state and the nation face a growing risk of premature heart disease. Here's why and what Georgia medical systems are doing to help reverse the trend.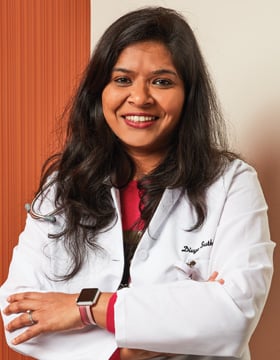 Heart disease was long considered a disease of older men, a perception that began to change in 2004 when the American Heart Association launched its Go Red for Women campaign. Today the recognition of heart disease risk has extended to an even more unlikely group – children.
While pediatric heart specialists have traditionally focused on treating children with structural defects, increasingly they are seeing children with problems like high blood pressure, high cholesterol and type 2 diabetes that were once seen almost exclusively in adulthood. The concern is that these problems will set children up for lifelong chronic health problems and the risk for serious cardiovascular events, including heart attack and stroke, in early to mid- adulthood, says Farah Khatoon, DO, a pediatric endocrinologist with Navicent Health in Macon.
"I think in another 10 or 15 years, we are going to start seeing a significant amount of morbidity and mortality because of it – once these kids get to adulthood," she says.
"Traditionally it has been understood that any cardiac event before 55 years of age is considered early," says Dr. Kahtoon, who is seeing increasing numbers of children with type 2 diabetes and prediabetes in her practice. "These kids are going to be in their 30s and 40s."
---
Who's At Risk – and Why?
Experts cite a few factors for the large number of children at risk of heart disease, one of which is preterm births, says Dennis Kim, M.D., a pediatric cardiologist at Children's Healthcare of Atlanta's (CHOA) Sibley Heart Center. According to the 2017 March of Dimes Premature Birth Report Card, 9.8 percent of babies nationally were born prematurely in 2016 – defined as before 37 weeks of pregnancy. For Georgia, the percentage was even higher – 11.2 percent.
"Another way to say this is that almost 1 in 10 babies in the U.S. and almost 1 in 9 babies in Georgia are born prematurely," says Dr. Kim. "Many studies have shown that there is a link between preterm birth and the development of hypertension, a known risk factor for cardiovascular disease."
More commonly, however, the development of hypertension and other risk factors – high cholesterol, type 2 diabetes – is the result of unhealthy lifestyles. While genetics is a factor for most kids, lifestyle is what sets the process in motion, says Dr. Kahtoon.
Not surprisingly, obesity is one of the biggest preventable risk factors for cardiovascular disease. "Even very small kids can have issues with obesity," says Dr. Kim. "Up to one in eight 2 to 4-year- olds in certain segments of the population can be obese. When you are thinking about babies and young children, it is quite shocking to think [that many] are starting out that way."
In Georgia, obesity is slightly more common than the national average. According to stateofobesity.org – a collaborative project of the Trust for America's Health and the Robert Wood Johnson Foundation – Georgia ranked 18th among the 10-to-17 age group in 2016, with 32.2 percent being classified as overweight or obese. The national average is 31.2 percent.
As with adults, obesity in children is most commonly the result of poor diet and inadequate physical activity. For many families in Georgia and elsewhere, dinners increasingly consist of convenient processed foods from the microwave or quick trips through the drive-thru. Outdoor play or walks to friends' houses are becoming less popular than sedentary activities involving video games, social media posts or texting.
The American Heart Association recommends that children get at least 60 minutes of moderate to vigorous physical activity per day, but only half of school-age children get that much.
Adding a diet of fatty, sugary foods can increase a child's risk, even if they are not obese.
Research shows that for children of lower socioeconomic status, the risk of cardiovascular disease is even greater, says Dr. Kim. In a 2017 study published in the Journal of the American Heart Association, Australian researchers found that in children from "socially and economically disadvantaged" families and neighborhoods, ultrasounds of the carotid artery show thickening indicative of atherosclerosis, or hardening of the arteries, which underlies the development of cardiovascular disease later in life.
In fact, 11- and 12-year-olds whose family and socioeconomic position was at the bottom quarter were 46 percent more likely to have thicker carotid artery measurements than their more advantaged peers. The association between socioeconomic status and thickened carotid arteries remained even after researchers factored in other known risk factors, including obesity and exposure to secondhand smoke.
While the reason is not clear, they suspect that infection and inflammation may be the additional underlying factors. Inflammation is increasingly being recognized as a factor in cardiovascular disease. Infection, which leads to inflammation, is more common among those who are socioeconomically disadvantaged, they noted.
---
Stemming the Tide
Regardless of the specific factors that have put a child at risk, healthy lifestyle habits – including diet and physical activity – are important to managing risk.
One of the biggest boosts to the cause was former First Lady Michelle Obama's Let's Move! initiative, which set standards for school lunches and strived to change the way kids think about food and nutrition while also encouraging more physical activity. As a result, says Dr. Kim, there has been more focus on school lunches and breakfasts, which is a good start. But we are not there yet, he says.
"I think for sure we can exert a lot of influence on a lot of kids through our state in what they have for lunch," he says. "We can't fix what they are going to have for dinner or an after-school snack, but we can try to set those healthier standards, developing within the child what constitutes good diet, good cardio health and good habits in terms of exercise. If we can set some of those standards in kids early in life, they will carry those things through their young adult years."
But the primary responsibility for developing healthy habits will lie with the family, says Divya Suthar, M.D., a cardiologist with CHOA's Sibley Heart Center Cardiology in Columbus. "A lot of times families are contributing to the problem, and they don't realize they are doing that," she says. "'The kid cannot go in and buy soda,'" she tells parents. "'Stop buying soda, and you won't have soda in your house.'"
Dr. Kahtoon concurs. "Much of this is beyond the child's control," she says. "Even the best tools won't fix this until we fix the environment they came from in the first place. We must work with the family."
"Anytime you are working with children, you are working with the parent," says Vicki Hope, a registered dietitian with Northeast Georgia Health System's Bariatric Weight Loss Center. Creating change within families involves meeting families where they are and progressing in small steps.
For example, she says, "If I have a family and their routine is they go through the drive-thru every morning for breakfast, it doesn't work for me to say 'Don't go through the drive-thru ever again for breakfast,'" she says. "Instead I say 'When you go though, what options do you have and what could you choose better?'" This could be passing on the Coke and waffles and ordering a scrambled egg and low-fat milk to go along with a piece of fruit you brought from home, she says.
The importance of family buy-in and involvement is the reason why programs to promote healthy lifestyle habits, such as CHOA's Strong4Life, are typically targeted to the whole family. CHOA's Strong4Life Clinic is a team of medical providers, dietitians, psychologists and exercise physiologists who work with patients and families to promote a physically active lifestyle, healthy eating habits and behavior changes, says Dr. Suthar.
Camp Strong4Life – staffed by physicians, nurses, psychologists, nutritionists and exercise physiologists – offers children entering grades four through six with a BMI greater than the 85th percentile the opportunity to set and incorporate healthy goals while having fun. The week-long summer sleepover camp is held at Camp Twin Lakes in Winder.
While Strong4Life is the largest effort in the state, it is certainly not the only one. Across the state many medical centers and health systems, including the following, are making special efforts to help kids and families make wise lifestyle choices in hopes that kids can live better now and avoid chronic health problems and cardiac events in the future.
Navicent Health System. A pair of programs through Navicent Health System – the Healthy Me clinic and Camp Fun n' Fit – are designed to help children and families make better choices for healthier bodies and hearts.
Founded by its pediatric residents, Navicent's Healthy Me clinic works with children and their parents to incorporate more movement and better nutrition into their daily lives. Because many of the patients come from lower-income families, the program provides tips on creating healthy meals on a budget. Children who are connected with the clinic and have developed issues related to obesity are referred to Dr. Khatoon.
Designed for children ages 6 to 12, Camp Fun n' Fit is a day camp aimed at getting children up, out and active by introducing them to a diverse set of activities – yoga, Zumba, dance, sports, swimming and relay races, to name a few. Goals of the program include campers' increased knowledge regarding health and fitness, dietary needs and understanding the risks of sedentary lifestyles.
Southeast Georgia Health System. The Southeast Georgia Health System in Brunswick offers Kid Fit Challenge, a comprehensive eight-week wellness program for children ages 8 through 12. The program includes dietitian-provided nutritional education, wellness presentations and information for the family, local health club passes, friendly competitions and prizes.
"By incorporating child-appropriate education and exercise, Kid Fit Challenge equips children to make better wellness choices and lead a more active, healthier life," says Brendan Hunt, manager of health promotion and wellness for Southeast Georgia Health System.
Children begin and end the Kid Fit Challenge with the Presidential Physical Fitness Test. During the 2017 Kid Fit Challenge, participants reduced their body fat percentage by an average of one point, improved cardiovascular endurance by 17 percent and decreased systolic blood pressure – the upper number on their blood pressure readings – by more than 9 percent.
Piedmont Athens Regional. Piedmont Athens Regional's Health Matters for Families program began its fourth year in January. Started in response to concerns by pediatrician Jon Udwadia, M.D. – who worried that doctors didn't have the time to adequately address lifestyle issues with their patients – the program targets children ages 2 to 17 who have been identified by their pediatrician or family physician as being obese or having a BMI above the 95th percentile for their age and sex.
The program, which is offered free of charge, sees families for eight sessions and uses motivational interviewing – a counseling and communication technique to strengthen motivation and commitment to change. Families are guided to establish self-identified goals and to choose behavioral, dietary and physical exercise options to begin, with support through regularly scheduled appointments with the program's community educators.
"The child's doctor receives a progress report either via the electronic record keeping program we use or in a written form they can put in that kid's chart, so they know they have been seen and if they have made progress and anything they need to know that comes up in these sessions," says Julie Buffalo, a registered nurse and patient educator who helped start the program with Dr. Udwadia.
Buffalo admits that gauging the effectiveness of such a program can be difficult, as weight loss is not always the goal in children. Even children who remain steady in weight can make progress against obesity as their height increases. Still, preliminary research on the program is promising, she says.
"Thirty-nine percent of active participants have had decreases in their BMI, and 11 percent maintained," she says. "We are trying to make changes that we may not see, but when they get older they will make a better choice. The goal is to keep them from being chronically ill."
Indeed, good choices and good health – including healthy hearts – are the goal, says North Georgia Health System's Hope. "To lose weight and get a number on a scale – that is not really the goal. Small steps add up over time. The goal is to make these changes become a habit for a lifetime."