Douglas County| Development in Motion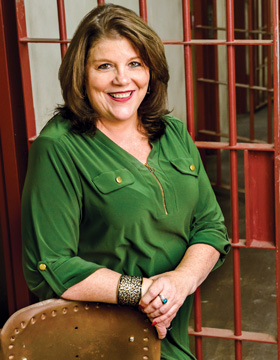 Drive past too quickly, and you'll miss it: the building used as the 1980s-era arcade in the super-popular Netflix series Stranger Things.
A former laundromat, the nondescript building sits on Church Street near downtown Douglasville. In the fall and winter of 2016, it was transformed inside and out as a production team made it into a video game hangout. This type of makeover is seen pretty frequently in this no-longer-sleepy county west of Atlanta. (Summer 2015 saw a 1950's-era McDonald's spring up next to the old police station on Church Street as part of the film The Founder starring Michael Keaton.)
"Most of the time we can't say [what's being filmed] until it's released," says Collin Cash, the county's tourism director and film liaison. But more often than not, whatever is being shot is taking place at the Old Jail, a former county jail building two blocks from downtown that happens to represent quite well on film. Shuttered when a new county facility opened in 2013, the property is owned by Douglas County and used frequently for filming. The building has been seen in projects such as Star, with Queen Latifah, Logan Lucky and MacGyver.
"It can stand in for a hospital, school – anything institutional," says Cash, pointing out the property's chameleon-like qualities. The empty building is also available during the workday, often a problem when location scouts try to film at a real school or hospital with restricted hours and usage due to privacy. "We don't make them jump through a lot of hoops," says Cash. "We've made it attractive."
The nonprofit FilmL.A. called Georgia the No. 1 filming location in the world. Film and television projects delivered a $9.5 billion economic impact to Georgia in 2017, according to the Georgia Department of Economic Development. Projects from Marvel action movies to independent films to TV series like Greenleaf (OWN), Ozark (Netflix) and Atlanta (FX) have kept the industry thriving here – and led Gov. Nathan Deal to proclaim 2017 the Year of Georgia Film.
Hundreds of movie and television productions have been filmed in Douglas County since Smokey and the Bandit was shot there in the 1970s. The Douglas County Film Trail is part of a statewide self-guided tour that fans can use to visit sites such as Arbor Place Mall and Sweetwater Creek State Park, where some of the productions mentioned above, plus The Hunger Games and more have filmed. Cash says that after rolling out the program less than a year ago, the film trail's fliers are hard to keep in the racks at state welcome centers. She is looking forward to expanding the trail, hopefully adding lodging and restaurant packages soon.
The film trail is part of the complete package of tourism offerings, including 2,000 acres of parkland and the 2,500-acre Sweetwater Creek State Park, where outdoor activities abound for hiking, river sports and cycling. In the southern part of the county, Foxhall Resort & Sporting Club is building a 350-room Westin Hotel and Conference Center, with an exhibition center and golf course. Known for shooting and equestrian sports, the resort's natural setting is much desired for couples, hosting about 150 weddings a year according to Foxhall's Marketing Director Whitney Marshall. For horticulturists and naturalists the Douglas County Butterfly Trail is another of the county's outdoor attractions, with 10 area gardens featuring Monarch butterflies during the warm months of the year.
---
Hidden Figures
Another sector that is quietly transforming Douglas County is data centers: large storehouses of digital information demanding space and privacy.
Most recently, Las Vegas-based Switch broke ground in the southern part of the county for a more than 1-million-square-foot campus called The Keep. The deal, which state officials valued at $2.5 billion when it was announced last May, was "the largest announced capital investment in the state," says Chris Pumphrey, executive director of the Douglas County Economic Development Authority.
The Switch center follows similar data centers built in the county by PwC to support their technology and digital services and Google, which employs 350 people in the county.
"Data centers tend to not have a huge employment base but have more of a space requirement," Humphrey says. "The good thing on the people side is that the wages tend to be above average than what they'd tend to be for your normal production-type employee."
The cost of land, multiple power providers and substations as well as location all contribute to the county's growing popularity as a technology and data center.
"If you're bringing in executives or clients, they can fly in [to nearby Hartsfield-Jackson Atlanta International Airport], drive up to the facility, do what you need to do and get back on the plane pretty easily," notes Pumphrey.
Having the foresight to build the digital groundwork, including an abundance of dark fiber, has helped draw these companies as well. Dark fiber networks use the extra capacity of fiber optic cables – fiber that has already been laid, but is not in use. These networks provide companies like Google, PwC and Switch dedicated access to communicate their data, he says. "We as a development authority actually purchased fiber as an incentive for Google. It was an investment for us that we're able to leverage for others as well."
Bringing companies like Switch to Douglas County is a collaborative effort. Douglas County Commission Chair Romona Jackson Jones is proud of the way the county and city worked together laying the groundwork for the major deal. "We joined together for zoning and were not concerned with territories," she says. Besides Google, she says infrastructure preparedness also has helped to bring businesses like Gordon Foods and the American Red Cross to the area.
Indeed, so much happened in Douglas County and Douglasville in 2017 that not just one, but three separate master plans were drawn up. These plans were released to guide development, beginning with the Southwest Thornton Activity Center Sweetwater Master Plan in May.
Focusing on a 3,700-acre area that is adjacent to Sweetwater Creek State Park, abuts Cobb County to the north and east, and the Chattahoochee River to the south, the plan is a "land use and transportation plan on the east side of the county," says Pumphrey. Rezoning had begun with businesses like the data centers moving in to areas with single-family subdivisions nearby. "We were getting a significant amount of resistance about those from residents," he explains.
The master plan outlines a way to guide development that supports a diverse daytime and evening activity center in the area.
---
Identifying Catalysts
The Douglas County Economic Development Authority released another plan last year, the Community & Economic Development Strategic Plan, created in partnership with Austin, Texas-based Avalanche Consulting and local citizens. This plan's objective is to lay out a unified direction for the county to achieve economic vitality and prosperity. By implementing the plan, leaders hope to steer the increasing success they see the area primed for.
The report touts five consecutive years of sustained job growth; young, educated residents; and strong leadership as positives for Douglas County, and identifies four pillars of focus.
The first is to celebrate the unique culture that defines Douglas County and share that story with the world. A marketing firm is developing a branding campaign and will use social media, a website and public events to amplify positive messages about the county and attract new businesses and residents.
The second pillar, invest with intention, is about "looking where we put our dollars, that they're fulfilling a certain purpose," says Pumphrey. Infrastructure and quality of life areas are priorities, including establishing a business improvement district to fund the upgrades and a loan program to help property owners spruce up building facades. The plan also describes efforts to develop bike and pedestrian pathways downtown, beautify existing parks and attract more mixed-use developments.
"It's truly about what's going to bring the largest economic benefit," Pumphrey says.
Pillar three, which focuses on cultivating talent, addresses the statistic that roughly 81 percent of Douglas County residents "leave the county every day to go to work," says Pumphrey, who lives in Douglasville, while nearly 75 percent of workers employed in the county live elsewhere. "Part of this strategy is to build amenities and recreational opportunities to make it more attractive to live here," he says.
A workforce collective to connect leaders in education, business and nonprofits with potential employees through internships, apprenticeships and career fairs is part of the plan.
The fourth pillar is about building business success. It describes ways to attract and keep new businesses, including tax incentives, grants for land acquisition and pooling resources to invest in transformative developments.
"The master plan is generational in nature," Douglas County Chamber of Commerce President Kali Boatwright says. The county will see tremendous changes in the next five to 10 years, she notes, but is well equipped for the challenge: "We really have got the best group of community leaders as far as willingness to work together and collaborate."
---
Main Street and Beyond
With new shop owners, eight restaurants and a downtown master plan that offers a strategy for public improvements worth $40.5 million in the next 10 years, Douglasville's historic downtown is ready for business.
"There's a very low vacancy rate for spaces," says Patrice Williams, the city's Downtown Development Authority director. Boasting a diverse cluster of shops including a coffeehouse, art gallery and other specialty stores keeps the phone ringing as more and more residents look to shop local.
With a rebranded program – Shop Small – in partnership with the Douglas County Economic Development Authority, the city's Main Street Manager April McKown says more and more residents are visiting to shop, eat and socialize. "People care," she says. "They think it's really important to support your neighbor."
Food Truck Mondays have been a huge success with the community, drawing 1,000 customers and quickly increasing from four to 10 trucks. And the event has turned into a somewhat unexpected boon to restaurant owners, as visitors often have appetizers at the trucks and then dinner downtown, or vice versa: "Initially they [restaurant owners] weren't excited [about the food trucks]," says Williams. "But after that first Monday, they started adding staff."
Other components of the Downtown Master Plan include more affordable housing, bike lanes, a dog park and a village green.
The mayor's office is also involved in the revamping of downtown. Douglasville Mayor Rochelle Robinson recently launched a Keep Douglasville Beautiful campaign.
"We started to get overrun by donation bins. Some businesses would have two or three, [and] people were leaving mattresses and sofas," she says. "I asked the economic development department to draft an ordinance limiting all businesses to one donation bin and gave everyone 45 days to clean up. … That has been something that has really helped."
In addition to caring about their environment, folks in Douglas County take care of each other as well, with October 2017 declared Behavioral Health Month.
"We had a month of activities that dealt with everything from substance abuse to depression and suicide," says Douglas County's External Affairs Director Tiffany Stewart Stanley. "So many people now know where to get help. A lot of organizations got together, and we had people reach out to us, letting people know resources are out there."
Such concern going forward complements the growth this next-door-to-Atlanta county is thoughtfully managing, with big plans for the future. Leaders share a common vision of a place that is on the move. They describe a county that is realizing its potential and becoming more than a bedroom community of Atlanta – much more. Douglas County is gaining the recognition it deserves as a great place to do business, whether that's processing data at world-class speed, shooting a major movie or catering to visitors who are just beginning to discover the area's many natural and economic attractions.
"We are moving toward the standard of excellence in the state of Georgia," says Commissioner Jones.
---
LOCAL FLAVOR
Hitting the Mat
Douglasville small business owner Genevieve Harris found her way to yoga through the type of adversity that challenges spirit, will and energy. The result, Keep It Moving Yoga & Barre (KIMYB), is now helping others cope with difficulties in their own lives.
A former asset manager with an MBA who traveled for business, Harris stopped working to become a full-time caregiver when her youngest son was diagnosed with a life-threatening congenital condition and had a debilitating episode.
"I went from power suits to crying all the time," she recalls. Fitness became her refuge and therapy, but she came to realize she was "running away from every day – the reality that my son was now 100 percent dependent."
Certified as a group fitness trainer by 2014, she gradually "fell in love with yoga" and became a certified instructor. Soon she was helping other special needs parents and community members by sharing her yoga skills with them – often for free. "I realized I had to do something with that MBA degree. I have a skill set," says Harris.
After a few events like Douglasville's Yoga on the Plaza and word of mouth, Harris had a core group of seven women practicing yoga in her home. By fall of 2016 "it got to the point where I really outgrew teaching at my house," and she was able to rent a former Salvation Army administration building near Douglasville's historic downtown.
She and her business-partner husband "spent almost all of our retirement savings to make the space a yoga studio," Harris says. They converted offices into three studios by removing carpet, installing wood floors, walls and more. "It was a complete renovation," she says. KIMYB Studios opened last May.
Currently at around 50 clients ranging in age from 9 to 74 years old and two instructors, KIMYB is a vibrant part of the fabric of the town. "We are the only exclusive full-service yoga studio in Douglas County," Harris says, relishing her connections to her neighbors in the community. "I have been humbled by people's reception."
She still offers reduced-price or free sessions to caregivers and also runs a nonprofit called Special Needs Strong that "promotes the health and wellness of the special needs community."
Hairdresser and Douglasville native Jena Lanham had done yoga in the past but realized she needed to "get back to the mat" in 2017. She appreciates KIMYB's welcoming feel, which clearly comes from Harris' heartfelt passion. "She definitely has a heart of service." – Amy Bonesteel