2018 Legislative Guide
What's on the agenda for Georgia's General Assembly this year? Plus, a list of state officers, legislators and the U.S. congressional delegation.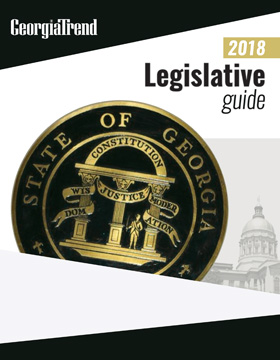 Will They or Won't They?
Georgia lawmakers convened in January. An election year like this one means it could be "duck and cover," or it could be grandstanding central. As Georgia politics go, it will probably lean toward the former.
There could be some surprises. As more corporations look to locate near MARTA stations and the state licks its chops over a potential Amazon HQ2 announcement, transit is suddenly on everybody's wish list. Beyond the obvious impact on economic development and social services, it's simply cooler now to have transit, and lawmakers have no doubt noticed the impact MARTA has had on the redevelopment of Atlanta, both intown and throughout the suburbs.
Will the legislature create a new state transit superstructure? It would have to include MARTA, the Georgia Department of Transportation (GDOT) and the State Road and Tollway Authority (SRTA), which brought the Georgia Regional Transportation Authority (GRTA) under its wing last year, working in concert. And additional services like CobbLinc and Gwinnett County Transit could be augmented or incorporated into such a mechanism. The departure of Keith Parker from MARTA adds to the conversation – whoever is tapped next to head Atlanta's transit authority will help steer its expansion throughout the metro area.
Regarding healthcare, there remains pressure to make changes to the state's Medicaid program, probably in the form of waivers, especially as federal efforts to repeal the Affordable Care Act failed last year. And efforts to reform Georgia's Certificate of Need laws, the process through which hospital systems expand facilities or add new ones, will probably be on tap.
An update and streamlining of Georgia's adoption laws will get another go as well, and permitting for wireless and broadband equipment and expansion into rural areas will also probably get some attention.
Gaming and horse gambling will remain on the table, though leaders have given little indication it will come to pass. More likely, hope could be in store for expanded medical marijuana access to patients who currently have to leave the state for treatment. Confederate monuments, immigration and religious liberty could flare up, although that's less likely in a year when potential voters will be watching these issues closely.
Since state senators and representatives running for office cannot raise campaign funds while the legislature is in session, leaders will likely look for a quick session. While that could change as the increasingly unpredictable political world takes shape, chances are the real action will be tied to Election Day this fall. – Ben Young
---
About the Guide
Georgia Trend's Legislative Guide provides contact information for legislators and other elected officials.
As we went to press, Geoffrey Cauble (R) won the Jan. 9 special election for District 111 in the State House and Brian Strickland (R) won in District 17 for the State Senate. A special election will also be held Feb. 13, 2018, for District 175 to replace Amy Carter, who resigned for a position with the Technical College System of Georgia.
Information that was not available at press time is indicated by NA. All other information in the guide was correct as we went to press but may have changed since.
For updated information, go to legis.ga.gov.