2018 Georgia Trustees
Georgia's highest honor goes to Delta's Ed Bastian and Georgia Power's Paul Bowers.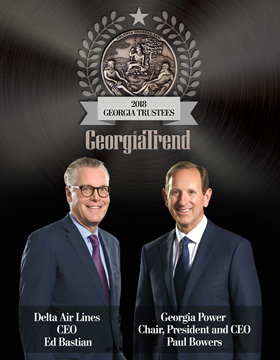 Georgia Power and Delta Air Lines are brands synonymous with Georgia, and their CEOs, Paul Bowers and Ed Bastian, have become known around the state – and the nation – as leaders who have had a profound impact on our state. It's what sets them – and the Georgia Trustees who have come before them – apart.
Being named a Georgia Trustee is the state's highest honor, presented to individuals who have had a far-reaching effect on Georgia from every sector. The award is given by the Office of the Governor and the Georgia Historical Society (GHS).
"This year Gov. Deal and GHS are inducting two of Georgia's most outstanding leaders, corporate CEOs who follow in the footsteps of the legendary Coca-Cola CEO and philanthropist Robert Woodruff," says Todd Groce, president of GHS. "Ed Bastian and Paul Bowers exhibit each day the motto of the original Georgia Trustees – not for self, but for others – in the selfless and visionary way they lead two of Georgia's most iconic companies. Because of them, Delta and Georgia Power continue to be outstanding corporate citizens, setting an example of forward thinking, social responsibility and philanthropy."
Bastian and Bowers will be honored for their achievements Saturday, Feb. 17, at the historical society's Trustees Gala in Savannah, part of its annual commemoration of the state's history.
The original trustees were chartered by England's King George II in 1732 and charged with establishing the new colony. The group disbanded in 1752, but the state re-established the honor in 2009 to recognize contemporary Georgians.
The original motto of the trustees, Non Sibi Sed Aliis, not for self, but for others, steers the selection process each year toward people whose lives and accomplishments have had a positive impact on people across Georgia.
"Through their words, deeds and service, they are making our state and nation a better place," Groce says. "Ed and Paul's vision for a prosperous, tolerant Georgia reflects the highest ideals of those who founded our state." – Karen Kirkpatrick
---
Balancing Act
Delta Air Lines CEO Ed Bastian is ensuring his company puts employees first to help customers and communities
By Kenna Simmons
It's a tough business." That's the way Ed Bastian describes the airline industry. But he also notes it's been a great couple of years for Delta Air Lines, where as CEO Bastian has the company on top: Highest profits in its history (2016). No. 3 in on-time arrival in 2016. No. 2 in J.D. Power 2017 North America Airline Satisfaction Study. On both Forbes' and Fortune's "best places to work" lists.
But the accomplishment he cherishes most illustrates one reason for his selection as a 2018 Georgia Trustee (whose motto is "Not for self, but for others") even as it goes straight to his number-crunching background. "The thing I'm probably most proud of is the fact that we've been able to … increase the average pay of all Delta people by about 80 percent [since Delta merged with Northwest Airlines in 2008]. I don't know that there's another company of our size on the planet that's done anything like that. The success that our people have enjoyed delivering for our customers is being returned to them."
Delta may be soaring now, but Bastian, who was named CEO in 2016, remembers when it was almost grounded. Although 2018 marks his 20th year with the airline, the Poughkeepsie, N.Y., native once wanted to be a professional baseball player. A love for math steered him to accounting, and he started his career at Price Waterhouse, where he quickly made partner. Restless, he wanted to "move from advising people on what to do to actually being responsible for what to do," so he jumped to Pepsi and finally to Delta in 1998, where he headed up accounting practices.
"I like to tell people when I came to Delta, I went from selling small aluminum cans to big aluminum cans," he says.
There was just one problem, and it was a big one. By 2004 Delta was on the ropes, pummeled by the downturn for airlines after 9/11, rocketing fuel prices and the rise of discount airlines selling seats below cost. Delta's management responded by slashing jobs, salaries and benefits and trying to compete directly with low-fare airlines. Bastian was a senior VP at the time and argued that this was the wrong approach. He also believed the airline needed to file for bankruptcy. Management disagreed, and Bastian quit. He's called it the hardest and most pivotal professional decision he's made.
"It was a difficult decision, because I loved the company and I was having a hard time watching some of the decisions being taken and not feeling like my voice was being heard," he says. "I came to the conclusion that the best voice I could use was to actually depart. … The company was not prioritizing investment in people and had lost some of its focus on consumers."
He stayed away all of six months, coaxed back by new management. It was an easy decision, he says – though ever the former accountant, he notes that he took a 50 percent pay cut to return as CFO in 2005. But this time he stayed, through some of the toughest times in a tough business, leading the company's restructuring after filing for bankruptcy in 2005. Bastian secured $2 billion in financing to keep Delta going and made sure that when things turned around, employees would benefit through profit-sharing and bonuses – as well as with pay raises. In the past 5 years, that profit sharing has paid out almost $5 billion dollars.
In 2007, Bastian was named president of Delta. The memory of the hard times lingers, by design. "I acknowledge and remember the tough decisions that we had to take," he says, which included pay cuts and layoffs. "I recall and remember those difficult times to make certain that we don't lose focus on [the things] that got us to where we're at." He lists investing in Delta's employees and delivering an outstanding product to its customers, and promises, "We'll never lose that focus again."
---
Beyond the Borders
As Bastian settles in to his role as CEO, he's got his eye on the horizon, literally. Delta's future is global. "Today about 65 percent of our revenues are domestic," Bastian says. "I'd like to see that get close to 50-50, meaning international is going to grow faster than domestic over the next 10 years. That's our goal."
To accomplish that, Delta had already been making strategic investments in other airlines, especially in Latin America and Asia, that go far beyond more traditional code-sharing agreements and give it more influence on joint ventures, customer experience and even what goes on in the boardrooms. It owns 49 percent of Virgin Atlantic and of Aeromexico (Bastian sits on the Mexican airline's board and said in an October speech that Delta's leadership looked at Aeromexico as an extension of itself. As for any market-threatening protectionism, "I don't know what they're going to do with the wall they keep talking about, but we're going to fly over that damn thing, whatever it is," he said.) During Bastian's tenure, Delta also announced a 10 percent stake in its longtime partner Air France.
The company is busy renovating airports, as any Georgian who has dashed through Hartsfield-Jackson Atlanta International Airport well knows. There's also multi-billion-dollar work being done in New York, Los Angeles and Seattle. "Those airports have to be designed for the technology of the future, not just the technology of today," Bastian says – that means not just effectiveness of, say, biometric screening, but efficiency, too.
But there are always headwinds to account for. Many of the airlines had customer service problems amplified on social media in 2017; Delta's viral black eye came when a family with two toddlers was kicked off a flight in April after an argument over seats, forcing the company to cancel its scheduled Media Day a few days later. Delta's bargain buy of 75 jets from Canada's Bombardier is mired in a challenge from Boeing, which is pushing the U.S. Commerce Department to slap on a 300 percent tariff. And of course, airlines are always vulnerable to currency fluctuations (right now a weaker dollar is a boon) and any increase in fuel prices.
But most of these challenges aren't unique to Delta. Bastian likes to point out that airlines "all fly the same planes and go to some of the same destinations and have many of the same technologies. It's only the people that are the difference." Investing in employees is smart business, and Bastian puts trust at the heart of the equation. "My job is to focus on them so they can focus on our customers," he says.
That's what leaders do, he says. "It's having the heart of a servant that I think makes the difference," Bastian says, referencing a well-known line from his friend and leadership expert John Maxwell: Leaders touch a heart before they ask for a hand. To Bastian, that means recognizing that "people need to perform extraordinary things in our business. It's a tough job. If they know we're [focused] on serving them, they can do that job better. And I think people will follow them and follow their direction."
---
Making Georgia a Priority
So Bastian's been busy in his first 21 months as CEO. But he knows that the title confers more than just responsibility for a Fortune 500 company. In Georgia and particularly Atlanta, there's an expectation that leadership will extend far beyond Delta's wings. Former CEO Richard Anderson was chairman of the Metro Atlanta Chamber of Commerce, led a massive United Way campaign and worked closely with former Atlanta Mayor Kasim Reed to tackle the city's pension fund liabilities. And there's the simple fact that Delta is synonymous with Atlanta.
He has joined the Atlanta Committee for Progress, which works with the mayor on policy issues. And he is involved in many other organizations, including the Metro Chamber, the Wood- ruff Arts Center and Habitat for Humanity. He's also active in the fight against human trafficking, where Delta has a unique opportunity to make a difference.
"To think potentially that our aircraft could be utilized for that evil just breaks our hearts," says Bastian, who along with his wife, Anna, gave $1.5 million to create the Bastian Center for the Study of Human Trafficking at Indiana Wesleyan University. Delta employees are on the front lines, he says, and the company trains them to spot sources of trafficking. Bastian's also announced that Delta customers can donate SkyMiles to Polaris, an organization that operates the National Human Trafficking Hotline, to cover the airfare for survivors to return home.
In 2016, he announced that the company will contribute 1 percent of its net income from the previous year to various nonprofits; in Georgia, he says, that "profit sharing for our communities" amounted to $11 million in the past year.
It's all part of the "virtuous circle," as Bastian calls it, in which taking care of Delta's employees should help them not only take care of customers, but their communities, too. You can expect to see more of that from Bastian, as well.
"You know, Georgia, for me, is home," he says. "I've lived almost 20 years here in Atlanta, and Georgia is the longest place I've ever lived anywhere. This is something we always want to make certain of – that Georgia is always given the first priority here at Delta."
---
Power Player and Philanthropist
As Georgia Power's chair, president and CEO, Paul Bowers leads a company focused on innovation and community involvement
By Susan Percy
Paul Bowers has seen the utility industry through a lot of ebbing and flowing since he began his career at Gulf Power, a Southern Co. subsidiary, in 1979.
Initially he was drawn to the combination of meaningful work and opportunity for innovation. "Think about what we do in terms of creating a value for our customers in the Southeast and creating a better quality of life with electrification," he says. "But it's also innovation that was taking place even back then. We were one of the forerunners of energy efficiency. That intrigued me."
It is safe to say that Bowers, a Pensacola native who rose through the ranks to become chair, president and CEO of Georgia Power, also a part of Southern Co., in 2010, found what he was looking for, perhaps more.
He has led his organization through changes and challenges, including a tough series of hearings last fall before the Georgia Public Service Commission to determine the fate of two nuclear reactors (owned by Georgia Power and three smaller utilities), now under construction at Plant Vogtle near Waynesboro. In December, the commission voted unanimously to allow the project to continue.
In the realm of community service and philanthropy, Bowers has not simply honored but intensified the company's involvement.
For his leadership and civic involvement on a personal and corporate level, Bowers has been named a 2018 Georgia Trustee, the state's highest honor, given jointly by the Georgia Historical Society and the Governor's Office.
"When you think about the energy platforms in the United States," he says, "capacity was being built significantly in the '70s and '80s in terms of big central generating stations – coal plants, nuclear plants." Then came an energy-efficiency focus, partly driven by an awareness that natural gas was finite. "We wanted to stop the import of energy from around the world, especially the Middle East," he recalls. "Technology was [about] how to make power plants more energy efficient. Early in the '80s and '90s, renewables were more costly than central station plants."
The development of the fracking technique, which uses pressurized liquid to fracture rock and allow natural gas and oil to flow more freely, in the late '90s, Bowers says, spurred the expansion of the natural gas infrastructure. "It created an abundance of energy in the U.S. That in itself has become a driver for the economy." And it has helped reshape the utility industry.
"If you think about the utility space and tracking all those changes, you run back to how do you serve the customer most effectively and efficiently," Bowers says.
"At the early stage, all customers wanted was really a low price. The focus of the industry was delivering the most affordable-price energy that we could. Then it evolved to affordability and reliability. Customers didn't like being offline, didn't like having their TV not being workable. So reliability became an increased level of focus."
It added what Bowers calls an "I-want-my-answers-now" attitude on the part of customers. "We have to respond to that. We've created social media platforms, come up with all kinds of ways to communicate to our customers about what's going on."
It's not enough to be responsive, he says. "We also have to be innovative, as technology advances and moves. We're involved in all kinds of research, involved in battery technology, electric vehicles, where the chargers are. What is the best application for customers in terms of solar? Can we buy a community solar farm to serve a neighborhood, or can we purchase wind out of the Midwest to serve customers that may want that? We're involved in a broad way to meet our customers' needs."
---
Nuclear's Future
Not surprisingly, Bowers is a fervent advocate for nuclear power, which has been a part of Georgia Power's portfolio for a long time; the recent PSC thumbs-up for Plant Vogtle ensures that nuclear remains a key component of the state's energy future.
The construction project has experienced delays and cost overruns, exacerbated by the bankruptcy of contractor Westinghouse last spring. A bill passed by the Georgia General Assembly in 2009 has allowed the utility to charge customers a cost recovery fee throughout construction.
The original cost estimate was $14.3 billion, with a projected completion date of 2017. Estimates now are $23 billion, with one unit expected to come online in 2021 and the other in 2022. The PSC approval includes new financial penalties for Georgia Power in the event of further delays and cost increases.
"When you look at the energy infrastructure for America," Bowers says, "if you have aspirations for a CO2 – or emission-constrained environment – you look at the portfolio, nuclear has to be a dominant solution. It's the only 'non-emittant' resource that produces economy energy for the customer."
He notes there are 104 commercial nuclear reactors in the U.S., but the number is projected to dip below 90 as older reactors are retired.
"At the same time [there are] aspirational goals to reduce carbon emissions," he says. "You've got to have nuclear in the mix." New reactors have a projected life span of 60 to 80 years, he says.
"They will produce energy on a marginal basis at one cent a kilowatt hour. They are the foundation of the energy industry infrastructure. When we look at Vogtle 3 and 4 coming into the mix, it is a non-emittant resource. As we are turning down the number of coal plants in the state, we've got to have baseload capacity come up, no matter what you have in solar or wind."
Bowers says the national security implications of nuclear power are significant, "from the standpoint of having a nuclear platform and the way we are constructing those plants and having a platform for the U.S. to be a leader. We need the technology to go into international markets right now. If we don't, Russia and China are going to be the only ones producing it."
Vogtle's units are the only reactors currently being built in the U.S. "Around the world," Bowers says, "60 are being built, and another 12 are in late-stage planning. Seventy-two plants around the world in construction phase, and we're only building one. You want emissions to be reduced? How are you going to do it?"
---
The Gift of Leadership
Georgia Power has been around for 136 years and has long played a leading role in economic development, especially in local communities. Bowers sees this as a key responsibility.
"Companies have to have perspective, go beyond the bottom line, have to embrace the communities they serve and make them better. How do we create opportunity? That's economic development. Every community in the state has a different niche.
"We want to enhance that aspect and make them attractive for growth, because that gives the community a tax base. The tax base supports education, creates a platform for households to expand," he says.
"And there is a self-interest in that – the use of our product is expanded as well."
As part of its commitment to economic development – and to customer service – the utility pays serious attention to developing its leaders.
"What we do in Southern Company is to prepare for the responsibility of leadership," Bowers says. "As we get more and more responsibility, we have a depth of knowledge about the fundamentals of the business. We want you to be knowledgeable and have depth in finance, the technical side – and be able to look at external issues associated with regulatory or being able to make a deal."
His own style of leadership involves helping others to be successful. "The gift of leadership is something you have to honor. You have titles – manager or supervisor or director. Those are significant titles, but that just describes responsibility. A leader is trying to maximize the potential of the organization and individuals within that organization.
"It's [about] service to others," Bowers says. "You are there to provide a platform for others to be successful. How do you energize an organization? How do you get the organization to be willing to trust the direction you're going?
"I want my legacy to be all the people that grew, that assumed responsibility, that became leaders themselves."
---
Community Involvement
Bowers, who first came to Georgia in 1990, has a long personal history of involvement in civic and educational endeavors, including service on the Board of Regents of the University System of Georgia and the boards of the Georgia Chamber of Commerce, the Metro Atlanta Chamber and the Georgia Research Alliance. He is chair of the Children's Healthcare of Atlanta Foundation and a past chair of the Georgia Partnership for Excellence in Education.
"I've been given this great opportunity in my life. So how do you pay it forward? How do you engage? I've been focused on education – if you can just touch one student and make their lives better, give them that platform to show their potential and give them the foundation from an educational standpoint, the sky is the limit."
He has enhanced his company's involvement as well: "We have engaged as a company in education, gotten back into classrooms," he says, referencing projects involving the Ron Clark Academy and promoting STEM curriculum.
To his Georgia Power team, he poses the questions: "What is your passion? Where do you want to invest your legacy and your dollars or resources?"
Last year, employees donated more than 100,000 hours of community service through the organization's statewide Citizens of Georgia volunteer program. "If you look at the most significant issues in the state, Georgia Power is there," Bowers says. "We don't want anybody left behind."
Of his selection as a Georgia Trustee, he says simply, "It's a great honor. I want to strive to be like Pete Correll or Jimmy Blanchard – I'm humbled."
---
PAST TRUSTEES
2017
Duane Ackerman | Former BellSouth CEO
A.D. "Pete" Correll | Former Georgia-Pacific CEO
2016
Jim Blanchard | Synovus CEO and philanthropist
Muhtar Kent | Coca-Cola Company chairman & CEO
2015
Alana Shepherd | Shepherd Center founder
Paula Wallace | Savannah College of Art and Design founder and president
2014
Arthur Blank | The Home Depot co-founder and Falcons owner
Billy Payne | Atlanta Olympics visionary
2013
Truett Cathy | Chick-fil-A fast-food pioneer and philanthropist
Herman Russell | Construction giant and Civil Rights participant
2012
Tom Cousins | Developer
Andrew Young | Former ambassador and former Atlanta mayor
2011
Vince Dooley | Former University of Georgia athletics director and football coach
Sam Nunn | Former U.S. senator
2010
Hank Aaron | Braves baseball legend
Ted Turner | Businessman and philanthropist
2009
Bernie Marcus | The Home Depot co-founder and philanthropist
Marguerite Neel Williams | A founding trustee of The Georgia Trust for Historic Preservation