State of The Art
Museums add to the economic – and cultural – vitality of Georgia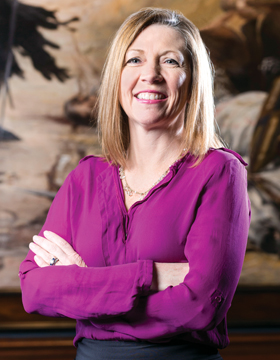 The words economic development may bring to mind visions of Amazon's HQ2, the influx of cybersecurity jobs in Augusta or a booming tech industry, but those companies don't set up shop in Georgia just because of generous incentive packages or the world's busiest airport or even the state's business-friendly environment.
On top of that pro-business cake is the important quality-of-life icing. And first-rate art museums speak to the broad cultural offerings in every part of the state. Georgia's art museums educate, expand our worlds, bring joy and controversy. And they make us think.
---
World-class Collections
The times they are a-changin' may be a song lyric, but Georgia's museums have recognized the change – and are changing right along with them.
"There's been a real commitment here in particular to building a very diverse collection," says Randall Suffolk, director of the High Museum of Art in Atlanta. "We want to be the place where everyone is comfortable coming together. We want people to see some aspect of themselves reflected in their museum – the people they engage with, the works on the wall, or what have you."
The High is what's known as a generalist museum, which means it has art representing a wide variety of genres and artists in its more than 14,000 works from around the world.
To complement the enormous permanent collection, the High has formed partnerships with other museums, such as the Louvre to bring masterpieces from that museum's collection, and with China to bring an exhibit of the Chinese terracotta army several years ago.
But museums these days aren't just repositories for old masters. Last year, the High featured the works of Eric Carle, the illustrator of such popular children's books as The Very Hungry Caterpillar and Brown Bear, Brown Bear, What Do You See? And in 2016, there was an exhibit that looked at sneakers – yep, it was all about athletic footwear. Later this year, the High will present the work of one of the 20th century's most influential artists, Yayoi Kusama, from Japan.
One of the High's most popular exhibits ever was the 2017 Andy Warhol exhibition. "We did a major retrospective of his prints over the summer," Suffolk says. "That was an extraordinary show. There were over 120,000 visitors for that the first quarter of the year."
---
This is an Art Museum
When the Telfair Academy in Savannah opened in 1883, the director wanted visitors to know they were approaching a museum even before they entered it, says Lisa Grove, director and CEO at the Telfair Museums.
"If you look at … our building, you'll see on the outside of it there are five statues," she says. "Those five statues are the very first works of art that the first director commissioned when he went to Europe. They're of famous artists. There's Michelangelo, Rafael, Rubens, [Phidias and Rembrandt]. He had them put on the steamship Savannah and transported here across the ocean and installed in front of the building in 1883 just in time for our grand opening. It was his way of signaling, 'Hey this is no longer the Telfair family mansion. This is now an art museum.'"
In addition to the academy, the Telfair Museums now includes the Owens-Thomas House, which is operated as a historic house, and the Jepson Center for the Arts, which opened in 2006.
"It's … everything you think of when you think of a big, new, modern building," Grove says about the Jepson. "It's the place now where we not only focus on showing our prominent collection of modern and contemporary art, but also, because it has state-of-the art climate control and these big galleries, that's where we can show major traveling exhibitions."
Exhibitions in 2017 included a large Rodin exhibit, and next fall, the Jepson will feature works of French Impressionism.
Museums that lend their artwork are very particular, Grove says. They want to lend it to other museums that can take care of the art, and that means good climate control, among other things, which the academy building didn't offer.
"By building this new building, we've really been able to increase the quality and the scale of the type of exhibitions that we show," she says. "It's a really vibrant multi-disciplinary museum space. We don't even call it a museum. It's technically called the Jepson Center for the Arts, and I think that name was chosen intentionally because it was trying to say this is a place that is not your father's art museum. We want it to be playful and energetic and much more a sense of community gathering place."
That sense of community means museums are no longer just a place to look at art then leave. It's now part of their mission to offer vibrant programs that engage with the museum's surrounding communities.
---
Reaching Out
One of the ways museums connect with diverse audiences is with education and outreach programs.
The Georgia Museum of Art is both the state's official art museum and an academic museum on the campus of the University of Georgia in Athens. As the state's official art museum, the facility includes a vast and diverse collection designed to appeal to a wide audience. As an academic unit of UGA, that collection is balanced by an equal-ly important focus on scholarship and education.
"The mission of the museum follows the mission of the University of Georgia," says William Eiland, the museum's director. "And ours is scholarship, teaching and service. But ours is through the lens of visual arts. We believe visual arts education is important, particularly in the 21st century when people spend so much time looking at devices."
That mission manifests itself in a program that uses art to help med students – and soon police officers – learn how to look more closely at the real world.
"Eyewitnesses to crimes are notoriously suspect in their remembrances or in their memory or impression or in their coloring of the incidents," Eiland says.
The museum experience teaches med students and police officers to look beyond just what their eyes see to the context and symbolism, then translate that experience into the world of patients, eyewitnesses and criminal investigation.
"What we want to do is for that policeman or that medical student or even that student at the University of Georgia to be able to learn the symbol, the power of that symbol, the power of that iconographic element in a painting and then be able to associate it later," Eiland says. "What we're trying to do through the visual arts is give our students the habit of looking more deeply into a work of art in order to contextualize its meaning."
He uses a simple olive fork as an example. "We have an olive fork that was made in Columbus, Georgia," Eiland says. "Through that simple fork, we're able to teach our audiences about the production of olives from olive trees given to the people of Georgia by Thomas Jefferson in the late 18th or early 19th century. And that Georgia had a thriving olive oil industry. And, low and behold, what's happened in the last two or three years, [olives are once again being grown in the state]. So we're able to relate the past to the present and to the future."
The Columbus Museum, which is part of the Muscogee County School District, also takes its commitment to education as seriously as its function as an art museum, with programs for teachers, including workshops and videos that can be used in the classrooms.
"We are offering many programs for school children, curriculum-based tours. We have workshops for teachers," says Marianne Richter, the museum's director, "but we also do family days for everybody. We have summer programs that are for families. We have adult programs – lectures – at lunchtime, evenings. And our exhibitions themselves, really they're meant for all ages. We're getting people of a wide spectrum of backgrounds."
Sometimes a specific work of art can be an important part of teaching.
"We have a particularly challenging painting by Thomas Satterwhite [Noble], a Kentuckian, … called The Price of Blood," says Kevin Grogan, director and curator of the Morris Museum of Art in Augusta. "It was his memorialization of his own feelings about the evils of slavery. It was painted after the Civil War, but it depicts a man who is selling his own biracial son into slavery. It's some painting, and it's one that always provokes conversation and comment. Teachers use it a lot."
The Morris also offers educational programming to groups throughout the Augusta community.
"There's a sense of which the Morris Museum is a social service agency that just happens to hang a lot of paintings," Grogan says. "We do all kinds of outreach programs – Children's Hospital [of Georgia], Boys and Girls Clubs, the Kroc Center [part of the Salvation Army] here. We do programs with the Veterans Administration, an inpatient-psychiatric ward at Medical College of Georgia Hospital, and a lot of work in the schools and with the schools here. In effect, the permanent collection is used as a tool in affecting education."
---
There's No Place Like Home
The focus by museums on more diversity and internationally acclaimed art doesn't mean they've forgotten where home is. All of the state's museums feature works by Southern artists, and a couple are focused firmly on the South.
"Morris Museum is really about the art and artists of the American South, almost to an exclusionary sense," says Grogan. "We still have our traditional strength in paintings and works on paper. But in the last 15 years we've also built a really powerful collection of folk art and a fine collection of photography, which hadn't existed at all when the museum first opened [in 1992]."
"The Columbus Museum as an art museum focuses on American art from pre-Colonial to the present," says Richter. "But we're also different in that we have the history collection. Our history collection is really the story of the Chattahoochee Valley, but we often find ways to come at things in a way that addresses the fact that we have those two collecting focuses."
Richter mentions a recent event with artist Amy Sherald, who grew up in Columbus and was the winner of the National Portrait Gallery's 2016 Outwin Boochever Portrait Competition, as an example of the way the two concentrations can merge.
"She is exhibiting her work nationally, and many museums are collecting," Richter says about Sherald, "but she's obviously a perfect fit for us being as she's from here."
Even the High, with is broad collection, houses a number of works by Southern artists. "Our self-taught collection is probably one of the top three collections of its kind anywhere in the nation," says Suffolk. "We have an incredible photography collection, with great strength in Southern photography, and one of the best collections of Civil Rights era photography anywhere.
---
All Shook Up
"I think for museums sometimes, a lot of people think that we're these wealthy institutions," says the Telfair's Grove. "And a lot of museums have trouble shaking off that idea of being an elite institution. But I would say that over the last several decades, museums have been working tirelessly to really be much more accessible, much more diverse in the lineup and welcoming of the community."
One way museums can bring diversity to their offerings is with traveling exhibits. Folks at Telfair got all shook up a couple of years ago with a very successful traveling Elvis exhibit.
"We did a photography show of Elvis – photographs of Elvis when he was 21 years old," Grove says. "And that was huge. Elvis sounds like it would be not very substantive, but it was this beautiful black and white photography of Elvis in 1956 traveling through the South and [for example,] sitting at segregated lunch counters. So it was this documentary photography in the South but with Elvis as the name that brings people in to see it."
It's also an easy show to market, she says. "On opening night, we had Elvis impersonators here. It was just fun."
While Elvis and fun may bring in the crowds, museums have other things to consider when booking traveling exhibits.
"We do about 15 special exhibitions a year," Suffolk says. "We present a variety of work. If you look over the course of the last year alone, for example, those 15 shows have really showed a diversity of content. More than half of those, nine of them, have highlighted a core work by gay artists, women artists and artists of color."
The High's recent special exhibitions have included Hale Woodruff's Murals at Talladega College, which shows events in the rise of black Americans from slavery to freedom; Celebrating Dr. Martin Luther King Jr., a collection of images documenting his life; and a modern photography exhibit that included the work of Diane Arbus, among others.
All of the art museums look for similar things when considering traveling exhibitions – diversity, well-known works or artists and art that complements or contrasts with the museum's permanent collection. But, first and foremost, as with the permanent collections, the focus is on quality.
"We really do want to present the best examples of work that we can," Suffolk says. "It's also important for us to do shows that are relevant to our community and, at the same time, will provide a great platform of engagement."
---
Georgia's Art Museums
Albany Museum of Art
Albany
albanymuseum.com
---
Atlanta Contemporary
Atlanta
atlantacontemporary.org
---
Booth Western Art Museum
Cartersville
boothmuseum.org
---
Columbus Museum
Columbus
columbusmuseum.com
---
Georgia Museum of Art
Athens
georgiamuseum.org
---
Gertrude Herbert Institute of Art
Augusta
ghia.org
---
High Museum of Art
Atlanta
high.org
---
Madison Museum of Fine Art
Madison
mmofa.org
---
Marietta/Cobb Museum of Art
Marietta
mariettacobbartmuseum.org
---
Michael C. Carlos Museum
Atlanta
carlos.emory.edu
---
Morris Museum of Art
Augusta
themorris.org
---
Museum of Arts and Sciences
Macon
masmacon.org
---
Museum of Contemporary Art of Georgia
Atlanta
mocaga.org
---
Museum of Design Atlanta
Atlanta
museumofdesign.org
---
Oglethorpe University Museum of Art
Atlanta
museum.oglethorpe.edu
---
Savannah College of Art & Design Museum of Art
Savannah
scadmoa.org
---
Spelman College Museum of Fine Art
Atlanta
spelman.edu
---
Telfair Museums
Savannah
telfair.org
---
Tubman Museum
Macon
tubmanmuseum.com
---
Zuckerman Museum of Art
Kennesaw
zuckerman.kennesaw.edu