Phoenix Rising
Grady Health System has overcome obstacles big and small to celebrate 125 years of treating Georgians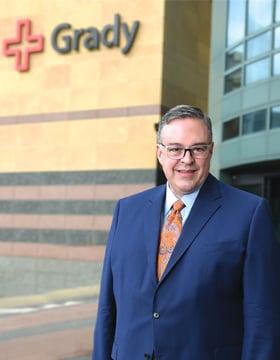 While healthcare policy – and practices in many areas – remains up in the air in this country, one of the things Georgians have been able to count on for more than 125 years is Grady Memorial Hospital in downtown Atlanta.
Over the course of its history, the hospital has had its ups and downs – including near closure about a decade ago. But today, not only is Grady recognized as one of the best trauma centers in the country, it also operates one of the largest HIV/AIDs centers and provides patient care in specialties including cancer, urology, cardiology and stroke.
Grady opened in June 1892 with 110 beds, one operating room and the goal of providing quality healthcare for Atlanta's poor. Located near the former Atlanta Medical College (AMC) in downtown Atlanta, the med school was responsible for supervising patient care and trained its students at Grady. In 1915, the AMC became the Emory University School of Medicine, and the relationship continues with Grady to this day. Morehouse College's School of Medicine, which was established in 1978, trains its doctors at Grady, as well.
Throughout its history, Grady has maintained its commitment as a safety-net hospital, providing care to low-income, uninsured and vulnerable populations, even as it has grown to serve more than a half-million patient visits each year.
It's now one of the largest safety-net hospitals in the country and has achieved much since its founding:
• Grady employs more than 6,000 workers.
• Grady generates more than $1.7 billion in economic impact.
• Grady physicians hail mostly from Emory University School of Medicine (80 percent) and Morehouse School of Medicine (20 percent).
• Grady's presence as a mass casualty responder makes it possible for Atlanta to host major sports and other events.
• Grady's Ponce de Leon center is among the top HIV/AIDS outpatient clinics in the nation.
• Grady has the premier Level I trauma center in Atlanta and serves as the 911 ambulance provider for the city.
• Grady's Burn Center is one of only two American College of Surgeons verified centers in the state.
• Grady houses Georgia's first Cancer Center for Excellence.
But underneath the numbers is a larger story. A story of compassion, of persistence, of a commitment to doing the right thing for a large metropolitan city with a growing population.
---
Serving Those Most in Need
Grady serves the underserved. It never turns people away. And that's not just good for the patient; it's good for the entire region.
"Take someone who has no access to insurance and needs a hip replacement," says Renay Blumenthal, president of the Grady Health Foundation and the person tasked with soliciting private and philanthropic donations to support the hospital. "In other hospitals, they may be given a cane and told, 'good luck.' But here, they can get a hip replacement and have their quality of life back, so they can go back to work and stay healthy and productive."
Performing 13,000 surgeries in 2016, or 35 surgeries a day, Grady's operating rooms have reached capacity. This is why the new $140-million-plus Advanced Surgical Services center will be so critical to Grady's growth and to its quality of care.
After a year of discussion, the Fulton-DeKalb Hospital Authority (FDHA), Grady's parent, recently closed on the purchase of 1.8 acres near the hospital for $7.5 million. The former Fulton County Health Department building, which sits on the site, will be razed to make way for the new 198,000-square-foot surgical center that will house several outpatient procedural clinics and be connected to the hospital via a bridge.
"Because Grady handles a lot of trauma and emergency-type cases, those types of cases get priority in the operating room," says Blumenthal. "Routine surgeries that are scheduled or are outpatient, that are taking 45 minutes, are competing for operating room space with 13-hour, life-saving procedures. Our doctors get frustrated because they get bumped all the time, and that means patients are getting bumped – sometimes when they are in pre-op."
While the new surgery center will help fill a vital need for the uninsured, the center is expected to serve more privately insured patients, too.
Both Fulton and DeKalb counties have agreed to issue bonds (Fulton up to $60 million and DeKalb up to $30 million) to help fund the center and a $23-million modernization and expansion of the Ponce Center for HIV/AIDS as part of a $165-million public-private partnership fundraising campaign. It has been 25 years since the counties have given any money for capital improvements.
The Ponce Center is one of the largest HIV/AIDS programs in the country. One in four HIV patients in Georgia is treated at Grady. Besides full diagnostic, treatment and counseling services, the center also conducts research in partnership with Emory University's Center for AIDS Research.
"Grady is one of the core institutions of the city in terms of the services it provides – obviously for the uninsured and under-covered, and in our trauma and core service lines," says Frank Blake, Grady Memorial Health Corp.'s board chair and retired CEO of The Home Depot, "but also because it's a great example of the business and local community coming together and resuscitating a critical asset for the city."
---
Financial Recovery
The recent major resuscitation began in 2008 when A.D. "Pete" Correll, the previous chair of the Grady Memorial Health Corp., led the campaign that saved Grady from financial downfall.
"There was a time when Grady was Atlanta's only municipal hospital, and both black and white community leaders wanted to be more associated with it," Correll says. "Then it started a death spiral where incompetence was driving terrible results, and it was just spinning down out of control."
In 2008, Grady owed $60 million to everyone, including the Emory and Morehouse med schools that continued to provide staff; pharmaceutical companies; and vendors. Hospital employees were constantly worried about being paid. The hospital authority had been through four CEOs in five years and had named a legislator and attorney, who had no hospital experience, the most recent chief.
Talk raged about closing Grady, until Correll and other business leaders decided that Atlanta and Georgia couldn't afford for Grady to go the way of other public hospitals around the country and close. The fix was long, convoluted and involved completely restructuring the governance of the hospital to take day-to-day operations out of the hands of politicians. And it worked.
Today, Grady is not just alive but is thriving. In 2016, it logged 620,000 outpatient visits and 30,000 admissions, and last year it averaged about 400 emergency room visits a day. It should be noted that Grady is also the exclusive ambulance service provider in 12 rural Georgia counties.
In June, Grady's Marcus Stroke and Neuroscience Outpatient Center opened to great fanfare, unveiling a state-of-the-art, multi-disciplinary approach to patients with advanced neurological conditions. Many patients are flown in from across Georgia by helicopter to take advantage of lifesaving stroke treatments delivered by the hospital's vascular surgeons.
"When someone has a clot, you need to get them treatment as soon as you can," says Blumenthal. "Our stroke center pioneered a new methodology to get rid of clots. The international standards for stroke care were rewritten based on work pioneered at Grady."
What's often missed about Grady is its value as a teaching hospital. It's estimated that one in four Georgia doctors received part of their training at Grady.
"Normally, it's the state medical school that is associated with a safety-net hospital, but we have a terrific relationship with both Morehouse and Emory, two private schools," says Correll.
More recently, Grady's new Employee Health Center, a 12,000-square foot, $3-million facility located in the City Plaza building across from City Hall, opened to provide medical and wellness services to city employees.
---
Securing the Future
Strategically, Grady is moving toward long-term sustainability. The balanced payer mix, combining philanthropy, government-sponsored programs and the insured, is a major part of the puzzle. Another piece is getting people to understand how important Grady is to the area.
"We've built an ambassador force of people who truly care about Grady's mission, and they show up at county commission meetings," says Correll. "That campaign is less about money-raising than friend-building."
A sustainable Grady equates with more efficient healthcare delivery statewide. Without Grady, patients would seek treatment elsewhere, tasking other community hospitals to absorb the additional volume – and turn many of the uninsured away.
Since so much of every dollar spent at Grady comes through a government program, anything that happens at the national level could have an impact on Grady's future.
States receive an annual Disproportionate Share Hospital (DSH) allotment to cover costs of hospitals that provide care to low-income patients that are not paid by other payers, such as Medicare or Medicaid.
But Oct. 1, 2017, triggered the first federal cut to DSH funds. At Grady, those funds could be reduced anywhere from $11 million to $13 million in 2018. By 2024, Grady could be losing $52 million in DSH funds annually.
"There will always be the question of who will pay the bills," says Grady Health System President and CEO John Haupert. "The fact that the two counties stepped up to extend the funding of our recent expansion is phenomenal and appreciated. The key is maintaining an open dialog and making sure we understand what their desired outcomes are and the results they are looking for. But with a stroke of a pen in Washington, Grady could lose $60 million in funding."
Moving forward, Haupert would like to see Grady expand the number of its Neighborhood Health Centers to assure more communities have greater access to primary care services. Currently there are six centers across Metro Atlanta, including one on Camp Creek Parkway scheduled to open early this year.
"It's been proven that when you have that relationship with a primary provider," says Haupert, "better health can be maintained."
According to Blumenthal, the 10-year strategic plan calls for a world-class high-tech simulation center, which could be built in collaboration with a local college and/or hospital partner, where medical students could advance their medical training.
Will Grady ever face another potential death spiral? It's unlikely, but vigilance is demanded in the face of rapid changes in the political and social climates.
"If the community forgets us, we could get back into an era of struggle," says Correll. "If you let the board composition digress to people who are politically rather than emotionally connected and make the critical mistakes the old board made, all of a sudden no one wants to work here. The community has to remain involved. It's from the bottom up that we raise the flag."
"There is a constant educational burden on us to express to the community the importance of Grady," Blake says. "Everyone understands Grady as an emergency provider, but we need people to understand the ongoing need to care for people who don't have resources. When the next cadre of leaders come along, they need to appreciate what a great asset we have here."