Georgia Fare: A Warm Winter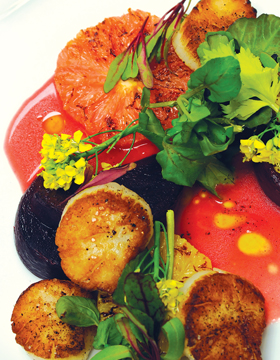 Count another homecoming for a prodigal chef. Chef Chris Bolton was doing just fine, thank you, at a Merritt Island, Fla., restaurant. But as his wife, Laura Farrelly, says, "He missed family. He kept hearing about what was going on and wanted to be there."
Bolton's hometown is about as far from flat, coastal Florida as you can get: He grew up in the cool mountain-town air of Clarkesville, Ga. Three years ago, the couple left Merritt Island and hung a shingle for Harvest Habersham on a storefront just off the town square.
Friends' advance words about the place were encouraging: "wonderful," "local produce," "sustainable," "seasonal," "creative." The website intrigued me even more, with its long list of partnering farms and suppliers and a dedication to simple cooking.
Still, Harvest Habersham's interior doesn't telegraph cutting-edge cuisine: Neat, clean and comfortable, with humble, slightly dated furnishings and décor. But the armchairs and booths are padded and comfortable enough for lingering, the tables sport white linens and the friendly waitstaff know their stuff.
Any doubt about the seriousness of the chef's intent began to dispel on delivery of the first dishes – and kept crumbling through two visits until all that was left was praise. And awe.
The first wake-up call: Cubed, white balsamic-roasted radish and crisp raw apple, with brown butter and salty feta whipped to stiff cream, topped with crunchy peanuts. The dish balances sweet and earthy, cool and warm, brittle and velvety, laced with the balsamic's acidity. Next: Small, pretty purple-and-white fairy tale eggplants, roasted to silky smoothness, with arugula pesto and chickpea hummus. Maybe some of this sounds busy. It's not.
We first visited in early fall, where, even in the mountains, Georgia summer still lingered. Lush late-season harvest items dotted the menu: okra, corn, cream peas, sorrel and cherry tomatoes, as well as several varieties of squash (pattypan, tromboncino) and mushrooms (chicken of the woods, maitake).
The back of the menu lists the farms that supply exotic ingredients like bantam eggs and Japanese knotweed, Hakurei turnips and purslane. Yet the kitchen isn't devoted to esoterica for its own sake.
Take, for example, our entrees: Crisped scallops huddled with bacon-scented creamed corn over roasted pattypan squash and sturdy browned sticks of polenta, sprinkled with tender baby arugula leaves. The seared catfish on a pool of lemon butter accompanies a kind of clean, elegant succotash – cream peas, okra, bell pepper and cherry tomatoes.
These were old-school Southern suppers, straight from the garden, from the days when you could forecast the weather from what's on your plate. It tasted like summer verging on fall – especially when we had the caramel pumpkin date tart for dessert, with roast pumpkin anchoring the rich sweetness firmly to earth.
When I brought a group back for brunch, we dug in again, this time enjoying brown-edged cornbread as a starter. (True to Appalachian tradition, it's made with all cornmeal and no flour, and thus is both authentic and coincidentally gluten-free.) The egg dishes were unorthodox, but the flavors were no less approachably familiar than those suppers: shreds of buttermilk-braised chicken in light gravy, sprinkled with fresh dill sprigs, with goat cheese gnudi (cornmeal-dusted, lightly fried dump-lings) and a deep-fried, cornmeal-dusted egg, its center deep orange and viscous. (Imagine a good meat-and-three version of chicken and dumplings … with goat cheese-flavored dumplings and an egg.)
Beef tenderloin Benedict was a crazy-rich dish, with thick hunks of tenderloin on a pool of hollandaise and a mound of creamed greens, topped with a poached egg and a slice of pan-grilled cornbread on the side. Good, but pretty much guarantees couch-lock for the rest of the afternoon.
Our party marveled over the consistency of the dishes and the fact that this mom-and-pop shop turns out everything from expert cocktails (a Bloody Mary piled with piquant, house-pickled veggies and a rich New Orleans-style brandy-based milk punch at brunch, for example) to creative desserts – my favorite perhaps being the house-made lemongrass-ginger ice cream.
However, apparently former President Jimmy Carter had been in the night before and praised the chocolate treat, a natural for the erstwhile peanut farmer: Sumac, peanut-caramel popcorn, ganache, coconut chess cake crouton and quince curd. Again, it might sound fussy, but it tastes like all your favorite Halloween candies in one bite.
Farrelly says, yes, "It's pretty much just Chris in the kitchen."
He does have help, largely in prep, but this kind of meal usually requires a pastry chef, a mixologist and a couple of sous chefs. It's an extraordinary feat.
Doesn't matter if the North Georgia mountains get plenty of ice and snow this month. Winter at Harvest Habersham will be nice and warm.
---
Harvest Habersham
Address: 1362 Washington St., Clarkesville
Contact: 706.754.0056 or harvesthabersham.com
Hours: Dinner Wednesday-Saturday; Brunch Sunday
Parking: Plentiful on-street and near square
Dress Code: Like the menu, seasonal and sustainable – go for warm clothes and sturdy shoes over flimsy fashion
---
Brunch in a Glass … Where to Find Your Next Great Bloody Mary
40 East Grill
Statesboro
This downtown steakhouse garnishes its Bloodies with banana pepper, dark ale mustard, celery, olive and, most importantly, bacon.
40eastgrill.com
---
The Pine
Athens
The house-made Bloody comes with pimento-cheese-stuffed jalapeño.
thepineathens.com
---
Echo
St. Simons
The King & Prince's oceanfront restaurant offers a variety of tomato-vodka overindulgences, culminating in The Ultimate, with homemade mix, smoked black salt rim and a giant spear of veggies, shrimp and charcuterie.
echostsimons.com