Cobb County: Managing the Flow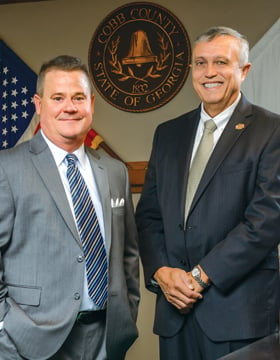 Municipalities are increasingly turning to managed lanes to improve traffic flow and increase funding options. These solutions include high-occupancy vehicle (HOV), express, reversible and toll lanes. The 29.7 miles of managed lanes scheduled to open later this year along interstates 75 and 575 will continue to propel Cobb County as a desirable locale for business, education and play.
The $834-million Northwest Corridor Express Lanes project is expected to ease congestion and increase the county's appeal and development, say county leaders. County Manager Rob Hosack describes the managed lanes as "one of the most exciting and innovative transportation initiatives for the region."
Cobb County received $386.1 million in new investment and created and retained 5,701 jobs in 2016. With the managed lanes, more companies that want to locate in Cobb should be able to move their employees and their goods around more swiftly, says Cobb County Commission Chair Mike Boyce.
"It adds to the overall image that we have that this is an area of America that truly is growing in a way where we want you to come here and bring your family and bring your businesses, because we can accommodate all of this," he says.
New operations include The Home Depot Technology Center at Marietta's Franklin Gateway building. Five Class A office buildings, in total a $369.5-million investment, are under construction or near completion. Major tenants include Comcast at The Battery ($100 million, 1,000 jobs), HD Supply at Encore Center ($85 million, 500 jobs), Bennett Thrasher at Riverwood 200 ($90 million, 400 jobs), Genuine Parts at Wildwood ($24.5 million, 70 jobs) and Synovus at 1100 Overton ($80 million, 300 jobs), according to county data.
Relocation and expansions include Aaron's Inc. in the Galleria and RaceTrac Petroleum in the 200 Galleria tower. In fall 2017, the Cobb County Development Authority approved a $65-million bond for a new Georgia Tech research campus on 32 acres at Lockheed.
With continuing traffic improvements and more amenities, Cobb leaders hope to grow the number of individuals living and working in the county, which has a 423,000-plus workforce. In 2014, just 36.6 percent of the workforce both lived and worked in Cobb.
"I think Cobb County is, let's face it, it's a major job center," says Sam Olens, president of Kennesaw State University (KSU), the state's third-largest university. "It used to predominantly be a place where people lived and went to great schools, and more and more, you've got the jobs here also. There used to be several large employers; now there's many. So Cobb County has a very educated workforce, and employers that demand that type of workforce can find it within this county."
---
Sports Score Big
Cobb leaders were relieved when SunTrust Park and The Battery Atlanta, a combined $1.1-billion stadium and mixed-use project, opened last spring without traffic nightmares.
"People were making statements that, 'Oh this is gonna drive that corporate business out of the community,' and throughout this process, it's been a really positive thing for a lot of these companies," says Brooks Mathis, executive vice president of the Cobb Chamber and executive director of Cobb Edge, the chamber's strategic initiative for community and economic development.
The Braves are just part of the evolving sports scene. Atlanta United, the city's new soccer team, opened a sleek $60-million headquarters and training complex on Franklin Gateway. Across the street, the city of Marietta opened the $10-million-plus Franklin Gateway Sports Complex in August. The 13.2-acre facility boasts three lighted soccer fields for community use.
"We love that we finally have a good park on that road, which was greatly underserved park-wise, but it also just brings a lot of people in," Marietta Mayor Steve Tumlin says.
The complex and Atlanta United facility, whose fields will be available for soccer and lacrosse tournaments, could bring in thousands on weekends, says Joe Knight, principal and co-founder of Strategic City Partners, which manages the Gateway Marietta Community Improvement District.
Six hotels under construction or that opened in 2017 in the county are adding 799 rooms, according to Cobb Travel & Tourism. Kennesaw, which has a new 100-room Hampton Inn and 100-room Courtyard by Marriott, is becoming a hot spot for visitors, partly due to its growing sports scene.
KSU's Fifth Third Bank Stadium is an 8,300-seat facility that is home to its football team and the Atlanta Blaze, a professional lacrosse team. And the LakePoint Sporting Community complex in Emerson, just above Cobb's border with Bartow County, helps drive hotel reservations and restaurant visits.
The 260-room Omni Hotel at The Battery, which will be on the Georgia Chamber of Commerce's April Red Carpet Tour showcasing Georgia's business community to leaders from around the world, was expected to open by the end of 2017.
This is all just part of the Cobb tourism juggernaut, which generates more than $2.8 billion in economic impact, employs more than 30,000 people and is projected to grow to more than $4 billion in 2020.
"The stadium and The Battery have been a tremendous driver for tourism since the spring," says Holly Quinlan, CEO of Cobb Travel & Tourism. "One of the really unique things about that complex as a whole is that it draws people for lots of different reasons. You can come and you can eat. You can go to a baseball game. You can go shopping. You can just hangout. You can see a show. There's a lot of different ways you can engage in that development, and that's definitely been an exciting draw for tourism in our community."
---
Edge Sharpens Focus
From 2012 to 2017, the chamber's Cobb Edge program resulted in 123 relocations and expansions with more than $2.2 billion in investment and an estimated 22,253 new and retained jobs from companies such as Synovus, NCR, First Data and High Road Craft Ice Cream & Sorbet. In 2017 alone, a total of 1,005 new jobs in the county represented a $197.8-million investment.
"For the last couple of years, we've focused a lot of attention on making sure that we've had a successful launch of the Braves. I think it has been very, very successful," County Manager Hosack says. The challenge, he adds, is moving forward with "all of the other fantastic things … running parallel to the Braves."
The bulk of the projects are manufacturing and corporate headquarters. This month, Cobb Edge 2.0, another five-year strategic economic development plan, will launch.
"The simple way of characterizing it is Cobb County is on a roll," says Craig Lesser, former commissioner of the Georgia Department of Economic Development and managing partner of The Pendleton Group, an economic development consulting group, who worked with the county on Cobb Edge 2.0.
South Cobb, an unincorporated area, comprises 10 of the 38 current active projects through Cobb Edge that represent $1.4 billion of investment and 8,307 new jobs, a 20 percent increase over fiscal year 2016. FedEx Ground leased a new $40.8-million, 304,000-square-foot distribution center in South Cobb, according to the Cobb County Chamber.
"There's some huge opportunities there, and you're beginning to see the relationships in the business and government community in South Cobb come together," Lesser says. "And we have encouraged Cobb Edge to be very supportive in convening, supporting, reinforcing and engaging in South Cobb."
---
Education Opens Doors
Cobb County is home to the state's second-largest school system, with nearly 113,000 students, and Marietta City Schools have 8,900 students. The county's higher education institutions include KSU, Chattahoochee Technical College and Life University, a private chiropractic university.
KSU generated an economic impact of more than $1.4 billion in fiscal year 2016, according to the University System of Georgia. The university recently launched bachelor's degrees in cybersecurity and digital animation.
KSU has nearly 36,000 students on its Kennesaw and Marietta campuses for the 2017-2018 school year and plans to limit undergraduate growth (currently about 34,000 students), says Olens.
"The whole idea is that the courses they need to take in a timely manner to graduate, we want to provide for them," Olens says.
The county's first business incubator, Ignite HQ, opened in 2017 near the Marietta Square and in partnership with KSU and the Cobb Chamber. Last spring, a 450-seat dance theater opened on KSU's Marietta campus, and the Kennesaw campus is home to the Bentley Rare Book Museum, which has more than 8,000 items.
---
Cities on the Move
The Gateway CID in Marietta is in the process of expanding its boundaries, which would include KSU's Marietta campus and Life University. The three-year process will add between $900,000 and $1.1 million in additional revenue, according to CID data.
The corridor has more than $250 million in public and private capital investment, and more than 20 corporations are located there, including WellStar Health System and GDS Associates, an engineering and consulting firm. Recently, Marietta purchased a strip mall at Franklin Gateway and South Marietta Parkway that Tumlin hopes will be redeveloped as a high-profile entrance.
Closer to the Marietta Square, a plan by Capital Properties Group and Concordia Properties to turn a warehouse into an 18,000-square-foot food hall is garnering some buzz. Tumlin says the Marietta of his youth was "slow to change," but the Square and major projects like SunTrust Park and The Battery are bringing amenities.
"It's brought energy to our city that I never dreamed we would have," Tumlin says.
Elsewhere in Cobb, South Cobb Diner opened in downtown Austell with a $230,000 incentive from the city. The next phase of Acworth's downtown redevelopment, which began in the fall, includes a new community center.
Powder Springs has hired consultants as it seeks to create a downtown destination with a possible amphitheater and a trailhead to the Silver Comet Trail, says Mayor Al Thurman. The city is enhancing a 1.7-mile linear park that runs parallel to the Silver Comet.
"Some of these plans have been around for quite some time, and right now, we are pushing forward with the council," he says.
"We have to move forward in 2018 to actually see some dirt being moved and things happening," he adds.
While Powder Springs tries to offer the restaurants and walkable amenities that its residents are asking for, Thurman says it has buildable, raw land and proximity to airports and major roadways.
The healthcare industry is also a growing sector. The $37-million Silver Comet Village, with 154 assisted living, independent living and memory care units, is the largest private investment in Powder Springs' history.
WellStar Vinings Health Park, a 162,000-square-foot outpatient facility where patients have access to a variety of medical services in one location, opened in September as the system's third health park in Cobb.
"I think we have [seven] healthy cities in a great county," Tumlin says.
---
On a Roll
The Cumberland Community Improvement District (CCID) expects to see $5 billion in public and private investment by 2018. More than 5,300 net new jobs are projected in the next few years, amounting to more than $250 million in payroll, says CID Executive Director Malaika Rivers.
As the Cumberland area has gone from primarily office and retail to having amenities – a performing arts center, a major league ballpark and a vibrant adjacent mixed-use development – Rivers says rental rates have risen and vacancy levels are down.
The 9.5 million square feet of development in the pipeline includes 1.7 million square feet of office, 625,000 square feet of retail space and 1,400 new hotel rooms. There are also plans for 5,342 residential units, says Michael Hughes, Cobb's Economic Development Division manager, who adds that he sees a "halo effect" from SunTrust Park and The Battery.
The CID plans to take steps, Rivers says, to launch a sister organization that would focus on quality-of-life issues.
"We're not an agency that can be all things to all people, but we do recognize a need for another type of organization in the fabric of this community that can be really responsive to growing it as a place to enjoy for all types of purposes," Rivers says.
In Kennesaw, Cobb County International Airport provides an annual economic impact of $1.1 billion with more than 200 daily flights and full-time international customs. The $2.7-million Aviation Park opened nearby in November. It's a Town Center Community Improvement District (CID) and Town Center Community Alliance project that turned underutilized greenspace into a 3-acre aviation-themed park that includes playgrounds and plane-watching areas. The Town Center CID also has 8.5 miles of trails and the state's first bike-share program sponsored by a CID.
"Those greenspace and trail initiatives have been something that have been a part of our mission and focus for more than 20 years," says Tracy Rathbone, executive director of the Town Center CID. "We have understood the nexus of where commercial properties, retail, residential and greenspace come together in order to make a successful, thriving community."
Since 1997, the Town Center CID has experienced more than $150 million in investments and has more than $1.3 billion in real estate assets. More than 5.7 million square feet of office and retail space exist there, and a $43.5-million, three-phase project seeks to improve pedestrian access and the traffic flow along Barrett Parkway.
---
Getting Around
Cobb's managed lanes are part of the Georgia Department of Transportation's $11-billion major mobility investment program. The county and Cumberland CID are working on two major access projects – the Akers Mill Ramp Project and the Windy Hill/Terrell Mill Reliever – that would allow additional traffic movement, Rivers says. Last summer, a $46.4-million improvement project on Windy Hill Road, which includes a diverging-diamond interchange, was completed.
Cobb County Manager Hosack, like other leaders, recognizes that the opening of SunTrust Park didn't allow them to sit back and take a breath.
"Instead, we're going to try to keep plowing forward with all of these other really neat opportunities that have presented themselves," he says.
The county hired NelsonNygaard Consulting Associates to update its transit master plan to capitalize on and improve its transit system with the opening of the managed lanes this summer, Hosack says. And street-level improvements for pedestrians and amenities, such as bike-share, continue to grow throughout the county.
County commissioners in 2017 voted down Boyce's plan to raise the property tax millage rate. Boyce says his goal has been to focus on Cobb's budget; the fiscal year 2019 budget has a $30-million deficit.
"I want to ensure that we create a government that provides the opportunity for everyone to safely – and I underline the word safely – work, live, retreat and pursue their dreams," he says. "That's my vision for Cobb County."
---
LOCAL FLAVOR
Homegrown Attraction:
Once farmland and then a private home, Kennesaw's Smith-Gilbert Gardens is evolving while maintaining a sense of history and its former owners' love of plants and bonsai. The serene setting features the Hiram Butler house that dates to the 1880s and dozens of sculptures.
In 2004, the city of Kennesaw passed a bond referendum to acquire the property, which opened to the public in 2009 and is named after former owners Bob Gilbert and Richard Smith, who acquired it in 1970. Gilbert and Smith enjoyed bird watching and challenged themselves to cultivate plants that were difficult to grow in Georgia. Today, the gardens have more than 3,000 species of plants and features such as a woodland walking trail.
A butterfly house that opened in summer 2016 helped increase the garden's visitation by 40 percent, says Executive Director Ann Parsons. For fiscal year 2017, which ran from Oct 1, 2016, to Sept. 30, 2017, the garden welcomed about 12,000 visitors.
With additional property acquisitions, Smith-Gilbert Gardens covers just over 17 acres, 13 of which are open to the public.
The opening of the butterfly house has engaged more families, Parsons says, and two grants in 2017 helped expand that summer exhibit and add a pollinator garden adjacent to the house.
"The butterfly house really raised the awareness," Parsons says. "People will say, 'I'm here to see the butterflies;' then they will see the rest of the garden."
Special Purpose Local Option Sales Tax [SPLOST] funds and Smith-Gilbert's current capital campaign are expected to finance a new visitor's center, education center and about 100 more parking spaces, with the cost to be determined.
Other changes include renovating the rock garden, which is the largest crevice garden in the state, with funding from the American Conifer Society and Stanley Smith Horticultural Trust, along with volunteers from the community and companies such as Georgia Power and Citrix.
Community volunteers also care for what began as Gilbert's bonsai collection and has grown to more than 70 trees and over 20 species. Parsons says it is considered one of the top bonsai collections in the country, and about 35 volunteers of all ages regularly tend to the trees.
A new playhouse exhibit, Let Your Imagination Climb, is expected to feature designs from the community and run from June through Labor Day 2018.
"It's going to be a way for people to interact with trees and nature in a different way," Parsons says, "and have fun." – Lori Johnston