2018 100 Most Influential Georgians
Shaping the State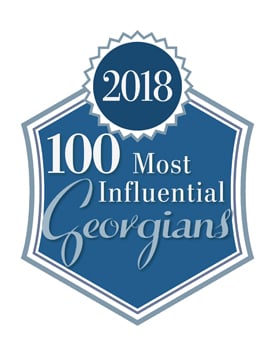 "Nearly all men can stand adversity, but if you want to test a man's character, give him power," Abraham Lincoln reportedly said. If we update that quote to include women, then the list of the 100 Most Influential Georgians includes not just influence and power, but also the strength of character in our state.
As we celebrate 20 years of honoring the state's most influential, we have included many of the usual suspects – politicians, CEOs, college presidents – but we've also added a number of new names and faces to the list. All are people who have exhibited the character necessary to inspire, challenge, lead – and influence us.
Some work behind the scenes and some are recognized in every corner of the Peach State. But they have one thing in common: Each of the 100 people you'll find on the following pages has an enormous impact on the daily lives of Georgians.
We at Georgia Trend do not take the task of selecting the most influential people in the state lightly. It's a year-round process that involves lots of meetings and discussions. The original list is always more than 100, and we think the final group – subject to retirements, course corrections and shifts in power, not to mention late-in-the-year hirings and firings and a controversy or two – represents the realities of leadership, power, character and influence in Georgia.
You'll also find a list of Notable Georgians on page 52 – people who are making an impact in the state or have made an impression on the Georgia Trend staff this year.
Individual profiles were written by Ellen Berman, Mary Anne Dunkin, Karen Kirkpatrick, Rebecca McCarthy, Patty Rasmussen, Kenna Simmons, Christy Simo, K.K. Snyder, Randy Southerland and T. Wayne Waters. – The Editors
---
David Abney
Chair & CEO
United Parcel Service
Atlanta
Abney was appointed CEO of UPS in 2014 and chair in 2016. The 110-year-old company has big plans ahead, including a $400-million regional package-sorting hub in South Fulton County. UPS, which saw $61 billion in 2016 revenues, employs more than 14,000 people across Georgia. Abney also serves on the board of the Annie E. Casey Foundation. – TWW
---
James L. Allgood Jr.
Board Chair
Georgia Ports Authority
Dublin
Allgood, a Dublin native, was appointed chair of the 13-member GPA Board of Directors, which governs the activities of the ports authority, in 2016. The GPA approved rail and gate expansion projects in November 2017 that will substantially increase capacity at Garden City Terminal, the single largest container terminal in North America. – PR
---
Dan Amos
Chair & CEO
Aflac
Columbus
Amos has been named one of Harvard Business Review's 100 Best-Performing CEOs in the world for three years running. He has led the supplemental insurance company for nearly 25 years, seeing revenues grow from $2.7 billion to more than $22.5 billion in 2016. Aflac has also been the recipient of multiple awards for ethical behavior. – RS
---
Brian Anderson
President & CEO
Greater Columbus Georgia Chamber of Commerce
Columbus
Business announcements continue in Columbus, where Anderson has directed the chamber since 2015. Both firearms manufacturer Heckler & Koch and aerospace manufacturer Pratt & Whitney announced major expansions last year, representing more than $400 million in investment. The city is also encouraging small business development as part of the region's Columbus 2025 strategic plan. – RM
---
Kerry Armstrong
Board Chair
Atlanta Regional Commission
Atlanta
Serving his second term as ARC board chair, Armstrong has been instrumental in economic development in the 10-county region. He is also chair of the North Fulton Community Improvement District and is active in numerous organizations, including the Gwinnett Medical Center Foundation and Gwinnett Chamber. He is a managing director with Pope & Land Real Estate. – EB
---
Robert L. Ashe III
Board Chair
MARTA
Atlanta
A partner at Bondurant Mixson & Elmore, Ashe was appointed to MARTA's board in 2010 and has served as chair since 2014. That continuity is crucial as the agency undertakes a national search for a new CEO and plans expansions thanks to passage in 2016 of a 40-year SPLOST that's estimated to yield $2.5 billion. – PR
---
Ed Bastian
CEO
Delta Air Lines
Atlanta
Bastian helped lead Delta out of bankruptcy in 2005 to its dominant industry position before becoming CEO in May 2016. One of his primary goals is to position the award-winning airline – more than 30 accolades last year – as the airline of choice by continuing to focus on transparency, communication and technology for customers. – RM
---
Brandon Beach
President
North Fulton Community Improvement District
State Senator, District 21
Alpharetta
Beach recently resumed a full-time role with the North Fulton Community Improvement District after splitting his time with the Greater North Fulton Chamber of Commerce. His focus remains on transportation infrastructure and transit opportunities, and priorities include the expansion of Georgia 400. In his role as state senator, Beach chairs the Transportation Committee. – KKS
---
Mark Becker
President
Georgia State University
Atlanta
In Becker's term as president since 2009, Georgia State has set fundraising records, and need- and merit-based scholarship funds distributed by the university have tripled. He also oversaw the purchase of Turner Field, former home of the Atlanta Braves and the 1996 Olympic Stadium, repurposed as GSU's football stadium in 2017. – MAD
---
Gary W. Black
Commissioner
Georgia Department of Agriculture
Commerce
During his 35-year career, Black has championed food safety and environmental stewardship and broadened the market for local agricultural products through the Georgia Grown program. Black is serving his second term managing the ag department and its more than 650 full-time employees. He and his wife Lydia also raise beef cattle on their Commerce family farm. – EB
---
Raphael Bostic
President & CEO
Federal Reserve Bank of Atlanta
Atlanta
Bostic became the new president and CEO of the Atlanta Fed in June. The Fed employs 1,340 in Atlanta and has branch offices in Birmingham, Jacksonville, Miami, Nashville and New Orleans. Bostic has said he'd like to see clearer signs that inflation is building before another interest rate hike. – TWW
---
Keisha Lance Bottoms
Mayor
City of Atlanta
Atlanta
Bottoms, a former Atlanta City Council member and executive director of the Atlanta Fulton County Recreation Authority (AFCRA), defeated Mary Norwood in a close race for mayor. In the run up to the election, she called affordable housing the No. 1 challenge facing Atlanta. As AFCRA director, she led the sale and redevelopment of the former Turner Field. – KK
---
Paul Bowers
Chair, President & CEO
Georgia Power
Atlanta
Before heading the largest subsidiary of a leading producer of electricity, Bowers was CFO of Southern Company, where Institutional Investor magazine rated him as one of the industry's top three CFOs. He spent much of 2017 defending the construction of nuclear Plant Vogtle, following cost overruns, construction delays and the bankruptcy of the lead contractor. – MAD
---
Mike Boyce
Chair
Cobb County Board of Commissioners
Marietta
Boyce, a retired Marine colonel, won the 2016 election in part over voter anger at financing of the Atlanta Braves' SunTrust Park. Boyce is committed to ensuring openness and transparency in his office and building consensus for future big development projects, while also trying to resolve the county's looming budget deficits. – RS
---
Karen Bremer
CEO
Georgia Restaurant Association
Atlanta
Whether weighing in on earlier Sunday alcohol sales or against increased liquor licensing fees, Bremer advocates for Georgia's 17,000 restaurants. The organization recently partnered with Snagajob to help meet workforce challenges, and it works with the Department of Agriculture's Georgia Grown program to encourage the use of more local produce in the state's restaurants. – RM
---
Jon Burns
Majority Leader
Georgia House of Representatives
Newington
Burns (R-159) has served in the Georgia House since 2010 and as majority leader since 2015. A resident of rural Effingham County, Burns' committees include Agriculture and Consumer Affairs; Economic Development and Tourism; Game, Fish and Parks; and Transportation. Burns and his sons operate a diversified agribusiness company. – PR
---
Mark Burns
President
Gulfstream Aerospace Corp.
Savannah
Burns, who has spent 32 years at Gulfsteam, has led the company since 2015. The Savannah-based business jet manufacturer known for its high-end, deluxe – and expensive – aircraft, will release its latest model, the $45-million G500, later this year, followed closely by the G600. Burns is also on the Georgia Power Board of Directors. – TWW
---
Carol Burrell
President & CEO
Northeast Georgia Health System
Gainesville
As president and CEO since 2011, Burrell oversees the nonprofit Northeast Georgia Health System (NGHS), which is regularly recognized with top national and state ratings for quality clinical care and has an economic impact of more than $1.5 billion. The system cares for more than 800,000 people through its many outpatient centers and three hospitals. – PR
---
Casey Cagle
Lieutenant Governor
State of Georgia
Chestnut Mountain
When Cagle entered the 2018 race for Georgia governor, polls showed him with a sizable lead over all other contenders. Since becoming the state's first Republican lieutenant governor in 2006, he has made educational choice and the creation of college and career academies across the state a central part of his platform. – RS
---
Chris Carr
Attorney General
State of Georgia
Dunwoody
Carr, appointed AG in 2016, continues to make upholding Georgia's sunshine laws relating to open public meetings and open public records a priority. He was named last year to the Human Trafficking Committee of the National Association of Attorneys General, another focus along with tackling elder abuse. Carr will run for election to the office this year. – KKS
---
Meria Carstarphen
Superintendent
Atlanta Public Schools
Atlanta
Just a year after the Selma, Ala., native accepted the formidable task of turning around the once-failing school system in 2014, the graduation rate increased and more than 25 schools showed academic gains. Additionally some 800 graduates qualified for the inaugural Achieve Atlanta Scholarship. Carstarphen also serves on the board of the Woodruff Arts Center. – MAD
---
C. Michael Cassidy
President & CEO
Georgia Research Alliance
Atlanta
Cassidy leads the nonprofit that boosts the research and commercialization capacity of Georgia's universities. He also co-founded the GRA Venture Fund, which enables university scientists to seed ideas and launch new companies. The program recently marked a milestone, with companies in its portfolio raising over $1 billion in equity investment from venture capital firms and strategic investors. – KKS
---
Dan Cathy
Chair & CEO
Chick-fil-A
Atlanta
With more than 2,000 locations in 45 states and Washington, D.C., Chick-fil-A is the country's largest chicken-based chain. Cathy's unconventional leadership approach emphasizes relationships over transactions. He is also co-owner of Pinewood Atlanta Studios, which opened in 2014 and is now the largest studio complex in the country outside Los Angeles. Up next: the mixed-use Pinewood Forrest next door. – RM
---
Chris Clark
President & CEO
Georgia Chamber of Commerce
Peachtree City
In 2017, Clark oversaw the completion of phase two of the Georgia 2030 economic development initiative, which is designed to involve rural Georgia in economic development and access to healthcare. The Association of Chamber of Commerce Executives named the Georgia Chamber the 2016-2017 State Chamber of Year for its positive impact around the state. – TWW
---
Chris Cohilas
Chair
Dougherty County Commission
Albany
Cohilas' leadership in Dougherty County following the tornadoes in January 2017 brought media attention and federal dollars to help with the recovery there. In addition to serving on the Dougherty County Commission, he is a civil and criminal litigator and a founding member of Lily Pad, an umbrella organization to assist sexual assault and child abuse victims. – EB
---
Gretchen Corbin
President & CEO
Georgia Lottery Corp.
Rome
Former commissioner of the Technical College System of Georgia, Corbin was nominated by Gov. Nathan Deal in late 2017 to head the state's lottery program starting Jan. 1, 2018. Corbin will oversee the programs funded by the 25-year-old lottery, including the HOPE Scholarship and Georgia Pre-K. – KKS
---
Roosevelt Council Jr.
Airport General Manager
Hartsfield-Jackson Atlanta International Airport
Atlanta
After serving as interim GM at Hartsfield-Jackson for seven months, Council dropped the interim from his title in January 2017. His biggest task? Overseeing ATLNext – the ongoing $6-billion capital improvement plan expanding and improving structures at the world's busiest airport while enhancing its aesthetic appeal. – PR
---
Bill Cowsert
Majority Leader
Georgia Senate
Athens
Elected to the Senate in 2006 and majority leader in 2014, Cowsert's District 46 includes portions of Clarke, Oconee and Walton counties. An attorney, Cowsert is vice chair of the Judiciary Committee. Other committee assignments include Appropriations, Reapportionment and Redistricting, and Regulated Industries. A Macon native, Cowsert now lives in Athens. – PR
---
Hardie Davis Jr.
Mayor
Augusta-Richmond County
Augusta
Elected in 2014, Davis' initiatives include several youth programs dedicated to education, reading and internships. His city and county are home to a booming cybersecurity sector that includes tech firms, the Georgia Cyber Innovation and Training Center and nearby Fort Gordon. Previously, Davis served three years in the state House and five years in the state Senate. – TWW
---
Nathan Deal
Governor
State of Georgia
Demorest
As he enters his last year in office, Deal continues to focus on growing the state's economy. It's a push that has attracted numerous new companies, more than 540,000 private-sector jobs during his administration and has seen Georgia named the No. 1 state in which to do business for five years running by Site Selection and Area Development magazines. – RS
---
Eddie DeLoach
Mayor
City of Savannah
Savannah
Since DeLoach's election in late 2015, the city has seen the adoption of a long-range comprehensive strategic plan, the addition of law enforcement officers to the police force and the issuance of a record number of business licenses. DeLoach has also initiated a focused community revitalization program and a summertime youth internship program. – TWW
---
Dietmar Exler
President & CEO
Mercedes-Benz USA
Sandy Springs
Tapped as president and CEO of Mercedes-Benz USA in 2015, Exler is guiding the automotive company's move to the new $93-million, 200,000-square-foot headquarters in Sandy Springs set to open this year. He's tweaking corporate culture, too, with a fresh, focused emphasis on internal brand awareness and better communication. – PR
---
Tom Fanning
Chair, President & CEO
Southern Co.
Atlanta
As leader of Southern Co., Fanning oversaw the opening of the Energy Innovation Center in Atlanta to develop products and services such as electric transportation, home automation and renewables. He also led the 2016 merger with AGL Resources Inc., creating the second-largest utility company in the U.S. serving 9 million customers in nine states. – RS
---
Larry Gellerstedt III
Chair & CEO
Cousins Properties
Atlanta
Since joining Cousins in 2005, Gellerstedt has climbed the ranks while also serving on the boards of many businesses and public and private entities, including Georgia Power and the Robert W. Woodruff Foundation. He was previously president and COO of The Integral Group and chair and CEO of American Business Products. – EB
---
Jerry Gonzalez
Executive Director
Georgia Association of Latino Elected Officials
Atlanta
Through his stewardship of the Georgia Association of Latino Elected Officials (GALEO) and the GALEO Latino Community Development Fund, Gonzalez has led a continuing campaign to engage and give voice to the economic and political aspirations of Georgia's Latino community. These efforts have helped push Latino registered voters from 0.7 percent in 2004 to 2.3 percent in 2016. – RS
---
Steve Gooch
State Senator
District 51
Dahlonega
Since 2010, Gooch, a Republican, has represented the largely rural 51st District – focusing on public schools, job creation, immigration, tax reform and the right to bear arms. In 2014, he was elected majority whip of the Senate Majority Caucus. Despite speculation he would run for lieutenant governor in 2018, he plans instead to seek a fifth Senate term. – MAD
---
W. Todd Groce
President & CEO
Georgia Historical Society
Savannah
Over the past 20 years, the Georgia Historical Society, helmed by Groce since 1994, has grown its annual revenue from $500,000 to over $3 million and increased net assets from $2 million to over $17 million. Annual usage of the collection – some 4 million documents, photos, rare books, artifacts and maps – has increased from about 10,000 researchers two decades ago to more than 60,000. – KKS
---
Karen Handel
U.S. House of Representatives
Roswell
Handel's winning campaign for the 6th District garnered nation-al attention last year and made her the first Republican woman elected to Congress from Georgia. Previously she served as Georgia secretary of state, chair of the Fulton County Commission and as an executive with Susan G. Komen for the Cure. – RS
---
Larry Hanson
Executive Director
Georgia Municipal Association
Valdosta
Hanson served as Valdosta's city manager for 22 years prior to his appointment as executive director of the Georgia Municipal Association (GMA) in 2017, providing him with extraordinary insight into the needs of the GMA membership. The GMA offers legislative advocacy and consulting services to the organization's 500-plus members. – PR
---
John Haupert
President & CEO
Grady Health System
Atlanta
In just over five years, Haupert has helped turn Grady from a $27-million loss to last year posting a $40-million profit. Grady has also solidified its place as one of the nation's top HIV/AIDS outpatient clinics and continues as one of the country's largest safety-net hospitals. Last year, Grady launched a $165-million campaign to expand its facilities. – TWW
---
Jaimie Hebert
President
Georgia Southern University
Statesboro
Hebert was chosen last July to serve as the new president of Georgia Southern not long before the University System of Georgia Board of Regents voted to consolidate the institution with Armstrong State University in Savannah. Armstrong, along with its Liberty Center campus in Hinesville, will become part of GSU this month. – TWW
---
Steve Henson
Minority Leader
Georgia Senate
Tucker
As the Democratic leader in the state Senate, Henson led his party to oppose a 2016 bill on religious freedom, which Gov. Nathan Deal vetoed. Henson was also instrumental in stopping a House bill that would have permitted continuing gerrymandering that he believes would have adversely affected minority voters. – RM
---
P. Harris Hines
Chief Justice
Georgia Supreme Court
Marietta
Hines assumed his elected position last January. As chief justice, he chairs the Judicial Council and has served as chair of the Justice for Children Committee and vice chair of the Georgia Judicial Council. For the past three years he has been a recipient of the Big Voice for Children Award for promoting quality and accessibility in systems for children. – KKS
---
Donna Hyland
President & CEO
Children's Healthcare of Atlanta
Atlanta
During a 30-year career, Hyland has helped shape the delivery of healthcare to children in Georgia, while creating one of the largest pediatric healthcare systems in the country. To meet the demand for quality pediatric care, Children's broke ground last year on a new $1-billion North Druid Hills Campus and is upgrading many of its other facilities. – RS
---
Thomas J. "Tim" Hynes Jr.
President
Clayton State University
Morrow
A leader in higher education for more than two decades, Hynes served as provost and vice president of academic affairs at the University of West Georgia before becoming Clayton State's president in 2010. This year marked the launch of a $12- million comprehensive campaign, designed to ensure more students are financially able to achieve a college degree. – MAD
---
Johnny Isakson
U.S. Senator
Atlanta
Isakson, in his third term, is the first Georgia Republican to chair two Senate committees – Ethics and Veterans' Affairs. Last year he saw his Chronic Care Act, designed to improve care for Medicare patients, unanimously pass the Senate. He has also worked to support veterans by strengthening accountability at the Department of Veterans Affairs. – EB
---
Jan Jones
Speaker Pro Tempore
Georgia House of Representatives
Milton
The top elected Republican female in Georgia, Jones was re-elected to her second term as speaker pro tempore by the House in 2015. Since 2003, she has also represented District 47, where she helped create the city of Milton. She serves on several House committees, including Appropriations, Education and Ethics. – KKS
---
Steve Justice
Executive Director
Georgia Centers of Innovation
Atlanta
Justice, an aerospace engineer, heads the exclusive-to-Georgia center, which provides more than 1,500 businesses each year the industry expertise, collaborative research and partnerships to help them compete and grow globally. Prior to his appointment in 2016, he worked for 30 years in the aerospace and innovation industries, including founding two companies. – MAD
---
Daniel J. Kaufman
President & CEO
Gwinnett Chamber of Commerce
Duluth
As director of one of the largest suburban chambers in the nation since 2013, Kaufman has advocated for responsible growth and improvements in the quality of life for Gwinnett County. He participates on several boards, including the Gwinnett Medical Center Foundation and the Aurora Theater, and was the founding president of Georgia Gwinnett College. – EB
---
Brooks Keel
President, Augusta University
CEO, Augusta University Health System
Augusta
Further aligning higher education with the needs of the exploding cybersecurity industry in the region, Keel championed a new School of Computer and Cyber Sciences. The college opened last July and will move to the 168,000-square-foot Hull-McKnight Georgia Cyber Innovation and Training Center when it's completed later this year. – PR
---
Brian Kemp
Georgia Secretary of State
Athens
As secretary of state, Kemp is responsible for registering corporations, regulating charities and securities, overseeing professional license holders and administering elections. He was instrumental in the development of Georgia's first online voter registration system and led the movement for the 2016 regional presidential primary. – MAD
---
Jim Kennedy
Chair
Cox Enterprises
Atlanta
Under Kennedy's leadership, Cox Enterprises has diversified and grown, increasing annual revenues from $1.8 billion in 1988 to $20 billion. He launched the national Cox Conserves conservation initiative in 2007, and since then more than $100 million has been invested in sustainability and conservation efforts. He also supports organizations including the Marcus Autism Center and the PATH Foundation. – KKS
---
William P. "Bill" Leahy
President
AT&T Georgia & Southeast
Atlanta
Since becoming president in 2015, Leahy has directed the company's legislative, regulatory and external affairs initiatives across nine Southeast states. He spearheaded the AT&T Fiber Ready designation that helps drive economic development in communities around Georgia. The company has also invested $2.8 billion in Metro Atlanta wireless and wired networks during 2014-2016. – RS
---
Craig Lesser
Managing Partner
The Pendleton Group
Sandy Springs
Lesser, who has worked for decades in economic development, received the 2017 Georgia International Awards Lifetime Achievement Award for his work in international business, including his role in bringing Kia to Georgia in 2006. The annual award is presented by the Georgia Department of Economic Development, Atlanta Business Chronicle and World Trade Center Atlanta. – PR
---
Jonathan Lewin
Chair, President & CEO
Emory Healthcare
Atlanta
A pioneer in using MRI to guide surgery, Lewin came to Atlanta from Johns Hopkins in 2016. Now he's focused on guiding ever-growing Emory through the continuing consolidation of healthcare institutions in Georgia while keeping it on top of the medical mountain. U.S. News & World Report consistently ranks Emory Hospital No. 1 in the state. – KS
---
Henry P. "Hank" Linginfelter
Executive Vice President, Distribution Operations
Southern Company Gas
Alpharetta
Linginfelter, who has served as executive vice president of Southern Co. Gas since 2007, led the organization through its 2016 merger with AGL Resources. He has responsibility for the operating functions of seven utilities. Linginfelter is past president of the Georgia Chamber and serves on other boards including the Metro Atlanta Chamber and Jekyll Island Foundation. – KK
---
Griffith Lynch
Executive Director
Georgia Ports Authority
Savannah
Lynch, formerly COO of the Georgia Ports Authority, took the helm as executive director of the nation's fastest-growing ports in 2016. He leads an organization that accounts for more than 369,000 jobs in the state, $84.1 billion in annual revenue and saw the largest container ship ever to call on the U.S. East Coast come to Savannah's port last summer. – TWW
---
Christopher L. Markwood
President
Columbus State University
Columbus
An advocate of collaborative leadership, Markwood has implemented teaching and learning innovations and strengthened the town-gown relationship with events like WinterFest, a community holiday celebration on campus. He is a Georgia Council on Economic Education board member and serves on the University System of Georgia's Comprehensive Administrative Review committee. – EB
---
Kyle Marrero
President
University of West Georgia
Carrollton
Economic impact has increased 22 percent to $564 million since Marrero arrived at UWG five years ago. In addition, UWG conferred a record 2,610 degrees during the 2016-17 academic year. The university is deemed one of the Best Southeastern Colleges by The Princeton Review and one of the nation's best universities by U.S. News & World Report. – KKS
---
Brian McGowan
President & CEO
Atlanta BeltLine
Atlanta
McGowan was named president and CEO of Atlanta BeltLine in 2017, after a career that included stints with Invest Atlanta and the Metro Atlanta Chamber. He takes over at a time when the organization has come under fire for not fulfilling its affordable-housing goals and in the midst of exciting expansion, with the 3-mile Westside Trail opening last September. – RS
---
Rich McKay
President & CEO
The Atlanta Falcons
Atlanta
As president and CEO, McKay was instrumental in the development of the new $1.5-billion Mercedes-Benz Stadium for his team that saw a trip to last year's Super Bowl. The venue itself will be the home to Super Bowl LIII in 2019. He is also chair of the NFL's Competition Committee, which seeks to ensure player safety while promoting competition. – MAD
---
Craig Menear
Chair, President & CEO
The Home Depot
Atlanta
Menear is CEO of one of the country's most recognized brands. With a goal of $101 billion in sales by 2018, Menear has emphasized the online marketplace and reduced the company's emphasis on international expansion and new acquisitions. For the second quarter of 2017, Home Depot sales were $28.1 billion, up 6.2 percent from 2016. – RM
---
Hala Moddelmog
President & CEO
Metro Atlanta Chamber
Atlanta
Moddelmog spent two decades in the private sector before being tapped as the Metro Atlanta Chamber's first female president and CEO in 2014. She serves on numerous boards, including Atlanta-based FleetCor and Idaho-based Lamb Weston. She oversaw last year's move to new digs when MAC's building was demolished to make way for upgrades to Atlanta's Centennial Olympic Park. – MAD
---
Jere W. Morehead
President
University of Georgia
Athens
Morehead has come up through the ranks at UGA and been recognized for teaching excellence. Dedicated to increasing diversity, he spearheaded the Georgia Commitment Scholarship Program to assist students who have financial need. He led UGA to its highest spot, No. 16, in U.S. News and World Report's 2017 rankings of the best U.S. public universities. – EB
---
Jeff Mullis
State Senator
District 53
Chickamauga
Mullis reps his Northwest Georgia district as chair of the powerful Rules Committee. An ally of Lt. Gov. Casey Cagle, Mullis has been a voice on illegal immigration and transportation. As chair of the Music Committee, his support helped win tax incentives for Georgia's music industry – for which he received a shout-out from the Rolling Stones' Chuck Leavell. – KS
---
Charlotte Nash
Chair
Gwinnett County
Board of Commissioners
Dacula
Nash has served as chair since 2011, guiding the county through the worst of the Great Recession. She eliminated a $38 million budget deficit and delivered balanced budgets in the years that followed. She has led efforts to upgrade the county's water and sewage systems and helped make it a magnet for business expansion. – RS
---
Karen Paty
Director
Georgia Council for the Arts
Decatur
Paty leads the division of the Georgia Department of Economic Development dedicated to ensuring access to the arts for all Georgians. The arts employ almost 200,000 and generate nearly $29 billion in annual revenue. The council awards grants to arts organizations around the state – totaling $1 million to 114 organizations for FY 2018. – KK
---
David Perdue
U.S. Senate
St. Simons
Perdue, a Republican, is the only Fortune 500 CEO in Congress. He chastised fellow Republican senators last fall for failing to support efforts to repeal and replace the Affordable Care Act. Championing term limits, he serves on the Armed Services, Banking, Budget and Agriculture committees, emphasizing the need for a long-term plan to tackle the national debt. – KKS
---
Egbert Perry
Chair & CEO
The Integral Group
Atlanta
Perry co-founded Integral in 1993 and is now leading the redevelopment of the 145-acre General Motors site in Doraville. Called the Assembly, this sprawling mixed-use, transit-oriented project includes film studios, offices, retail and housing. Integral is an innovator in urban revitalization, with a commitment to creating environmentally, socially and economically sustainable communities. – RS
---
G.P. "Bud" Peterson
President
Georgia Institute of Technology
Atlanta
Peterson has overseen the top-10 public university with research expenditures of more than $730 million, since 2009. During his tenure, Georgia Tech has grown by every measure possible, including enrollment, infrastructure and strategic partnerships. A distinguished scientist, he serves on numerous task forces and committees, including NASA and the National Academy of Engineering. – EB
---
Jay Powell
State Representative
District 171
Camilla
First elected in 2008, Powell chairs the tax-writing House Ways and Means Committee. He represents Mitchell County and parts of Decatur and Colquitt counties. Powell is an ex-officio of the Appropriations Committee and serves on the Rules, Judiciary, Governmental Affairs and MARTOC (MARTA oversight) committees. Before running for the house, Powell was Camilla's mayor. – RM
---
James Quincey
President & CEO
The Coca-Cola Co.
Atlanta
Before becoming CEO in 2017, Quincey managed Coke's operating units around the world as president and COO. He oversaw the acquisition of London-based smoothie maker innocent in 2013. In 2017, the company launched Coca-Cola Zero Sugar, a diet drink created to taste more like regular Coke, in the U.S. – RS
---
David Ralston
Speaker
Georgia House of Representatives
Blue Ridge
Ralston has served in the State House since 2003 and as House speaker since 2010. Last summer, he created a commission to figure out how to integrate mass transit into Georgia's future. This session he's expected to again rally for passage of HB 159 to overhaul the state's adoption laws. – KKS
---
Robert Ramsay
President
Georgia Conservancy
Athens
Ramsay has led the statewide, member-supported conservation organization since 2014. The conservancy fought last year to protect Cumberland Island and supported local ballot initiatives to put public money into conservation and greenspace in communities around the state. The organization moved in 2016 from Midtown to Downtown Atlanta to put it closer to partners and the State Capitol. – RS
---
Chuck Reece
Editor-in-Chief
The Bitter Southerner
Atlanta
Former press secretary for Gov. Zell Miller, Reece launched The Bitter Southerner in 2013 as a hobby. Today the progressive web-only magazine for "Southern people who do cool things, smart things, things that change the whole world, or just a few minds at a time" has a cult following and more than 100,000 visitors monthly. – MAD
---
Robert Reichert
Mayor
Macon-Bibb County
Macon
Reichert was reelected mayor of the consolidated Macon-Bibb County for his second term in 2016. Macon's business community has grown under his tenure, including Amazon's announcement last year of a new distribution center with 500 employees, a focus on the historic downtown and the implementation of the city's Forward Together strategic plan. – TWW
---
Valerie Montgomery Rice
President & Dean
Morehouse School of Medicine
Atlanta
A recipient of the national 2017 Horatio Alger Award, Rice is the first woman to lead the free-standing medical school. Formerly an infertility specialist and researcher, she led the school's vision for growth, officially welcoming 178 new first-year students last fall, the largest class in the school's history. – KKS
---
Earl V. Rogers
President & CEO
Georgia Hospital Association
Marietta
Rogers leads the GHA, an advocate for hospitals that works to help keep individuals and communities healthy. Every day, the GHA addresses the challenges associated with the increasing financial strain on its more than 170 member hospitals, due in large part to growth in uncompensated care. Before leading the GHA, Rogers held roles with Georgia Power. – EB
---
William "Bill" Rogers Jr.
Chair & CEO
SunTrust Banks Inc.
Atlanta
Since accepting the CEO post in 2013, Rogers has led a transformation of one of the nation's largest financial services companies, serving 4.8 million households and business clients. Under his leadership, SunTrust delivered total revenue of $2.3 billion in third quarter 2017, an increase of $47 million over the previous quarter. – MAD
---
Michael Russell
CEO
H.J. Russell & Co.
Atlanta
Since 2003, Russell has led one of the largest minority-owned real estate development and construction services firms in the U.S., with projects ranging from affordable housing developments to Mercedes-Benz Stadium to Hartsfield-Jackson Atlanta International Airport concessions. In 2017, the company created the Russell Center for Innovation & Entrepreneurship in Atlanta to support emerging entrepreneurs. – TWW
---
Candice Saunders
President & CEO
WellStar Health System
Atlanta
From her start as a critical care nurse, Saunders now runs Metro Atlanta's largest healthcare system of 20,000 employees, 11 hospitals and 225 other healthcare facilities, thanks to a 2016 purchase of five Tenet hospitals. Her innovative programs have landed WellStar among Fortune's 100 Best Companies to Work For and Working Mother's 100 Best Companies. – RM
---
Doug Shipman
President & CEO
Woodruff Arts Center
Atlanta
Shipman joined Woodruff, the third largest arts organization in the country, in July. He was previously the founding CEO of Atlanta's National Center for Civil and Human Rights. In his new role, he oversees the Alliance Theatre, the High Museum of Art and the Atlanta Symphony Orchestra. One of his goals is that the organization, which turns 50 this year, will be a catalyst for growing the region's larger creative community. – CS
---
George Shultz
VP & General Manager
Air Mobility & Maritime Missions
Marietta Site General Manager
Lockheed Martin
Marietta
Shultz comes to his position with vast experience in airplane systems design, development, flight testing, manufacturing and sustainment. Today, he oversees the C-130 program, aircraft modernization programs and the Marietta facility. This year, the company will open the Hercules Training Center, to train pilots and crew for the C-130J airlifter and LM-100J commercial freighter. – KKS
---
Nathaniel Smith
Founder & Chief Equity Officer
Partnership for Southern Equity
Atlanta
A child of Civil Rights Movement activists, Smith had a long history of social justice advocacy before founding the Atlanta-based nonprofit that seeks to promote racial equity and shared prosperity in Metro Atlanta and across the South. The partnership was recently awarded a $1 million grant from the MacArthur Foundation to support its work empowering vulnerable populations and communities of color most affected by climate change. – MAD
---
Jeff Sprecher
Chair & CEO, Intercontinental Exchange
Chair, New York Stock Exchange
Atlanta
The owner of the New York Stock Exchange has increased its footprint and broadened its revenue base through acquisitions. Sprecher served as Metro Atlanta Chamber board chair in 2017 and sits on several Atlanta-area boards, including the Buckhead Coalition, the Commerce Club and the Atlanta Committee for Progress. – RS
---
Kessel Stelling
Chair & CEO
Synovus
Columbus
Under Stelling, Synovus, a $30-billion asset bank, reported profits of $95.4 million in October 2017, thanks in large part to the company's role in the mega-merger between Cabela's and Bass Pro Shops. In 2017, Synovus was recognized as the Most Reputable Bank in the U.S. by American Banker and the Reputation Institute. – TWW
---
Claire E. Sterk
President
Emory University
Atlanta
Sterk joined the Emory faculty in 1995, teaching in the Rollins School of Public Health. A renowned researcher and author in the field of public health, she served as both provost and executive vice president for academic affairs before being named Emory's 20th president in 2016. This year, Emory's request to be annexed into the city of Atlanta was granted. – PR
---
Stephanie Stuckey
Chief Resilience Officer
City of Atlanta
Atlanta
Stuckey leads the Atlanta Mayor's Office of Resilience after the city was selected in 2016 as one of 100 Resilient Cities – a program pioneered by the Rockefeller Foundation. The focus is on crafting strategies to prevent and adapt the city to events including extreme climate, terrorist threats, income inequality and aging infrastructure. – RS
---
Lee Thomas
Deputy Commissioner
Georgia Film, Music and Digital Entertainment Office
Atlanta
Thanks to generous tax credits and the work of Thomas and her staff, Georgia now ranks No. 1 in the world for film production. In 2017, more than 300 movies and TV shows filmed here, making a $9.5-billion economic impact on the state. Georgia also boasts more than 300 recording studios and is home to several digital entertainment giants, including Turner and Cox Communications. – KKS
---
Michael L. Thurmond
CEO
DeKalb County
Decatur
The former three-term Georgia labor commissioner and interim superintendent of the DeKalb County School District won election as CEO in 2016. He is credited with stabilizing the DeKalb school system during a governance crisis. Since becoming CEO of DeKalb County, Thurmond's focus has been restoring trust in the county government. – RS
---
Trip Tollison
President & CEO
Savannah Economic Development Authority
Savannah
Warehousing, distribution and logistics have taken off in Savannah as the ports expand and exports and imports grow. As the home of Gulfstream, among others, the city's manufacturing sector is booming as well. Tollison spearheads efforts to engage with business leaders and land these and other projects that create jobs and diversify the Savannah – and regional – economy. – PR
---
Chris Tomlinson
Executive Director
State Road and Tollway Authority
Georgia Regional Transportation Authority
Loganville
Tomlinson oversees SRTA, the state's toll operator and transportation bond financing authority, and GRTA, which helps address transportation mobility and air quality issues in Metro Atlanta. His appointment to a search committee for a new MARTA director marks the first time a state employee has participated in that process. – RM
---
Teresa Tomlinson
Mayor
Columbus-Muscogee County
Columbus
Tomlinson has been an innovator in Columbus leading initiatives including a plan for high-speed passenger rail from Columbus to Hartsfield-Jackson Atlanta International Airport. Her Save-A-Pet program lowered the city's euthanasia rate from 80 percent to 20 percent and was recognized as a 2017 Bright Ideas in Government by Harvard University. – TWW
---
Robert "Bob" Trammell Jr.
Minority Leader
Georgia House of Representatives
Luthersville
A lawyer practicing in the Trammell Firm, which he founded in 2003 and established in what was once his grandparent's home, Trammell was elected to the Georgia Senate from District 132 in 2015. Last July, the Democrat was elected House minority leader, replacing Stacey Abrams of Atlanta who is running for governor. – MAD
---
William D. Underwood
President
Mercer University
Macon
During Underwood's watch, Mercer has increased enrollment by 22 percent, added several Ph.D. programs and launched two additional medical school campuses in Savannah and Columbus over the past 12 years. In addition, the College Hill Corridor initiative – revitalization of a two-mile area between Mercer's Macon campus and downtown – has leveraged more than $200 million in public-private investment. – KKS
---
Wendell Willard
State Representative
District 51
Sandy Springs
Attorney Willard is chair of the Judiciary Committee and a member of the Appropriations, Ways & Means, Rules and Ethics committees. His accomplishments include the complete rewriting of the Georgia Evidence Code in 2011 and sponsoring the Juvenile Justice Reform Act in 2013. This year, he'll work to get approval for the adoption bill he co-sponsored last year. – TWW
---
Pat Wilson
Commissioner
Georgia Department of Economic Development
Sandy Springs
Appointed commissioner in 2016, Wilson leads the state agency charged with job and investment creation, business recruitment and expansion. In short, all of the things that continue to make Georgia the No. 1 state in the nation in which to do business. Before his rise to commissioner, he served as COO of the agency. – RS
---
Richard Woods
School Superintendent
State of Georgia
Tifton
A 22-year veteran of education, Woods worked to reduce high-stakes testing through the passage of SB 364, which lowers the importance of testing on teacher evaluations. He has also focused on putting what he calls the heart back into teaching while promoting literacy among the very young and increased fine arts opportunities for students. – RS
---
Steve Wrigley
Chancellor
University System of Georgia
Atlanta
As the University System of Georgia's 13th chancellor, Wrigley oversees 28 public colleges and universities with an annual budget of $8.8 billion for FY18, more than 48,000 faculty and staff and 320,000 students. He also serves on the Alliance of Education Agency Heads and is a member of the board of the Georgia Wildlife Federation. – MAD
---
Klaus Zellmer
President & CEO
Porsche Cars North America Inc.
Atlanta
Zellmer heads operations at Porsche's North American headquarters as well as two Porsche Experience Centers in Atlanta and Los Angeles. Porsche's move to the Aerotropolis Atlanta development has spurred more economic investment, including a new hotel. Zellmer recently introduced a redesigned Cayenne SUV and Mission E, an all-electric sports car. – PR