Georgia Fare: Bacchanalia
The Ghost of Christmas Present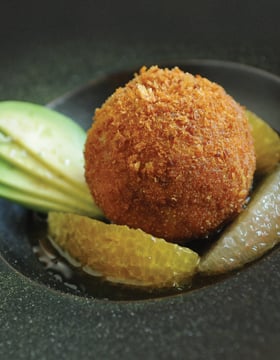 Oh, that crab fritter, Bacchanalia's signature, long-standing first course. Beautiful, refined, balanced with sweet, crunchy crab and tart cool grapefruit, in a pool of creamy Thai-peppered wonderment.
Having it is like being visited by all three ghosts from A Christmas Carol at the same time: It represents the best of Georgia's dining scene, past, present and future. The next courses – an amuse bouche of turnip greens and smoked trout in cream; "Florida hoppers" (large head-on shrimp) with local onions and chanterelles; a pain au chocolat with bourbon milk – tell this restaurant's story of patience, perseverance and progress. It's a tale of ambitious technique and easily accessible appreciation, of both comfort and conscience.
After its most recent move, and almost 25 years, Bacchanalia is not only still standing, it's still charting its own course. In the '90s, when "Annie and Cliff," as the chef/owners are often called, were cooking in their restaurant's first home on Piedmont Road, the big names were Pano and Paul and Günther and Joël. Among those four, only one is still in Atlanta, and still a presence on the scene (although his son, Pano Karatassos Jr., now has a higher profile).
In fact, Clifford Harrison and Anne Quatrano, who won the 2003 James Beard "Best Chef/Southeast" award, have outlasted and outperformed their competitors to place Bacchanalia firmly at the forefront of the state's best fine dining restaurants, year after year, for more than two decades.
Earlier this year, Bacchanalia moved to an Ellsworth Industrial Boulevard spot just down the road from the restaurant's previous locale, the Westside Provisions hub that anchored it for 17 years. The new site is both familiar and different from the Westside spot, where the restaurant earned most of its accolades – smaller and more intimate, but retaining an industrial feel. (Big windows reveal an expanse of green and a stand of trees, but also a large Daltile plant and lumberyard in the far distance.)
A macramé-like textile separates the dining room from private spaces, much like curtains encircled a private dining area in the former spot; Quatrano's sister, Frances, still manages the dining room. The waitstaff hustles about in mandarin-collared jackets.
The crab fritter has been on the menu for as long as I can remember – but the rest of the menu feels new. At night, the Edison-style bulbs hanging from the ceiling reflect in the windows and appear to hang in the stand of trees outside, like Christmas lights.
Thankfully, the old ethos has also arrived intact: Quatrano and Harrison were farm-to-table before it was cool, championing local farmers and their wares and coaxing humble carrots, Vidalia onions and local shrimp into sophisticated dishes. Bacchanalia sourcing often originates at Summerland Farm, Quatrano's family home in North Georgia that she and Harrison now own.
The little creamy turnip amuse bouche is one of many daily inventions, but it feels like it belongs here – deeply delicious, unwaveringly Southern but also brand-new under the sun. The "Local Sweet Corn" on the menu, for example, turns out to be fat, end-of-summer kernels with a crust-capped corn pudding, a generous dollop of paddlefish caviar and flecks of dill, parsley and hot peppers.
While past visits at the old locations have been marred by rowdy dining neighbors, weird seating and other apparent anomalies, my last two visits to the new location were seamlessly enjoyable and marked by exceptional, friendly and knowledgeable service.
The feeling in this smaller room is more of an appreciation society than a democratic one, and it seems Bacchanalia is determined to be what it wants to be, which is more focused and concentrated, rather than everything to everyone – even as defined by their last, great incarnation.
I do have a few quibbles with Bacchanalia, which has not always been my favorite restaurant although I've always recognized its greatness. It's hard not to notice the cost involved – our dinner for two topped $300 once we added cocktails, bottled water and wine. (Prix fixe for three courses is $190 for two.) But you won't want to miss any of these either.
If, however, you'd like to eat here more often, do not overlook the inventive, one-of-a-kind seafood tower, which we ordered on our second visit. For two people, and at $75, it's a comparatively affordable alternative and provides the same kind of journey a three-course meal here does – if a briefer, punchier one.
This is not the typical seafood tower, but closer to a Southern-style omakase tasting menu. On our visit, four raw kumamoto oysters surround steelhead trout belly tartare, flecked with microgreens with house-cured trout roe on the side. On a second tray, those big Florida hoppers turned up in shrimp "cocktail," in a thin, sweeter sauce, surrounded by conch-shaped dishes offering up luscious hunks of buttery crab and lobster (no cracking or shelling here), in fully thought-out dishes, seasoned and dotted with herbs, or in precise cubes of raw rainbow trout crudo.
There is much more to tell – the wine list, the cocktails, the cheese tray, the caviar service. As much as Bacchanalia costs, it offers even more. Like Dickens' Ghost of Christmas Present, Bacchanalia tells us to appreciate what we have right now, and to share it.
---
Bacchanalia
Address: 1460 Ellsworth Industrial Boulevard, Atlanta
404.365.0410 ext. 2 or starprovisions.com/bacchanalia
Hours: Dinner, Mondays-Saturdays
Parking: Plentiful parking in attached lot
Dress Code: Anything from Young Creative (stylish jeans and sneakers) to C-Suite Senior (suit, great shoes)
---
Speaking of Seafood Towers …
Bracing, chilled seafood is always correct during the holidays, especially on New Year's Eve. Here are a few places to sample a classic tower.
Atlanta Fish Market
Atlanta
Pano's stalwart is still going strong, with impeccably sourced shellfish and finned fare. The tower for two is $42 and includes lobster, oysters, clams, shrimp and ceviche.
buckheadrestaurants.com/restaurant/atlanta-fish-market
---
Olde Pink House
Savannah
A two-tiered masterwork of crab, lobster, shrimp, oysters and more. $120. (Smaller version also available for $90.)
plantersinnsavannah.com/olde-pink-house-restaurant
---
Corsair
Jekyll Island
The Jekyll Island Club's newest restaurant includes a $60 "assorted tower" among its raw bar selections of shrimp, lobster, Sapelo clams and more.