All for One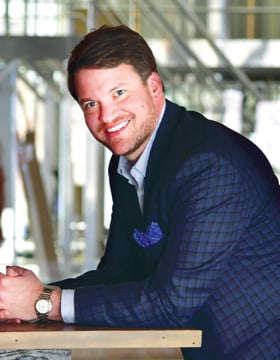 The optimism is unmistakable across the Southwest Georgia region, where widespread reports of existing industry expansion and a high volume of prospect activity in retail, commercial, distribution and manufacturing have economic developers feeling bullish.
And while it's often a hurry-up-and-wait process, with announcements being necessarily withheld until the ink has dried on the agreement, it appears the region is definitely on the radar for new business more often these days.
Albany's Proctor & Gamble (P&G) announced in early September it would hire 30 additional technicians, bringing the total new jobs to 70 for 2017, sparked by increased demand for their paper products, says Justin Strickland, president of the Albany-Dougherty Economic Development Commission.
At the P&G facility, a 50-MW biomass plant came online that will provide 100 percent of the energy needed to manufacture Bounty paper towels and Charmin toilet tissue. The biomass plant is the result of a public-private collaboration and will also serve Albany's Marine Corps Logistics Base (MCLB) with a steam-to-energy generator that will allow the base to achieve net zero status, meaning it will generate the amount of energy it consumes. Once complete, it will be the Department of the Navy's first net zero energy installation.
"There are a lot of things going on at P&G that solidify its foundation in Albany for years to come. The same with [MCLB Albany], which has looked at the [January] storm damage as an opportunity to build more modern facilities," says Strickland, referring to tornados that ripped through the base's industrial area almost a year ago and severely damaged several buildings. He says the county is working with MCLB Albany on a base of the future project launched by the Marine Corps Installations Command. The goal is to design a base using MCLB Albany as a model for how 21st century bases will be designed in the future. The city and the Marine Corps are engaging in discussions about how they "can work together to improve efficiencies, to share resources and to grow the mission of the base," he says.
Dougherty County also continues to grow its workforce development efforts, including the opening this fall of the Commodore Conyers College and Career Academy with 400 9th and 10th graders enrolled in the inaugural year.
"You can walk in the building, and the excitement there is palpable," says Strickland, adding that the energy and leadership from new school system superintendent Kenneth Dyer is encouraging.
Spring 2018 will see Albany as host of the GeorgiaForward Young Gamechangers leadership program, with one-third of participants from greater Georgia, a third from Metro Atlanta and a third from Albany. Participants will address issues the community faces, figure out which ones they can help solve and then present solutions.
"It's a younger generation looking at ways to help a community grow," says Strickland. "It's a great opportunity for us to look for input from 25- to 40-year-olds. That's the target that we need to be focused on in Albany and Dougherty County, bringing in people who could potentially move to Albany to create a business or work for a business and ask them what they expect out of a community like Albany. What do they want to see? What would help them want to move here or open a business here? It will provide a basis for some good initiatives the community can wrap its arms around going forward."
---
Healthy and Growing
Over the summer, short-line railroad holding company Genesee & Wyoming Inc. purchased Atlantic Western Transportation Inc., parent company of Heart of Georgia Railroad Inc., for an undisclosed sum. The 219-mile Heart of Georgia serves Crisp County's inland intermodal terminal with direct rail to the Port of Savannah for auto, agricultural products and other merchandise customers.
Also in Crisp County, Cordele-based Marvair, manufacturer of wall-mount HVAC systems, earlier this year acquired Eubank Wallmount, adding 10 to 15 jobs at their Crisp County facility. Outside of that "it's just good, steady growth," says Grant Buckley, executive director of the Cordele-Crisp County Industrial Development Council.
On the workforce development front, Crisp launched a local branch of the state's Great Promise Partnership program, connecting at-risk youth with local industry for paid, on-the-job work experience while they continue their education.
"We're starting out small because you have to work out the kinks," says Buckley, noting that Marvair, chemical manufacturer Helena Industries and the local housing authority are currently participating. "It's interesting seeing some of the stories you get back from the kids, who are tickled to death to have their first paycheck ever and be able to help their families, to the employers just eating it up because they know they're helping these kids get a start in life."
Rick McCaskill, executive director of the Development Authority of Bainbridge and Decatur County, says nearly every industry in the county has expanded in the last year. "Everything is healthy and we're growing, so that's good," he says.
A major expansion continues at Decatur County's Danimer Scientific, manufacturers of a non-petroleum-based plastic used for various packaging purposes. In addition to a recently completed $6-million expansion that added 16 positions, the company is working on a $100-million, 30- to 40-job project in partnership with global food and beverage company PepsiCo Inc. slated for completion in 2020. Danimer Scientific is developing biodegradable film resins that will meet PepsiCo's flexible packaging requirements.
In addition, Bainbridge Manufacturing, an automobile air conditioning parts manufacturer, is preparing to launch production after a long "gearing up" period.
"Their beginning to be operational is a big deal for us," says McCaskill of the $15-million-plus project that will bring 100 jobs by year's end. In addition, Harrell Ag Products will soon manufacture semi-trailers for peanuts in Decatur County, adding 20 jobs.
Decatur County remains a player in the solar energy business and is trying to bring more solar projects to the area, but recent efforts have been stalled. "Some got put in a holding position because the Trump Administration is talking about not letting them import solar panels," says McCaskill, "so all of a sudden there's some uncertainty about whether they'll be able to get panels and at what price they'll be able to get panels. It's kind of put some of these projects on hold."
Seminole and Miller counties are home to a blossoming industry that may surprise Georgia residents. A new olive-growing venture is being touted as "the largest olive grove east of the Rocky Mountains," says Karen Kimbrel, president of the Donalsonville-Seminole County Chamber of Commerce. Two years ago, French company Cook Redlands Corp. planted olive trees on 3,500 acres in Miller and 2,000 acres in Seminole. While it typically takes three to four years for the trees to produce a first harvest, the company is busy planning construction of an olive pressing plant that will initially employ 30 people, says Kimbrel.
Cook Redlands has yet to announce which county will be home to the plant, but it will be a boost to the area either way. "It's big business to us," says Kimbrel of the overall project. "For these two counties, it's going to be a big deal for us." There are also plans for an agritourism piece, including a welcome center, highlighting the olive groves, she says. The company hopes to break ground on the pressing plant the first of the year.
---
Significant Additions
Straddling I-75, Tift County continues to thrive, says Brian Marlowe, president and CEO of the Tifton-Tift County Chamber of Commerce and executive director of the Tift Development Authority. "All of our local industries seem to be adding jobs and investing in equipment," he says. In addition, a new hotel and a couple of new restaurants, including Panera Bread, are coming to town.
American Textile Company's manufacturing and distribution facilities will be operational in Tift County by the end of the year, the result of an investment of more than $20 million that will bring its total workforce to nearly 500 in the county, says Marlowe.
The project is an expansion of its North American distribution facility that moved from Pennsylvania to Tift County in 2012, he adds.
Piedmont National completed its $2-million facility in late summer, adding 30 jobs in its cardboard packing distribution facility. Piedmont, in turn, prompted the relocation of its cardboard manufacturer, International Paper Converters, to Tifton. That company will employ 25 people.
Next door to Piedmont National, Tire Distributors of Georgia, which has its headquarters in Macon, is constructing a 60,000-square-foot distribution facility, making a $3-million investment in Tift County and bringing 25 jobs. "They'll be able to serve the North Florida, Albany and Waycross markets more easily with a facility here," says Marlowe.
Close to completion is Air Evac, an air ambulance service, which partnered with the development authority to construct a facility and a helipad in Tift County, adding 15 jobs. The county invested about $1 million in the project. "That's probably not a normal development authority project, but we saw value for the community," Marlowe says. "Seconds, when you're in need, can mean life or death."
Just down I-75, Lowndes County also reports a busy year. Martin's Famous Pastry Shoppe, which began operations in Valdosta in 2008, announced a multimillion-dollar expansion in October that will add another line, increase its facility size by more than 100,000 square feet and add 36 jobs, says Andrea Schruijer, executive director of the Valdosta-Lowndes County Development Authority. Its products include potato rolls and a number of pastry and bread products. In addition to distribution across the eastern half of the United States, Martin's is also available in 11 countries worldwide.
"Overall, in our existing industries, from January until now we've had several expansions, some of them really small and some significant," says Schruijer.
These expansions included high-end metal fabricator Hunt Industries, which invested $5 million and added 30 jobs.
"A lot of the jobs they're creating are over our average wage and are highly skilled welding positions," she says, noting that finding qualified welders was a challenge for the company.
A partnership was formed between the welding department at Wiregrass Georgia Technical College and Hunt's welding supervisor, who told them exactly what he needed. Wiregrass modified their program to meet Hunt's needs. "It's working out really well, and they're getting a lot more of their employees from Wiregrass," says Schruijer.
---
Regional Partnership
Strength in numbers is the philosophy behind Locate South Georgia, a regional economic development initiative formed to attract new business and industry to the area. The group last year partnered with the Georgia Chamber of Commerce and the University of Georgia's J.W. Fanning Institute for Leadership Development to launch Locate South GeorgiaLEADS, with the goal of developing new leaders for region.
The program's inaugural class graduated in the spring. The second class began in August with 33 participants from 21 counties, says Strickland of the Albany-Dougherty EDC and chair of Locate South Georgia, regarding the eight-month program.
"These will be the people who run for office, who will be on development authority boards, be on chamber of commerce boards, who volunteer for different government boards – just people who are going to be involved in their communities," he says. "The focus is to show members of the class how important economic development is and how their local chambers and economic development leaders need good volunteers who are going to work alongside them to help encourage economic growth and vitality."
Locate South Georgia recently partnered with the Georgia Chamber via the chamber's first regional office outside of Atlanta. The Tifton office opened in May and will provide some staffing services for Locate South Georgia, furthering the partnership between the two groups.
The chamber also recently connected Locate South Georgia to a branding agency to redevelop the organization's website, solidify the brand and help market the group outside the region, says Strickland.
Colquitt County has four projects on the verge of announcement, says Darrell Moore, president of the Moultrie-Colquitt County Development Author- ity, including an incubator project the county has been working toward for some time.
"Locally, the economy is strong. Our sales tax collections are up about 8.5 percent year-over-year from last year, so the retail sector is doing real well. Existing industry is doing well. Our labor force continues to grow, and our unemployment rate is lower," Moore says, adding that a couple of industries are also planning to announce expansions by the end of the year.
Several years ago Colquitt County created a branch of the Columbus SCORE (Service Corporation of Retired Executives) Chapter, a program for mentoring small businesses. Moultrie is now in line to become its own chapter, having mentored about 150 small businesses throughout the region, including North Florida, says Moore.
---
Hometown Healthcare
In Cook County, officials voted to help fund a new $35-million hospital to replace the aging Cook Medical Center, which is operated by Tift Regional Health System. The new hospital will have three ambulatory surgery center suites, 20 inpatient beds and a 95-bed nursing home. What it won't have is an emergency room, a decision that caused much debate among elected officials and citizens.
But, it's a move that hospital CEO Michael Purvis says represents the hospital of the future – one centered around a convenient care facility rather than an ER. HomeTown Health, an organization of more than 70 rural and small hospitals in the southeast, recognized Purvis with its 2017 Hospital Leader of the Year Award for his vision and determination in establishing the new hospital.
Lee County continues plans to construct a 60-bed full-service, acute care hospital, including an emergency room, on about 20 acres of a defunct 150-acre golf course site the county owns. It hopes to attract commercial development and medical-related businesses to the remainder of the acreage, says Winston Oxford, executive director of the Lee County Chamber and Development Authority.
The county has applied to the state for a certificate of need (CON), which Oxford expected to receive in November. If approved, the hospital would break ground in early 2018, with completion projected 16 to 18 months later. The hospital would bring 325 to 350 "well-paying jobs," to the county, he says.
Across the county line, Dougherty County commissioners in August voted to oppose the Lee County hospital project and to send a letter to the state Department of Community Health asking them to deny the CON application. Commissioners are concerned a new hospital so close to Albany, where the 450-bed Phoebe Putney Memorial Hospital is located, will be detrimental to the healthcare system in the area.
"After receiving notice of the proposed project, Dougherty County invited Lee County to jointly commission a neutral study on many of the complex issues associated with this proposal, such as impact, indigent care and financial feasibility," says Dougherty County Commission Chair Chris Cohilas. "Unfortunately, that offer was not accepted, so Dougherty County must move forward independent of Lee County with significant due diligence."
Woodgrain Millwork in Lee County, a manufacturer of molding, doors and windows, recently expanded, says Oxford. The company added 40,000 square feet and an additional line to handle the demand for a composite molding for which it holds the patent and which is distributed exclusively by The Home Depot. The expansion added more than 40 jobs, bringing total employment up to about 230.
Hoping to fill the last 12 acres in Oakland Meadows Industrial Park, Oxford has a specialty farm implement manufacturing prospect taking a serious look. Preliminary plans are to build a 65,000-square-foot facility and hire 20 to 24 employees. The company would eventually consolidate two existing facilities with about 65 employees into the Lee County location, says Oxford, bringing the total at that point to 85 to 90 employees.
All in all, it appears Southwest Georgia will close 2017 on a high note, despite the devastation of January's tornadoes and the effects of tropical storm Irma in September. Overall strength in new and existing industry, continued job creation and diversity in offerings will carry the region well into the new year.