2017 Deals of the Year
Two international companies have the potential to transform their communities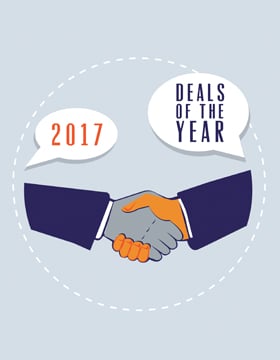 International companies are in the spotlight in Georgia on an almost daily basis as more and more of them move headquarters or manufacturing facilities into the state. This year, two of those companies have been recognized by the Georgia Economic Developers Association (GEDA) with Deal of the Year Awards. GEDA annually honors projects that have moved into or expanded within the state and have demonstrated outstanding economic development potential and community support.
The Deal of the Year Awards, first established in 2007, are culled from hundreds of nominations submitted by GEDA members. This year, the awards are presented in two categories: small community (population of 50,000 and under) and large community (population of more than 100,000), and both awards recognize international companies that have been transformational in their counties. They are French natural ingredient provider Diana Food in Banks County and Germany's adidas footwear manufacturer in Cherokee County.
"[They] are really extraordinary in their own way," GEDA President Kevin Shea says about the award-winning projects. However, he adds, they also speak to larger trends and forces at work in Georgia.
Tom Croteau, deputy commissioner of global commerce for the Georgia Department of Economic Development (GDEcD), says the foreign investment this year's winning deals represent "is not a big surprise to us, but I think it speaks to how international companies are affecting economic development in all of Georgia." Plus, the deals illustrate how these investments are occurring well beyond Atlanta.
Since Georgia opened its first international offices in the 1970s, the state's relationships abroad have steadily risen. Today, Georgia has 12 offices in 11 countries. Of FY 2017's 377 total deals, 86 were foreign projects with about $1.6 billion in new investments, creating more than 6,000 jobs.
Georgia's business-friendly environment, low cost of energy, competitive workforce, low unionization and the logistical advantages of Hartsfield-Jackson Atlanta International Airport, the ports and interstates are among the many factors attracting global companies, with no signs of slowing.
It all "bodes well for Georgia to continue to grow from international companies," Croteau says.
---
Unprecedented Investment
When asked about the significance of Diana Food's $50-million investment in Banks County, Scott Ledford, chair of the Development Authority of Banks County, calls it "unprecedented. There's nothing that has even remotely come close to this," he says. "It's the single largest private investment in the community with one stroke of a pen."
"It's very arguable that this is the greatest thing that has ever occurred in Banks County, Georgia," adds Brad Day, director of major projects at the development authority, "and it's a privilege to be a part of it."
The county of about 18,000 did not even have an economic development strategy until 2011, when they brought in Day.
Meanwhile, Diana Food was looking to locate a poultry manufacturing, food processing and research and development facility somewhere in the U.S.
Diana Food President Yannick Riou explains that since poultry products cannot be imported into the U.S., the company was "missing, then, a great opportunity to be present on this market." The 90,000-square-foot facility in the Banks Crossing Business Park will employ more than 80 people and source high-quality, organic, antibiotic-free raw chicken material to produce chicken fats, broths and other clean label ingredients – those without artificial colors, flavors or preservatives – for use in products like soups, broths and ready meals.
Day says being in Northeast Georgia's poultry country was crucial, and the industrial park's proximity to I-85 and its nearby hotels and restaurants are important amenities as well.
The project also represents a first-time collaboration with Banks County's neighbor, the city of Commerce just down the road in Jackson County, which played an important role in getting water and sewer lines set up under the brand new industrial park.
"From the very beginning, Commerce has been a great infrastructure partner," says Day. "I believe our leadership understands that our futures are linked."
"It takes everybody to do it," says Ledford of the project. "Success is leadership across the board."
Though the factory will not begin production until early 2019, "we already feel at home in Banks and Georgia," Riou says.
Ultimately, the Georgians Riou's team met throughout the process helped finalize the decision, he says. To him, their values aligned with his company's. "Banks is a small and rural community, close to its land, which is something we love at Diana Food," he says. "For us, it all starts in the fields, and this is what ensures the quality of our ingredients."
---
Innovating for Speed
Before Misti Martin realized that one of Cherokee County's prospective investors was adidas, the president of the Cherokee Office of Economic Development says she knew the company would be a good fit.
"We really connected with the company and what they communicated they were wanting to build," she says. "They were very committed to sustainability and talked about the whole live/work/play concept."
These are areas that Cherokee County has been a leader in for years. The county was recognized by the Atlanta Regional Commission as a Green Community back in 2010, and its revitalized Woodstock offers downtown living within walking distance of trails, restaurants, parks and shops.
German-based adidas built a 74,000-square-foot facility in the Cherokee 75 Corporate Park along Highway 92 near Acworth. Using leading-edge manufacturing technologies like robotics, the new plant allows adidas to respond faster to consumer demands by shortening its supply chain. Like the original facility in Germany, this plant is called SPEEDFACTORY, which refers to being able to make products for faster delivery to consumers.
Highly automated factories like adidas' are "the wave of the future," GEDA's Shea says. "Relatively speaking, it's not that many jobs, but they're all very significant jobs."
Martin says she's very happy to have a "household brand" in Cherokee, particularly considering how its jobs could inspire the region's young people.
"Their commitment to innovation, and the technology that's being developed and installed at this facility, we feel is really going to connect."
Beyond the manufacturing technology, she says, "think about what it could mean to a kid who is interested in mechatronics or robotics or wants to see how these manufacturers use 3-D printing. I feel like it's really going to inspire kids to be in these STEM-related fields."
---
Distinguished Leaders
In addition to the Deal of the Year Awards, GEDA honored two individuals who are heavily involved in the Douglas-Coffee County Economic Development Authority.
JoAnne Lewis, the recently retired Coffee County Chamber of Commerce president and Economic Development Authority executive director, received the Rip Wiley Award for Professional Excellence.
"As Rip's main goals were to locate industry in the rural communities of Georgia, I believe he would be most honored to know that an award in his memory went to one of the hardest-working women in rural economic development," says Andrea Taylor, former Coffee County Chamber president and development authority CEO. In her nomination of Lewis, Taylor pointed out that even in retirement, Lewis continues to serve the community by personally investing in a local drug rehabilitation facility for women.
GEDA's Volunteer of the Year Award also went to a resident of Douglas-Coffee County: Luke Morgan, the economic development authority's recently retired chair. Taylor highlighted his many volunteer hours for the authority, including his vital role in the reopening of a bankrupt Pilgrim's Pride processing plant. Morgan, says Taylor, "has played a tremendous part in making our community one of the most successful in regards to rural economic development."