New Civil Rights Trail marker unveiled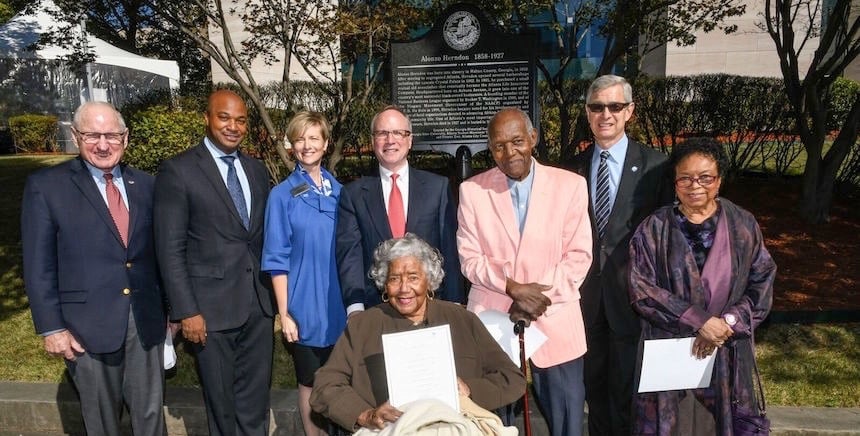 At a recent dedication ceremony, the Georgia Historical Society unveiled a new marker honoring Atlanta-based barber and entrepreneur Alonzo Herndon. The marker is the latest addition to the society's Georgia Civil Rights Trail, which provides public education about the role the state played in securing civil liberties for African Americans.
The marker, located at 100 Auburn Ave., Atlanta, reads:
Alonzo Herndon
1858-1927
Alonzo Herndon was born into slavery in Walton County, Georgia, in 1858. After moving to segregated Atlanta, Herndon opened several barbershops including the upscale Crystal Palace in 1902. In 1905, he purchased a small mutual aid association that eventually became the Atlanta Life Insurance Company. Headquartered here on Auburn Avenue, it grew into one of the country's most successful black-owned businesses. A founding member of the National Business League organized by Booker T. Washington in 1900, and of the Niagara Movement (forerunner of the NAACP) organized by W.E.B. DuBois in 1905, Herndon became noted for his involvement in and support of local organizations devoted to advancing African-American business and community life. One of Atlanta's most important twentieth-century entrepreneurs, Herndon died in 1927 and is buried in South-View Cemetery.
Top photo: left to right standing: Vince Dooley, chair of the Georgia Historical Society Board of Curators; Kwanza Hall, Atlanta city councilman; Sara Cook, Georgia State University Honors College; Todd Groce, president and CEO of the Georgia Historical Society; Lonnie C. King, Atlanta Student Movement Veteran; Mark Becker, president, Georgia State University; Roslyn Pope, Civil Rights activist and academic. Seated: June Dobbs Butts, family counselor and daughter of Civil Rights activist John Wesley Dobbs.
Photos by John Amis provided by the Georgia Historical Society.