Haralson County: Where History Meets Business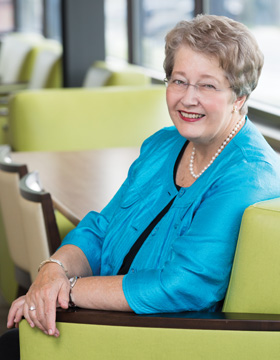 Trains connecting some of Georgia's historic towns were once the lifeblood of the northwest region of the state, delivering commerce and goods. Some 150 years later the trains are still bringing life to towns like Bremen and Tallapoosa in Haralson County, along with an exclusive group of tourists, called railfans, who gather to see locomotives.
Long a spot where trains from all four directions meet, Bremen has always attracted train watchers, says Mayor Sharon Sewell, who headed an initiative to build a new rail-watching platform in the 134-year-old downtown. The 20-by-40-foot observation deck next to the Sewell Factory Store was scheduled to open in October with lights, parking and a restroom for guests, as well as outlets for railfans' scanners, devices the hobbyists use to listen to conductors.
Sewell believes the modest investment in the pavilion, which was designed pro bono by local architect Alan Bell and constructed through the donations of many builders for a total of about $57,000, will pay off in tourism dollars.
"We have known we needed to do something to dress up downtown. We had saved up some money for this," says Sewell, "hoping and expecting that it is going to make businesses want to come."
---
Growing a Community
Reviving interest in the special and historic features of the area is one of the goals of the fledgling Grow Haralson initiative, an economic development foundation begun by local business leaders to attract growth to the area.
Bremen was known as the Clothing Center of the South throughout much of the 20th century, when local textile mills were the leading producers of men's clothing – thanks in large part to the railroad.
"Over 3,000 workers came into town every day," says Bremen native Randall Redding, CEO of R.K. Redding Construction.
As chair of the Grow Haralson board, Redding has helped raise $1.3 million from area businesses with the goal to bring 1,500 jobs and $50 million in payroll to the area in the next five years and is helping to develop a new industrial/distribution park near 1-20's Waco exit.
Specifics for the plan include workforce, industry and commercial development, says Eric McDonald, president and CEO of the Greater Haralson Chamber of Commerce and a partner in the initiative along with the Development Authority of Haralson County. "We sold our plan to 38 different private investors," he says. "They are all looking for the best way to grow our community."
Access to land that's close to the I-20 corridor is an attraction, says McDonald. "We have partnered with private landowners to help them get their sites ready by providing low-interest loans [through Grow Haralson] so they can do the due diligence studies [environmental, safety, etc.] to get the land ready." Through this method, the foundation has tripled the amount of land that's available for sale or development to almost 650 acres.
Grow Haralson is also working with consultants Retail Strategies to increase retail in the area, says Redding. "Now is the time to go into the marketplace and share our story by using data and information that retailers understand. Our community has all the right ingredients to be successful."
---
Music and Memories
Redding understands that it takes more than a thriving business sector to create a thriving community. It was that knowledge – combined with a love of country music and an appre- ciation of his hometown's history – that led him to convert a former Ingles grocery store on Alabama Avenue a few minutes from I-20 into a live music venue.
Mill Town Music Hall opened in 2012 and pays homage to the garment industry legacy of Bremen with pieces of manufacturing equipment incorporated into the space, which was designed by Redding's wife, Tena. A shop inside the venue, Mill Town Mercantile, carries Liberty Legends clothing, high-end men's jackets and jeans made in the U.S.A. in conjunction with country music's Gatlin Brothers.
For all its high-end décor – the performers' magazine-spread-ready dining room features a raft of guitars, sheet music as wall art and industrial-cool lighting – as well as the gourmet M&W Café, the focus here is on the music, with an impressive list of stars who have performed in the 1,040-seat, family-friendly (no alcohol) space.
Billy Ray Cyrus, Toby Keith, Loretta Lynn and Amy Grant have all played the music hall. Bremen-raised super producer Harold Shedd, known for his work with Alabama, Shania Twain and Reba McEntire, has worked with Redding to attract headliners. Some of Shedd's awards from a lifetime in the music business are displayed at the venue as well.
Mill Town Music Hall is a great addition in a community that also offers up such one-of-a-kind events as the Fried Pie Festival (Buchanan), the Haralson County Canoe Trail and the New Year's Eve Possum Drop (Tallapoosa).
---
Educating Future Employees
Much of the Grow Haralson initiative is focused on education, and county officials are proud of 2017's graduation rate of 91.8 percent (96.3 percent in Bremen City Schools) – the top 10 percent in the state. At Bremen City Schools close to a third of the students pay tuition ($1,800) to attend from out of the district, says Superintendent David Hicks, resulting in strong parent involvement and a "very personable school system."
One workforce development initiative the county has employed is designed to help students decide the course of their careers and help area businesses find and train employees. YouScience online evaluations measure students' aptitudes and interests and can suggest academic or workplace options they may not have considered previously through a career exploration function. Local employers can also offer internships and work-study programs based on the assessments, making them a valuable source for new local talent.
YouScience CEO Philip Hardin, who recently entered into a partnership with the Georgia Department of Education to provide the assessment to high school students statewide, brought the program to Bremen High School in 2015. That year the entire junior (now senior) class took the assessment, which was sponsored by R.K. Redding Construction. When the school year began this fall, those students were able to use their results during meetings with college and career advisors to plan their futures.
"All these parents and educators want these kids to find their highest and best selves," says Hardin. "It's very important that these kids understand that going to Auburn or University of Georgia is not their only avenue – they can work at Honda, get the skills and continue to pursue their education."
Superintendent of Haralson County Schools Dr. Jerry Bell, a Tallapoosa native, has been credited with raising graduation rates in the county from 67 percent to 91 percent in three years. He's also planning a college and career academy, and hopes to have it started by 2018. Working with local companies like Honda Precision Parts, he's helped to introduce robotics and STEM (science, technology, engineering and math) courses to the system's more than 3,500 students.
"More graduates mean more employable people," says Bell, who notes he's "still working to change the culture [of education] in the community. A lot of times people only see a school's success in sports." With rising test scores and 52 new teachers and staff hired for the 2017-18 school year, the school system "is on an upward climb."
---
Committed to Innovation
It's easy to think the modern, spotless Honda Precision Parts of Georgia (HPPG) facility near Bremen is all about technology – after all, there are robotics at work helping build innovative 10-speed automatic transmissions. But the real heart of this highly successful plant is very obviously its people.
"The people here have been awesome," says Mike Jett, vice president and plant manager at HPPG, who has been with the company 34 years and came to Georgia to open the plant 11 years ago. The new transmission product is a "$340-million cumulative investment," he notes, and one that wouldn't have been possible without highly skilled workers.
Workforce development plays a large role, and Jett says the company actively works to fill the skills gap and prepare local talent through partnerships with nearby schools and universities. After one such collaboration, Jett hired a local student and later sent him to Japan to learn some of the technology for the new transmissions.
The company is also committed to the local environment and has incorporated a new wastewater recycling system that evaporates the water, leaving metal and oil byproducts behind. The water is then filtered, making it clean enough to be recycled for non-potable uses in the plant. The innovative system, similar to ones used in the dairy industry, saves 3 million gallons of water per year, earning recognition from the National Wastewater Association, says Jett.
In Tallapoosa, rubber manufacturing has long been an industrial staple – and the trend continues today with BARCO (British American Rubber Company), which set up shop earlier this year in a facility on 61 acres that was owned by the Haralson County Development Authority.
It was a move that made sense to Tallapoosa Mayor William "Pete" Bridges. "We have a deep history in rubber compounding and manufacturing," he says. Not only had the facility been home to rubber compounding in the past, the area is home to a supply of skilled workers with experience in the process.
The company started with 20 employees in April 2017 and recently increased that number to 36, on track to its goal of 50 employees. "We are ahead of the curve," says Michael Cash, president of BARCO, "and we have been blessed with a good group of folks here."
This faster-than-anticipated growth has BARCO exceeding the 20 million pounds per year in production it initially estimated, adds Cash. As the 66,000-square-foot plant expands to meet production, the company will extend to the existing railroad track, adding an additional 10,000 square feet, with a goal of producing 60 million pounds a year, Cash says.
The company's investment for land, structures and equipment was estimated to be $8.5 million.
It's just one more sign that innovation is taking off in Haralson County.
---
LOCAL FLAVOR
Haunted Haralson
Driving through Tallapoosa with its sprinkling of diners, train tracks and storefronts, it would be easy to take it as another typical Southern small town. The town's history, however, tells stories of bootlegging, railroads, gold mining, immigrant settlers from Budapest and Creek and Cherokee meeting sites – tales that make for an exciting evening of entertainment.
"There's a story around every corner," says native Susan Horsley-Pitts, who started Tallapoosa Ghost Stories: A Walking Tour, in 2016. A substitute teacher by day at Haralson County High School, the ghost walk aficionado had taken nighttime strolls in cities like St. Augustine, Fla., New Orleans, Savannah and Williamsburg, Va. After nearly 20 years away as a military spouse, she returned to the 157-year-old town – with its large historic district – and "saw Tallapoosa with different eyes."
She started her research with the communities' elders. "I began talking to the octogenarians, asking them to tell me a few ghost stories," Horsley-Pitts recalls. She came up with 14 tales in all, which she describes as a mixture of "history, folklore and ghost stories."
Besides a once-flourishing textile industry, the community was also at one time a producer of wine thanks to Hungarian immigrants who came from Pennsylvania coal mines to plant vineyards. (The Budapest cemetery in the former Hungarian Colony isn't close enough to be on the walk, but it was included on a bus tour during September's Country Fried Pie Festival in nearby Buchanan narrated by Horsley-Pitts and local historian Mary Tolleson.)
Prohibition in 1908 (Georgia had statewide Prohibition before national Prohibition) put an end to the winery but increased demand for another beverage: moonshine. "Everyone around here either ran it, drank it or sold it," says Horsley-Pitts, who incorporates some of the more colorful bootlegging tales into her stroll, along with costumed interpreters (fellow educators and sometime actors) who provide "moments of living history."
The railroad arrived in the 1880s, bringing Northerners seeking the "healing waters" at the Lithia Springs Hotel while others came to mine gold or work on the trains. "The population went from 400 to about 3,000, with about 20 different nationalities and over 50 thriving businesses," she recounts.
Enthusiasm for the walks has been strong, with last October's tours drawing more than 700 people, many traveling from Rome and other neighboring towns. Leading two tours a night on Fridays and Saturdays, Horsley-Pitts says she truly enjoys sharing the town's history and characters. "It's inspiring; it's creative. To me it doesn't feel like work." – Amy Bonesteel