DeKalb County: Restoring Trust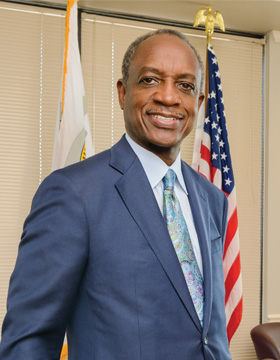 Michael Thurmond's motto as he approaches the end of his first year as DeKalb County's CEO is: "We learn from our mistakes, but we don't dwell on them."
A cloud of corruption, school district troubles, government and community leader arrests and sewer/water woes resulting in high, inaccurate bills, has hung over the county. While Thurmond says DeKalb needs time to "extricate ourselves" from the problems, he gained confidence during the 2017 legislative session when no legislation was introduced to abolish the CEO's position, unlike previous years.
"I'm encouraged and inspired by the progress that has been made and the support that we're receiving from throughout the county in our efforts to improve not just the image of our government, but also our effectiveness and efficiency," he says. "We've made progress, but we know that there is work to be done."
Nov. 7 is a key moment for Georgia's fourth most-populous county and its nearly 750,000 residents, which is expected to grow to 874,424 by 2040, according to the Atlanta Regional Commission. A 1 percent Special Purpose Local Option Sales Tax (SPLOST) on the ballot would raise more than $500 million to repair roadways and bridges and fund police and fire stations, libraries, sidewalks, trails and infrastructure.
"We can make some critical investments in capital investments that's going to pay dividends," Thurmond says.
This month's vote follows last year's approval of an education SPLOST that will raise $561 million over five years for capital improvements. If voters approve raising the sales tax from 7 percent to 8 percent, it would be DeKalb's first SPLOST for capital projects, says County Commission Chair Kathie Gannon.
"Everyone is, I think, making a real effort now to actually work together toward goals and shared vision," she says.
Meanwhile, Emory's possible annexation into the city of Atlanta, new cities and corporate announcements are keeping the 195-year-old county in the spotlight.
---
Cities and Collaboration
The county's 13 municipalities now include newly incorporated southeast DeKalb's Stonecrest, which at 53,000 residents is the county's largest city, and Tucker, which has 35,000 residents.
A building boom includes the State Farm headquarters complex in Dunwoody and redevelopment of the Doraville General Motors plant into the Assembly, a $2-billion, 165-acre mixed-use project. Mattress maker Serta Simmons plans to open its headquarters there in 2019 with 500 jobs and a $65-million investment. The Assembly is also slated to receive $180 million in public investment through a new county tax allocation district.
"We are thankful that some significant projects have been announced," says Ray Gilley, president of the Decide DeKalb Development Authority.
The county expects about $400 million in new capital investment in 2017, with about 3,000 new and retained jobs, according to Decide DeKalb; as of September, announcements totaled $340 million. In 2016, about $440 million in capital investment was announced, representing about 4,800 jobs. The announcements included the Center for Advanced Pediatrics by Children's Healthcare of Atlanta in Brookhaven, Sysnet Global Solutions' plans for 500-plus jobs in Brookhaven and Home Chef, which seeks to create 1,200 jobs by 2020 in Lithonia.
"I'm very bullish on DeKalb, and developers and business owners are making major investments," Thurmond says.
Decide DeKalb is targeting advanced manufacturing, construction and support trades, life sciences, logistics, professional and business services, and tourism venue development. With roughly 1,000 vacant industrial acres, according to Decide DeKalb, much of its focus is on repurposing existing spaces and properties.
"There's so much development happening right now in DeKalb … so much in blighted areas and areas that have been underserved for so many years," says Katerina Taylor, DeKalb Chamber of Commerce president and CEO.
Gilley credits a new spirit of collaboration among the county and cities to advance DeKalb's quality of life, along with state and regional partnerships to attract new and expanding businesses.
Taylor sees growth in the bioscience, healthcare IT, engineering and construction sectors among her organization's 700 members.
Local small businesses have received accolades, such as the Tucker-based chemical solutions company Ecolink, which was named a 2017 Small Business Rock Star by the Georgia Department of Economic Development and the Georgia Economic Developers Association.
Part of the growth is the $200-million Atlanta Sports City complex on nearly 200 acres next to the Mall at Stonecrest. The project will encompass a 15,000-seat stadium, more than 20 multi-use fields, a 204,325-square-foot indoor athletic facility and more than 338,000 square feet of retail space; Emory Healthcare and the Emory Sports Medicine Center will anchor its Sports Medicine Pavilion.
"Being able to draw business to our area so that we could live, work, play, worship, shop, educate – that is our mantra," says Stonecrest Mayor Jason Lary, who was sworn in May 1, 2017.
The new city has established its planning and zoning, code enforcement services and courts system, along with an economic development team. Parks and recreation are in the works. Stonecrest's portion of the SPLOST will be $7.5 million a year for the next six years for transportation, public safety and capital improvements, which, Lary says, would cut the time to establish a police force roughly in half.
Large residential projects are underway in Decatur, the county seat, and other communities. A $67-million senior living community, The Holbrook of Decatur, is expected to open in spring 2019 with a five-story, 200-unit independent living, assisted living and memory care facility, says Dan Needle, partner in Solomon Development Services, the developer of The Holbrook, which received county tax incentives totaling $4.2 million over 10 years.
"The demand to live in Decatur is extremely high right now," says Douglas S. Faust, executive director of the Decatur Housing Authority.
The authority recently opened 121 affordable housing units at Trinity Walk apartments, which replaced Decatur's old Gateway Manor and Oakview complexes, and plans to add another 34. But in a city where average two-bedroom monthly rents are nearly $2,000, affordable housing is still an issue, Faust says.
---
Education Improvements
DeKalb is home to nine public and private colleges and universities, and with a total of 468,335 jobs expected in the county by 2040, the largest portion – 35,383 – is expected to be postsecondary teachers.
The county's higher ed prowess is evident at Emory University, whose 30,000 employees make it the county's largest employer. Nearly half of Emory's total $9.1 billion in economic impact within Georgia occurs within DeKalb, according to a 2017 report from the university.
While Emory filed a petition in June to annex into Atlanta, Emory President Claire E. Sterk says the annexation is not a request to depart DeKalb.
"We are very proud to stay in DeKalb County," says Sterk.
In fact, the university continues to build. Emory will add a $400-million University Hospital Tower this year. A sports medicine complex that will serve as the Atlanta Hawks' practice and training facility, along with a new campus life center, will follow in 2018 and 2019.
Emory's potential "move" could revive plans for a Clifton Road MARTA project that would create a regional transportation system, if the November SPLOST referendum passes. DeKalb serves as the backbone of MARTA and has four interstates – 285, 85, 20 and 675 – running through it.
"The proposed annexation has the potential of being mutually beneficial, not just for Atlanta and DeKalb, but really for metropolitan Atlanta, if not the state," Thurmond says "The future will be dependent on whether or not we can build a regional fully integrated transportation system."
Meanwhile, the DeKalb County School System regained its full accreditation back in 2016, and then received a five-year renewal in 2017.
E-SPLOST's 71 percent approval rating served as votes of confidence for the public school system, says Superintendent Stephen Green. Teachers and staff expected to receive 2.5 percent raises this fall, while the millage rate was rolled back again, he notes.
The system is moving at a swift pace to regain trust with businesses and partners, he says. Higher education institutions and organizations are "now knocking at our door, because … we have our priorities in the right place."
---
International Appetite
Shows such as Netflix's Stranger Things and movies like Baby Driver have filmed in DeKalb County, which has three production studios – Blackhall Studios in Atlanta, Third Rail Studios in Doraville's Assembly and Eagle Rock Studios in Stone Mountain. The number of film and entertainment projects permitted in DeKalb is on pace to outstrip last year, Gilley says.
The new DeKalb Film, Music and Digital Entertainment Commission hopes to increase employment, grow the sector, foster opportunities, expand global entertainment commerce and increase DeKalb's attractiveness to workers and visitors. Workforce training is a major component of the commission, in partnership with the Georgia Film Academy, area universities and colleges, the Screen Actors Guild and companies such as Microsoft.
"We know the excitement level in DeKalb for working in these areas. It's just that far too often, folks don't know how to get the required skills," says Andrew Greenberg, commission chair and executive director of the Georgia Game Developers Association.
To accommodate visitors within the entertainment industry, other sectors or leisure travelers, new hotels and renovations are underway. Tru by Hilton, a 98-room property in the Northlake area, will be constructed in part with $417,000 in tax incentives from Decide DeKalb.
The DoubleTree at Perimeter in Brookhaven has completed a $12-million renovation, according to Discover DeKalb, a nonprofit organization that promotes the county as a destination for travel. Two Marriott properties are undergoing major renovations: Century Center ($15 million) and Evergreen at Stone Mountain ($18 million project planned in 2018), according to Discover DeKalb.
"Right now the tourism is still going strong," says James Tsismanakis, executive director of Discover DeKalb. "Hotel occupancy is still up. Revenue for occupied rooms is up."
The international appeal of DeKalb, where residents speak more than 65 languages, attracts people to Buford Highway with restaurants such as the new Food Terminal, dessert shops with specialties like Thai rolled ice cream and Living Walls' installation of murals along the roadway.
Discover DeKalb is creating awareness for international communities and experiences like food, shopping and cultural festivals, such as Mexican Independence Day, a Caribbean carnival and the October TEA Walk in Doraville, billed as the South's largest walk to celebrate diversity.
Food is big business at Prep Atlanta, a food-production facility that has helped start or accelerate the growth of 200 specialty food producers, caterers and mobile food service operators since it opened in 2014, says CEO Mitch Jaffe.
Currently, 120 companies are based out of its 15,000-square-foot food facility near I-85 and I-285. Those companies employ 200 to 300 people, says Jaffe, and Prep Atlanta is expanding into another 33,000 square feet of space.
DeKalb was appealing because it had a lower cost to entry and provided guidance with zoning and permitting, Jaffe says.
"We're trying to create the largest entrepreneurial food campus in the country," he says. "It's actually generating homegrown companies and jobs, a lot of jobs, and a lot of new companies."
---
LOCAL FLAVOR
Museum Milestone
The Fernbank Museum of Natural History is celebrating its 25th anniversary in 2017 with a new leader and new experiences for visitors, including WildWoods in Fernbank Forest and a giant screen theater.
Jennifer Grant Warner, formerly Fernbank's executive vice president and chief programming officer, took on the top role in June after longtime president and CEO Susan Neugent retired.
Fernbank has experienced a 30 percent increase in annual membership, reaching more than 11,000 households, since WildWoods opened in late 2016. Many of those are new members, which shows how Fernbank is expanding its reach in the community, Grant Warner says.
"It's really a new Fernbank now that we have the forest and WildWoods and an updated giant screen theater as part of our offerings," she says.
A capital campaign that raised $21.7 million led to the creation of WildWoods and the restoration of Fernbank Forest, the largest old-growth forest of its kind in a major metropolitan area, plus the new theater with a laser system and 3-D shows.
The 10-acre WildWoods includes elevated walkways, a pollinator-friendly wetland wildlife sanctuary and permanent exhibitions. WildWoods also gives Fernbank Forest a direct connection to the museum, which opened in 1992 and has had more than 9 million visitors.
"This is getting back to our roots in many ways, since we were founded as a nonprofit in 1939 to preserve Fernbank as a 'school in the woods,'" Grant Warner says.
The museum's 25-year anniversary continues this fall with Gladiators: Heroes of the Colosseum (an exhibit with more than 100 original artifacts), a photography installation in Fernbank Forest featuring the work of National Geographic photographer Peter Essick and Winter Wonderland, a display of trees celebrating global holiday traditions. Fernbank holds national accreditation by the American Alliance of Museums.
Grant Warner says the new exhibits and special events are extending average visit times as the Atlanta cultural attraction fulfills its mission to connect visitors to science and nature.
"It means that people are responding to the work that we do," she says. "It's just very gratifying and gives us a lot of excitement to continue forward." – Lori Johnston