Adel|Cook County: Custom Fit for Business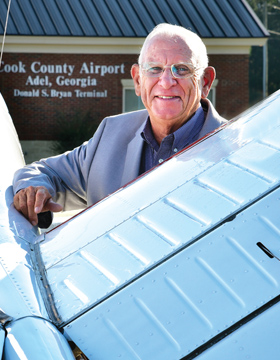 Rural communities in Georgia often have to enlist the squeaky-wheel method to gain attention from prospective business and industry. That rings true in Adel and Cook County, where not even a prime location on the interstate has always been enough to attract newcomers. But that is changing, as recent successes propel additional activity, leaving leaders pleasantly overwhelmed with positive announcements.
---
Best Face Forward
Naturally, leadership in Cook County consistently works to paint a perfect picture for prospects. One point of pride is the pristine Cook County Airport, which completed a $5-million enhancement project in 2014 that includes a new airport terminal, private hangars and additional airplane taxi lanes and parking spaces. The facility is invaluable in terms of the ability to fly in heads of industries interested in Cook County and to give established business leaders access to a modern airport facility.
Adel also recently upgraded its aging infrastructure, including water, sewer and electrical systems, when a Walmart Supercenter was announced last year, says Adel Mayor L.L. "Buddy" Duke III, a Cook County native who runs the family ice business his grandfather started in 1927 and also serves as chair of the Economic Development Commission.
The presence of Walmart initiated "a huge uptick in commercial and retail development in Cook County," says Adel-Cook County Chamber of Commerce CEO and President Jerry Connell, bumping the county off a plateau it reached a number of years ago, despite its location on I-75.
"A Walmart for a town the size of Adel – 5,332 people – was a huge, huge deal. We had seen other small communities in the region get these tiny neighborhood stores, but those don't get the sales tax dollars for you. We were eager to get the Walmart even knowing the impact it can have on local businesses," Connell says.
The arrival of Walmart sparked several new restaurants and retailers to open up in what was once a dying downtown, says Lisa Collins, executive director of the Cook County Economic Development Commission. With the new growth, revitalizing downtown Adel is back on the city's agenda, including the hiring of a downtown manager, she says.
Cook County voters passed two Special Purpose Local Option Sales Tax (SPLOST) referendums, including an education E-SPLOST, in the past year. SPLOST projects include building a recreation complex east of town near the high school and funding landfill requirements set by the EPA for closing off full sections. The E-SPLOST funds will help purchase textbooks, equipment and buses and retire about $2.5 million in debt remaining from the construction of the high school, says Cook County School Superintendent Jeff Shealey.
"We'd been having to dig into the general fund balance to make it up because E-SPLOST was falling short. I think we're through the tough time, financially, and things are looking up," says Shealey regarding payments on Cook County High School, which was built in 2008. Since the vote passed in March, E-SPLOST proceeds have been up every month except one, he says. "That tells me the economy is doing better. And Walmart helped."
Move On When Ready (MOWR), Georgia's dual enrollment program that enables high school students to earn college credit as they're working toward a high school diploma, is a major draw at the high school, where the graduation rate is about 82 percent. Higher education partners include the Technical College System of Georgia, Wiregrass Georgia Technical College, Georgia Military College, Valdosta State University and Abraham Baldwin Agricultural College, says Shealey.
---
Emerging Healthcare Model
Earlier this year, city and county officials voted to participate in funding construction of a $35-million hospital to replace the 60-bed Cook Medical Center built in 1950 and operated by Tift Regional Health System. The aging facility had already suspended surgical and obstetrics services and early this year was forced to close its emergency room.
"It was reaching the end of its life," says CEO Michael L. Purvis. And its closure would leave Cook County residents traveling to Tifton or Valdosta for medical care. Instead, the new Cook Medical Center will have three ambulatory surgery center suites, 20 inpatient beds and a 95-bed nursing home.
At a time when many rural hospitals are closing their doors or merging with others, building a new hospital in a community like Cook County might be regarded as a bold move. Though the decision ultimately passed unanimously by both the city council and county commission, there was much debate amongst elected officials and their constituents, many of whom didn't understand why a new hospital – one that will not have an emergency room – should be built when the existing one was bleeding money, says Duke.
"As economic developers here in Adel, you look at economic viability of what it does to your city when you lose your hospital," says Duke. "In our case, we felt like it was truly detrimental for us to lose the 250-plus professional jobs the hospital offers, as well as the impact of not having local hospital facilities for our citizens.
"When a company or someone is coming in to size you up and decide if you're good enough for them to come in, they're looking at schools, they're looking at libraries, churches," Duke says. "In our eyes at EDC, the hospital is one of the indicators they look at."
The decision to move forward with the project – which Purvis says is being recognized as the new model for the rural hospital, centered around a convenient care facility rather than an emergency room – has been four years in the making. "We believe the way healthcare is going today, you've got to improve quality and reduce cost because the government – whether it's Democrats or Republicans – doesn't have the means to carry healthcare forward in the current state.
"So if there's going to be a future state, and if rural hospitals are going to participate in the future state, they're going to have to be low-cost, high-quality healthcare centers. We believe that our model is an emerging model that will be here to serve our community for years to come," says Purvis, adding that groundbreaking is expected by January.
The new hospital will be located near an I-75 interchange, one of five in the county that are ready for new development, says Collins. A hotel feasibility study showed "strong data supporting more than one hotel. I have two investors already that are wanting to put a new hotel across from the hospital. We're envisioning a conference center as well."
---
New Industry
Early this year, the Munich, Germany-based Linde Corp., maker of industrial gases, announced plans for a $40-million investment to establish an air separation plant slated to open in 2019 in Adel. The company broke ground this fall and upon completion will employ about 35 people. Linde will use 20 acres of the county's megasite, a 3,000-acre industrial site south of Adel, served by Norfolk Southern Class I rail, I-75 and U.S. 41.
"This is the biggest announcement ever made in Cook County," says Collins. "It's a game changer." The city of Adel owns its utilities, and Linde's projected power usage is estimated at 50 percent of the amount currently consumed by the entire community, she says. "Municipal Electric Authority of Georgia is having to come in and build an $8-million substation so they'll have the capacity to use that amount of electricity," says Collins.
"Linde chose to invest in the city of Adel based on its proximity to our customers, the competitive local talent pool and the strong, pro-business policies in Cook County and the city of Adel," says Gina Gibbs Foster, head of communications for Linde Americas. She added that the new air separation unit will strengthen Linde's presence in the Southeast and help meet its customers' requirements.
John Stover, project manager with Carter & Sloope engineering services out of Macon, helped Collins during Linde's site selection. Carter & Sloope have since contracted with Linde to provide civil engineering services for the project.
"The city of Adel and Cook County have worked together on industrial development and community development needs about as well as any community I've worked with in the state," Stover says. "To be able to work quickly and provide the right answers to the questions has made Cook County highly competitive."
South Georgia continues to be a draw for ag-based business, particularly for companies based in California where regulations and red tape can make doing business tougher, says Duke. Collins says the combination of Georgia's reputation as being an easy place to conduct business, along with the fact that so many of the companies' ag customers are in the east, makes Southwest Georgia an attractive option for West Coast businesses looking to locate on the East Coast.
Southern California-based Custom Ag Formulators, which custom mixes agricultural chemicals, opened in Cook County about 18 months ago and hired 20 employees.
Recently, California-based Grimmway Farms, one of the largest growers, producers and shippers of carrots in the world, purchased property in Sparks with plans to expand their presence in the region. The company has been growing and packing Bunny Love carrots in south Georgia and north Florida for the past couple of years and will be moving its operations from Seminole County, Fla., to the new Cook County site, says Ryan Young, general manager of Grimmway's Fresh Division, touting the benefits of this region for the business.
"We have a lot of our large customers on the East Coast, so there is a logistical advantage both for Grimmway and our customers to have a location there," he says. "Also because of the acreage and water. Available water in California is becoming harder and harder to get."
One challenge for area agriculture is having enough people to do the work. Leadership is watching to see what the government will do with regard to immigration, says County Commission Chair Dwight Purvis (no relation to the hospital CEO), a farmer who ran for commissioner three years ago.
"For these guys growing produce, which is very labor intense, if there's not labor to harvest crops, they're probably not going to plant them," Purvis says. "They'll get into something else where they can use machines to pick cotton or peanuts or corn."
Collins says yet another company that isn't ready to announce has purchased a 60,000-square-foot facility in Lenox and will bring 70 new jobs to the county. The company is currently working with Wiregrass Georgia Technical College on a custom training program for those employees, says Holly Greene, associate vice president for academic affairs of Wiregrass's Cook County Workforce Development Center.
"And they are going to be higher-wage jobs," says Collins. "This is going to give us another shot in the arm and is going to help Lenox to grow."
---
LOCAL FLAVOR
The Race is On
South Georgia Motorsports Park (SGMP), a world-class racing venue offering a half-mile oval dirt track along with National Hot Rod Association-sanctioned eighth- and quarter-mile drag strips, brings drivers from around the world to tiny Cecil, Ga.
Various racing events take place about 46 weekends a year at SGMP, with February and October events bringing as many as 20,000 people to Cook County in one day, says Chris Davis, general manager of SGMP. Events like mud races – just what they sound like – draw visitors and local families alike. They are especially appealing to kids, who often get in free. And during Hurricane Irma, the facility opened as an evacuation point for people with racing trailers or RVs.
Though he says no one has produced hard numbers to determine actual economic impact, Davis routinely gets calls from area restaurants and hotels asking about the size of the crowd and what time an event will end so they can meet the demand. "Even Walmart calls about the bigger shows so they can get more stuff on the shelves because it sells out," he says. "That's a huge economic boost to the community."
While the racetrack does offer limited camping facilities, they don't include water or power hookups so motorhomes or campers need to be self-contained, says Davis. "Some people even come and camp in tents, they're that driven to be at the racetrack," he says, noting that most visitors stay in area hotels. "Once we fill up Adel, which is pretty common, our overflow is Valdosta," he adds.
This is the inaugural year for the oval dirt track, the biggest in Georgia, Davis says, adding that it replaced a half-mile asphalt track. The facility routinely draws drivers and vehicles from across the Southeast and from as far away as Australia, Saudi Arabia and Canada.
"They ship them over here in containers," Davis says about cars from overseas. Drivers have to wait four or five weeks for their cars to arrive in the United States, a schedule that requires a great deal of forethought and planning.
So why would an international driver go to the trouble and expense of shipping a car overseas to Adel for a race?
"These races are world record-setters, and there's a lot of prestige that goes with these races. [Drivers] want to come here to race because they feel like they got a good chance of setting a new world record," he says, adding that some of the biggest purses go up to $50,000, even $100,000.
"People think that because the races are held in Adel that this is a small-town deal, but no. This is a state-of-the-art facility, drag strip wise and the dirt track … the opportunities for our local government and local business owners are overwhelming because of the different people we bring in for these races." – K.K. Snyder