The Future Is Here
Technology has changed Georgia's multi-billion-dollar manufacturing industry dramatically. For workers with the right skills, job opportunities have never been better.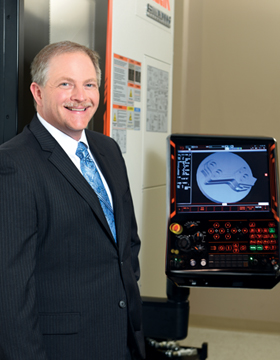 Jason Moss says the very word "manufacturing" makes a lot of people think of Lucy and Ethel in the candy factory, the classic I Love Lucy scene. "They think of it as a production-line-only job. That's far from the truth," says Moss, who is founder and CEO of the Georgia Manufacturing Alliance.
Funny as that scene is, the old black-and-white image of TV comics stuffing chocolates in their mouths to keep up with a fast-moving conveyor belt doesn't begin to reflect the reality of advanced manufacturing in Georgia and the sophisticated technology it uses. Truth is, unskilled work and workers are rapidly disappearing.
"Technical advances are helping companies automate processes to be more efficient and to utilize less human capital and to be more exact in their processes," says Tom Croteau, deputy commissioner for global commerce at the Georgia Department of Economic Development (GDEcD).
These changes, which have occurred over the last few years – spurred by the recession and the loss of factories to places where labor is cheaper – are helping revive the manufacturing industry even as they are creating a huge demand for the skilled labor needed to make the advanced processes work.
"The perception people have of manufacturing has not caught up with reality," says Brian Cooksey, director of operations training and development for Shaw Industries, the carpet and flooring manufacturer based in Dalton. "They still think these are dirty jobs in dark plants – but the reality is that you are using your mind as much if not more than your muscles. Our plants are clean and bright – you're engaging, you're problem solving, you're thinking on the fly, collaborating with others. These are really good jobs with lots of growth opportunities."
---
By the Numbers
Today Georgia has more than 10,000 manufacturing facilities employing upwards of 360,000 workers; the industry makes up more than 11 percent of the state's economy. The figures include traditional – there is still some of that around – and advanced manufacturing. Total manufacturing output for 2015 was $54.8 billion, and manufactured goods accounted for 91 percent of Georgia's total exports in 2016.
"I don't believe there are many operations that are left today that are not employing automation and technology," says Croteau. "We've become such a global economy that you just can't survive if you are not efficient with your processes.
"An infusion of technology and the idea of advanced manufacturing are really offering the opportunity to bring all kinds of manufacturing back to Georgia, from apparel to flooring to wood industries," he says.
A new 74,000-square-foot adidas SPEED FACTORY, which will use robots to manufacture running shoes, is set to open in Cherokee County before the end of the year.
Advanced techniques are in play across the manufacturing spectrum; the automotive industry is usually the one that comes to mind first. The Kia plant in West Point, which relies heavily on robotics, has the capacity to produce 360,000 cars every year.
But even older, more traditionally human-labor-intensive industries have adopted technology, Croteau points out. In agriculture, crop irrigation techniques rely on satellite imagery, remote programming and in-ground sensors. And the timber industry: "These days when trees come in," he says, "they are scanned optically and measured out with lasers to provide the equipment with what the optimal cut will be. They know exactly how many cuts they can get out of that tree."
---
Cause and Effect
So exactly what turned manufacturing into advanced manufacturing?
"Hard times," Croteau says. "I would say somewhere in early- to mid-2002, we were going through a phase where a lot of jobs were going offshore. We were losing a lot of jobs to Mexico, to China, to other places. Then we went into the recession years – 2008 to 2012. That all caused companies to need to be leaner and more efficient to compete with offshore manufacturing."
He references Cooper Tires, the Albany plant that closed in 2008. "Because they were using traditional manufacturing methods, they were being beaten out by some of the new tire manufacturers using more advanced methods. We now have multiple tire manufacturers here in Georgia using advanced manufacturing: Pirelli in Rome, Toyo in Bartow, Kumho in Macon. Sentury, a Chinese tire maker, is coming to LaGrange with a $530-million investment and over 1,000 jobs."
West Georgia Technical College's Steve Cromer, senior director of advanced manufacturing, credits consumer demand for high-quality goods at lower costs for boosting advanced manufacturing.
"The only way to drive costs down and improve quality is to make it an automated process," he says, "because machines do the job perfectly every time. They don't show up late for work, they run 24 hours a day, seven days a week. Companies have been replacing non-skilled labor with machines. That's been the trend for the past 15 or 18 years, and it's going to only increase going forward."
---
Revivals
Advanced manufacturing techniques have been a real boon for flooring, which endured some tough times.
"Our industry certainly was faced with some challenges," says Shaw's Cooksey. "Not only was the industry hit by the recession and decreases in housing, but at the same time was facing some shifts in consumer preferences. It used to be carpet was the main type of flooring that was in demand, then [it] shifted to more hard-surface products. A lot of things were happening at the same time.
"As technology has advanced and is more available, it really gave our company an opportunity to look at where we were, where we needed to be. We've invested billions of dollars back into our business over the last five to eight years," he says. "Almost every plant has new technology that really covers the gamut – how we deal with raw material processing, how we produce a product, how we handle the finished inventory – every aspect of our business, even transportation."
When Standard Textile made the decision four years ago to bring its manufacturing operations back to the U.S., all the efforts started at its plant in Thomaston, says Gary Heiman, president and CEO. The plant opened in April 2015 and employs about 200 people to make bed and bath products, including all towels used by the Marriott hotel chain in North America. The company is headquartered in Cincinnati.
"The major inhibiting factor in the U.S. is the cost of labor," Heiman says, "with all that includes – healthcare, and so on and so forth.
"We committed ourselves to invest heavily in using the Internet of Things, digitally moving information back and forth from plant to management, creating dashboards, having all our machines with sensors on them so our machines could speak to management, and so management could speak back."
By design, this eliminated a lot of manual labor. "You don't have to have tens and tens of people dealing with quality control and quality assurance and many, many other factors where you're using the human eye," he says.
"We committed to bring manufacturing back to the U.S. and to significantly collapse the supply chain – so from fiber to yarn to fabric to finishing, it's all done right here," he says. "We've been able to do things better, faster, more efficiently and with far more creativity in this way."
---
Keeping it Up
The same factors that made Georgia a good place for traditional manufacturing work for advanced manufacturing operations: favorable business climate, business-savvy state leadership, great location and a logistical system that makes it easy to import raw materials and export finished goods.
"We are known as a pro-business state, a right-to-work state, which is very important," says Croteau, "a state that has great talent coming out of its universities and the technical college system, with what is widely known as the best worker training program in the U.S. – Quick Start."
For international companies, he says, the diversity in and around the city of Atlanta adds an extra level of comfort.
All good, of course. But the reality is there is a real shortage of skilled workers to fill the new jobs that are opening up.
The manufacturing alliance's Moss recalls a recent conversation with a home goods manufacturer in North Georgia who told him he has four machines he can't run because he doesn't have enough people. "I need workers today," the man told him. "I'll pay them X amount if they show up every day and pass the drug test. I'll train them on everything else, and they can have a life-long career. I need people."
Lots of folks are working to help fill that demand, especially Georgia's technical college system, the economic development department, the manufacturing industry itself and individual companies.
"We've got to have a workforce," says Shaw's Cooksey. "What we've seen work here in Dalton and the northwest Georgia area is really having those collaborative partnerships with business and industry at the table – your K-12 institutions, your post- secondary partners, your chamber of commerce, your city and county government all being together."
"Going forward," Croteau says, "we need to continue to recognize where the gaps are, where private industry is having trouble identifying qualified job candidates or workers to be sure we're putting emphasis on educating people with that type of training to meet that demand."
---
Educating a Workforce
Gains in manufacturing efficiencies have made training and re-training even more crucial for companies that need employees to work with the new processes and for workers who can no longer get by without skills.
In the new world of advanced manufacturing, non-skilled positions are rapidly disappearing, says Steve Cromer, senior director of advanced manufacturing at West Georgia Technical College.
"Go on a factory floor today," he says, "and there may be 500 employees. Go back in five years, and they'll be doing more operations at a faster pace and higher quality and maybe have 150 or 200 less positions," because non-skilled jobs will be automated.
West Georgia's training focus is precision manufacturing, which supports manufacturers in the region, including but not limited to automotive. "Anything in the production facility that moves product from one point to another in automated fashion without a human interaction is what we're training the students to work on," he says.
The college has three different locations – LaGrange, Coweta and Carrollton – where the classes are taught. The placement record for students who graduate, he says, is 100 percent.
Kathryn Hornsby, assistant commissioner for technical education for the Technical College System of Georgia, says, "All 22 colleges offer some form of manufacturing [training], whether it be degree, diploma or certification."
More than 1,800 students are enrolled each year in those programs; nine within the system have a special advanced manufacturing focus, like West Georgia's. Georgia Piedmont Technical College is set to open a new advanced manufacturing lab in November at its Newton campus.
The technical college system operates Georgia's top-rated Quick Start program, which helps new or expanding operations train their workers to companies' specific needs. And Hornsby says the system is putting a great deal of effort into apprenticeship programs and working with students in the Move On When Ready program, which allows them to earn college credits while they are still in high school.
"Training beyond high school is crucial," Hornsby says. "The day when you could only have a high school diploma is over." – Susan Percy