Supply and Demand
Georgia needs healthcare providers – and its nursing and PA programs are rising to the challenge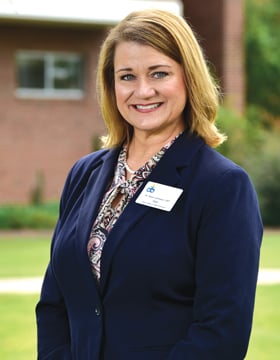 There are more than 50 nursing programs in the state of Georgia, spanning associate's, bachelor's, master's and bridge programs. Currently, nearly 130,000 registered nurses have active licenses in the state, making Georgia 12th in the nation for actively licensed RNs. And at the end of 2015, there were 3,240 physician assistants (PAs) in Georgia, the eighth largest number in the nation.
Yet, it's still not enough.
"There's a huge shortage, still a huge shortage, and we just can't meet the demands," says Dr. Kerri Johnson, dean of the Darton College of Health Professions at Albany State University. "More people have access to services. With more people utilizing healthcare – which is exactly what we need to bring up the health in our rural counties – there's not enough healthcare providers."
It's far from a new problem – nationwide shortages in nursing and primary care have been well publicized in recent years – but Georgia's nursing and PA programs have refined strategies to combat it. By working with key players in the state's healthcare network (fellow programs, health systems and practicing physicians) and exposing students to rural areas of the state, they hope to start balancing supply and demand.
---
A Versatile Education
One of nursing's biggest draws as a career – aside from booming demand and job security – is its incredible flexibility, which is growing as healthcare continues to change.
"As the healthcare system is evolving to focus more on primary care, health promotion and [wellness], our nursing curriculum has also evolved so that the nurses now aren't always in-hospital-based educated," says Dr. Suzanne Staebler, associate clinical professor at the Nell Hodgson Woodruff School of Nursing at Emory University and board member of the Georgia Nurses Association. "We now have nursing students placed in all sorts of different clinics learning that aspect of healthcare."
After graduation, nurses can continue to explore roles, too, working in hospitals, retail clinics, ambulatory care centers and insurance companies. Nursing degrees can lead to careers in research, education, policy and advocacy as well. "There's all sorts of different things you can do with just that one broad-based degree," Staebler says.
On the physician side, there's an equally versatile role: the PA. PAs can do 85 percent of what physicians can do, says Emory University School of Medicine's PA Program Director and Associate Professor Dr. Maha Lund. "We can see patients. We interview patients. We examine patients, and we make diagnoses. We order lab tests. We can write prescriptions," she says. "The only things that we cannot do as PAs are administer general anesthesia and have our own surgery or major surgery."
"All PA programs train their students as generalists, so they could work in a dermatologist office," Dr. Hank Heard, clinical assistant professor in Mercer University's PA program, adds. "They could work in an OB/GYN office. They could work in a hospitalist practice, in intensive cares or surgeries. They can do anything with their education."
And in a fraction of the time that it would take to become a physician. At Mercer, PA students can begin practicing medicine in 28 months; the average nationwide is about 26 months, according to data collected by the Physician Assistant Education Association. "It does not take a decade or near a decade having to go to medical school, residencies and fellowships," Heard says.
There's just as much demand for PA program slots as nursing programs, too. "It used to be that there were just a few schools. There was a limited amount of people who could get in," says Dr. Jill Mattingly, chair, clinical assistant professor and director of Mercer's PA program. "But right now, we are fielding 700 to 1,000 applicants for the spots in the program." Mercer's PA program currently accepts 70 students per cohort, a substantial increase from its first graduating class of 26 in 2010.
At Emory, demand is even higher; Lund reports more than 2,000 applicants for 54 slots – with more than three months left for applications.
Clearly, the demand for PA programs is strong … but the supply in Georgia isn't quite there. There are only five PA programs in the state – at Emory and Mercer, as well as Augusta University, South University in Savannah and Suwanee's Philadelphia College of Osteopathic Medicine. A sixth at Morehouse School of Medicine should come online in the next few years as well.
---
Growth Constraints
There is an upper limit to how many nursing and PA programs a state can support, and it's constrained again, in part, by issues of supply.
"It really is about faculty slots and training slots," says Staebler. Finding and recruiting top faculty talent is a challenge; according to a recent report by the American Association of Colleges of Nursing, 56 percent of surveyed nursing schools had open full-time faculty positions, and 16 percent needed more faculty but didn't have open slots to fill. That's because those most in demand have many options – research and clinical practice, for instance – most of which pay more than teaching.
"One of the big issues has been faculty salaries. It's difficult to recruit and retain faculty to teach students when faculty could make almost twice what they'd make as faculty if they'd just stay in clinical practice," Staebler says.
And about those clinical practices: Rotations are a critical aspect of PA education – but finding qualified preceptors (physicians, practicing PAs and nurse practitioners) to train PA students is an issue that crosses states lines.
"It is a nationwide problem, not just Georgia, because what we're asking a medical practitioner to do is to basically take time away from generating income, seeing patients and doing what they need to do in their practice to teach the next generation," says Heard.
So, the state gave preceptors a little more incentive. In 2014, Georgia became the first state in the nation to offer tax incentives for physicians to train medical, PA and nurse practitioner students. Two states, Maryland and Colorado, have since passed similar programs, and another 11 have similar programs in the works.
Benefits to preceptors are more than monetary, though, says Lund. "[The students] keep them up to date. A student might say, 'Hey, I read this last night. What do you think about it?' This exchange is really invigorating to our preceptors."
---
Increasing Rural Providers
Georgia needs qualified providers overall – but especially in its rural areas, where accessing any type of healthcare can be a challenge.
But how do you get new nursing or PA graduates to move to these areas? One of the most basic tactics is to recruit students directly from the communities that need them the most.
"If you utilize the people in your community and foster their growth and development and education, they are more likely to come back to that community to serve," says Staebler.
And if they're not from the area, introduce them. PA training involves rotations in a number of clinical practices, including pediatrics, OB/GYN, behavioral health, dermatology and more. Georgia's PA programs work with the state's Area Health Education Center network to bring students to rural areas of the state to complete residencies, introducing them both to areas of practice and areas in which to practice.
"A number of those rotations can be done in and around Albany, or in and around Rome, or in and around Toccoa – all regions of the state," says Heard, with the goal that students will make professional connections and stay in the area after graduation.
But it's not just an issue for PA and nursing programs to tackle on their own. The state's healthcare systems work closely with these programs as well, providing clinical study sites and working hand-in-hand with schools to help develop a pipeline of highly qualified graduates.
"If there's a school of nursing in the state of Georgia, I have a relationship with them," says Jill Case-Wirth, senior vice president and chief nursing executive for WellStar Health System, the state's largest health system. WellStar's network includes more than 20,000 employees, 1,000 physicians and 240 medical office locations across Georgia.
"As we work together to create what I would call career-ready nurses, that relationship matters," she says. "So we put a lot of stock in having relationships with key academic partners all across the state of Georgia, because we know those students live all across the state of Georgia."
---
Retaining Talent
The work doesn't stop with hiring more nurses and PAs. They need to be retained, too.
"Darton State College prior to the consolidation produced the most nurses in the state, and that was over universities and even the proprietaries," Johnson says. Albany State University and Darton State College merged earlier this year as part of the state's ongoing education consolidation efforts.
Though, historically, Darton State College has been a nursing powerhouse – graduating more than 880 nurses from its associate's and bachelor's programs over the last three years – its programs drew students from across the state, who tended to return to their metro hometowns after graduation.
"We're producing the largest number, but they're not staying in the rural areas," says Johnson. She focuses her efforts on keeping talent "below the line" of Georgia's north-south dividing line, Macon.
"I don't want to go above the line; I want to rise up below this line, and do what we can to feed this area of the state, not just with nursing, but the other clinical practices," she says.
To do this, Johnson is partnering with key players in the healthcare system, including neighboring nursing programs and regional health systems.
"We are working with the area hospitals now. The narrative is opened to what can we do to keep our workforce here," says Johnson. "They're looking at salary adjustments, better working hours and more staffing. They do realize that they've got to do something to keep the students, the younger generation, located here. It's an adjustment not only for education but the clinical practice as well."
For WellStar, retaining top talent boils down to listening to their needs – and then acting on that feedback. Among other benefits, WellStar offers onsite childcare, support benefits for aging parents, adoption assistance, flexible schedules and self-scheduling – all designed to support, and retain, valuable healthcare talent.
"We have to become very adaptable and nimble in that space, so we don't just attract but we can retain our nurses over time, as they have changing life needs," says Case-Wirth. "We need to be there as their partner."
---
Generational Shifts
As baby boomers age out of the workforce and into the healthcare system and the first of the Gen Xers creep closer to retirement age, another generation is set to take over: the millennials, who take a different approach to career planning than generations before.
"Many people are thinking about themselves, and not in a selfish way. It's about, 'I want to know how my future is going to look. I want to have that quality of life. I want to have a family. I want to make a difference in my community. I want to have mobility and be able to grow in this profession and become a leader,'" says Mattingly.
"This generation is so able to see beyond just getting into medical school or PA school," she says. "They're able to visualize what that next 20 years needs to look like for quality of life."
And they're able to change what that next 20 years could look like, too.
"The millennials, they cause you to go back and relook at things. They don't just ask the questions; they help you solve the problem," Case-Wirth says.
"Millennials get a little bit of a bad rap. … I have to say that the millennial nurses that are graduating from the programs around Georgia are some of the most talented nurses that I've come in contact with in my career," she says. "What's great about that is that it should be comforting to the communities in which we provide care, to know that the emerging generations of nurses are going to be really, really good, talented, solid partners with physicians."