Georgia Fare: Money in the Bank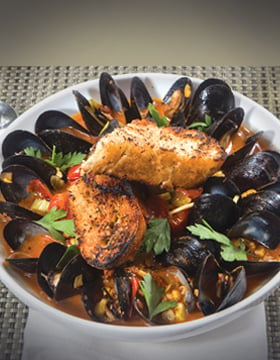 Named for an old dairy, Savannah's rapidly developing Starland District (slightly southeast of the historic and Victorian districts) has outgrown its Savannah College of Art and Design student days. The artsy area's pioneering spots (Back in the Day Bakery, Starland Cafe and Foxy Loxy) focused on breakfast and lunch, often with local and/or sustainable ingredients, created by young-minded owners who understand how people of all ages want to break their locally sourced (and optionally gluten-free) bread. That is, in jeans, with one hand free to check Twitter, and a beverage to speed your entry into the day.
As the neighborhood has matured, dinner spots have emerged for putting down your device and talking, with beverages to signal day's end. At Starland's northern fringe, below Forsyth Park, Local 11ten forged a path by serving an ambitious menu in a smartly redesigned former bank that features a vault at its core – a structural prototype that would repeat in the heart of Starland with The Vault, an Asian fusion restaurant by Savannah restaurateurs Ele and Sean Tran (Flying Monk, Fire Street Food, Tangerine and the new Current Kitchen & Cocktails, on Wilmington Island). That vibe carries through once again with Cotton & Rye, a neighborhood restaurant that just about anyone would welcome to their 'hood. (Owner Zach Shultz also recently launched a new Italian-American concept, Sugo Rossa, in the 12 Oaks Shopping Center.)
In fact, Cotton & Rye, like its neighbors The Vault and the handsome repurposed gas station Atlantic, signals Starland as not "developing" so much anymore – it has arrived. Its sit-down dinner menu doesn't deliver the kind of aspirational cuisine served at nearby renowned dining empress Elizabeth's on 37th, but that's not its goal. It's to serve interesting, delicious and, as much as possible, responsibly gathered and grown food that you could eat almost every day.
The streamlined interior runs to unfinished wood and brushed metals, attractive and sleek but easygoing and comfortable. The staff knows their stuff but also has a sense of humor. Even at its most crowded, noise levels are low enough for conversation; a shaded porch offers additional seating.
True to Savannah's port city soul, Cotton & Rye specializes in Southern food influenced by global travels. The menu changes frequently, but while we were there, the Crispy St. Louis Ribs were a whirlwind tour of Midwestern-style fall-from-the-bone ribs with Asian sweet-hot glaze, a sprinkling of peanuts and slivered, slaw-like Brussels sprouts. It's Southern in everything but the name.
More straightforwardly Dixiefied dishes abound – the Springer Mountain fried chicken thighs with spicy honey, and mac-and-cheese with cheddar, Parmesan and cream, served with a browned topping in a little cast-iron pot. Mussels get andouille, potatoes, roast tomatoes, corn and Old Bay in a Low Country-style stew that approaches Frogmore. Crisp-skinned Carolina trout is stuffed with Jonah crab and served atop Cajun-style "popcorn" rice with dill beurre blanc and spinach. If there is a fault, it is on the side of sweetness and comfort.
A namesake ingredient abounds both in the bread basket and cocktail glass – the housemade rye bread is an excellent sopper-upper and particularly good in the panzanella salad, with tomatoes, feta, cucumber, olives and red wine vinaigrette. The Mosler cocktail is a Manhattanesque elixir of Knob Creek rye, dry vermouth, tart cherry liqueur and walnut bitters. The desserts we sampled were outstanding – a little individual blueberry cobbler with shortbread crust topped with vanilla ice cream, and a dense and decadent chocolate buttermilk pie with dulce de leche and whipped cream.
Cotton & Rye's old vault may be empty, but for Starland, it's money in the bank.
---
Cotton & Rye
1801 Habersham St. (between 34th & 35th streets), Savannah
912.777.6286 or cottonandrye.com
Hours: Dinner, Mondays-Saturdays
Parking: Free in attached lot; street parking also free in this part of town
Dress Code: Cool and stylish
---
More Starland District standouts
Sly's Sliders and Fries
This "mecca of mini" is a must for $3.50 sliders and $3 dogs, plus hand-cut fries. Recommended: The Uncle Reuben and Lil Sandy, with Sandfly Bar-B-Q's pulled pork.
---
Atlantic
Vegan-vegetarian heaven, but meat-eaters will be well fed, too. Mushroom paté, cashew cheese flatbread with asparagus and seasonal stir-fries mingle with beef empanadas and sautéed shrimp.
---
Henny Penny Art Space & Cafe
Foxy Loxy and Scribble Art Studios combine forces to serve pastries and coffee, plus a space for you and your kids to play Rembrandt.