Gainesville|Hall County: Higher Sights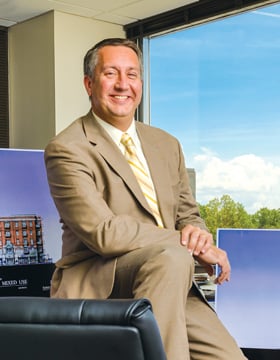 Gainesville and Hall County have long been regarded as the Northeast Georgia hub for business, education and healthcare. More recently, a surging economy and a growing population have helped lift this region to a new level.
"The manufacturers are still expanding, and we're still looking at new ones coming in," says Kit Dunlap, president and CEO of the Greater Hall Chamber of Commerce. "Healthcare continues to boom. Downtown Gainesville is popping these days."
The surge in development is rapidly transforming the city and its increasingly trendy downtown.
"Our whole downtown-midtown district has a lot of people kicking the tires," says City Manager Bryan Lackey.
In fact, they're doing more than just looking; they're investing and building. Construction projects are planned or already underway in the central part of the city, which is surrounded by four highways, as well as in the larger midtown area just off the downtown square.
Parking lots and older buildings are on the verge of conversion to residential, retail and other uses, and local leaders say these will be transformative.
Carroll Daniel Construction is putting up a Class A office tower – the first in nearly 30 years – which will serve as corporate headquarters for the company. The rest of the office space is being marketed to a growing number of businesses that now want to be downtown.
Local developer Tim Knight and his Duluth-based company, Knight Commercial Real Estate, is constructing a $16-million, 15,000-square-foot building featuring street-level retail and restaurants with some 33 luxury condos on the upper floors. He's also planning a $25-million, 30,000-square-foot retail-residential building that is expected to include condos over retail and restaurants. Combined, these three buildings represent an estimated investment of $53 million.
"This is exciting stuff," says Carroll Daniel Construction President Brian Daniel. "The city and the community as a whole have worked very hard for a long time to develop a vision for what they want downtown to be."
The area is becoming more attractive to young people and empty nesters who want to be close to the action in a walkable urban environment, he adds.
"You see these projects all over Atlanta in Virginia-Highlands, the Old Fourth Ward and Midtown," says Knight. "We thought this would work on a smaller scale in Gainesville. So far the response has been overwhelmingly positive."
In fact, even before any earth had been moved or floor plans printed, 30 people had put down deposits to get on a list for the right to buy one of the building's condos.
"It will be transformative by bringing a lot of residential to the area," says Lackey. Those new "rooftops" will serve to attract more retail development, including a possible grocery store, he adds.
Off the square, work will soon be getting underway on other new developments. The old county jail has been demolished, and its four-acre site will be available. The city also purchased a lot where insurance company Turner, Wood & Smith's building was located – it is building a bigger location nearby – and designated it for a new parking deck.
Walton Communities is constructing a new mixed-income apartment complex on the site of an old public housing project at the entrance to the city, and the Pierce House, a home built around the turn of the 20th century, is being demolished to accommodate widening of a major interchange on Jesse Jewell Parkway.
---
Fueling Growth
Hall's biggest and most dependable employer has long been Northeast Georgia Health System (NGHS). The hospital has expanded rapidly over the last decade and fueled an explosion in both medical services and medical offices to house them.
Today, NGHS employs more than 8,000 people, and has more than 700 physicians at its three hospitals.
NGHS's reach has made it not just a local but a regional healthcare provider. With a service area that includes 19 counties, its large number of specialists and physician groups has made healthcare available to more people.
Long a leader in medical education by training thousands of nurses, pharmacists and technicians, NGHS will begin to train new doctors in 2019.
"This is just taking [medical education] to the next level," says Dr. Samuel Johnson, chief medical officer and vice president of medical affairs for NGHS. "It's about recruitment and training your future workforce of physicians."
NGHS will offer six residency specialties in internal medicine, family medicine, general surgery, OB/GYN, psychiatry and emergency medicine, all in-demand services, especially in more rural areas.
"We also think bringing on these residency programs will help us serve the uninsured and underinsured," says Johnson. "It also supports complex care, and we think it will improve quality and outcomes for the organization."
The health system has continued to expand its coverage area. Three years ago it built a new hospital in Braselton. Early this year it bought Barrow Regional Medical Center in Winder.
"We saw a community in Barrow and surrounding areas that had access issues to high-quality healthcare," says Anthony Williamson, president of Northeast Georgia Medical Center Braselton. "There was a definite opportunity for our system to step in and provide that community with a stable healthcare provider that they could rely on and form solid relationships with into the future."
The health system's size and resources are also allowing it to partner with other area hospitals to shore up their facilities and offer new services to their patients. The latest of these is a potential partnership with Habersham Medical Center, which serves more than 80,000 residents in Habersham County and the surrounding area. The two hospitals are currently hammering out the details.
---
Expanded Operations
Over recent decades, Hall County has built a large and diverse community of corporate headquarters, as well as companies large and small. One company that found the county to its liking was ProCare Rx, a national pharmacy benefit management firm that moved from Duluth in 2012.
"We are a pharmacy switch, which means basically a clearinghouse," says Roger Burgess, chairman and CEO of ProCare Rx. "We can take a claim from any pharmacy and send it to any payor."
Along with room to grow on a new campus, the South Hall County location also allows ProCare Rx easy access to the Metro Atlanta area
Although Mincey Marble has been in Hall County since 1977, it is moving into a new and expanded facility on an 80-acre site in Gainesville Business Park. The firm is building a 400,000-square-foot plant to house all operations and its 300 employees. The move will consolidate operations from two other sites while offering space for growth. Mincey is one of the nation's leading providers of cast marble fixtures for hotels, apartments and other commercial markets.
---
Skilled Workers
While a host of factors, from education and quality of life to healthcare, have made Hall County the place to be for many companies, one factor stands out – skilled people who know how to do a job.
"Our main thing is workforce development and finding quality workers for business," says Dunlap. "We identified workforce development as a top initiative three or four years ago, and since then we've been making strides."
The success of those efforts is reflected in one of the state's lowest unemployment rates.
Creating that highly trained workforce has been one of the keys to Hall's success in attracting and retaining industry – and helping businesses, including Japanese equipment maker Kubota and bakery company Kings Hawaiian, expand. Helping them hire the right workers has ensured that companies stay in place and grow.
Workforce development has been kept front and center by Lanier Technical College, which specializes in providing career and vocational programs in a wide variety of fields along with customized training geared to the specific needs of local companies.
It is in the midst of its own expansion with the construction of a new campus north of Gainesville. The facility, which will welcome classes in January 2019, will be able to accommodate a larger student body – about 5,000. It will also provide the college with the ability to offer a host of new programs.
A new lab will be dedicated to diesel technology. Students will have access to a commercial truck driving range and training area. The campus conference center will have a culinary kitchen allowing for expansion of the culinary arts programs.
"We will have Georgia's only marine engine technology program," says Lanier Tech President Ray Perren. "With Lake Lanier being here, that's an important economic enterprise in our area. So we'll be able to support that through this program."
The college's primary mission is fostering economic development through training. Last year alone, some 152 companies made use of its customized training programs for their employees. Many were repeat clients, according to Perren.
Lanier Tech has worked closely with the two area school systems, as well as the local branch of the University of North Georgia, to provide the right education for industry, says Tim Evans, vice president of economic development for the Greater Hall Chamber.
---
Flowery Branch Revitalization
Hall County continues to benefit from the ever-expanding growth of Metro Atlanta.
"That growth is what we're looking to target with all this development and investment in infrastructure, storm water and roads," says Flowery Branch Mayor Mike Miller. "That's the key – we've got to build it because they're coming. We know the growth is coming. We're just trying to do it in a smart, responsible way."
This South Hall community is breathing new life into its downtown. The goal is to bring more businesses into and raise the profile of the area.
According to Miller, a downtown study identified the potential to host several more restaurants, niche shopping and other retail as well as some housing.
To entice the private dollars needed for these types of projects, construction is underway on a facility for city offices that will free up buildings along Main Street for commercial development.
The new $5.3-million, 18,000-square-foot city hall will provide more spacious quarters for city departments including police. The two-story building will end the too-common practices of police officers using the city's conference room and even the mayor's office to conduct interviews with suspects, according to Miller.
Not that the Flowery Branch downtown is deserted. It has already attracted some retail and restaurants. Once the move into the new complex is complete, the current city hall and administrative building – both on Main Street – will be available for private development.
A revitalization of downtown will help boost traffic at businesses like Antebellum Restaurant. Located in a historic home just off the main business district, the establishment has become something of a destination for foodies seeking a new dining experience. Since opening in 2012, the restaurant has earned a series of awards from food guides, including being named one of the website OpenTable's Top 100 Restaurants in America.
"It's fancy southern – 20 years of me put into a restaurant with a little bit of southern enhancement," says owner and chef Nicholas St. Clair.
Hall County is a place where getting recognition doesn't seem strange anymore. From industry to healthcare to dining out, folks here believe they offer the best you can find anywhere.
---
LOCAL FLAVOR
Start Your Engines
Folks in Hall County like to talk about the slower pace of life here, but one place where nothing is slow is Road Atlanta. For nearly half a century, the racing facility has hosted some of the world's fastest and dramatic races, attracting audiences from around the country and around the globe.
The course got its start in 1969, when a trio of racing enthusiasts purchased a 750-acre tract of farmland in Braselton. Over the years, the course has attracted some of the best drivers in the sport, but also went through multiple owners and even bankruptcy.
"Over time it's become a place to go to see the latest and greatest from a very unique perspective," says Geoff Lee, Road Atlanta president and general manager. "The other side of what makes it appealing is almost like being in a Kentucky horse park with its rolling hills and a number of different vistas that our fans can view from almost anywhere on the race track."
Unlike other sporting events, fans aren't confined to their seats and can move around to watch the race from different angles and even go down and talk to drivers and crew at certain times.
This year, Road Atlanta is celebrating the 20th running of the Petit Le Mans, a 10-hour sports-car endurance race run each October. The event is Oct. 4-7. As part of the celebration, a Ferris wheel has been installed, just like the one at the original race in Le Mans, France.
"You can watch a piece of the race from the Ferris wheel and see almost all of the track at once," says Lee.
With the Petit Le Mans, Road Atlanta has become a focus for the top level of sports car racing internationally. Major car companies such as Porsche, BMW, Ford and others bring their best prototype cars to show off what they can do on the track. In addition, internationally known drivers arrive to compete on the 2.54-mile course. Class winners of the Petit Le Mans receive invitations to the next year's 24 Hours of Le Mans in France.
Petit Le Mans is Road Atlanta's biggest draw these days, and its impact is felt off the road as well. With people arriving from 37 states and 19 foreign countries, the event provides a strong boost to hotels, restaurants and local retailers. – Randy Southerland