Turner County's national art award winner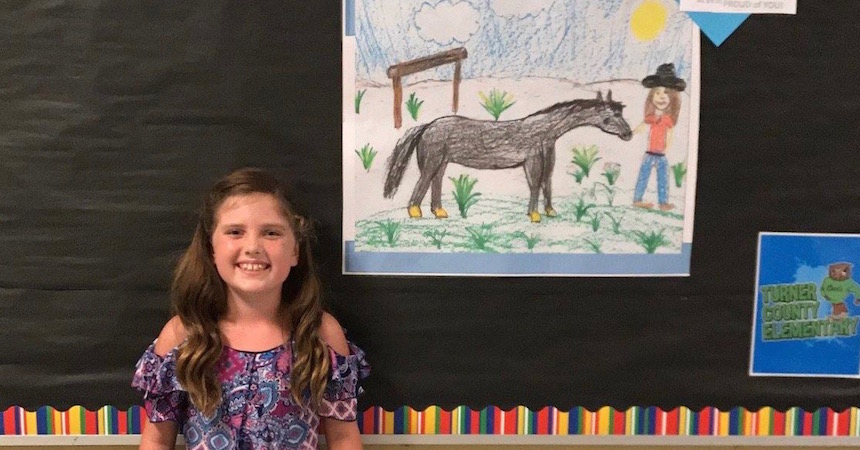 Molly Williford, a third grader at Turner County Elementary School in Ashburn, put crayon and marker to paper and visually created what she wants to be when she grows up – a veterinarian. Her drawing competed with thousands of others to win her the top award in a nationwide contest held by Georgia-Pacific Corp. (G-P).
G-P partnered with the Kids In Need Foundation to provide teachers with materials to implement fun activities in their classrooms. The "Call to Canvas Contest" was one of the activities encouraging children to design visual works depicting how they see themselves in the future. Teacher's Harvest, an organization that provides supplies and equipment to South Georgia teachers, administered the contest. As a result of Molly's artistic effort, Turner County Elementary School won a pallet of copy paper, estimated at $2,000.
While Molly won the national prize, five other Turner Elementary students' creations placed among the contest's top 20 art works. This feat was especially impressive given the fact that the county's schools reinstated art classes in the curriculum last year after a several year hiatus.
Note: This week, Sept. 10-16 is National Arts in Education Week. To find out more about the arts in Georgia, see the Georgia Trend feature Artful Endeavors and Publisher Ben Young's column Why We Need the Arts from this year's June issue.
Photo of eight-year-old Molly Williford and her national award-winning picture of herself as a veterinarian provided by the Ashburn Turner County Chamber of Commerce.