New Flight Plan
As the airport engine driving Metro Atlanta, Hartsfield-Jackson Atlanta International Airport is gearing up for some major changes.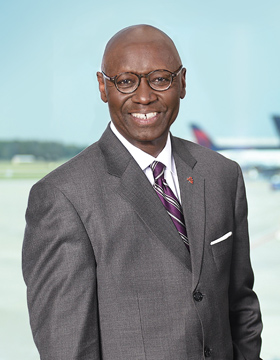 As the world's busiest airport embarks on a $6-billion expansion plan with a 20-year timeline, passengers to Hartsfield-Jackson Atlanta International Airport are going to see a lot of changes, from soaring canopies at the entrance to a new concourse and gates to different parking options. But the area around the airport – a large swath of the Southside – is hoping to see even more. Program Director Kirsten Mote of Aerotropolis Atlanta CIDs calls it a ripple effect.
It's a mighty big ripple.
The airport is the engine that drives the entire metro area. Consider that 63,000 people are directly employed by the airport, according to a 2013 economic impact study. The facility supports almost half a million jobs and $18 billion in wages in the region. It generated $64.2 billion in total business revenue for Atlanta and $70.9 billion for Georgia.
Yet despite how high that engine revs, development on the Southside of Atlanta lags behind that of the north metro area. So as the airport starts on a master plan "chock full of projects," as Airport General Manager Roosevelt Council Jr. describes it, leaders in the surrounding communities see big opportunities.
---
Next for ATL
The airport expansion, dubbed ATLNext, concentrates on six areas: modernizing and expanding the passenger terminal, building new parking decks, relocating and upgrading some support facilities (like a fire station and staging areas), constructing additional air cargo facilities, building a hotel and travel plaza, and adding taxiways and eventually a new runway.
"Everything is driven by demand," says Council. "Every 15 to 20 years, an airport takes a look at itself to determine whether its current capacity can meet the impending demand. For us that's really crucial, because our numbers continue to grow every year."
The "world's busiest airport" hosted more than 104 million passengers in 2016 and sees about 980,000 takeoffs and landings each year.
While there's still capacity to grow, Council says it's crucial to have everything ready for the future – like plans for that sixth runway. "It's really driven by certain metrics that we look at and the [Federal Aviation Administration] FAA looks at," he says. "An airport just cannot arbitrarily say, 'We're going to add a runway.'" So the airport wants to be ready to seek FAA approval to start work on an additional runway when it's needed. Council says that's maybe a decade away.
The sixth runway is projected to sit on existing airport land, so it shouldn't cause the disruption to nearby communities that building the fifth runway did from 2001 to 2006 when it opened. Hartsfield-Jackson is a small airport in terms of its footprint – at 4,700 acres, it's less than half the size of Dallas/Fort Worth International or Denver International. So the construction of two end-around taxiways that are in the plan, for example, can have a direct impact by decreasing delays for takeoffs and landings, because planes won't have to go back across the runways to reach their gates.
The smaller footprint means that when Hartsfield-Jackson looks to expand, it doesn't have a lot of open space available. That causes a bit of a domino effect. "Oftentimes we have to move something, rebuild it, and then build on the removal area," says Council. That's the case for some of the projects involving support facilities. For example, plans to build a new Concourse G mean moving Delta's flight kitchens and cargo facilities, which in turn means moving an airport fire station.
"It's not a challenge that's stopping us from doing any of the projects we need to do," says Council. "It's just that it will probably take us a little bit longer … and it adds a little bit more cost."
---
Cargo City
Several projects on airport land will provide substantial opportunities for additional development "outside the fence," fueling the hope that the Southside may finally see a significant economic boost.
Take cargo, for example. Hartsfield-Jackson's world-leading reputation and numbers come from passenger traffic, but Atlanta Mayor Kasim Reed has long focused on substantially increasing the amount of air cargo that comes through the facility. Cargo flights tend to operate at night, when there are fewer commercial flights, so there's capacity.
Council says the airport moved about 650,000 metric tons of cargo in 2016, and the goal is to triple that capacity by adding 1 million square feet of warehouse space.
Currently air cargo is responsible for about 27,000 jobs in Georgia. Shelley Lamar, executive director of the Aerotropolis Atlanta Alliance, expects a lot more and says the alliance and its partners are working to get people ready for jobs that are coming.
The alliance is a public-private partnership formed to bring together the vast collection of cities, counties and companies surrounding the airport to increase economic development in a coordinated fashion. That's new for the Southside, where the sheer number of cities (East Point, Hapeville, College Park, Forest Park) and two counties (Clayton, Fulton) has complicated cooperation in the past.
The ATLNext plan gives the area a real opportunity to take advantage of the airport's growth, says Lamar.
An aerotropolis or "airport city" is an area of planned development with the airport as its center. The man who coined the phrase, John Kasarda, director of the Center for Air Commerce at the University of North Carolina's Kenan-Flagler Business School, describes it as a place "where distant travelers and locals alike can conduct business, exchange knowledge, shop, eat, sleep and be entertained without going more than 15 minutes from the airport."
Atlanta would seem ripe for that. "It's happening all over the country and internationally, where people are saying, 'You know, the airport is not an ugly thing; it brings great economic opportunity,'" says Lamar. "The general Atlanta area has taken advantage of the fact that the airport is a world leader. The Aerotropolis Alliance is trying to make sure the region around the airport is included in the economic halo [of the airport]."
Cargo is a part of it: There will be construction jobs building the new warehouse space, as well as employees needed for its operation – and as more ancillary companies are drawn in, jobs in IT, supply chain and logistics.
The alliance's blueprint for development envisions a "Cargo City" cluster on the south side of the airport that can leverage access to railways, interstate highways and major roads, providing opportunities for pharmaceutical and biosciences products, advanced machinery and agribusiness. Even flowers, says The ATL Airport Chamber (TAAC) Executive Director Carmenlita Scott.
More cut flowers are shipped through Miami International than any other U.S. airport, but Scott thinks Hartsfield-Jackson can mount a challenge. "With all the expansion, we'll be a huge competitor," she says. "It's easy for cargo to connect to other airlines, cargo facilities such as UPS and FedEx and other trucking facilities. It takes logistics to a new level."
Infrastructure is key, says the CIDs' Mote, and the CIDs partnered with the alliance, airport and other stakeholders to apply for a grant to develop a freight cluster plan. "We're going to look at how freight moves both within the region as well as in and out of the region," she says. "We want to understand what kind of infrastructure improvement we need to make to be sure the area is flowing with goods in and out of the airport, as well as all the industrial distribution, supply chain, logistics – all those different industries."
---
Airport City
For the first time, plans are in the works for Hartsfield-Jackson to have a four-star hotel with 60,000 square feet of office space and a travel plaza with a convenience store, fueling station and service center – all on airport land. It will be done through a public-private partnership, and that's also a first for the airport, says Council.
"It's something we're really excited about," he says, noting that several other U.S. airports have hotels within their facilities. "With Atlanta growing the way it is and the exposure it's getting [through] sports and entertainment, it just makes sense that the airport should have something like that."
The hotel, just west of the domestic terminal and connected to the SkyTrain, will have a restaurant in the lobby and a skybar on the 10th floor that looks out to a runway.
When a ground lease with the hotel and office developer Majestic Carter Atlanta Mixed Use was announced in 2016, Atlanta Mayor Reed touted its potential for letting people fly in from all over the world, conduct business and go back home as a strong bargaining chip in the competition for jobs and investment. It will also provide an additional revenue source for the airport.
And it should be a boon for College Park, which aims to redevelop 320 acres across Camp Creek Parkway from the Georgia International Convention Center (GICC) and the four-star Renaissance Atlanta Airport Gateway Hotel, both connected to the airport by the SkyTrain. College Park established a tax allocation district (TAD) in 2016, and an advisory council composed of appointees from the city and Fulton County are evaluating development proposals, according to Artie Jones III, director of economic development for College Park.
"My goal is to have a developer locked down by the end of this year … and to really see some soil moving by the end of 2018 or the beginning of 2019," he says.
In addition to cargo and mixed-use plans, the alliance's blueprint for development envisions two other potential areas within the Aerotropolis core, each with a particular focus:
• International Gateway, located next to the International Terminal and a potential cluster area for logistics enterprises
• Corporate Crescent, on the north edge of the airport and anchored by the headquarters of Delta Air Lines and Porsche Cars North America
Porsche Cars North America, located in Hapeville, is credited for being an Aerotropolis pioneer, both in its civic engagement (Porsche Vice President Joe Folz was the first chair of the alliance) and its ability to make other corporate headquarters look at the area. Porsche also influenced the development of the new Solis luxury hotel, located at Two Porsche Drive. "Other companies look and say, 'Porsche is there, we don't want to be left out,'" says The ATL Airport Chamber's Scott.
---
What's Different This Time
Hartsfield-Jackson has been Atlanta's ace in the hole for decades. But despite Porsche's pioneering move south, the northern suburbs have seen most of the economic development. So why are hopes high now that an aerotropolis can rise up?
The Aerotropolis Atlanta Alliance's Lamar says it's a bit of a miracle – though as she explains it, it's clear that means a lot of hard work poised to pay off. Throughout the metro area, its many cities "historically did not coordinate with the sister city they're right next to," Lamar says. "It's not unique to the Southside. What is unique is that [now] they have been able to come together. It took a few years to get everybody to come together to develop a common vision and mission for the alliance and the CID. [On the Northside] the CIDs led the charge for roadway and infrastructure improvements. And so it's time for the Southside to take advantage of that same concept."
College Park's Jones proves Lamar's point by saying the exact same thing. Over his career, he's seen many cities compete against each other. "But in the North Atlanta area, they work together," he says. "When I started working in College Park, I thought, we have the world's most traveled airport – why isn't there more economic development in this area?" When the airport built the fifth runway, which displaced homes and businesses, Jones says there wasn't much collaboration. Now, it's different. As the CIDs and the alliance were formed, "all of the municipalities in the counties in the south metro area finally began to work together and move forward with one voice," he says.
And the airport is the hub. "I think [being in silos] came because there was nothing that served as a glue, to bring them all together where they could all benefit. It just makes sense that the airport would serve as that," Council says.
"We're hoping that what comes out of the aerotropolis," says Council, "would be to develop a whole new way of life in South Atlanta."