Higher Goals for Higher Education
A Q&A with University System of Georgia Chancellor Steve Wrigley, who is focused on keeping quality up and costs down.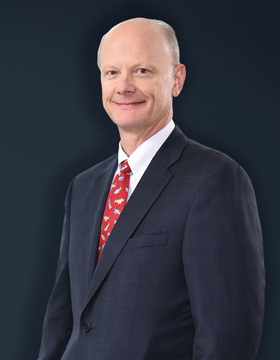 Steve Wrigley, chancellor of the University System of Georgia, is a familiar presence in higher education – he served as interim chancellor and executive vice chancellor of administration before the Board of Regents tapped him for the top job, effective Jan. 1, 2017. He knows his way around the state Capitol as well, having been a lobbyist for the University of Georgia and, before that, chief of staff to former Gov. Zell Miller.
He is a graduate of Georgia State University and has a doctorate from Northwestern University.
The system he runs has 28 public institutions, including four major research universities, nearly 322,000 students, more than 45,000 faculty and staff, an annual budget of $8.84 billion and a mandate to provide top-quality education.
Georgia Trend Editor-At-Large Susan Percy talked to Wrigley at the University System offices early this summer, just days before the campus carry law (allowing guns on public campuses, with some restrictions) took effect. They talked about the law's implementation, consolidation, college costs and economic development.
Following are edited highlights of the interview.
---
GT: Give us an overview of the university system.
Wrigley: The system remains strong. We get good support from our state leadership. We continually have our institutions ranked among the top in the country. Georgia Tech and [University of] Georgia are the two that everyone knows about, but many of our other institutions are frequently ranked. We've got great leadership, great faculty; our students are doing well.
---
GT: We've had a chance to see the guidelines you issued to the colleges on the new campus carry law. You reminded everyone that it is the law, like it or not. Are you confident that schools will be up to the task of implementing it?
Wrigley: Yes, I think so. The staff here have done a great job putting the guidelines together, talking to campuses, getting their views before we issued them, during the time we issued them and after. We knew it would be an iterative process. We've had a training session with our police chiefs. That's been our focus, on implementation. I feel good about where we are. The law is, frankly, pretty straightforward.
---
GT: When you talk to parents who express concerns, do you feel comfortable assuring them their children, their students, will be safe on campus?
Wrigley: Yes, I think so.
---
GT: Consolidation has been a big push for the university system. What was the impetus, and how is it working?
Wrigley: We started looking at it in 2011 when [Hank] Huckaby became chancellor – the potential for consolidating then our 35 institutions. The primary reason was to serve students better. We also wanted to have associated regional economy impacts, find efficiencies, save money. But the primary purpose was to serve students.
---
GT: How does consolidating help students?
Wrigley: Several ways – one by expanding degree offerings. For example, in Gainesville we consolidated Gainesville State College with [North Georgia College and State University] to create the University of North Georgia in Dahlonega. Before consolidation, there were eight bachelor's degrees offered in Gainesville; now there are 20. Those institutions are 35 miles apart. We've seen that in other institutions. Middle Georgia has hired more advisors for students; other institutions have invested in support services for student success, providing more advisors, more faculty – changes institutions have been able to make by consolidating, saving through efficiencies.
---
GT: How much money has been saved?
Wrigley: To date, systemwide, we've saved about $24 million since 2012.
---
GT: Any more consolidations planned?
Wrigley: The approach we've taken is not to have a master plan. When we first started, we embarked on four consolidations, which was a big undertaking because they are complex from an organizational and system standpoint, but also just from a human standpoint.
Since that time, we've done one or two at a time. We have two underway now. When you make a big change like that, how you organize and how you deliver your services, it does affect behavior. We've taken the approach of doing analysis, announcing one or two and really having those largely completed before we think about [if we] should take on another. We want to have a sense of the impact of the consolidation, the impact on where students are going, enrollment, those kinds of things.
---
GT: You've had some resistance, notably in Augusta and at Southern Poly. How do you deal with that?
Wrigley: We try to anticipate where there will be folks who disagree or have criticism. Things like the name of the campus, school colors, campus mascots – those are important things to people because they are identity, many in place for decades. We take very seriously people's concerns and try to make the case that in the long run we believe it's better for the institution and better for the educational offerings, better for the region. It's important for us to listen when we do embark on a consolidation, because something always comes up that we didn't anticipate.
---
GT: How long does the process take?
Wrigley: When we announce, it takes us about a year before we complete the initial consolidation and get SACSCOC [Southern Association of Colleges and Schools Commission on Colleges] approval.
We generally felt that it would take three to five years before the institution would begin to feel like a single institution – in some cases maybe a little more than that. If you don't pick a year and start, you'll never get three to five years down the road.
---
GT: How has the role of college president changed?
Wrigley: It's no secret that the role of president in the last 15 years is far more an external role, particularly in the case of public higher education: dealing with elected officials both state and local, dealing with alumni, donors, prospects. Probably 25 or 30 years ago, the president was largely seen as the chief academic officer of the institution. Most institutions [now] have a provost who is the chief academic officer, just because of the complexity of what colleges and universities do and the need to have an external-facing view for the institution.
I think that will probably continue to accelerate. I don't see it reverting back to what it was, primarily because recruiting students, recruiting faculty, are to some degree related to resources. You need to have good relations with external funders.
---
GT: There's been a real emphasis of late on the economic development role of Georgia's public colleges and universities. Could you talk a little about that?
Wrigley: Our institutions have always played a role in economic development and in the economy of their local communities and regions. They're employers, they educate. We have a large role in preparing the workforce. We've become more self-conscious about it in the last 10 to 12 to 15 years. Our research institutions – Georgia Tech, UGA, Georgia State and Augusta University – play a major role in the economy of the state because of the sponsored research they conduct, from the research dollars they are able to bring in to do their research activities, but also from the research discoveries that can become products that can lead to companies that can lead to employees being hired.
---
GT: How much money is involved?
Wrigley: For example, Georgia Tech for the last three years has had sponsored research in excess of $700 million for each of those three years. So that's a substantial amount of money flowing into our state. Other institutions do research as well, but the research institutions really drive the research. We have asked our institutions to be more deliberate and self-conscious about their role in economic development, and all of them have embraced that. Our primary mission remains educating and graduating students. They need to be well educated and need to be prepared to participate in the workforce.
---
GT: You were quoted recently, after speaking to a civic club, as saying not everyone needs to go to college. Could you elaborate?
Wrigley: The point I was making is that for students to participate in this complex world economy, you need some education beyond high school. Most of the data is showing that 60 to 65 percent of the jobs by 2025 will require some education beyond high school. We have a terrific technical college system in our state. I think students ought to pursue what they love. If it's pursuing welding certification – there are wonderful jobs and that's valued work; it's important work. Other students might pursue a degree in English and teach. All of that work is valuable, important to the economy.
---
GT: How is your relationship with the technical college system?
Wrigley: Very good. Commissioner Corbin – Gretchen – is a good friend. We've worked together on a number of projects.
---
GT: So you don't consider her a competitor?
Wrigley: No, I really don't. We're both trying to do the same thing, which is raise educational attainment levels and help students meet their educational and career goals. In the end, we need together to try to answer the question: What's best for the students?
Some years ago we developed what's called articulation agreements – 27 core courses. If you take them in USG or the technical college system, the credits transfer and follow you. The transfer is seamless. We don't have any barriers for students.
---
GT: College costs are a big worry for many Georgia families. From a system standpoint, how do you balance wanting college to be affordable, but wanting to provide the best education without cutting corners?
Wrigley: We are concerned about the costs. Neither of my parents went to college; I'm a first-generation college student. I worked my way through Georgia State, worked in a warehouse. I loaded trucks for UPS on the midnight shift. So I've got some understanding of what that's like. That is something I'm concerned about, the board is concerned about.
---
GT: What are you doing to control the costs?
Wrigley: That's one reason we pursued the consolidation, to be more efficient. We have held the cost of tuition down. For the [2016-2017] academic year, we did not raise tuition. For the coming [2017-2018] academic year, we raised it 2 percent. We've made a real effort the last five or six years to hold fee increases down. There was a time we were raising 60 or 65 fees around the system; we're trying to keep that to 10 or 11, and they have to be related to a very specific business case.
Textbook costs are another focus for us. Rice University does an annual survey, and last year they ranked us No. 1 for saving students money on textbooks – primarily through eCore, our online core courses.
---
GT: How do Georgia tuitions compare with other states'?
Wrigley: A study done last year by the state auditor concluded that our tuition is about 24 or 25 percent less than peer institutions. So we feel like we've done a good job holding costs down, while at the same time offering high quality. It's a constant and regular challenge. We feel like we are a bargain.
---
GT: The university system depends on the state legislature for a big chunk of its funding. Is it a tough sell to get the money you need each year?
Wrigley: The governor and legislature give us a hearing, give us an opportunity to make our case. In the end, that's all you can ask for. They are very supportive, and I think the track record of the governor's support and legislators' support is very strong. We're very appreciative of that. We do not take it for granted at all. I'm a big believer that we are a public entity, and we are accountable to them and accountable to the public.
---
GT: Do you have a good relationship with the governor and the state lawmakers?
Wrigley: I feel good about the relationship. We work hard at it. I think it's very important to be good listeners to our partners in the General Assembly and the governor's office.
---
GT: Did you worry that the position you took on campus carry might jeopardize your ability to ask for funding?
Wrigley: I never felt at all that opposing campus carry would somehow endanger our budget. They understand how I feel, how the board feels. The issue has been before us five or six years or longer. It's no surprise where we are. We can disagree on one issue and agree on five others all in one conversation, and that's the way the process works or should work. I never felt any concern they would hold our view on campus carry against us.
---
GT: How does Georgia's system stack up to other state systems?
Wrigley: USG is seen as a leader nationally in a number of areas. Consolidation is probably most prominent, but we have had a number of significant initiatives as part of Complete College Georgia, where we improved our performance in remedial education. We've got a program called 15 to Finish, where we're encouraging students to take 15 hours [a semester] and complete their studies on time. We're seeing improvement there. The predictive analytics effort Georgia State University pioneered helps us identify students who are struggling in certain courses, intervene and give them the kind of tutoring they need.
---
GT: What do you need to keep the system strong?
Wrigley: We need to be smart. We need to provide smart leadership. We live in a dynamic time where resources are tight for everybody, where there is an expectation of quality for money that's spent. We need to keep that as part of our value system. We need to constantly reflect on what we're doing and how we're doing it, be ahead of trends where we can. Just be smart about the kind of leadership we're providing and understand we've got to squeeze every dime out of every resource that we get.
---
GT: You worked with Gov. Zell Miller when he was formulating the Hope Scholarship Program and now are in a great position to evaluate it. What has been the effect on higher education in Georgia?
Wrigley: It has had a dramatic effect. I think it's played out in the way Gov. Miller hoped and envisioned. He wanted to raise the quality of the system, make it attractive for the very best students, make it affordable for students. But more than anything else, he wanted to put the value forward that if you work hard and do your part and get a B average, you can earn something for that – the Hope Scholarship. That's really what drove him. He cared about higher education, he valued it; but he wanted to convey that there's a scholarship here, it is unique in the nation, it can make your journey to the degree a lot easier; but you've got to work for it. That really summed up what he hoped would happen, and I believe that has happened.