Healthy Banks, Healthy Communities
Georgia banks have seen a year of growth, profit and opportunity.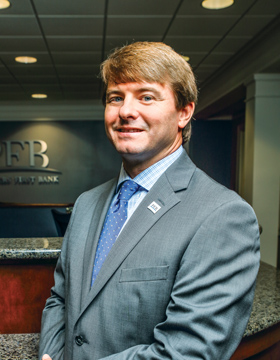 What's one of the easiest ways to determine the economic viability of a community? Look at its banks, says Joe Brannen, president and CEO of the Georgia Bankers Association (GBA).
"The banking industry is a direct reflection of the health of the state of Georgia, and Georgia's doing well," Brannen says, "and so the banks are also doing well."
Over the past year, credit quality has grown to be the best the organization has seen since before the economic downturn, says Brannen. Loan growth is up, and deposits are up as well. Through the first quarter of 2017, 97 percent of the state's banks were profitable, earning $764 million – an increase of 6.2 percent over the first quarter of 2016.
"Businesses and consumers are able to repay the loans they've taken out, and so that's directly reflected by the banks," he says. "We're seeing good things across the board with the industry."
---
Personal Investments
"Banking is all about people," says Heath Fountain, president and CEO of Planters First Bank, a community bank with branches in middle and south Georgia communities including Macon, War-ner Robins, Cordele, Ocilla and Perry. "The products and services between banks are fairly commodity; there's a little bit of difference. It's really about the experience and interaction with the people."
Fountain and his community banking counterparts aim to give customers a "consultative" service that incorporates individualized understanding of each customer and his or her needs. This personalized attention is where community banks, which make up nearly 80 percent of the 229 banks operating in Georgia, shine.
"That's what they do best," says Rob Braswell, president and CEO of the Community Bankers Association of Georgia (CBA), which serves local, independently owned banks through education, networking, group purchasing and public affairs. "They know the market, they know the people in the market, they know the businesses, and they know the needs of the community. Community banks continue to be the leading provider of small business loans due to that knowledge, that personal first-hand knowledge of the owner and the business."
Building and maintaining relationships with the local community is paramount for Georgia's banks. And, as rules and regulations in the banking industry continue to develop – and technological advancements continue to transform customer expectations and behavior – these relationships must evolve as well.
"The nature of relationships for banks [and] businesses is changing at the fastest pace in the history of our economy, and that is absolutely related to technology and the generational expectations of how people will access commerce," says Claxton Bank President and CEO Philip Williams. "My kids are probably not going to come to the bank a lot to do business during their lifetime, no matter what they choose to do.
"But I do think there's an exception to that, and that exception is … when somebody needs to grow a dream into a business – or a dream into a new house, or an idea into an organization that will employ 100 people – there's a long distance between the idea and it coming to fruition. Banks help bridge that gap, and community banks help bridge that gap in tangible ways that are more than just a loan or just a deposit account."
---
Combatting Elder Abuse
One area of particular focus for Georgia's banking leaders has been combatting elder financial abuse, which is often perpetrated through unclear powers of attorney.
"We saw an incredible amount of abuse from people who were using powers of attorney to basically steal people's money," says Brannen. "They were willingly being given power of attorney. It wasn't a fraudulent thing, but we saw a lot of abuse with the way those broad powers of attorney were actually written."
The GBA and the CBA – along with the Georgia Bureau of Investigation, AARP Georgia and the Alzheimer's Association Georgia chapter – worked with state lawmakers to develop the Uniform Power of Attorney Act, which narrows the legal basis for granting power of attorney and provides a statutory power of attorney that clarifies language that could otherwise be subject to interpretation.
The standardized power of attorney "will be a significant benefit to caregivers and banks alike," says Braswell. "The new law gets rid of much of the ambiguity that existed previously and will assist banks in reporting suspected financial elder abuse."
While the uniform power of attorney went into effect July 1, elder financial abuse remains a troubling issue for banks throughout the state, manifesting in unusual account activity, unexplained withdrawals and other red flags.
"Unfortunately, the financial abuse of the elderly has become so prevalent that banks have been called on more and more to be the first line of defense," Braswell says.
---
Keeping Up With Technology
To keep pace with Georgia's shifting demographics, state banks continually respond with new products, technology and incentives designed to attract customers. Sometimes, those technological advancements can help banks expand more efficiently as well.
Peach State Bank and Trust, with headquarters in Gainesville, caters to northeast Georgia's medical practices, with a particular focus on electronic banking technologies.
"We used that as our niche," says Peach State President and CEO Ron Quinn. "Doctors' offices are an easy way for us to go out there. Electronically, they can use remote deposit without ever having to come to the bank. If they have a loan request, we'll go to them and take care of their needs. They never have to leave their office. It works out really well for them."
Focusing on electronic banking has allowed the bank to thrive: When it opened in 2005, there were five community banks in the market. Now, Peach State is one of two remaining community banks in Hall County, and its technological strengths have allowed it to expand its customer base well beyond county lines.
"We haven't had to go out and build a branch through a brick-and-mortar system," says Quinn. "It's been pretty much done through electronic banking."
In Claxton, Williams sees technological advancements like ITMs – interactive teller machines, where customers can interact with a banker remotely using a live video and audio feed – as a viable way to expand business without increasing the bank's physical footprint.
"What that keeps me from having to do is put brick and mortar in a place that I can't support the cost of, but it still allows me to provide tangible service to folks," he says. "The technology that's out there right now that we're considering is completely built around convenience for the customer in a delivery channel that the bank can profitably provide."
Banks are also offering new products aimed at younger customers, such as high-interest rate checking accounts, Apple Pay participation and products to make transferring money electronically easier and faster.
At Peach State Bank and Trust, these efforts are paying off. "The first eight years we were open, about 70 percent of our depositors were over the age of 50," Quinn says. "[These products] brought in our younger people from 18 to 30 and grew about 10 percent of our customer base. It was about 18 percent, and now it's about 28 percent in the last four years."
---
Reviewing Regulations
With administrative shifts in Washington, Georgia's bankers are also looking forward to regulatory changes that may make banking more flexible.
"We feel like going forward, there's going to be an easing of some of those guidelines," says Lee Clark, president and CEO of First State Bank. "It's not going to be to the detriment of the banking world or banking community, but it will certainly free us up to do what we're set up to do: take in deposits and make loans."
First State Bank, with branches in Wrens, Americus, Louisville and Warrenton, was headed toward shuttering after the economic downturn.
"We were losing a good bit of money several years in a row and regulators placed us under a consent order, a written agreement and a compliance MOU [memorandum of understanding], which all three are the kiss of death in banking," Clark says. "For the last six and a half years, we have pulled ourselves out of that. We have been released from the regulatory enforcement actions. In 2014, we made more money than the bank had ever made in its 50-plus-year history. 2015 exceeded that; 2016 exceeded that. If things go well, 2017 is looking to be equally as good."
Clark credits focusing locally and making smarter loans for these accomplishments, but says his bank could do more with eased restrictions – leading to more opportunities for growth in his community.
Georgia bankers, including Planters First Bank's Fountain, have been working with regulators to clarify the real-world implications of banking regulations. "A lot of the times we have the same objectives … but the way they implement things, sometimes the opposite happens," Fountain says. "I think if they would work with us a little more, we might be able to come up with ways that are helpful to both their objective and the banking industry – and to the consumer."
After all, healthy banks mean healthy communities. And healthy communities mean happy bankers, says Williams. "You never get tired of seeing your own customers be successful."