Georgia Fare: State Treasure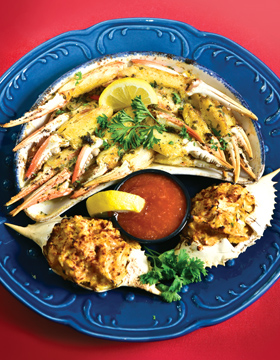 Time capsule. Blast from the past. Vintage. You get the intended meaning when people use these terms to describe a restaurant, which often translates to "Good, but … (choose one: old, outdated, bland, cheap)."
For a place like Daphne Lodge in Cordele, you need other ways to describe its sweet, old-school decor and a deceptively simple menu of South Georgia specialties – fried catfish, she-crab soup, smothered quail, shrimp and grits – that has been so good for so long it now seems downright prescient. Instead of such airless faint praise, these descriptors should denote places that are fully alive, have honed a distinctive dining style down to a science, and maintained it at the same high level for decades. Living State Treasure, maybe?
A few other Georgia restaurants remind me of Daphne Lodge – Mrs. Wilkes Dining Room in Savannah, Bennie's Red Barn in St. Simons or even the Greyfield Inn on Cumberland Island. All of them have a homespun atmosphere that reminds you of someone's house (or barn, as in Bennie's), and offer an experience that reminds you why Southerners earned legendary status for hospitality, even when they had little to share and less with which to decorate. But each of these restaurants is also utterly unlike any other restaurant. And unique is definitely an apt description for Daphne Lodge.
Set in tall piney woods and surrounded by azaleas, the Daphne Lodge has been family-owned since 1952 and in its present location since 1976. It looks like a ranch house with a wide, welcoming porch.
Inside, an impressive collection of cast-iron skillets and copper pots line the brick walls and fireplace. Colored glass bottles shine in windows; in summer, potted geraniums bloom everywhere. It's dark and cool inside, and the alcohol is largely limited to a few familiar wine labels. The experience begins with the sprightly crew of servers, mostly young women who are themselves fans of the food and freely offer opinions about selections. All is overseen by the sharp-eyed and welcoming owners, Susu and Sonny Burt.
On a weeknight, the restaurant slowly but completely filled with families and couples, many sunburned from boating and fishing on nearby Lake Blackshear, who have clearly been regulars for years. "We have quite a consortium of travelers who come a long way to stay overnight in Cordele and eat with us," Sonny Burt says.
Little touches make even standard dishes like the house salad memorable – served with a quartet of fresh house-made dressings. The crisp, greaseless onion rings are as fat and neat as a child's ring-toss toy. For a crab fanatic like me, Daphne Lodge is an amusement park of sweet lumpmeat, from the minimalist she-crab soup, thick with heavy cream and big pieces of crab, to the spiny sautéed crab fingers and the perfect deviled crab ("our distinct recipe from 1952"), with bits of celery and onion, and baked, as God intended, in a real crab shell.
Despite the homey environment and unpretentious fare, the Daphne Lodge aims for – and achieves – special occasion dining in a local milieu. An old receipt on the wall reveals the Lodge always served something a little high-end and out of the ordinary, such as lobster dinners. Here, in addition to the smothered quail in a thick brown gravy, you'll find Virginia ham, Black Angus steak, shrimp scampi, oysters fried in cracker meal, and crispy whole flounder in an apricot-shallot sauce.
Sooner or later, however, you're going to want to try the house specialty, which has earned ink in publications from Southern Living to The Washington Post: fried catfish. Big, cornmeal-dusted filets (farmed in Mississippi), served with hushpuppies, coleslaw and either grits or a stuffed baked potato. The march of textures alone – crisp, cool, hot, flaky, steamy and moist – are as satisfying as a bento box, the combination of flavors a subtle reminder of what a great meal this familiar plate can be.
After dinner, go for another traditional lodge favorite – the peanut butter pie with Oreo crust, with a little pile of soft whipped cream and a sprig of mint. As you dig in, ponder what I often do: How do these restaurants manage to maintain distinct personalities, sometimes for generations, while so many fail so quickly?
The answer seems rooted in that word: generations. The glue is often family, carrying on a style of service, exact recipes and, often, cheap labor for as long as it's needed. As the younger members of those families decline to carry on such hard work and low margins, we lose more than just a good place to eat. We lose a connection to a place and time, and the families who built good lives in them. Enjoy them now, while you can.
---
Daphne Lodge
Highway 280 West, Cordele
229.273.2596 or daphnelodge.com
Hours: Dinner, Tuesdays-Saturdays
Parking: Plentiful in attached lot
Reservations: Recommended on weekends
Dress Code: None stated, but dressy vacationwear – pressed khakis, collared shirts, simple dresses – is the norm
---
Feeling crabby? The sweet delicacy is a favorite in the state's southern quarters. Here are a few standouts.
The Crab Trap
St. Simons
The island's longtime favorite for fried seafood also serves a terrific crab soup – the hard-to-find variety that relies on seafood broth rather than cream.
crabtrapssi.com
---
Cordelia's
Cordele
The restaurant at the Lake Blackshear Resort serves a hearty, creamy bisque version of she-crab soup, with the visible roe that gives this soup its name.
lakeblackshearresort.com/dining/cordelias
---
Narobia's Grits and Gravy
Savannah
This humble storefront specializes in breakfast, including a fluffy biscuit enclosing a simple, housemade crabcake, fried egg and slice of American cheese.
facebook.com/pages/Narobias-Grits-Gravy/170724249657767