Dalton|Whitfield County: On the Move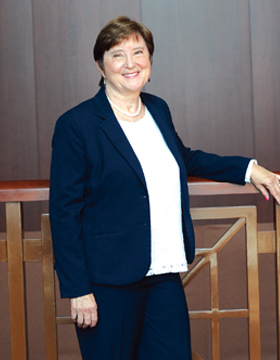 Take a ride up Interstate 75 into Northwest Georgia, and you'll find a community deciding how to transform itself for prosperity.
"We've got a lot of things happening from a commercial and retail standpoint," says Carl Campbell, vice president of economic development at the Greater Dalton Chamber of Commerce and executive director of the Dalton-Whitfield County Joint Development Authority.
"There's a lot of new growth, and I think that's a good indicator of how things are going overall. Then as far as industry goes we've got a lot of companies that are working on expansion, adding to their investments, creating some jobs and growing their platform."
It's hard to talk about Dalton and Whitfield County without coming around to its most prominent industry – carpet and floor coverings. This region of Northwest Georgia found jobs and prosperity making endless rolls of thick woven carpet for homes and offices across America. The collapse of the real estate market hit the area hard 10 years ago, and it took a long time to recover. Yet recovery and growth have occurred.
The big carpet makers like Mohawk, Shaw and others have invested heavily in new advanced manufacturing technology and new kinds of floor-covering products.
"Some of the jobs have come back," says Whitfield County Commission Chair Lynn Laughter. "We still have a good bit of room to grow. The flooring industry is very diversified now. They did a lot of streamlining after the recession. We have companies here that built new manufacturing facilities, and they're more modern."
In 2015, Mohawk Industries bought the Belgium-based luxury vinyl tile manufacturer IVC Group for $1.2 billion, acquiring the company's state-of-the-art production facility in Dalton. Mohawk last year announced plans for a $100-million expansion at the plant, increasing its hard surface production capacity and creating 200 new jobs.
Luxury vinyl flooring refers to non-wood, non-ceramic plank and tile floor coverings that often mimic wood in terms of looks and are increasingly tougher to distinguish from real wood flooring, thanks to innovations in design and production technology.
"That business seems to be growing in a big way, so we're seeing some of the growth of that now," says Campbell. "[The IVC plant] is completing their expansion on a second line for that product. So we've got some good things that are happening in that regard. We've got a carpet tile plant that is in process of being put together."
Luxury vinyl tile sales are the fast-est-growing sector in the flooring industry now, and that has been good news for Whitfield County. The industry is also producing new products for homes and offices with wood-plastic composite flooring products, another rapidly expanding subsector of the vinyl flooring market. Wood-plastic composite flooring features more indoor-outdoor and water-resistant products.
"We're seeing a little bit of growth in just your traditional carpet production," says Campbell. "So we've got some companies that are expanding their capacity to produce yarn and to produce carpet products. I know it's not growing as fast as they would like, but I think we're seeing some positive signs and they're doing some good things."
---
Rapid Growth
There is perhaps no better indicator of the resurgence of floor covering than the growth of Engineered Floors LLC. The company was founded by industry veteran Robert E. "Bob" Shaw in 2009. He was the longtime head of Shaw Industries, which was acquired by Warren Buffett's Berkshire Hathaway in 2001.
Shaw's new company has grown rapidly in the past few years. It has invested in two new manufacturing facilities and a distribution center in the area.
It's also building a new carpet tile manufacturing facility in south Whitfield County. The first phase of the plant, expected to open early next year, will offer 520,000 square feet and boost the company's labor force.
Currently, about 2,800 people work at Engineered Floors' two facilities, a 650,000-square-foot plant in Calhoun and an 800,000-square-foot operation in Dalton. In addition, Engineered Floors two years ago acquired J+J Flooring in Dalton, which operates as a separate division.
"They have never really stopped building," says Campbell.
"They are doing good things, spending money and adding jobs here and there," says Campbell.
In fact, the floor covering industry added nearly 300 jobs in 2016, and that level of growth is expected to continue.
Just as the floor covering industry has found new prosperity in diversifying its products, Dalton is seeking to expand its own industrial and business base.
"In our community the county has really stepped up to the plate, putting money into the industrial park," says Laughter. "The commissioners are committed to trying to diversify our industry so that the next recession that comes along won't hit us as hard as this one did, but we also work to support our existing industry that want to expand."
With its well-trained workforce, available land and ample water resources, Dalton has much to offer manufacturing companies.
---
Strategic Objectives
Over the last year, local officials and the business community have embarked on an in-depth study of the community to determine what needs to be done to ensure a successful future. With the help of an outside consulting firm, Dalton has identified a half-dozen strategic objectives that it must reach to improve the community and lay the groundwork for a prosperous future.
One of the biggest discoveries from the study was that fully 62 percent of local workers who earn more than $40,000 annually live outside the county.
"Our six strategic goals are aimed at helping reduce that percentage of people who work here, but don't live here," says Rob Bradham, president and CEO of the Greater Dalton Chamber of Commerce.
The plan takes a holistic approach to community improvement that includes upgrades to local education, better housing options, a lively Dalton downtown, an aggressive industry recruitment program and help for entrepreneurs in the form of a business incubator. All of these are also linked to another goal – generating pride in the community.
Creating a ready pool of trained workers is essential to keeping and attracting new business, and that means the right kind of training and education for young people.
"I was just with a manufacturer this morning, and he said he's having trouble finding qualified general workers," says Bradham. "So we have to do something to address our talent pipeline to help our manufacturers grow and prosper. That strategy is about creating a better workforce of the future."
The county and city school systems are working closely with Georgia Northwestern Technical College, which has a campus here, and Dalton State College to ensure that local residents have those opportunities.
"Many of our students want to come to a college that is in their hometown or region," says Dalton State President Margaret Venable. "They want to get a job when they graduate. The employers want to be able to hire educated employees. We're trying to fulfill that need and help students find degree programs that they want and help employers find potential employees that they need."
To make sure the college and employers are on the same page, local businesses and industry leaders serve as advisors to Dalton State's programs.
"They help guide all of our academic programs to make sure that as we develop the curriculum and move down the road, the curriculum needs to evolve with the times," she says.
These programs include a new bachelor's degree in supply chain management and logistics. There is also an industrial chemistry program for chemistry majors who want to work in the carpet and floor covering industry.
---
Downtown Development
Transforming downtown Dalton into a destination is one area that has already reaped success. Come down here on a weekend evening, and you'll be hard put to find an empty parking space, observes Dalton Mayor Dennis Mock.
"We've opened up approximately 12 new establishments in our downtown in the past few months – both retail and restaurants," says Mock. "We just haven't seen that kind of growth in a long time."
In fact, over the past couple of years the downtown resurgence has blossomed. More than 40 retail establishments have opened along with 15 restaurants and half a dozen live music venues, according to George Woodward, interim director of the Dalton Downtown Development Authority.
These range from an escape room game venue called Escape Dalton to an indoor shooting range and the city's first craft whiskey distillery. A regular concert series is providing a reason for visitors to spend the evening here.
"We're seeing a lot more activities," says Woodward. "We're issuing many more special events permits for downtown Dalton."
There will be even more reason to come downtown with the opening early next year of Burr Park. Made possible by a $1-million donation from local resident Jeanne Burr, the park is getting a new outdoor performing arts stage for the community. The funds will also enable the city to pay for an ongoing series of events and performances.
"There's a lot of synergy and positive things going on," says Woodward.
Tourism is also contributing to the local economy's uptick. An increasing number of groups and associations are booking the city's convention center. These range from Shaw Industries' 50th anniversary celebration to the GeorgiaFirst Robotics competition.
Following a drop in tourism last year while both of Georgia's I-75 visitor centers were undergoing renovation, collections from the hotel-motel tax are once again climbing, up 9.9 percent over last year, according to Brett Huske, executive director of the Dalton Area Convention and Visitors Bureau.
Visitors are now making the stop to check out Dalton's attractions and history. The goal is to capitalize on the abundance of history and culture in the region. These include the county's many Civil War sites, which are highlighted in a downloadable smartphone app, Dalton Civil War. Throughout the year a series of road and bike races, Train Day and other events attract crowds of people to the city.
All of these developments and events signify a city and a county once more on the move.
---
LOCAL FLAVOR
Textile Trail
Throughout much of the last century, carpet and textiles have dominated Dalton's economy and shaped the history and the lives of its residents. Carpet manufacturing represented not just a business, but a way of life for generations.
The city is still known as the carpet capital of the world, with more than 90 percent of the world's carpet made within 65 miles of the city. The industry also provides more than 80 percent of the manufacturing jobs in the region.
This aspect of Dalton's history is now getting some overdue recognition in the form of a textile industry tour.
The Dalton Area Convention and Visitors Bureau (CVB) is offering a self-guided tour that will take visitors to the historic locations where the industry developed, including Peacock Alley, named for the popular peacock design on tufted bedspreads produced in the late 19th and early 20th centuries; sites of the homes where these products were crafted and the later yarn plants that turned them into big business; as well as an exhibit at the old downtown train depot.
Plans call for assembling a sizable collection of machinery and other artifacts of the industry in the Dalton Convention Center. The building has sufficient space to show off the types of equipment that made the products that made Dalton famous.
"We're identifying the key companies and the key people that were involved in developing the history of textile in the Dalton area," says CVB Director Brett Huske.
An interactive kiosk outside the welcome center tells the story of textiles' heritage and influence in the county. It also points visitors to a series of historic locations in the city and along old U.S. Highway 41.
The industry traces its founding back to 1895, when a teenage Catherine Evans Whitener presented an unusual tufted bedspread to her brother as a wedding present. Her work sparked a cottage industry of more than 10,000 tufters working out of their homes to produce bedspreads with the sought-after raised-yarn designs. The continuing demand for these products enabled many families to survive the 1930s Great Depression. The popular chenille bedspreads soon made Dalton the tufted bedspread capital of the world.
After World War II, those same workers carried their specialized tufting skills into mechanized factories making carpet. These plants have continued to feed the nation's and world's demand for textiles, and Dalton added the carpet capital title to its resume. – Randy Southerland