Moultrie's Moss Farms Diving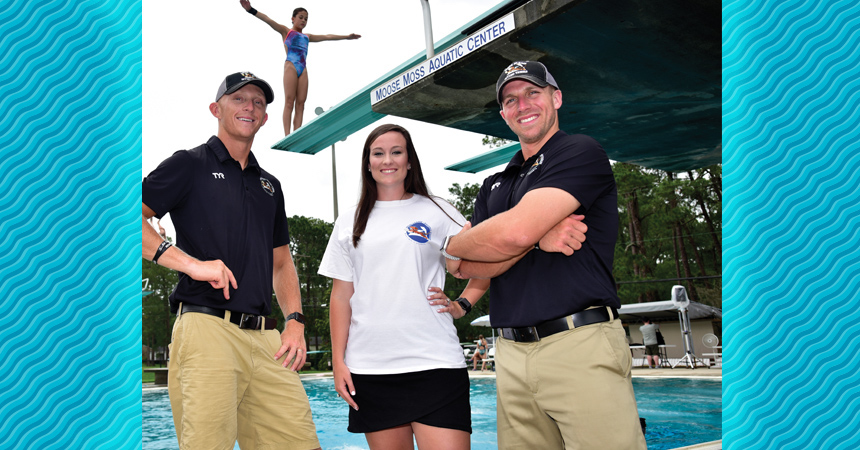 Sometimes following a passion leads to the creation of an unusual – and wildly successful – enterprise in an unexpected location. Case in point, the nonprofit organization Moss Dive Center in Moultrie.
After serving his country in World War II as one of a select group of pilots to fly the legendary shark-toothed P-40 fighter planes, the late Robert C. "Moose" Moss returned to his home in Colquitt County. Twenty years later, he and his wife, Janie, resurrected the Flying Tigers name, tweaking it to Diving Tigers to denote the team he coached at the diving well on his farm northwest of Moultrie.
Though he'd been a competitive gymnast and admired diving as a sport, Moss was never a diver. He didn't let that stop him, however, and he set out to learn from the best diving coaches in the country to hone his own coaching skills. As his reputation spread, athletes began to trickle in to South Georgia to perfect their diving under his leadership. Soon the Moss Farms Diving Tigers were a force to be reckoned with.
The small diving well was traded for a world-class facility in 1993, with the dedication of the Moose Moss Aquatic Center. It became the training site for six Olympic teams, a Can-Am-Mex Championship, and has hosted several national diving championships, including last year's AT&T Junior and Senior National Championships. The facility features multiple boards at the diving pool as well as a 6,000-square-foot dry-land gymnasium for additional training.
Today the year-round center is recognized by USA Diving as one of just four regional dry-land training centers in the country, says Chris Heaton, program director and head coach at Moss, where they train about 70 divers of their own on average, including members of the Diving Tigers competitive team.
"Honestly, with our dry land set up and with the pool and the proximity of those and the other offerings we have, I would put us at arguably the best or second-best facility in the country overall," says Heaton of the Moss Dive Center, which coaches divers from age seven to 18.
Two Moss divers recently competed in the Junior World Championships in Russia and another in Madrid, Spain, says Heaton. In addition, divers come from across the country to train at the Moultrie facility, either under Moss coaches or bringing their own coaches with them.
Between its reputation in the sport and the caliber of divers coming through, the Moss Dive Center is a legacy Moose Moss, who died in 1993, would be proud of.
Learn more about what's going on in Moultrie and Colquitt County in this month's feature "On a Solid Path."
Photo, left to right: Moss diving coaches John Fox and Elizabeth Ann Kirkland, and program director and head coach Chris

Heaton
Photo courtesy of Todd Stone